Finding a new apartment in Edmonton can be a hassle, but using a great rental website can make your search a lot easier. Whether you are looking for a specific size, location, or number of bedrooms and bathrooms, apartment hunting websites can save you time by narrowing down your hunt to include your precise needs.
Make sure to start your search for at least 3 months in advance of needing to move. It is also important that you meet the property manager or landlord and sign a lease before sending any funds towards your future rental.
Here are our top 10 picks (spoiler alert: the 1st one's us ? ) for Edmonton's best apartment rental websites for finding the perfect rental:
The Best Edmonton Rental Websites
1. Rentals.ca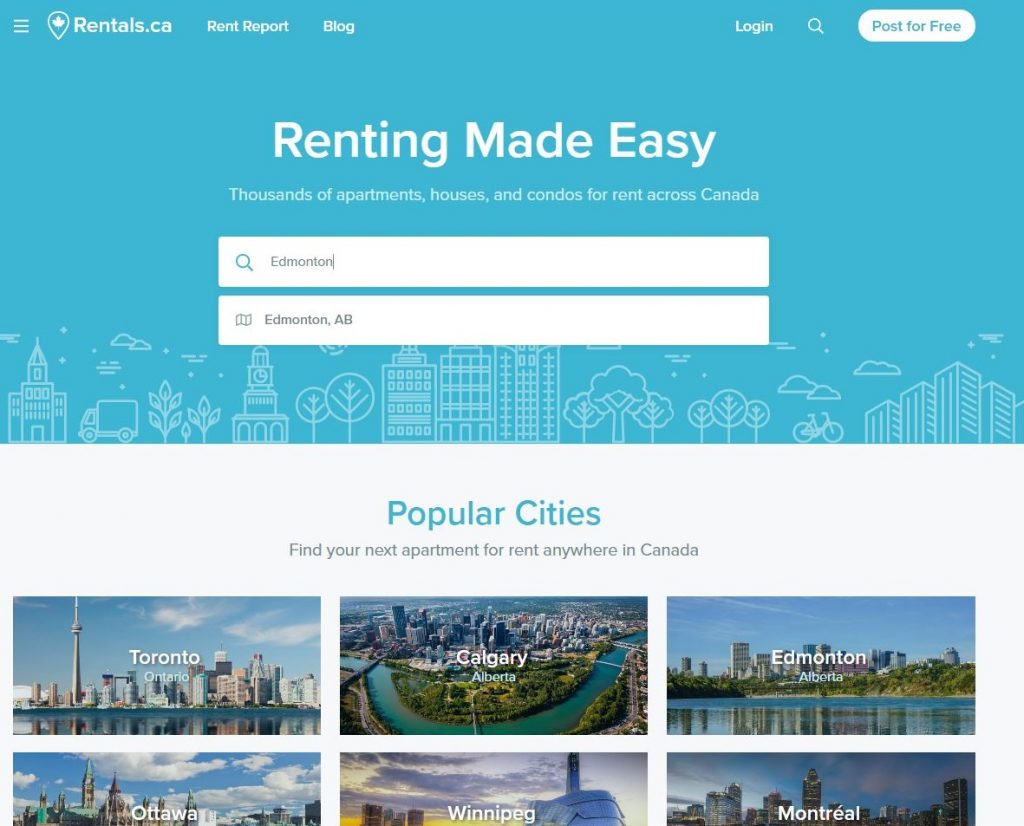 Rentals.ca is a national apartment rental website that serves over 100 cities across Canada. The site focuses on exceptional design and support to make the process of searching for a new home in Canada easier.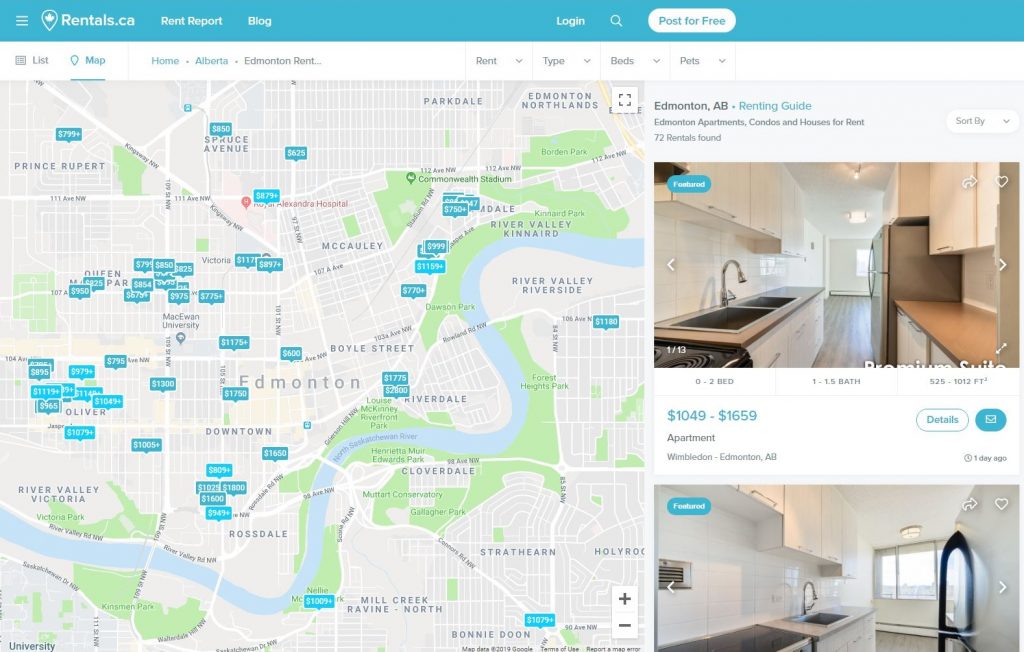 Rentals.ca features search tools that let you cater your search for Edmonton apartments for rent by price range, bedrooms, bathrooms, property type, and whether it is a pet friendly rental. The site also features an interactive map view that shows the prices of rental listings, making your apartment hunting easy and efficient and great for finding properties near your school or work.
2. RentEdmonton.com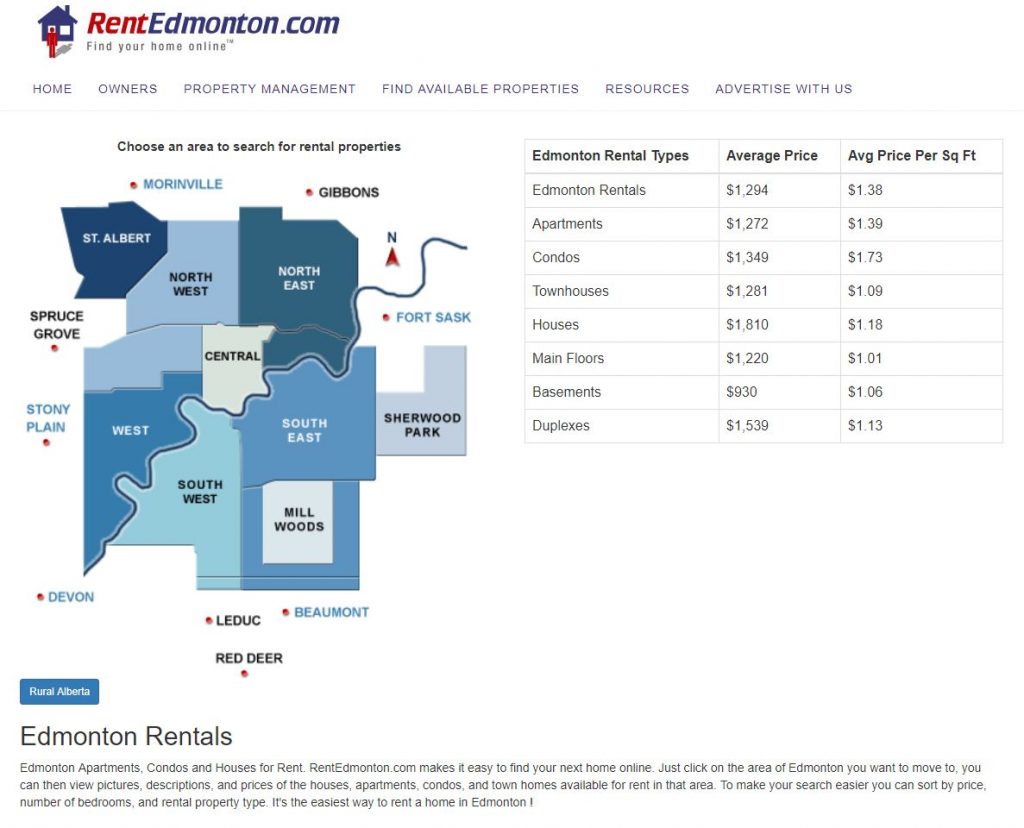 RentEdmonton.com is a great apartment listing website for finding houses, apartments, and town homes available for rent in Edmonton. You can choose a specific neighbourhood in Edmonton to explore (Central, Mill Woods, etc.) and view properties by price, type, or number of bedrooms.
3. Kijiji.ca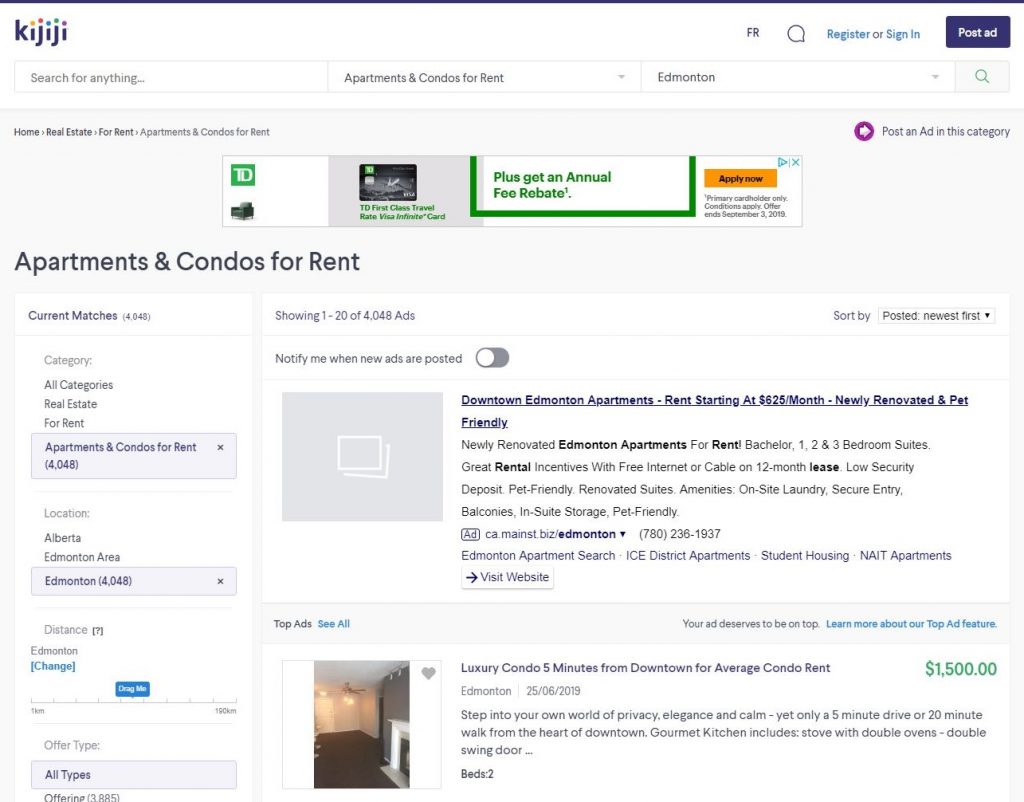 Kijiji is the world's largest classified site, and is a hub for second-hand items and apartments/homes for rent. There are tons of available rental properties here, and new Edmonton listings are uploaded daily. As with any classified site, be careful when sharing personal information to independent landlords. Always make sure to read through listings carefully, as there could be scammers – if something seems too good to be true, it probably is.
4. Padmapper.com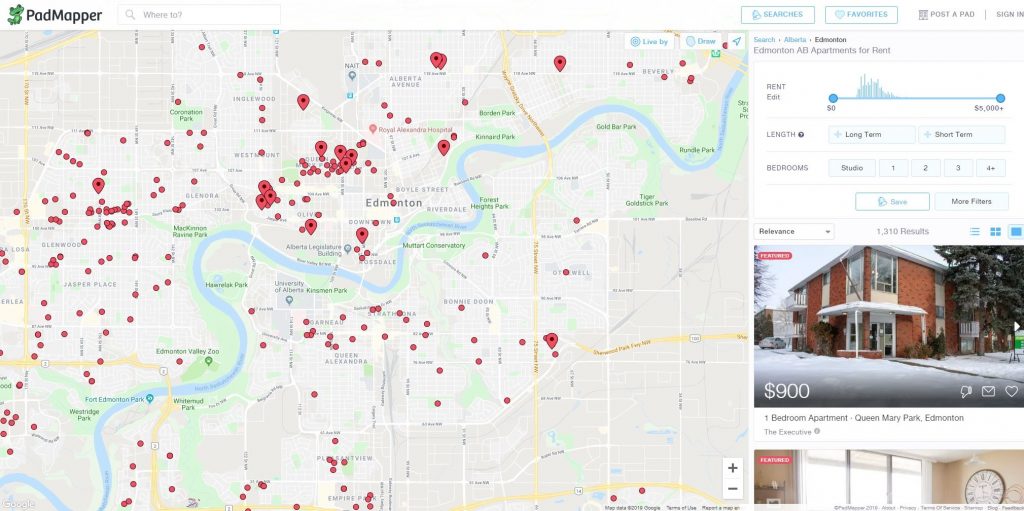 PadMapper makes apartment hunting less awful by focusing on the geographical aspect of finding a property, or "pad". You can explore Edmonton apartments for rent on map while using price, bedroom, and rental duration filters to tailor your search. As well, with PadMapper you can draw shapes on their map to outline the areas where you want to see results from.
5. 4Rent.ca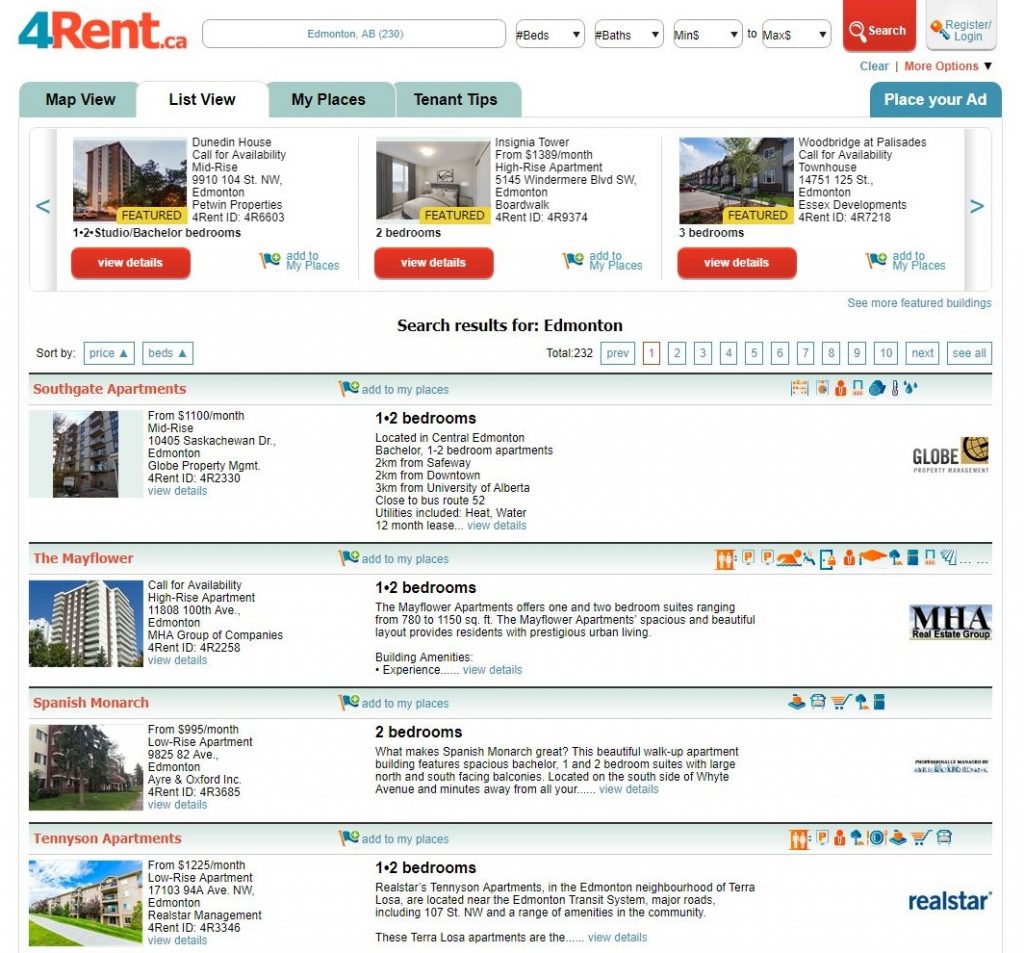 4Rent.ca releases a free bi-weekly magazine to showcase their new rental listings in Alberta and Ontario. However, you can also search available properties on their website using both a list and map view. Icons on each listing let you know what each apartment features, like parking, pool, or elevator access.
6. RentFaster.ca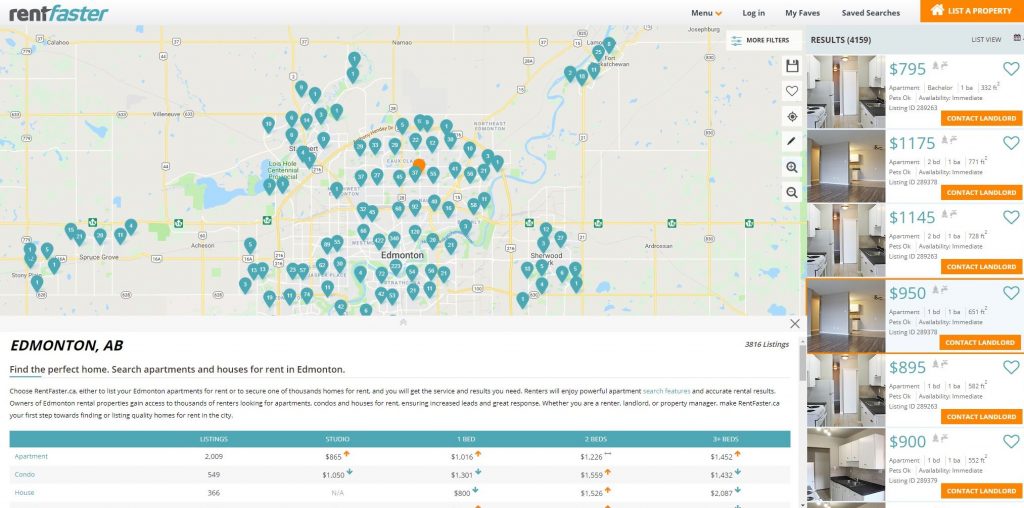 RentFaster.ca started in Calgary and expanded to the Edmonton market in 2005. You can easily sort their listings by price and map feature. They also provide a mini rental application template for you to fill out, making it easy to send multiple landlords basic information (employment history, contact details, etc.) while saving time.
7. RentSpot.ca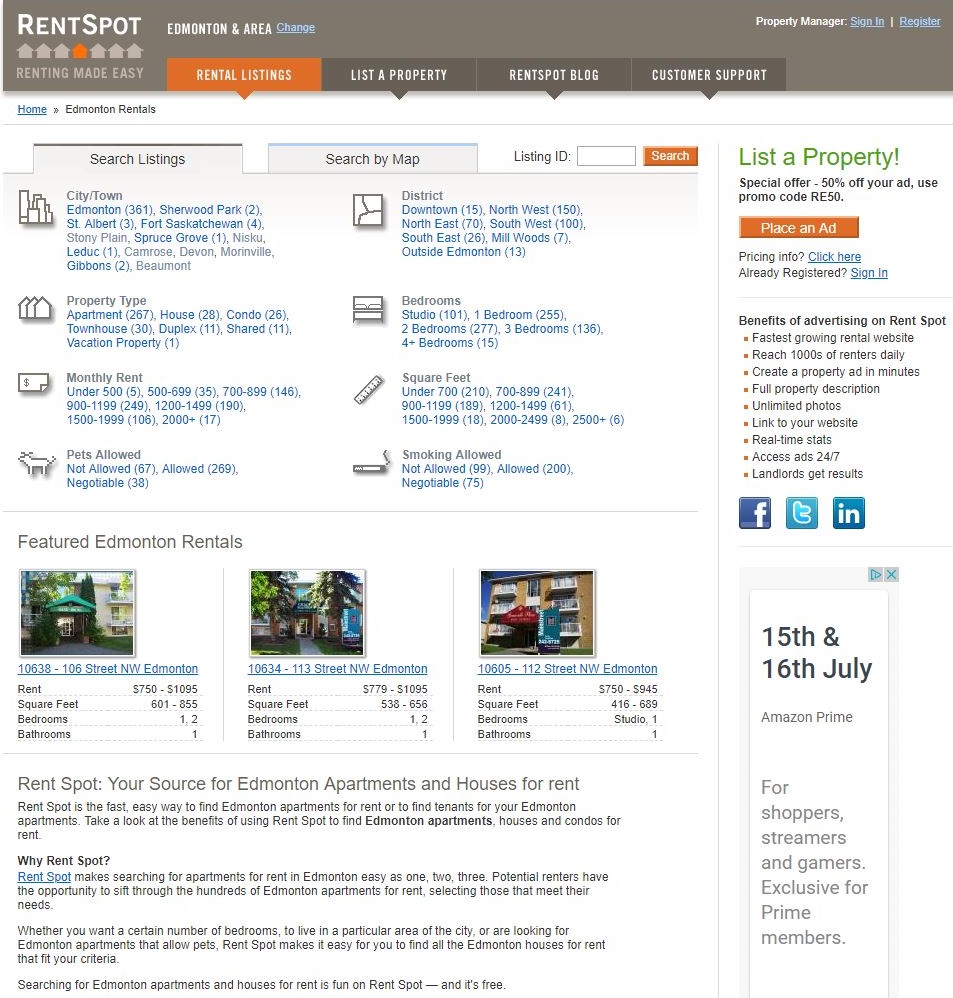 Rent Spot lets you search by either a map or list view that makes it easy to find Edmonton apartments for rent that fit your criteria. You can keep track of your favorite properties and view details of the square footage, rent price, and bedroom/bathroom count.
8. Viewit.ca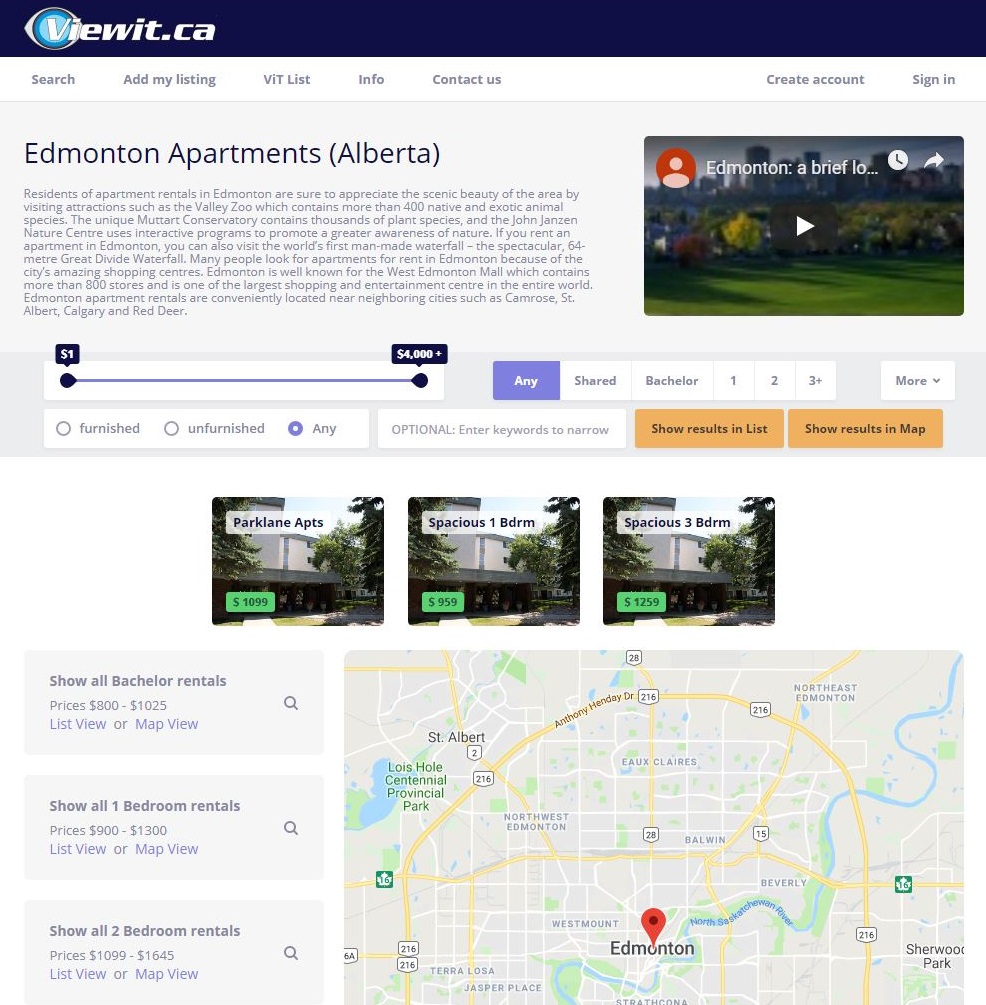 You might recognize the name Viewit due to their widespread coverage of rental signs across Canada. Filters allow you to narrow down your search by price, rental housing type, and if the space is furnished/unfurnished. On the Edmonton apartments search page, you can find a video and brief paragraph introducing the unique attractions that Edmonton has to offer!
9. RentBoard.ca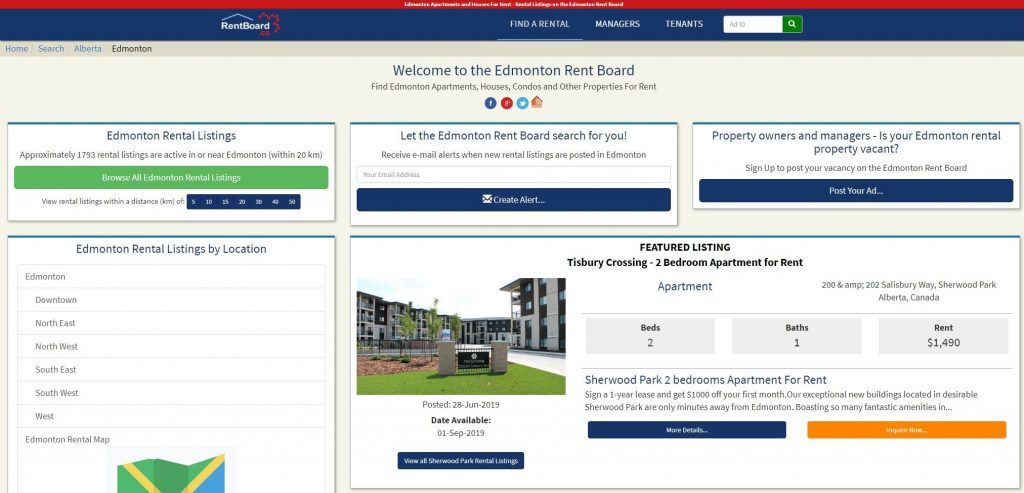 RentBoard.ca offers a ton of different search filters for renters to use. Want an Edmonton apartment for rent with a scenic view, playground, tennis court, parking, AND is near a university? RentBoard.ca can help you find that, and is great for renters that have very specific wants in their hunt for a new place.
10. Realtor.ca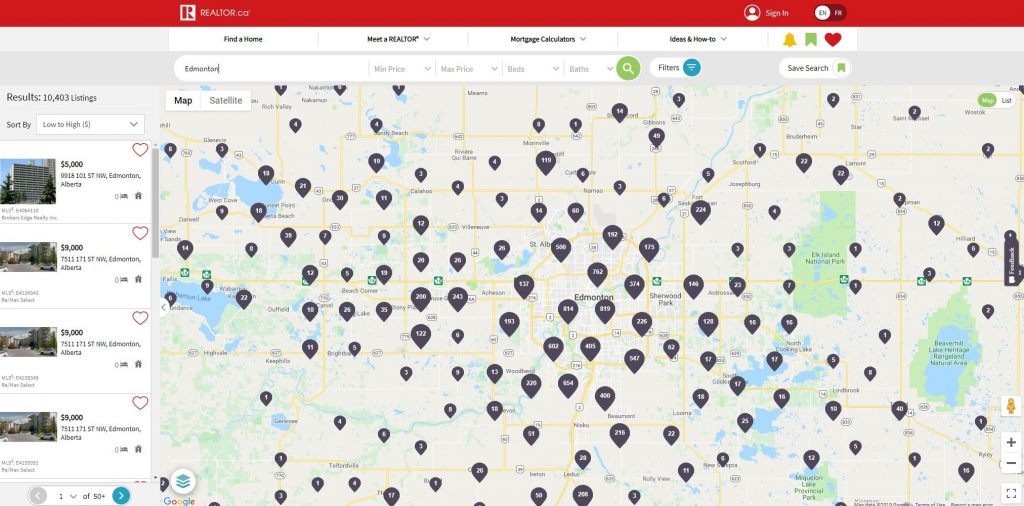 Realtor.ca is owned and operated by the Canadian Real Estate Association and includes both residential and commercial properties for purchase or rent. Each listing comes from a licensed brokerage so while you won't encounter any scams, you also won't find any independent landlords listing on here. Your search can be filtered by price, bedrooms, bathrooms, and by listing date.
Other Apartment Hunting Resources
Facebook groups such as this one can be a great place to find a good deal on an Edmonton rental property
If you're a student, make sure to check if your university/college has an off campus housing directory for student rentals
Helpful Related Articles
Ready to rent?
Feeling a little bit more comfortable with the renting process? You can kick off your rental search with Rentals.ca to see what's available on the Edmonton market. Click here to search Edmonton Rentals (we upload new listings daily)!