Rents continue to rise through our spring awakening from the pandemic and will continue to grow in 2022 no matter whether COVID-19 expands or contracts.
Rents took a rollercoaster ride through the past two years – high to begin 2020 and then slipping down through mid-2021, as the pandemic took hold. The rental ascent began in the latter half of 2021 and pushes on now through the second quarter of 2022.
Will COVID-19 numbers rise again – probably so. Will rents be lower again – probably no.
Why?
The simple answer to the rent part of the question: Too many renters in Canada cannot find a place to rent, or high demand and insufficient supply. (Except for the Prairie Provinces).
While the problem is not this easy and nuances abound, basically the Canadian population is way outpacing the number of places available to rent.
Most Canadians and politicians have agreed for a while that more homes need to be built. And, housing programs and policies have been enacted at the federal, provincial and municipal levels, but rents continue to rise, supply remains insufficient, and homelessness drags on.
In a February Toronto Star story by real estate reporter Tess Kalinowski, the headline reads "Ontario needs to aim for 1.5 million new homes in 10 years."
In the story, Municipal Affairs and Housing Minister Steve Clark said bold action is needed if Ontario is going to reach that target. Even though there were 81,000 homes built last year, "we're going to have to build a lot more housing units a lot faster," he said.
So, to reach 150,000 new homes a year for the next 10 years – almost doubling last year's numbers – the story details measures to pave the way.
But that path is land-mined with political fighting between municipal governments and the provincial government, with rampant NIMBYism, and by a long, bureaucratic process in most cities where proposals can die before any housing gets approved.
In another Toronto Star story in late March, the provincial government announced a four-year plan to take on Ontario's housing crisis, which leaves out many of the 55 recommendations of the Housing Affordability Task Force talked about in the February Toronto Star story.
Clark is quoted in the March story as saying "perhaps the recommendations were a bit too bold for some communities…."
So, bold action is needed, but when that plays out at the municipal level, it can't be too bold. When it gets down to trying to build at the local level, things get complicated and even more political.
In this Storeys' piece, Ben Myers, president of Bullpen Research & Consulting, claims municipal governments sabotage high-density projects to keep voters happy, and he talks about how NIMBYs on the right and left pressure politicians to curtail supply.
Let's face it; the housing crisis in certain big cities in Canada will continue – and rents will continue to rise.
The details are different, but the stories are similar in British Columbia and Quebec, and of late much more so in Nova Scotia.
For this report, the Rentals.ca Network gathered the perspectives and insights of experts across Canada including Canada Mortgage and Housing Corporation economists and analysts, housing data analysts, investors, and rental market specialists.
1. WHAT'S AHEAD FOR THE REST OF 2022
Rents will continue to rise in most Canadian cities for the rest of 2022, according to Bullpen Research & Consulting and the Rentals.ca network forecast.
"The daily pandemic news put the housing crisis in the background for a while," said Matt Danison, CEO of Rentals.ca Network, "But now as COVID-19 recedes, we are talking again about our lack of supply. This problem will keep rents on the rise in most of Canada for the rest of the year."
The forecast calls for Toronto average monthly rents to bounce back 11 per cent by the end of the year; Mississauga monthly rents will be up 7 per cent by the end of the year; Vancouver average rents will increase 6 per cent; Montreal will post an annual increase of 5 per cent and Calgary rents will go up 4 per cent annually.
The 11 per cent increase for Toronto for all property types on Rentals.ca would take average rents to $2,495 in December 2022. This rise would be similar to how the Toronto market performed the last half of 2021 with rents up 10 per cent to $2,248 in November, following major declines in 2020.
In Mississauga, average rents are forecast to climb 7 per cent to $2,265 annually, after rising three per cent this year to $2,125.
Vancouver's average monthly rents are expected to rise by 6 per cent to $2,635 by the end of the year, after finishing up 10 per cent in 2021 at $2,485.
The forecast for Montreal calls for an annual increase of 5 per cent to $1,780 after an annual increase of two per cent in November 2021 to $1,689.
The average rent in Calgary is forecast to increase by three per cent annually to $1,470 per month by the end of the year. This is similar to how the market in Calgary performed in 2021, with the average rental rates up by four per cent in November.
"The forecast prepared for the rest of 2022 sees continued growth in the rental market following the unprecedented declines experienced from April 2020 to April 2021," says Ben Myers, president of Bullpen Research & Consulting. "Despite the continued upward trend in 2022, Toronto, Mississauga, Montreal and Calgary are expected to finish the year below their peak rent levels from late 2019 and early 2020."
But keep in mind forecasting is a tricky business with an ever-changing landscape of new government regulations affecting supply, immigration affecting demand and COVID-19 — with the new omicron subvariants BA.4 and BA.5 — affecting everything.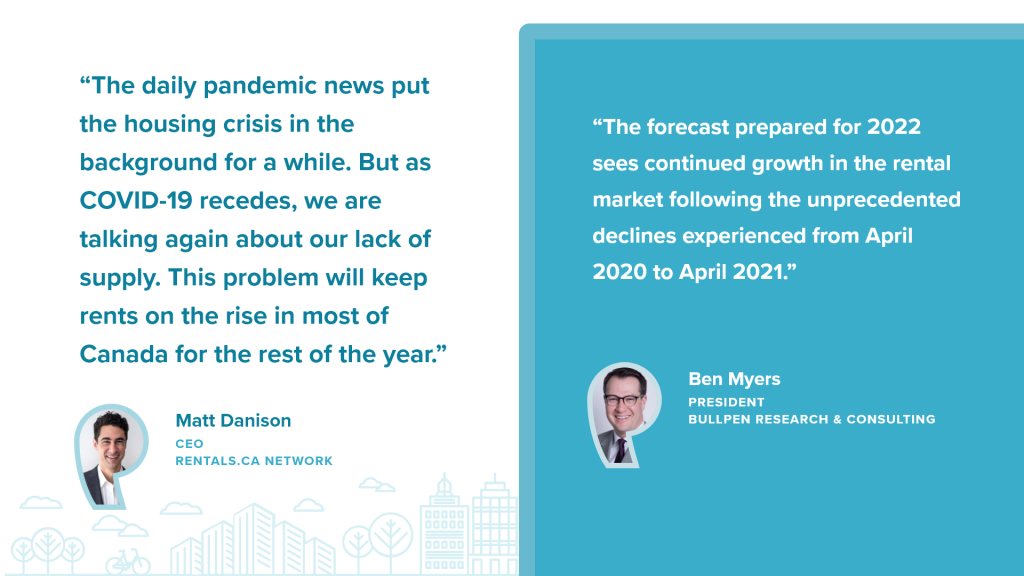 2. CANADA VACANCY RATE DOWN A TICK TO 3.1 PER CENT
In mid-February, the Canada Mortgage and Housing Corporation released its annual Rental Market Report finding among other things:
Rental affordability continues to pose a significant challenge across the country, and there is an acute scarcity of rental options in the primary market for the lowest-quintile income groups.
Improved economic and demographic conditions supported rental demand as vaccination rates increased and pandemic restrictions eased. Demand was also supported by a recovery in youth employment and renewed net international migration.
The overall vacancy rate held steady at 3.1 per cent in the fall of 2021, down a tick from 3.2 per cent in the fall of 2020.
"Improving economic conditions and partial recovery in net migration, bolstered by high vaccination rates and easing pandemic restrictions into fall 2021, supported recovery in rental demand," says Gustavo Durango, senior economist at CMHC.
CMHC conducts the Rental Market Survey annually in October to gauge how socio-economic conditions, demographic trends and other factors impact Canada's rental markets. The survey is based on purpose-built structures with three or more rental units in urban areas with populations of more than 10,000. The survey includes all rentals including occupied units.
3. MILLENNIAL MIGRATION TO SECONDARY MARKETS
Max Steinman, CEO of Rentsync, believes we could continue to see these trends affecting renters in 2022:
Vacancy rates will continue to drop as supply cannot keep pace with demand.
Rents will continue to increase in most markets as a result of supply issues
Millennials will continue to migrate to secondary markets, as employers must stay flexible or face losing their competitiveness in the employment market.
Tighter supply will become a bigger issue in secondary markets accelerating rental rates even greater than in primary markets.
Steinman says the new inclusionary zoning policy approved recently in Toronto could force developers to build more rentals due to the unit economics associated with the policy.
"2022 will be a year where we might see an industry pivot, with developers building more rental housing projects rather than condo developments," Steinman says. "Of course, with lengthy development cycles, it could take four to six years before we start seeing additional purpose-built rental stock come to market as a result of this policy."
In an attempt to meet the demand in the next two to three years, he says, "it's likely we will see an accelerated trend toward commercial – primarily office – to residential conversion projects because of their inherently shorter go-to-market timeline."
Steinman says these conversions would address the under-supply challenge continuing to persist in the residential rental market, while also addressing the oversupply of office space because of the COVID-19-induced work-from-home employment culture.
He believes if municipalities would cut the bureaucratic process to make these conversions happen faster, downtown cores would be rejuvenated, enabling retail (restaurants & shopping) to thrive under the new post-pandemic reality.
Downtown cores have lost a significant percentage of daily commuter traffic as a result of the work-from-home trend.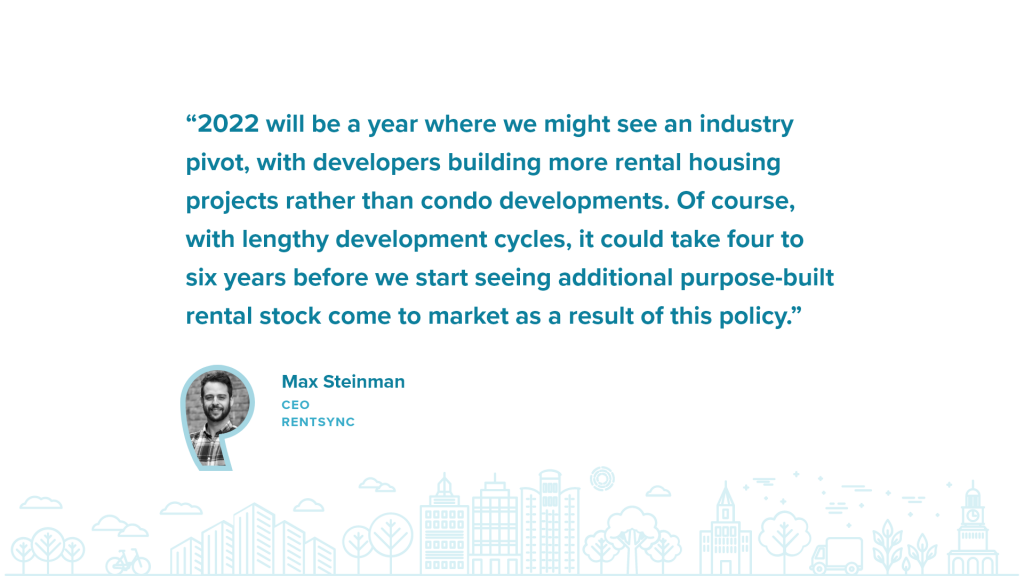 4. SUPPLY, DEMAND GAP IS 'TREMENDOUS'
Jennifer Hunt, an international real estate investment expert, a former vice-president of research for a real estate education company and now chief intelligence officer at the Real Estate Wealth Lab and sponsor of Venture With Adventures, says "rents will rise in nearly all markets in North America over the next 10 years.
"We can see rents and property prices on an upward trend for a decade…through a slow, tempered, expansionary period," Hunt says.
Hunt puts a lack of supply at the top of the list among the issues causing rising rents.
She says the lack of housing supply is not being addressed quickly enough, and she adds "many economists and real estate researchers are showing this gap is tremendous" between supply and demand.
She quotes Scotiabank economics: "The number of housing units in Canada falls quite a bit short relative to most other countries…Across the G7, the average number of housing units per 1,000 residents is 471. To put our number in perspective, it would take an additional 1.8 million homes in Canada to achieve this level of supply of housing relative to population …."
Canada needs unprecedented construction levels – just to catch up to G7 seven standards of providing housing for people, Hunt says, and "I'm not saying those numbers are even enough."
Construction has been slowed by among other things supply chain disruptions, government-imposed restrictions in response to COVID-19, lumber costs and inflation, she says. Also, she says, municipal governments need to approve zoning and by-law changes to accommodate construction.
Where will these homes be built in cities such as Vancouver, where the CMHC has the latest vacancy rate at 1.2 per cent?
"Hopefully in my backyard," Hunt says, "because I want to be a part of the solution."
Hunt says immigration (Canada's goal is 430,000+ immigrants in 2022) and runaway inflation are also putting pressure on the rental market. Even though immigration boosts the economy, more demand from immigration causes rents to go up.
"As long as Canada's immigration targets remain high, which there is zero reason to believe this would change," Hunt says, "New arrivals will place pressure on rental housing demand, pushing rents even higher."
Hunt says inflation is "right on track.
"Print lots of money, like the Bank of Canada and most central banks around the world did at the beginning of the COVID-19 pandemic in March 2020," Hunt says, "And currency becomes worth less about one-and-a-half to two years later."
And, she says inflation is just getting started because central banks are continuing to print more money.
Hunt predicts inflation will put upward lift on rents and property prices through a long, modest expansion period.
She says basic supply/demand economics combined with continued annual immigration and record-breaking inflation, will push rents upward for the long term. Hunt says it boils down, "supply is at devastating lows; demand is at record highs and inflation is running higher with few viable options to control it."
Hunt cautions that any of the indicators can change at any time, altering the forecast. Politics and policies can change the trajectory of rents at any moment, and "whether you're a renter or a rental housing provider, you'll want to know when and how to adjust your budget."
She says conservatively more than 60 per cent of Canada's rental properties are owned by independent investors, according to CMHC and other experts. So, a lot of rental housing providers are struggling to maintain their inventory of rentals. With rising costs to operate housing rising far greater than the pace of rent increases, there are simply fewer rental housing providers, meaning fewer rentals – meaning rents will rise.
"This supply crisis has not been resolved; it's a foundational issue," says Hunt, "It just did not make the headlines during the two years of focus on the COVID-19 pandemic, but it is a challenge that will continue to impact rents in the long run, based on supply-demand economics.
"We need practical solutions to build fast, keep operations costs down, and balance out the supply and demand for homes in Canada," Hunt believes, "Only then, will we see the pressures on rents and property prices ease.
"Until then, plan for a long expansion period replete with continuous rent increases," Hunt adds.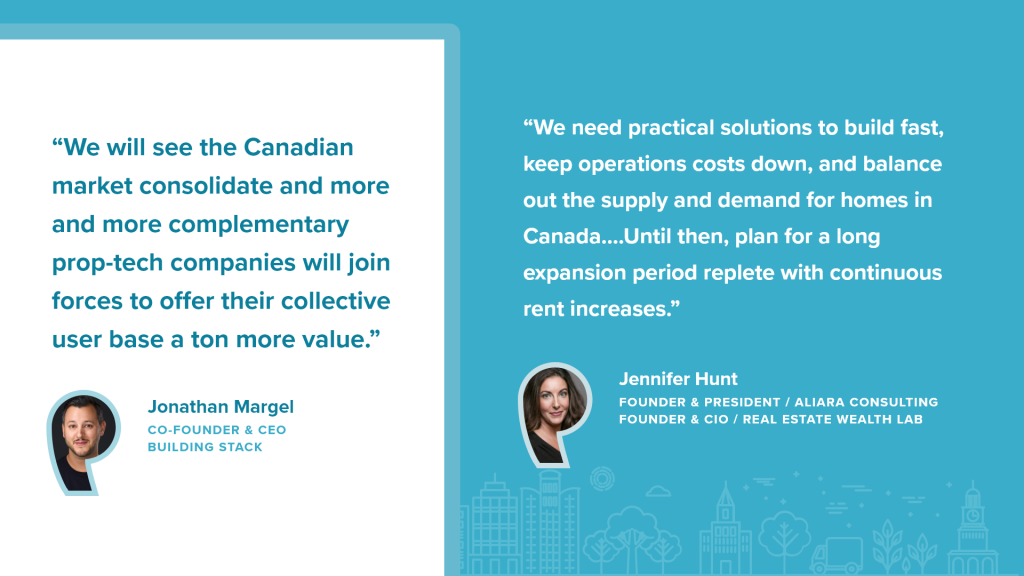 5. 'CANADIAN PROP-TECH ECOSYSTEM BOOMING'
Jonathan Margel, co-founder and CEO of Building Stack, says "the Canadian prop-tech ecosystem is absolutely booming, with more and more new companies emerging on the scene each month."
In 2022, he says, most landlords are adopting prop-tech solutions as well as looking for ways to further automate their operations.
He believes having well documented application programming interfaces (APIs) is now a key to succeeding in the rental/real estate space.
One way landlords and property managers are adapting is by offering their tenants digital subscriptions, memberships to gyms or spas, and streaming services. Margel says with soaring rents, it's critical to offer a competitive product, and it's time for landlords to realize this and get creative.
What's ahead for 2022?
Margel says "We will see the Canadian market consolidate and more and more complementary prop-tech companies will join forces to offer their collective user base a ton more value.
"Integrations are absolutely critical for the real-estate market to continue to progress toward automating entire listing, leasing and tenant lifecycles."
6. TORONTO
Tony Irwin, president and CEO of the Federation of Rental-housing Providers of Ontario (FRPO), sees affordability as the No. 1 issue in the housing and rental markets going forward.
Affordability is an old refrain, but he says, "the freight train is coming our way, but not doing anything about it is no longer an option."
"It's hard to ignore," he says, "affordability is becoming a bigger issue, especially with inflation rising."
The answer, according to Irwin, is supply – there are not enough homes for the demand. Again, an old refrain, but remember the freight train coming.
Irwin in his capacity as the head of the organization of more than 2,200 landlords has worked to increase housing supply in Ontario.
"We need to get all types of rentals built," Irwin says. "We're starting to see more projects in the pipeline, but we need action from all levels of government" to help solve the problem."
Irwin wrote extensively and was quoted in news stories in 2021 about ways to increase supply to provide more and better housing options to Toronto, GTA and Ontario residents and about some of the problems holding back supply.
In an August story on YorkRegion.com, Irwin said: "The development approval process often poses a significant barrier to building new housing in Ontario, whether it be for purpose-built rentals or condos."
He said in the story, "zoning is 'out-of-date,' meaning there are often hurdles to build a property over a certain size, there is NIMBYISM (Not In My Back Yard) from neighbours objecting to certain types of development, and delays at the Local Planning Appeal Tribunal (LPAT), all of which contributes to significant delays and increased costs, which make many rental projects unviable.
Irwin believes in building infill development on existing sites, reduction in taxes and fees on rental projects and as-of-right, or adequate zoning in key areas such as transit corridors.
FRPO outlined in an October piece a few measures needed at the municipal and provincial levels to increase supply – especially of purpose-built rentals: (93 per cent of all purpose-built rentals in Ontario were built before 1980).
Outdated zoning and land-use restrictions. Governments need to rework their zoning and land-use regulations and employ them in innovative ways to stimulate more supply where it is most needed.
Bureaucracy and regulations causing lengthy approval processes, plus high fees and development charges. Simplifying and streamlining approval processes is necessary, and new systems and interfaces must be adopted that cut down on the time needed for a project to be approved, built, and finished in Ontario.
NIMBYism. Removing political oversight from development can help to combat NIMBYism delaying new units.
In another October piece, Irwin zeroes in on the zoning issue: "Municipalities currently enforce their zoning regulations on a case-by-case basis, adding to the uncertainty, and pay little to no attention to neighbouring jurisdictions or provincial plans. The approval processes are often complicated and unclear, relying largely on time-consuming negotiations often marred by political interference and electoral calculus. Faced with all those obstacles and the added cost they bring, developers who want to build more housing in Ontario are often scared away. To resolve the supply problem, it is crucial that all levels of governments adopt a clear, transparent, and set approval process that is insulated from political pressures.
"Making zoning and land use decisions based on a regional or provincial framework would allow communities to grow in an organic and logical way…."
He called "the 'Yellowbelt,' as defined by urban planner Gil Meslin, which is an area of land reserved for low density detached and semi-detached housing in Toronto that accounts for 60 per cent of the city's residential land, is an example of inflexible zoning laws not accounting for the reality of the market. Opening up this land for development to smaller, mid-rise purpose-built apartment buildings would facilitate a lot of new supply coming to market."
In a November article, Irwin talks about infill development – redevelopment or intensification of vacant, underutilized, or inefficiently utilized land within urban areas that is already largely developed. One such example is vacant areas zoned for industry. Many cities, hopeful industry will come back, are reluctant to rezone for residential development, even though we are in a housing crisis not an industrial crisis.
The biggest infill opportunities are on sites with purpose-built developments where more buildings could be added. The owners and zoning are already in place, so the three to five years it usually takes for zoning applications could be compressed, and the approval process for these projects should be expedited to bring more housing supply to market faster.
In a subsequent November post, Irwin shared "the World Bank ranks Toronto in 64th place in terms of approval times and ease of construction. Toronto is far behind leading cities such as New York, London, Sydney, Shanghai, Berlin, and Tokyo."
In a December article, Irwin called for a standardized e-permitting system to replace "pen and paper applications through appointments." Another step he suggested would be to "prioritize applications for purpose-built rental developments." Another measure would be to consolidate "duplicate steps for applications that are complete and straightforward."
He would like to see the provincial government take the lead in streamlining and standardizing the process and consistently apply it throughout Ontario.
Another impediment to supply, Irwin revealed in a January story is the costly developer fees charged by municipalities.
"In Ontario, and especially the GTA, we have some of the highest development charges in North America at 30 per cent to 50 per cent higher on average," he said. Municipalities need to stop the steep rise in development charges, Irwin said. Provincially, Ontario could subsidize the cost of new infrastructure for cities or subsidize charges for builders. This would help relieve pressure for both municipalities and developers alike.
In a February piece, Irwin addressed the sticky issue of NIMBYism. What is NIMBYism?
"In a recent survey of 1,500 GTA residents conducted by the Building Industry and Land Development Association and the Toronto Real Estate Board a vast majority (87 per cent) agreed that housing affordability can be improved by new developments. However, a majority of respondents also indicated that they were against new developments happening near their place of residence."
To counter NIMBYism Irwin recommended "some policy changes, such as approving more as-of-right zoning and density incentives for purpose-built rental projects in communities where rental housing is needed the most. It will also require educating the public on the root causes of the supply crisis and addressing common concerns that give rise to NIMBYism.
"It is only by working hand-in-hand with local communities that we will find a solution to the housing crisis in Ontario," he said.
In a recent interview with Rentals.ca, Irwin cited the small Ontario cities of Woodstock and Gravenhurst as making progress with more efficient approval processes for housing development.
But Irwin emphasized that one of the biggest challenges is the need for a change of thinking and a change in attitude among policy makers.
Examples of these changes would be digitizing development processes, updating outdated parking requirements for downtown centres as many residents now living there don't drive.
Toronto City recently allowed residents to build garden suites in their backyards with an intent to open up more units for renters along with laneway houses approved in 2018. But since approval in 2018, laneway homes number only about 50, and garden suites could follow the same slow path.
Inclusionary zoning was also passed by the Toronto City Council in November, which requires that some new developments around transit stations include affordable housing units.
Irwin cautions that inclusionary zoning will make housing more expensive overall and that "you have to have the appropriate density to make it work."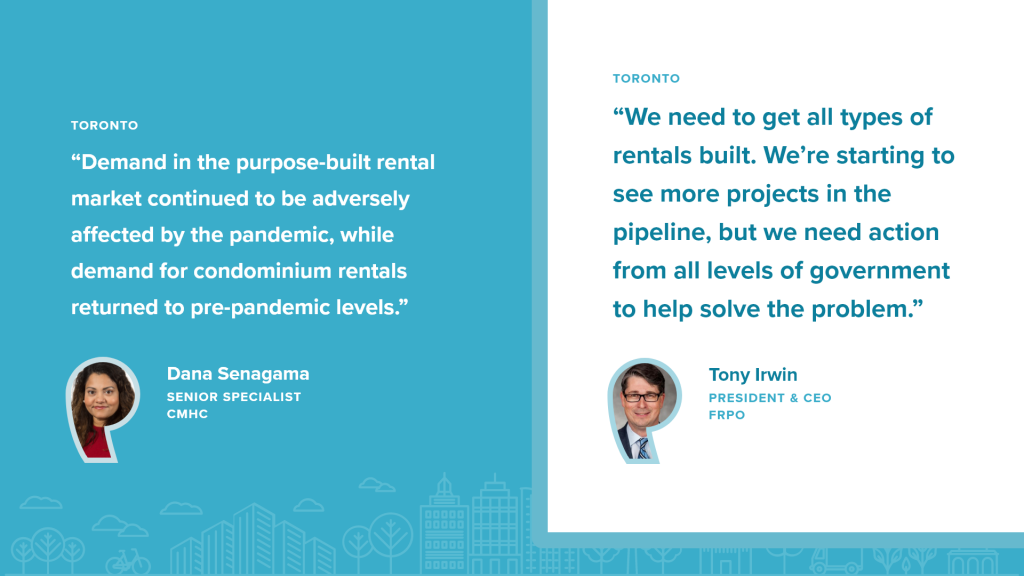 Dana Senagama, senior specialist, CMHC
QUOTE: "Demand in the purpose-built rental market continued to be adversely affected by the pandemic, while demand for condominium rentals returned to pre-pandemic levels."
Less demand and more supply caused the average vacancy rate for purpose-built rental apartments to increase for a second consecutive year in the Greater Toronto Area (GTA), reaching its highest level on recent record at 4.4 per cent in 2021. That said, vacancy rates for less expensive units remained well below the GTA average.
Throughout 2021, Ontario faced more stringent COVID-19 pandemic containment measures than other regions of the country. These measures disproportionately impacted service-sector industries more reliant on in-person interactions, which in turn delayed the economic recovery for segments of the population more likely to rent, such as young people and low-to-middle income households
Vacancy
Helping keep vacancy rates elevated in the GTA last year was a continued prevalence of remote work. Many workers in the GTA, especially within Toronto's urban core, continued to work remotely during much of 2021. According to the Toronto Region Board of Trade's Recovery Tracker/TELUS Insights, the volume of in-person workers in the city's financial district was down 77 per cent in October 2021, compared to the same month in pre-pandemic 2019.
The ability to work remotely led many renters to leave the city in search of less expensive accommodation. While some returned in the latter months of 2021, it was not enough to absorb additional supply.
A significant number of condo apartments entered the GTA's long-term rental market in 2021 — nearly seven times the number of purpose-built apartments added — likely drawing demand away from the purpose-built apartment market and contributing to higher vacancy rates. As such, the condo rental vacancy rate held steady.
Affordability
To provide more context on the relative affordability of purpose-built rental units in each region, the CMCH looked at the number of hours a month someone would have to work to afford monthly rent for a two-bedroom apartment. The CMHC calculated this by deeming a unit "affordable" if a renter spends no more than 30 per cent of their gross income on rent.
In the GTA, where the average rent for a two-bedroom, purpose-built unit is $1,666, someone would have to work more than 178 hours a month for that unit to be affordable. Full-time employment is typically estimated to be 150 hours a month.
While just over 1,600 purpose-built units were added to the GTA in 2021, the inventory of affordable units for low-income renters decreased from the previous year by 0.6 per cent. The average rent for new supply entering the market was 43 per cent higher than the average market rent for all units. Using the "30 per cent rule", these newer units — renting for an average of $2,222 — would be affordable only to higher-income renter households.
Average rent
Average rent growth slowed to its lowest level since 2007 owing to increased competition among landlords and provincial pandemic response measures limiting rent increases for existing tenants. Average apartment rents increased by only 1.3 per cent, significantly lower than the 2020 increase (4.7 per cent). The likely culprit: competition among landlords and provincial pandemic response measures limiting rent increases for existing tenants.
While the economic fallout from the pandemic impacted more renters in the purpose-built rental market, higher-income earners were not deterred from renting in the condo market. Average condo rents were 45 per cent higher than in the purpose-built market, and condo renters tend to be young professionals in finance or tech — industries hardly impacted by the pandemic. What's more, the gradual return to in-person learning at local post-secondary institutions brought some students back to the condominium rental market, contributing to demand.
7. MONTREAL
David Douek, president of Douek Apartments, believes rents in Montreal will not decrease because costs for renovating, maintaining, insuring and even heating buildings "are way up."
And, dropping rents, he says, drops the value of buildings.
He believes landlords and property managers will continue to offer incentives to entice the best renters until the COVID-19 pandemic is over, and the borders are open with immigrants and international students flowing freely again in Montreal.
He says incentives such as one- or two-months free rent are still offered in Downtown Montreal, carried over from the worst of the pandemic in 2020 and early 2021 when
the city centre was more like a ghost town without office workers, students, shoppers and other visitors.
Douek says prospective tenants continue to ask landlords: "What's your promotion? They are accustomed to it now."
Douek says you can't really talk about the Montreal rental market unless you realize it's divided, depending on the area of the city and depending on the clientele.
Two-bedroom apartments in the $1,500-to-$3,000 range, he says, are easier to come by than two-bedroom places in the $900-to-$1,100 range, which are generally in older buildings.
Rental markets around universities are tight with more students looking for places to rent than are available. He says in the east end of the city where rents are lower and the market is tight, units are rented quickly.
But not so much for the higher end (for example a two-bedroom for $1,800-plus), where there is a good supply of apartments.
Examples of the higher-end rental markets in Montreal include areas east of Mt. Royal and close to Le Plateau-Mont-Royal where tech companies are, he says. Most residents in these areas want to be close to Park Mount-Royal, all the services and restaurants, and they want to live in smaller buildings, not high-rises.
Douek also says many of the younger tech workers don't have cars, so they want to live near transportation centres. While they don't necessarily want to live downtown, they also don't want to have to walk more than 10 minutes to their homes. So, rentals farther away from metro stations don't rent as fast as those closer to the stations.
While the CMHC pegged the Montreal CMA vacancy rate at 3 per cent Feb. 18, neighbourhood vacancies vary depending on the location.
But Douek has "full confidence" vacancy rates will decline in Montreal once the border is completely open and COVID-19 is gone, "then there will be a lot of pressure on the rental market.
"All these units will fill up," he says, "There will be a shortage afterward."
With the cost of construction rising rapidly since the pandemic, it is challenging and unprofitable to build purpose-built rentals to meet the future demand. Therefore, with no new supply this will put a lot of pressure on the vacancy rate and the rental prices.
Douek is seeing more demand for larger units because of the work-from-home phenomenon, and with the costs of rentals rising so rapidly in some area, "we see a lot of roommates."
He says tenants living in "small, 390-square-foot apartments downtown" wanted the amenities such as swimming pools, gyms, TV rooms and community rooms, but now are saying they are "claustrophobic."
"They are happy to move to older apartments where they have more space with maybe a renovated kitchen, but no pool or gym," he says.
He says affluent families who want plenty of space can find homes in the right areas such as the anglophone enclave of Westmount, where rents are $5,000 to $6,000.
He says the suburb is safe with great schools, and a number of parks, gardens, small restaurants and coffee shops. The REM will also connect Montreal's suburbs to the downtown core. This will play an important role in the growth of the suburbs for the rental market. For example, those who live in the West Island will be able to reach downtown (McGill University) within 20 minutes by light-rail train.
He says he has seen a good number of "out-of-towners" moving to Montreal for the work/lifestyle/culture of the city. Many are willing to pay higher rent even as Montreal rents rise because they are accustomed to even higher rents.
"Rents are increasing here," Douek says, "But they are still lower than Toronto and Vancouver."
One of the incentives Douek says he offers some of those moving from other cities is furnished units.
"They come here to work in tech, and don't want the hassle of moving furniture or selling it when they leave," he says. "We work to make the places fit their style, provide nice computer desks and furniture that's well thought out."
Douek tries to bridge the chasm between landlords and tenants with customer service.
He refers to tenants as clients and says quick resolution to problems is the best way to maintain good relationships. He promises a 24-hour response to an email complaint and an immediate response to an emergency text.
"We find that good management gets good tenants," he says, "But strong management gets the best tenants. Service is part of the equation…you have to have a social conscience."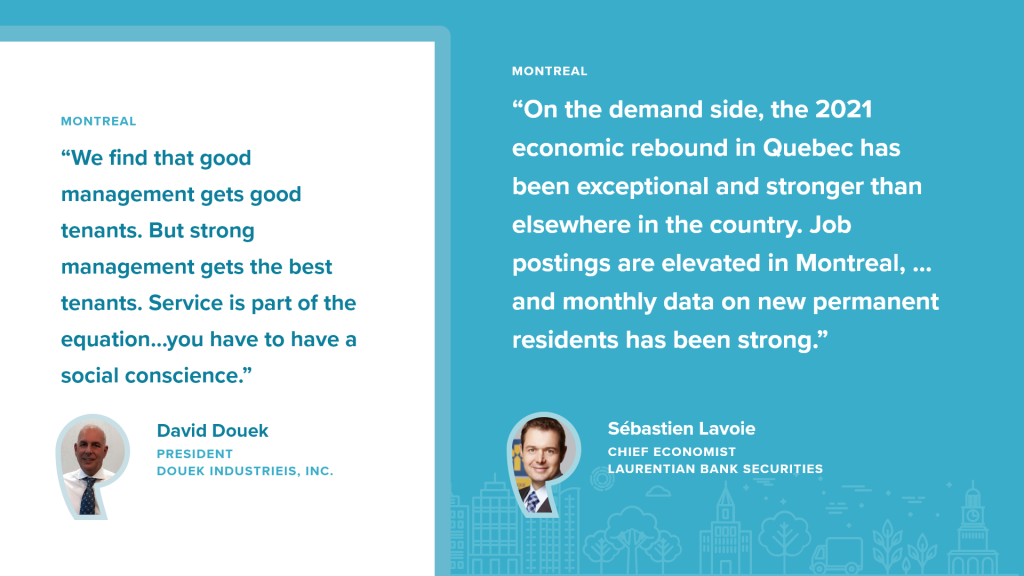 Sebastien Lavoie, chief economist at Laurentian Bank Securities, believes the problems of a lack of housing supply and specifically a lack of affordable supply have beset Montreal, much as they have Toronto and Vancouver.
Lavoie says, "there are plenty of units under construction" in the Montreal area, but many of the projects' completion dates have been delayed.
He sees "a moderate mid-single digit growth increase of rents in 2022 in Montreal."
The higher cost of construction will play a part in rising rents.
"On the demand side, the 2021 economic rebound in Quebec has been exceptional and stronger than elsewhere in the country," Lavoie says. "Job postings are elevated in Montreal, …and monthly data on new permanent residents has been strong.
"The return of students led to a strong absorption on the Montreal Island, but vacancy rates are lower on the North and South Shores, benefiting from relative affordability and the sticky teleworking preference."
He expects the vacancy rate to increase, moving further in a balanced market territory and preventing a double-digit growth surge in rents.
Lavoie thinks demand will stay strong in the rental market because home prices "have surged by about 20 per cent in many neighbourhoods," because of the cumulative effect of rising interest rates coming this year, and because of inflation "soaring to the highest level since the Goods and Services Tax was introduced in the early 1990s."
"This less friendly environment implies more stickiness to rental demand," he says.
Before the 2018 General Elections in Quebec, he says the former Liberal government passed a first-time buyer tax credit of $750, which gave renters an easier entry into homeownership.
One continuing trend from the pandemic Lavoie sees affecting the rental landscape is the work-from-home phenomenon.
"Surveys from the Labour Force Survey and Gallup show a strong preference for employees to work at least some hours from home," he says.
"We see teleworking as a persistent habit, reshuffling the regional landscape," he says
"Favouring North and South Shores versus the Island, and the outskirts including Montérégie, Laurentides, Lanaudière versus the Montreal Census Metropolitan Area.
Some developers are doing great at making inclusive projects for all cohorts and social groups by having a mix of property offering, in addition to creating mini neighborhoods by respecting the surrounding local dynamics.
Lavoie is excited by the coming Réseau express métropolitain, a 67-km light rail system with 26 stations linking downtown, the airport and the Greater Montréal area.
He calls it a "game changer" not only for renters, but for all commuters.
The first line is expected to be ready in 2022. It will improve accessibility to Brossard on the South Shore. The second and third lines should be ready during the 2023-24 period, benefitting the North Shore market and the western part of Montreal Island.
Francis Cortellino, economist, CMHC
QUOTE: "The vacancy rate in Montreal remained stable in 2021. The gradual resumption of international migration and the return to in-person classes decreased the vacancy rate in the downtown area, but it remained at a higher level than before the pandemic."
Montreal's vacancy rate remained stable in 2021 at 3 per cent. The vacancy rate was higher on the island of Montreal than in the suburbs, suggesting a significant number of households moved to the suburbs for larger or newer units where typically rent is lower.
Vacancy
While the gradual resumption of international migration and the return of in-person classes helped fuel demand and contribute to a lower vacancy rate in the downtown area, it remained higher than before the pandemic.
The addition of new units (both in number and in percentage terms) in Notre-Dame-de-Grâce/Côte-St-Luc led to a rise in the vacancy rate — from about 3 per cent to 5 per cent in just one year. The vacancy rate for bachelor and one-bedroom apartments on the Island of Montreal also increased in 2021 for the second consecutive year. This could be, among other things, an indication of renter households' desire to live in larger apartments since the start of the pandemic
The situation was quite different in the suburbs, where the vacancy rate remained stable at just over 1 per cent. Of the 12,000 new apartments added to Montreal in 2021, about 60 per cent were in the suburbs, suggesting low vacancy in the area was a sign demand was once again very strong. A shift in demand from the Island of Montreal to the suburbs likely made the difference, as renters sought out larger or newer apartments at often lower (or similar) prices.
Meanwhile, Montreal's real estate market has shown strong price increases over the last two years, more pronounced in the suburbs than in Montreal proper. As a result, more young households are opting to rent instead of buying upped demand for rental housing.
Average rent
Lower vacancy rates in several sectors continued to push rents up by almost 4 per cent. Average rent for a two-bedroom unit was $932 a month, but in downtown Montreal, rent for a newer apartment was over twice as much at $2,450. In the suburbs, meanwhile, the average monthly rent was $1,420.
The scarcity of units is contributing to the steady increase in average rent. Rent growth was stronger in sectors and for larger units and apartment types with the lowest vacancy rates (particularly on the South Shore and in Laval). In downtown Montreal, where vacancy is above 6 per cent, the rent increase (2 per cent) was one of the lowest of all sectors on the Island.
Affordability
In 2021, only 13 per cent of apartments (about 79,000) could be considered affordable for the least affluent renter households (income under $25,000).
Condo market
The vacancy rate for rental condominiums dropped in 2021, reaching 1.4 per cent. This decrease was attributable to the rebound in rental demand and a level of supply that remained practically unchanged. The gradual resumption of international migration and the return of post-secondary students for in-person classes increased demand for condo units.
On the supply side, even with the addition of 5,300 condominium units, the number of condos for rent remained practically unchanged from 2020 to 2021. The scarcity of available units contributed to upward pressure on rents. A two-bedroom condominium in Greater Montreal was $1,420 in 2021, up almost $150/month from the year before.
8. VANCOUVER
Brock Lawson, formerly the manager of rental data for British Columbia for Zonda Urban, believes rents will continue to increase in Metro Vancouver in 2022.
"There is still a severe supply shortage in the region with little supply that is imminent to launch in the market," he says.
Lawson says about 2,500 purpose-built rental units are expected to be built in 2022, which "is not nearly enough to satisfy the demand in a healthy rental market."
He foresees a tight rental market across all major sub-markets in Metro Vancouver with prospective tenants facing stiff competition in finding a new home.
Demand levels will be pumped up by record high immigration levels with over 400,000 people projected to come to Canada in 2022. A large portion of those numbers are expected in Metro Vancouver.

Lawson believes that besides increased immigration, the short-term outlook on rental availability remains bleak because over 2.5 million square feet of office space is under construction in Downtown Vancouver, according to Colliers, which will attract thousands of employees over the next two years.
One of the main issues impeding affordability and supply is "the slow and expensive approval process along with development fees facing the rental market in Metro Vancouver.
"Especially with a hot condo market and rising construction costs, there needs to be more incentives to make the development of rental housing in the region a more viable and attractive option relative to a condo development," Lawson contends, "Unfortunately, it would take several years of well-above average rental apartment construction to shrink the current massive supply deficit in this market."
A couple of trends from the pandemic will carry over late into 2022 and a couple will not:
Virtual showings with leasing agents as well as 3D/floor-plan tours became an efficient way to conduct showings in the pandemic. This will stick because potential renters who request in-person showings after going through a tour online have reportedly executed leases at a higher rate.
Online applications for leasing became popular during the pandemic and will continue. Providing the option of online application will continue to be more convenient for a lot of people.
Availability of rental units near colleges and universities, such as The University of British Columbia, will be difficult again. At the end of the first quarter of 2021, 24 per cent of rental units at UBC were available. With a return to in-person classes, that availability is over.
As demand has once again picked up to pre-pandemic levels, landlords and leasing teams will not need to offer incentives to entice tenants as they did during the worst of COVID-19.
Not as many people will be moving out of the urban centres into the suburban markets seeking more space and value as did in 2020 and /2021.
"Many people are back working in their offices to some capacity and are wanting to be back closer to the region's urban core," he says. But this should not affect the vacancies in the suburban markets, as tremendous demand remains from renters who either cannot afford the urban core or prefer the quieter suburban locations.
What can renters expect in amenities going forward?
More co-living developments
More common areas transformed into working, co-working spaces
Shallow nooks in common areas to fit a desk
And, more developments should consider adding refrigerated delivery rooms into their amenity package as more and more people use delivery services for groceries.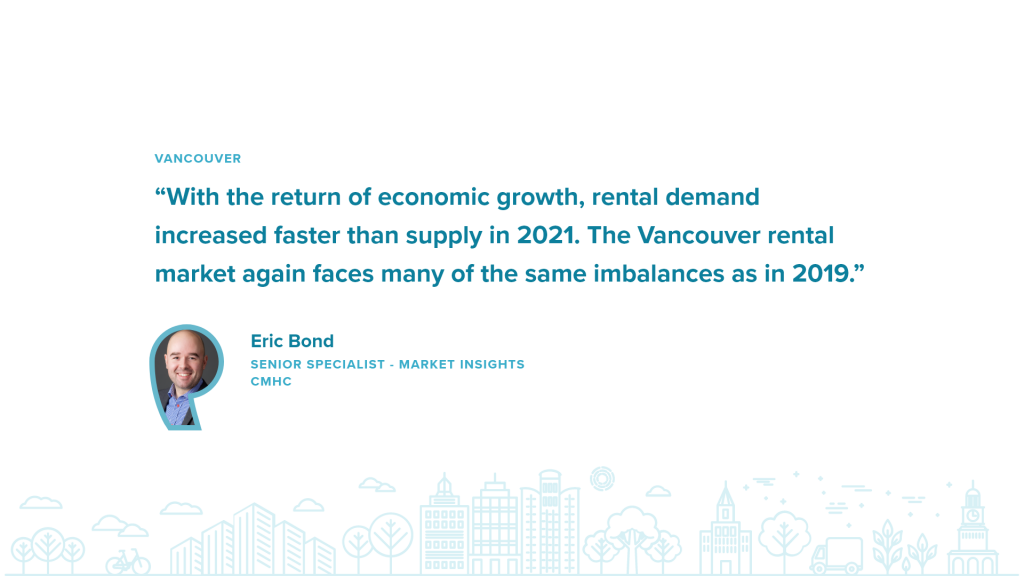 Eric Bond, senior specialist, CMHC
QUOTE: "With the return of economic growth, rental demand increased faster than supply in 2021. The Vancouver rental market again faces many of the same imbalances as in 2019."
In Vancouver, the purpose-built rental apartment vacancy rate decreased to 1.2 per cent in 2021 from 2.6 per cent in 2020. The return of students and increased migration to the region grew rental demand faster than supply.
Vacancy
The rental market tightened in the Vancouver Census Metropolitan Area (CMA) in
2021.
Following a pandemic-induced demand interruption in 2020, the overall vacancy rate for purpose-built apartments returned to the pre-pandemic level.
Tenants have returned to central areas with higher rents. Vancouver has a lower vacancy than the region overall, while West End/Downtown vacancy rates dropped from 4 per cent to 1.6 per cent.
As part of an overall increase in demand, the vacancy rate in suburban areas also declined.
From both international and inter-provincial origins, migration to the Vancouver area increased strongly in 2021 as borders reopened and BC's economy expanded.
Immigration is responsible for most of the region's population growth and new migrants tend to form renter households. These developments increased rental demand. In particular, demand from international migrants is expected to remain strong over the coming years, given the federal government's higher immigration targets.
With post-secondary education returning to in-class instruction, many students returned to Vancouver. In the University Endowment Lands, home to the University of British Columbia, the purpose-built rental apartment vacancy rate decreased from a pandemic-induced high of 13 per cent in 2020 to 0 per cent in 2021. This sudden and complete disappearance of vacancy occurred despite increasing supply in the area over the past year, suggesting the change resulted purely from increased demand.
Average rent
Average rent for a two-bedroom purpose-built apartment in Vancouver was $1,824, and average monthly rent for a two-bedroom condominium rental was $2,498.
The average asking rent for vacant units was about 10 per cent higher than the overall average rent for occupied units in the Vancouver CMA. Vacancy rates declined for units located in central areas such as Downtown.
Vacancy rates for new units fell from 9.1 per cent in 2020 to 2.3 per cent in 2021. These developments contributed to fewer high-rent units being vacant, resulting in the average asking rent moving lower.
In the Vancouver CMA, average rents for new two-bedroom units ($2,522) exceeded both the asking rent ($2,032) and occupied rent ($1,828) for two-bedroom units of all ages, revealing the premium for newer units.
Affordability
In the Vancouver rental market less than one-fourth of purpose-built
rental units are affordable to households earning less than $48,000 in annual
income.
Only one in 1,000 units are affordable to renter households with the lowest one-fifth of incomes.
Lower-income households, particularly families, face significant imbalances and pressures when accessing rental housing they can afford in Metro Vancouver.
Condo market
The condominium apartment segment is an important source of rental supply for the
region. The number of condominiums used for long-term rentals increased by
2,550 units (3.3 per cent) in 2021, representing a slower growth pace than the
significant increases in 2019 and 2020.
With rental demand increasing faster than supply in Vancouver, the vacancy rate in the condominium market remained low at 0.8 per cent.
Most of the increase in rented condominiums is now coming from new supply. High owner-occupant demand for condominiums in 2021 also lowered the share of investors renting their units to long-term tenants.
9. CALGARY & EDMONTON
Kendall Brown, manager – rental data for Alberta and Ontario for Zonda Urban, believes increasing rents will continue in the near future – especially as renters move back to urban areas.
"Rental rates in both Edmonton and Calgary have surpassed pre-COVID-19 numbers and are expected to continue to increase," Brown says.
Brown says over $16 billion has been invested in Alberta in the last year which will create around 130,640 new jobs over the next 10 years with 7,030 new jobs expected to be created in 2022.
Alberta continues to see unemployment rates dropping in both Calgary and Edmonton. In Calgary, unemployment has dropped from 11.7 per cent in 2020 to 8.4 per cent in 2021. In Edmonton, unemployment has dropped from 11.8 per cent in 2020 to 7.7 per cent in 2021. This is a positive sign for the rental market, especially newer purpose-built buildings where rents tend to be slightly higher.
"With the increase in capital invested and available jobs, we expect an increase in migration from other provinces, creating demand for rentals," Brown says. "During the last year, we have already seen an increase in migration as people are moving out of Ontario and British Columbia with remote working taking off and moving to Alberta due to the affordability factor."
Brown is not worried about rental supply meeting demand this year because favourable economic conditions are attracting intra- and inter-migration in Alberta.
We will likely see the fallout from the anticipated interest rate hikes force some would-be home buyers to remain in the rental market," she says. "However, as mentioned before, a growing population with both inter-provincial and international immigration will help bolster both housing sales and rental absorption for the next 12-18 months."
In Calgary, there are 97 development permits (23,077 units) submitted to the city. Thirty projects (6,857 units) have been approved and are expected to come to market over the next two to three years. Ten of those projects (2,828 units) will hit the market in 2022, Brown says.
In Edmonton, there are 120 development permit applications (23,909 units) submitted to the city. Thirty-two projects (6,493 units) have been approved by the city and are expected to commence leasing in the next two to three years. Eleven of those projects (1,104 units) are expected to come to market in 2022.
Brown says vacancy rates in Calgary are the lowest they have been since the fourth quarter of 2019 with an overall average of 7.8 per cent. Average rent per square foot slightly decreased 2.6 per cent to $2.22 at the end of the fourth quarter of 2021. The decrease in rents was largely due to the seasonal demand that led landlords to pull back on incentive packages and rent discounts.
"We've seen a huge increase in demand for the downtown as many young professionals and students are returning to the more urban areas," she says. "Vacancy in Calgary's downtown has decreased by almost half of what it was in Q2-2021."
In Edmonton, vacancy continues to decrease, Brown says. Overall vacancy at the end of the fourth quarter was 8.5 per cent, a 1.4 percent decrease compared to the previous quarter. Average rents per square foot remained the same at $1.74. This is a 1.4 per cent increase from rental rates in the fourth quarter of 2020.
Brown believes developers have pulled back somewhat on incentives offered to renters.
In Calgary, 51 per cent of buildings had incentives in the fourth quarter compared to 57 per cent during the first half of 2021.
And in Edmonton, 63 per cent of buildings had incentives at the end of the fourth quarter compared to around 72 per cent in the first half of 2021.
Also, Brown says, developers are no longer offering up to two months free on a 12-month lease. They are now offering either $500 off the first month's rent, one month free on a 12-month lease, or at $500-$1,000 move-in bonus.
A trend Brown sees moving forward is more two bedroom/two bathroom-units available with higher turnover rates. Previously, one-bedroom units have had the highest turnover rates. She says it's an indication that renters are less likely to live with a roommate because of the work-from-home phenomena, and the increased amount of time spent at home during the pandemic.
Renters have used study/Zoom rooms the most in the past year, Brown says. She believes developers will need to consider adding more private working spaces into their amenity offerings to give renters the privacy needed to work or take a Zoom call while also allowing them to get out of their apartments for a couple of hours.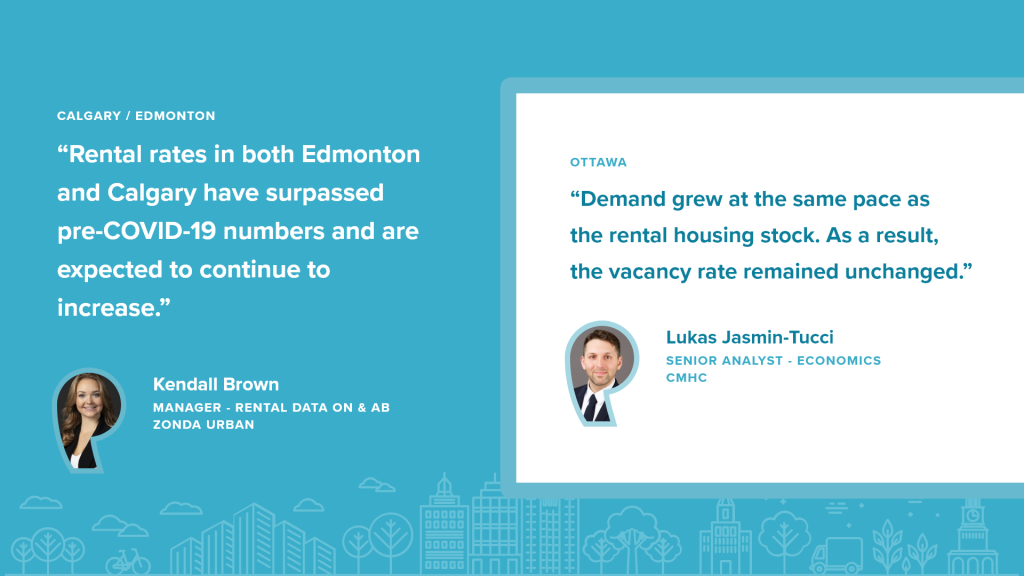 10. OTTAWA
Lukas Jasmin-Tucci, senior analyst, economics, CMCH
QUOTE: "Demand grew at the same pace as the rental housing stock. As a result, the vacancy rate remained unchanged."
The vacancy rate in Ottawa has remained largely unchanged due to a combination of a rise in the number of rental units available and increased migration to the area. In short, supply and demand have kept pace. However, despite having one of the highest vacancy rates in the last 25 years, options are still limited for lower-income households.
Vacancy
Ottawa's vacancy rate remained stable in 2021 at 3.4 per cent, virtually unchanged from 2020. A likely factor in the steadfast rate was an increase in rental demand as a result of an influx of new permanent residents. The number of new permanent residents who settled in Ottawa during the first three quarters of 2021 exceeded pre-pandemic levels.
In Canada, the Ottawa market has the largest proportion of people working remotely (almost half of all workers). With the area's two main sectors — public administration and the information and communication technology sector —among those with the highest potential for remote work, a significant number of employees in these industries are no longer required to live in Ottawa.
On the supply side, a significant number of rental units was added in the area, as was the case in 2020. Despite this surge in rental housing construction, demand increased enough to keep the vacancy rate unchanged.
Affordability
Despite the vacancy rate remaining at one of its highest levels in the last 25 years, options remain limited for lower-income households, largely due to the significant difference in vacancy rates for units at different rent levels. For example, the vacancy rate for apartments with the lowest rents ranges from 0 to 0.6 per cent, while higher rent apartments have a vacancy rate of 4.6 per cent.
For the 40 per cent of renter households with the lowest annual income — below $42,000 — only 15 per cent of Ottawa's rental housing is affordable. A rental unit is considered affordable if the household spends less than 30 per cent of its income on rent. And according to the CMCH's calculations, to afford the average monthly rent for a two-bedroom, purpose-built unit in Ottawa ($1,550), a renter would have to work 146.5 hours a month.
Average rent
After three years of strong growth, average rent in Ottawa increased by just over 2 per cent between October 2020 and October 2021. This growth is below the average for the last 10 years. The scarcity of vacant units pre-pandemic encouraged owners to increase rents when a unit was vacated. Yet, with a higher vacancy rate over the last two years, the pressure appears to have decreased this year. The rent freeze in 2021 may also have contributed to the slowdown.
The average monthly rent for a two-bedroom apartment was $1,550. However, since this average includes the rents of households that have been in their units for many years, it is not always representative of the rents advertised to households looking for a new place to live. Consider that, at $1,840, the average rent for a vacant apartment was higher than the average rent for an occupied unit ($1,537).
Condo market
The vacancy rate among condos saw a slight increase but remained low. Contrary to the conventional rental market, the condo vacancy rate increased at a rate of less than 1 per cent for the third consecutive year. This has been the case since condominium completions slowed down and the number of condo units offered as rentals stopped increasing. The slight bump in vacancy was due in part to a rise in the number of condo completions in the outer suburbs.
The average condo rent remained higher than that of apartments built specifically for the rental market ($1,818 versus $1,550 for a two-bedroom unit). Most of the new condominium supply was added to the market starting in 2004 and rents tend to be higher in newer units, which could explain the difference.
11. WINNIPEG
Avrom Charach, vice-president of Kay Four Properties Inc., believes rents in Winnipeg will increase by 2 per cent to 3 per cent, even though the provincial rent guideline is 0 per cent for 2022.
He says the increase will be driven by new construction, suite renovations and inflation.
New construction starts of purpose-built rentals will begin to slow in 2022, but many new units, especially downtown units, will continue to come on board, he says.
"That will drive the increase of rents and also the renovation of older stock in our city," Charach says. "I also believe that many young professional renters will be looking for larger apartments or moving to condos or homes as they continue to work remotely, at least part time, and will want more space."
Winnipeg has grown through immigration, Charach says, but COVID-19 has slowed this influx.
"Until and unless immigration starts to increase again in the future," he says, "Winnipeg will see continuing increases in vacancy rates due to added housing stock growing at a rate that is faster than the number of renters looking for apartments."
As far as trends in what's offered to renters, Charach believes some new buildings will offer amenities that have not been the norm for Winnipeg. These include party rooms with commercial style kitchens, full gyms, pet-related amenities, locked delivery systems for packages, discounted Wi-Fi, or credits toward cleaning or moving services.
Charach is worried about possible fallout this year from the new Real Estate Services Act that went into effect at the beginning of the year by the Manitoba Securities Commission. He claims the act was adopted "without clear guidance."
"Our industry was shut out of the development of this legislation until it was almost passed," he says. "We have been working hard with the Securities commission, but it has not clearly defined the effect this will have on professional property managers who are not also Realtors…Smaller operators may try to sell out and exit the market."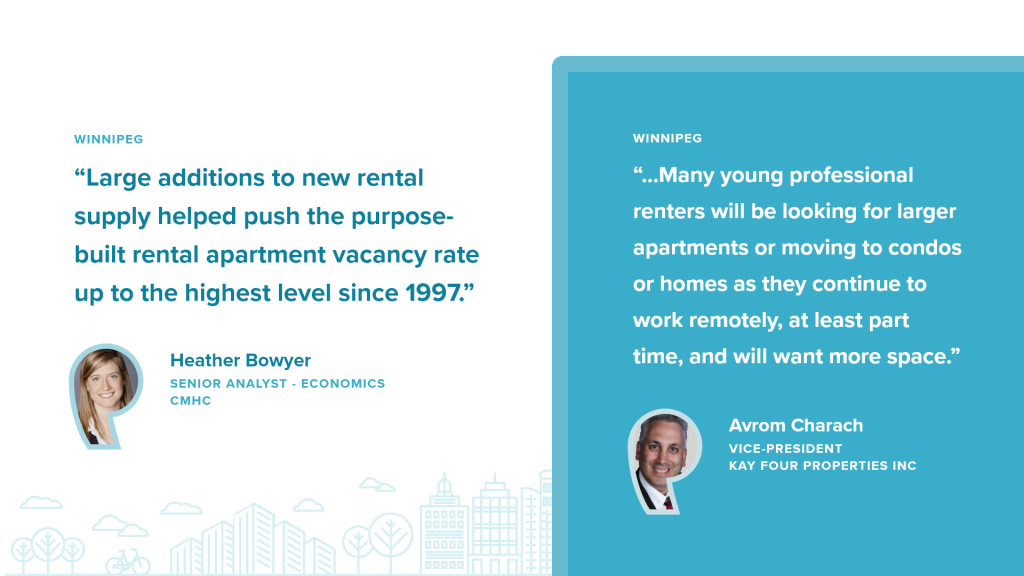 Heather Bowyer senior analyst, economics, CMHC
QUOTE: "Large additions to new rental supply helped push the purpose-built rental apartment vacancy rate up to the highest level since 1997."
Significant additions to rental supply and lower than normal demand bolstered Winnipeg's vacancy rate in 2021. Average rent continued to rise slightly, but higher vacancies meant rents were raised at a more moderate rate than in previous years.
Vacancy
The labour market, population flows and economic conditions in Winnipeg have not yet fully recovered from pandemic-induced challenges, contributing to weaker demand for rental units. These factors, combined with a significant number of newly completed apartment units, helped increase the vacancy rate, which jumped to 5 per cent in 2021, the second consecutive yearly increase and the highest vacancy rate since 1997.
With the addition of over 15,000 jobs in Winnipeg, employment levels improved in 2021 compared to a year earlier. In particular, employment rebounded among young adults (aged 15 to 24), the cohort the most affected by pandemic restrictions. Despite this recovery, both the level of the unemployed and the unemployment rate remained higher than in February 2020, suggesting some of the population has yet to return to the labour market following pandemic restrictions.
As border restrictions began to ease in 2021, international immigration and non-permanent resident levels increased. However, while immigration in Manitoba was up 82 per cent on a year-over-year basis, it remained considerably lower than historical levels for this period. Despite the return of immigration, rental demand in Winnipeg remained well below what is typically created by this household type.
An increase in supply also helped drive up vacancy. Winnipeg added close to 3,000 units in 2021, the largest annual increase on record based on data dating back to 1990. Additions to rental supply will likely continue, as apartment units under construction were up 30 per cent year-over-year in 2021.
Average rent
Softened demand for rentals likely contributed to average rent climbing by only 2.6 per cent in 2021, with rent for a two-bedroom unit at $1,317. The smallest units posted the largest increase at 3.2 per cent, which helped explain the lower demand and higher vacancy rate for this unit type.
Affordability
An adequate supply of affordable rental units continues to be a challenge for lower-income households. For households earning less than $25,000 a year, representing roughly 20 per cent of all renter households, an affordable monthly rent would be less than $625.
More apartments don't necessarily mean more affordable apartments, as new units typically post higher average rents. Among units completed between July 2018 and June 2021, average rent was $1,541 or 33 per cent higher than the average rent for all units.
Condo market
The vacancy rate for condos remained unchanged at slightly over 2 per cent. Unlike purpose-built rental construction, new condo construction has recently slowed in Winnipeg.
The average rent for a rental condo unit was $200 lower than rent for a new purpose-built apartment. This decrease reflects a narrowing of the gap compared to 2020, partially explained by the more modest increase in average rents, driven by higher vacancies in the purpose-built market.
12. HAMILTON
The Hamilton and District Apartment Association, (HDAA) a nonprofit organization that helps rental housing providers and property managers, believes rents will continue to increase in 2022.
The response for this report is a statement from the group's board of directors.
Rents will continue to increase due to insufficient supply of rental units and growing demand for rental housing in secondary markets, the HDAA says.
There is not enough supply because tenant turnover continues to be low (fewer people are moving during the pandemic), and there is not enough supply of new housing, the group believes.
"Turnover may increase in 2022 as we emerge from the pandemic," the HDAA says, "But there will still likely not be enough supply, particularly as immigration resumes and demand increases for rental units."
The HDAA sees the supply of affordable housing continuing to be an issue and getting worse in 2022
Another issue that worries the HDAA is poor public policy.
"It is hard to house people, and they need better and more public support," the group says, "Municipalities and the province need to process and approve development applications in a timely manner to increase supply of housing."
The HDAA believes as the pandemic wanes, restoration of older buildings – which was paused to some extent – and construction of new buildings will increase and will create valuable new local jobs.
Something the group sees emerging from the pandemic is that apartment complexes will provide more on-site parcel lockers.
The Hamilton and District Apartment Association is a nonprofit organization with rental housing providers and property managers who manage more than 30,000 units throughout Hamilton, Burlington, Brantford, Guelph, Mississauga, Oakville, St. Catharines and into the Niagara Peninsula.
Anthony Passarelli, senior analyst, economics, CMHC
QUOTE: "The overall vacancy rate in the primary rental market was significantly lower, despite the largest supply increase in over 30 years."
Hamilton's vacancy rate dropped below 3 per cent despite the largest supply increase in more than 30 years. Demand was led by fewer renters transitioning into homeownership, improved employment conditions, and an influx of immigrants, renters from Toronto and the return of students for in-person classes.
Vacancy
The number of rental apartments increased by nearly 900 units in the Hamilton area — the largest annual increase in more than 30 years. Yet, the increase in supply was unable to keep pace with rental demand, resulting in a much lower overall vacancy rate. Rental demand increased by approximately 1,200 additional units, eclipsing the previous record set in 2017.
Fewer renters transitioned into homeownership, likely resulting in heightened demand. Higher mortgage qualifying rates and higher house prices significantly reduced the homeownership options of prospective buyers from the rental market. The average resale home price grew by over 20 per cent during that period
The sharp drop in vacancy rates in the city's west end — home to McMaster University — suggests more student renters lived there in 2021, likely including more international students. Furthermore, enhanced health and safety measures last year prompted the university to reduce the number of on-campus housing spaces offered for rent, forcing more student renters than usual to find rental accommodation off-campus.
Demand was also augmented by more than 5,000 new Canadian permanent residents in 2021. Historical data suggests most of these new permanent residents were newcomers to Canada, and far more likely to rent than own their first home.
With the flexibility of working remotely, more renters than in past years vacated units in Toronto to rent in Hamilton. It's estimated renters moving from Toronto saved up to $350 per month for one-bedroom units and up to $600 per month for two-bedroom units.
While 2021 unemployment rates for people between 25 and 44 remained above pre-pandemic levels, they were significantly lower than in 2020. These rates were supported mainly by sizable employment gains in service industries, particularly those that tend to generate rental demand, such as retail and accommodation and food services.
Average rent
Due to fewer options and a rent freeze on most occupied units, rent for vacant units was up to 20 per cent more expensive than rent paid by current tenants. Rent overall increased by almost 4 per cent, with average rent for a two-bedroom unit at $1,352. Rent growth slowed this year, despite less than 3 per cent of apartments being vacant for the first time since 2017. Likely restraining rent growth was the 2021 Ontario rent freeze applied to up to 85 per cent of all units.
Rent for vacant units was far more expensive than the rent paid by current tenants. Average rent for vacant one-bedroom units was approximately 9 per cent higher than rent paid for occupied units. Vacant two-bedroom units were nearly 1 per cent more expensive than occupied units.
Affordability
Rents have grown persistently faster than incomes in Hamilton, leaving even mid-income renters with few affordable options. Only one of every seven vacant units in the primary rental market was considered affordable to renters at the 40th income percentile. Renters with an annual salary of $42,000 could afford monthly rent up to $1,049 (30 per cent of their monthly income). Renters with a household income of $25,000 or less continued to have virtually no affordable vacant units available to them.
Condo market
The vacancy rate for rental condos remained below 1 per cent, owing to modest supply growth and strong demand from renters seeking higher quality units and building amenities.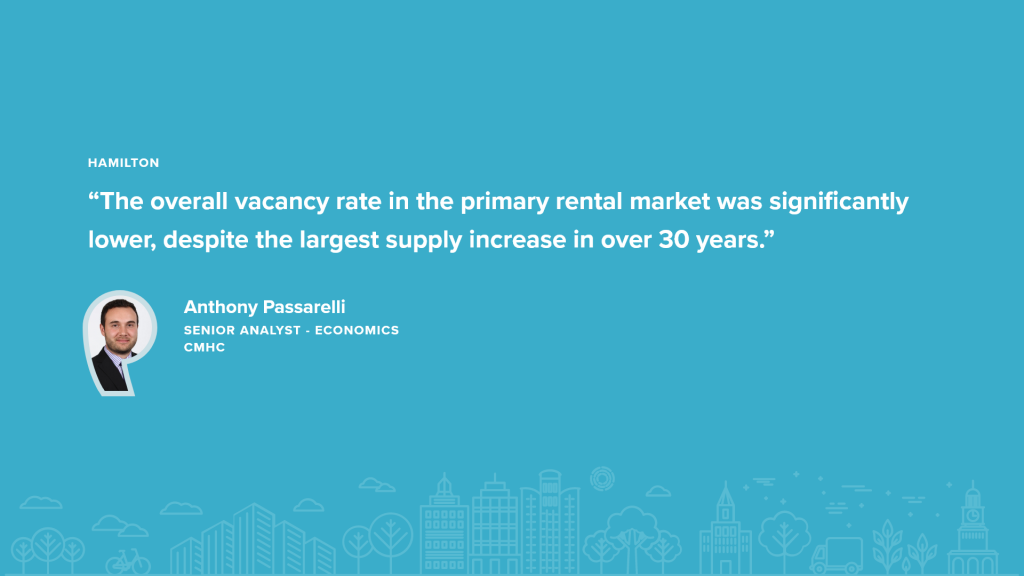 13. HALIFAX
Neil Lovitt, vice president, Planning & Economic Intelligence for Turner, Drake & Partners Ltd., believes rents will increase this year in Halifax.
After a slight increase in 2020, the Halifax rental market again returned to an all-time low vacancy rate in 2021 and saw the largest average rental increases on record.
"That momentum is going to carry into the coming year, so expect above average rent increases again, even if our pace of construction manages to increase vacancy over 2022," he says, "It's a safe bet that low rental availability and upward pressure on rents will continue through the year to come… and probably years after that. We had some strong demand fundamentals beforehand, and since the pandemic it's only become stronger."
While he sees those fundamentals remaining the next few years, he has some questions about whether the pandemic-era migrations patterns of Ontario and British Columbia people relocating to Nova Scotia will continue:
Will the allure of the East Coast lessen when people aren't locked down?
Will a recession reduce the price pressure in other markets that is driving people eastward?
Will a new covid-19 variant throw a wrench in the gears and lead to migration restrictions again?
Lovitt says before the pandemic, the resale market was relieving some of the pressure for the rental market as more people were buying homes. But since the pandemic, the owner-occupied housing market "has gone insane in step with the rest of the country; a dearth of listings, massive buyer demand, and rapidly escalating prices as a result.
"It has switched from being a potential pressure release valve, to a major contributor of pressure in the rental market," he says, "Across the board, we need more housing supply, and especially in the short term…."
He says a lot will depend on the construction pipeline.
"Construction is a bottleneck, so the rate of completions has not increased to the same degree," Lovitt says, "And we see the backlog growing in the number of units under construction."
From 2000-2015, the average of rental units under construction in any given year was about 1,200, and the number for 2021 was 5,700 units, he says.
Lovitt says a great deal of potential supply is waiting in the wings, "if we can improve our construction output."
One issue Lovitt sees as a result of the "extreme market tightness" is a lack of non-market options for those priced out.
"This market dynamic is creating great challenges for the more vulnerable segments of society, and at its worst, exacerbating homelessness, " he says. "Unfortunately, we're going to see a continued loss of housing options at the affordable end of the rental market."
Lovitt sees a new niche in the rental market created to serve those who are now working remotely or in hybrid work situations as a result of the pandemic.
"The appeal to digital nomads was starting before the pandemic in the short-term rental sector, but now that footloose employment has gone mainstream, there is an opportunity beyond the Airbnb platform for a medium-term rental option that combines an excellent home office with an engaging setting and high amenity design." Lovitt says. "We'll see how big this dynamic gets, and whether it lasts over the long run. But just in terms of how people occupy rental housing, this is one of the first interesting pivots we're seeing come out of the pandemic."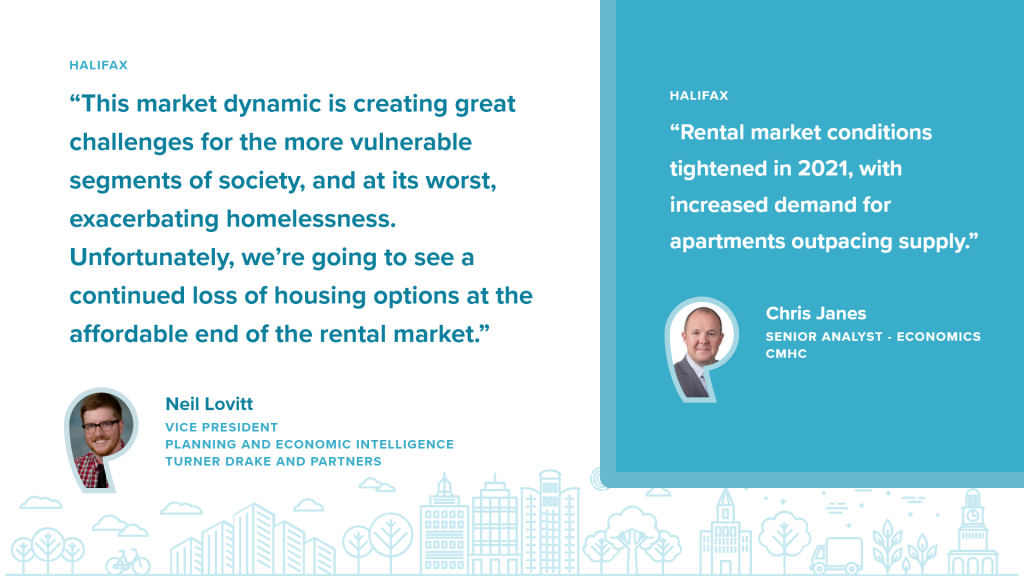 Chris Janes, senior analyst, economics, CMHC
QUOTE: "Rental market conditions tightened in 2021, with increased demand for apartments outpacing supply."
Halifax's vacancy rate dropped to 1 per cent, its lowest rate on record. Factors contributing to a more restricted market included higher average rents, a record influx of people moving to the region from other provinces, and an increase in housing prices in Halifax. This combination of almost no vacancy and elevated rents challenged lower-income households, young adults, seniors on a fixed income and new immigrants seeking affordable rental apartments.
Vacancy
Increased demand for rental apartments outpaced supply in 2021. Halifax's vacancy rate dropped to 1 per cent in October 2021. This matched 2019 as the lowest level reported over the past 30+ years.
Economic recovery
Nova Scotia's ongoing recovery strengthened rental demand in Halifax last year. As businesses reopened and normalized, labour market conditions improved, contributing to robust rental market activity. The economy returned to near pre-COVID-19 pandemic levels as employment increased and income rose by about 7 per cent.
The Canada Recovery Benefit (CRB) provided support for renters unable to work or who experienced reduced income because of COVID-19. This support helped tenants afford rent and likely enabled some to move to better or newer accommodations
Interprovincial migration
Halifax's population increased by approximately 1 per cent in 2021 — the result of the highest interprovincial migration in over 30 years, making Halifax Canada's fastest-growing city. The surge in the second quarter alone was the highest since data collection began in 1961.
The flexibility of remote office work led many working professionals to move to Nova Scotia and the Halifax region. More than half of all newcomers from other provinces — mainly from Ontario and Alberta — were in the 20-49 age group, a key segment of both the rental and labour markets and included a larger-than-usual number of renters.
By the fall of 2021, Halifax saw an influx of youth aged 15 to 24 and an increase in temporary residents by more than 50 per cent compared to a year earlier. Students returning to Halifax's universities increased demand for rental apartments.
Affordability
Nova Scotia emerged as a COVID-19 haven in 2020 and 2021 for Canadians fleeing crowded cities and astronomically high house prices. As many located in Halifax, average house prices in the region rose by around 30per cent, making homeownership even further out of reach for renter households.
Average rent rose to $1,244, up more than 5 per cent from 2020. The average household needed to work almost 163 hours a month to keep rent for a two-bedroom unit at an affordable level (30 per cent of gross income). This is up from approximately 150 hours in 2020. Many prospective renters were priced out of two-bedroom and larger apartments in newer buildings, affordable to higher-income renters, such as working professionals and retirees.
14. LONDON
Musawer Muhtaj, senior analyst, economics, CMCH
QUOTE: "The vacancy rate fell due to a significant increase in demand, as rent growth slowed. Meanwhile, affordability continues to be a concern."
The vacancy rate in London dropped slightly, due to a healthier local economy and the return of post-secondary students to the area for in-person learning. This increase in demand offset a bump in supply.
Average rent increased by only 3 per cent this past year, down from 7 per cent in 2020. However, affordability continues to be a challenge, as only 2 per cent of the rental market is affordable to households with an annual income of less than $25,000 a year.
Vacancy
Like most markets across the country, the vacancy rate for purpose-built apartments in London fell, compared to the previous year. The city's rental market grew by more than 800 units in 2021, about 19 per cent more units than in 2020.
After recovering to pre-pandemic levels in early 2021, London's employment rate sat 5 per cent above its pre-pandemic high and 10 per cent above its level at the same time in the previous year. Migration also rose, as the number of permanent resident admissions exceeded that of previous years. According to data from Immigration, Refugees and Citizenship Canada, by the fall of 2021 the number of permanent resident admissions was 86 per cent higher than the total number of admissions for all of 2020.
That increase in supply was met with a significant inflow of demand, as Western University and Fanshawe College reopened their doors to students for in-person classes, playing a significant role in driving up rental demand in the fall of 2021. The largest declines in vacancy rates were in areas surrounding these intuitions.
Average rent
Average rent rose to $1,275 in 2021, a 3 per cent increase. The addition of 888 units in 2021 likely brought some balance to the rental market by creating more options that increased competition and put downward pressure on price growth.
Affordability
Rental affordability weakened over the last year in London. The average household needed to work approximately 154 hours a month to keep rent for a two-bedroom unit at an affordable level (30 per cent of gross income). This is up from approximately 139 hours in 2020. A deeper dive into the market shows fewer housing options were available to low-income renters.
In fact, fewer options were available at both ends of the affordability spectrum. Due to lack of supply at the lowest and highest rental price ranges, lower-income renters were forced to look for housing in more expensive and unaffordable rent ranges, while the higher earners sought accommodation in lower rent ranges.
Condo market
The demand for condo rental continued to be strong in 2021, bringing the vacancy down to 0.3 per cent as supply could not keep pace. The share of rental condo units increased by seven percentage points.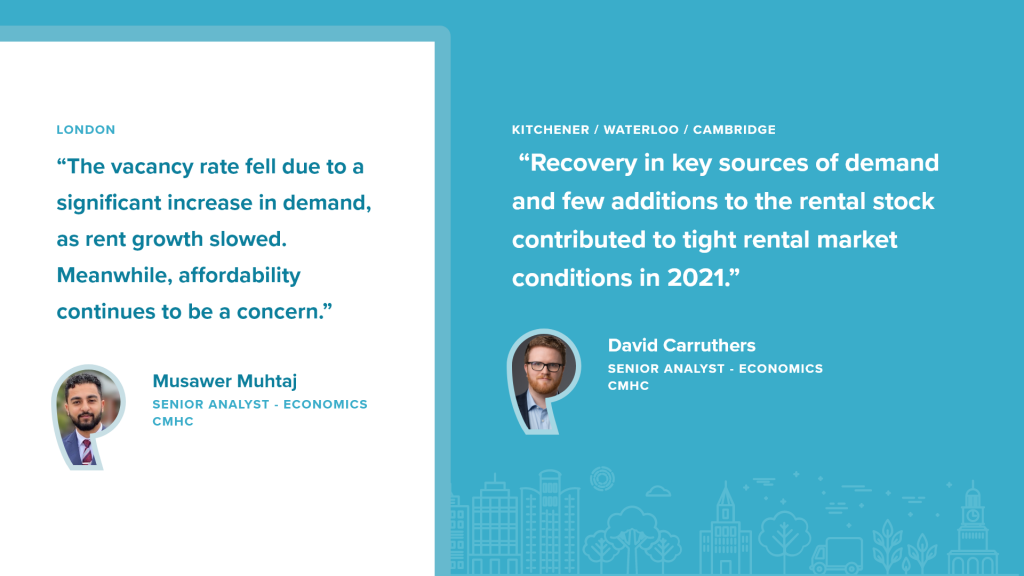 15. KITCHENER/WATERLOO/CAMBRIDGE
David Carruthers, senior analyst, economics, CMHC
QUOTE: "Recovery in key sources of demand and few additions to the rental stock contributed to tight rental market conditions in 2021."
Waterloo's rental market experienced historically low vacancy rates and elevated rents. An increase in immigration and a return to in-person classes in the fall of 2021 contributed to rental demand. This hike in demand, coupled with few additions to supply and higher rents, served to erode affordability within the Kitchener-Cambridge-Waterloo (KCW) rental market in 2021.
Vacancy
Despite record inventory levels under construction in KCW's rental and condominium markets, vacancy rates remained low in 2021 at 2 per cent.
Stable employment, particularly in the professional, scientific and technical services industries, likely strengthened rental demand in KCW, with high-income jobs possibly driving rent growth in newer condominium units. Meanwhile, a resumption of immigration in 2021, and greater admissions of permanent residents, also likely contributed to increased demand.
Uncertainty surrounding in-person classes and the signing of leases over the school year helped reduce losses from student renters. What's more, with remote work opportunities, graduating students may have been slower to leave the region than in pre-pandemic times. With the resumption of in-person classes by the fall of 2021, many students returned to the KCW rental market, contributing to demand for rental units.
Average rent
Competition for relatively unchanged supply contributed to upward pressure on rents. This increased demand, coupled with higher rents, eroded KCW's affordability. With average rent up by more than 3 per cent, at $1,356 for a two-bedroom, few units were affordable for the 20 per cent of households with the lowest incomes.
Affordability
Finding affordable housing last year was increasingly difficult for low-income tenants. Demand for homeownership and newly renovated rental apartments was on the rise. That said, renting in KCW was affordable compared to Toronto in 2021, where average rent levels for two-bedroom units were substantially higher ($1,679 versus $1,356). KCW's market likely saw spillover from Toronto as a result, especially with many professionals continuing to work remotely.
An additional 9 per cent of units were affordable only to the top 40 per cent of household incomes, while 10 per cent of units were no longer affordable to the middle 20 per cent.
Condo market
The number of rental condo units increased by 470 units — roughly 50 per cent of the increase in condos overall — which may contribute to strong growth in the coming years.
16. VICTORIA
Leo Spalteholz, a real estate analyst in Victoria for House Hunt Victoria, says "…it's a safe bet that rents will continue to increase in 2022 in Victoria, likely between 5 per cent and 10 per cent."
Spalteholz also works with Homes for Living, a local housing advocacy group pushing for government reforms to increase housing supply and ensure they are used as homes first.
With the CMHC recent report showing the vacancy rate in Victoria back down to 1 per cent, Spalteholz says a shortage of rentals will likely persist.
"Though construction of purpose-built rental has increased substantially in the last five years," he says, "This comes after decades of neglect…."
He points to CMHC statistics showing Victoria had 26,144 purpose-built rental homes in 1991, and 28,206 in 2021, an increase of only 2,723 units while the population grew by about 116,000.
The rental shortage and increases in resale prices motivated private investors to buy in greater numbers, contributing to further increases in prices, he says. With the average house price spiking to over $1.4 million in recent months, "2021 marked the worst deterioration in housing affordability in Victoria's history."
Fewer people are able to make the jump to ownership leading to increased rental demand, he says.
Also, British Columbia saw a 60-year high in migration from other provinces this year which puts pressure on the rental market. The resulting jump in rents and prices will deter some future newcomers, but in the short term the housing shortage persists.
Recent Rentals.ca data shows a strong increase in advertised rents in 2021. This means that long-term tenants benefiting from British Columbia's rent controls are facing an escalating gap between the rent they are paying and market rents.
That leads to payment shocks when tenants move, whether voluntary or forced. National statistics indicate about 15 per cent of renter moves are forced in British Columbia. That's the highest rate of forced moves in the country and a particularly dire indicator of the ongoing housing crisis, Spalteholz says.
But "after wild swings during the pandemic," Spalteholz says, "The rental market should stabilize and ease somewhat in 2022."
The flood of purpose-built rental construction will have a large impact in Victoria and ease some of the rental pressures in the coming years, he believes. There are 2,918 rental units under construction in Victoria which will be ready for occupancy in the next two years. Rental starts are still moving higher – 2,411 in the last 12 months – and there are thousands more in development.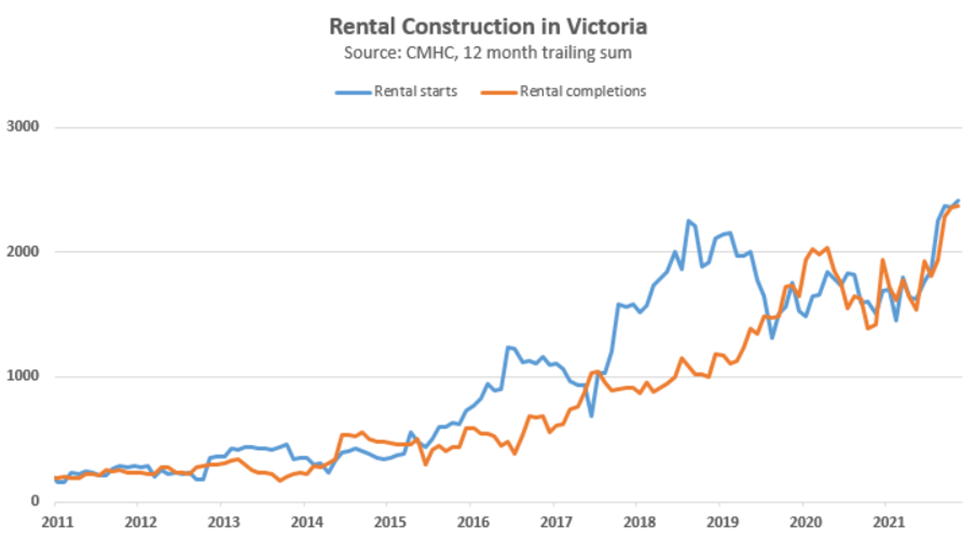 Tenants now have the choice of renting modern units without the threat of their home being sold out from under them by a private investor.
"Though it likely won't happen as soon as 2022, we may see some private investors leaving the market," he says, "As competition from professional rental providers increases, high condo prices and lowered provincial limits for allowed rent increases drive down returns."
Spalteholz believes a problem facing Victoria's rental market is that the bulk of the city's more affordable rental stock is from buildings that are some 60 years old and nearing end of life.
These buildings are facing increasing pressure from redevelopment as they are already zoned for multifamily rental use.
"Replacing them with new rentals helps control rent growth," he says, "But leads to eviction of the residents and the loss of their relatively inexpensive rentals.
He believes cities such as Victoria should upzone low density single-family areas near amenities for rentals to encourage new construction where there will be little displacement or loss of existing affordable rentals.
"They should also award bonus density or cash subsidies to new projects that include deeply affordable or family-sized units, which are especially lacking in the market," Spalteholz says.
Spalteholz expects a strong demand for rental projects that incorporate family friendly features such as family-sized units, ground level access, protected green courtyards, play equipment, or on-site day care. He says these needs will become more apparent as more and more families with kids will find themselves renting longer because of extremely high home prices.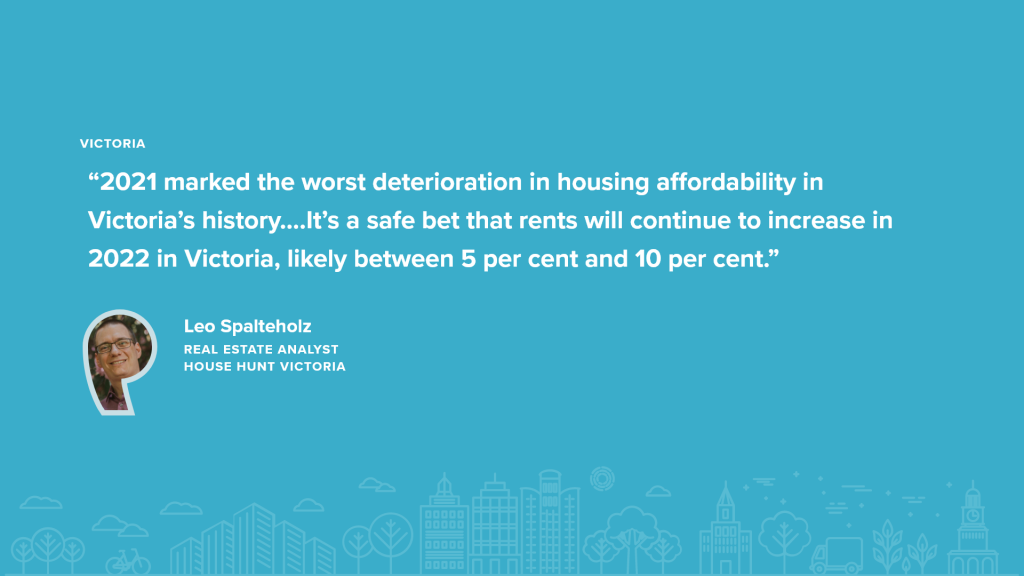 17. SASKATOON
Goodson Mwale, senior analyst, economics, CMHC
QUOTE: "Rental market conditions tightened in 2021, with apartment vacancies declining across all bedroom types. Strong employment growth contributed to increasing rental demand, which outpaced new supply."
The overall vacancy rate dropped in 2021 after rental demand outpaced supply. Likely due to a higher vacancy rate among older units, the average asking rent for vacant units was lower than that paid in occupied units. Meanwhile, low-income households continued to face challenges in finding affordable apartments.
Vacancy
Increased demand for rental apartments outpaced new supply in Saskatoon, which pushed the overall vacancy rate down to 4.8 per cent. The decline was consistent across all bedroom types. With 710 more units occupied last year than in 2020, the jump in rental occupancy was greater than additions to supply, contributing to the lower vacancy rate.
The rise in demand was supported by a recovery in overall employment, which rose by just under 4 per cent from a year earlier. Among youth aged 15 to 24 — most likely to be renters — employment was almost 40 per cent higher than in the previous year. With solid gains in both full-time and part-time jobs, the unemployment rate for this age cohort fell to 9 per cent.
Average rent
Rent increased by a very modest 0.6 per cent from the previous year. This suggests competition for tenants may intensify, especially in older units with a much higher vacancy rate than newer units in 2021.
The vacancy rate in older units (built before 1940) was up last year. Older units tend to be the least expensive option for prospective renters, while newer units typically command higher rents. The greater availability of older units likely contributed to lower asking rents than those paid in occupied units. This could also help explain the increased renter mobility in 2021.
Average rent for newly completed, two-bedroom apartments or townhouses was $1,437, more than $250/month higher than overall average rent. While these newer units represent a small portion of Saskatoon's rental inventory, their lower vacancies reflect increased demand for the competitive amenities they provide. This is particularly the case in sought-after neighbourhoods in the northeastern parts of the city.
Affordability
Affordability remains a challenge for lower-income households, especially those seeking larger bedroom units.
Only about 7.5 per cent of all rental units would be affordable to households with an annual income of less than $31,000. Just over half of all units would be affordable to households with an annual salary under $48,000.
Condo Market
Saskatoon's condo market remained tight despite additional supply. The vacancy rate for condos last year was relatively stable at 3 per cent. While investors committed 16 per cent more condos to long-term rental and added newly completed units to the market, the market was still restricted, signaling high demand for these types of rentals.
With the condo market expanding, the share of long-term rentals increased in 2021. Meanwhile, the average rent for a two-bedroom condominium apartment was $1,208, compared to $1,183 in the purpose-built rental market.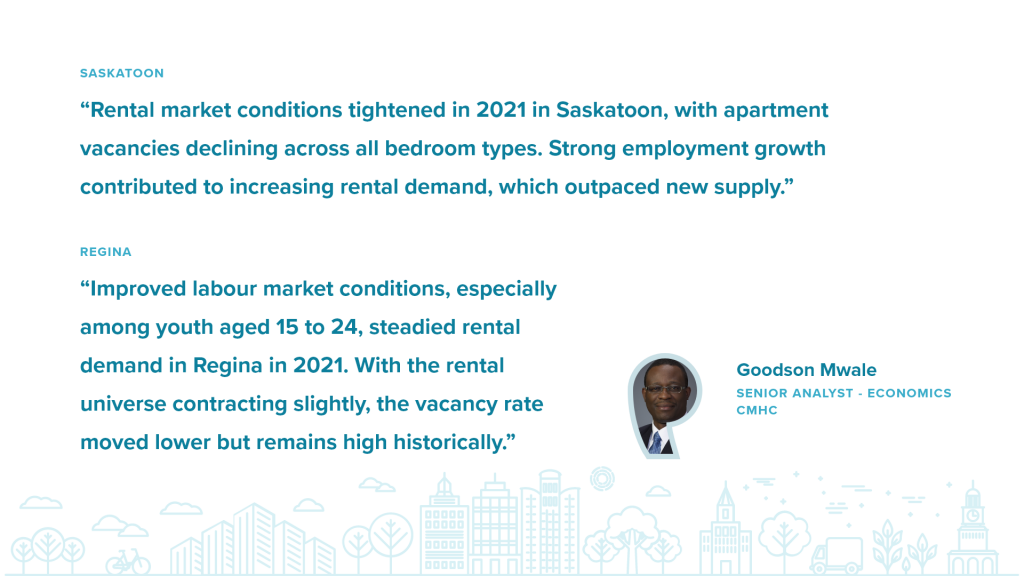 18. REGINA
Goodson Mwale, senior analyst, economics CMHC
QUOTE: "Improved labour market conditions, especially among youth aged 15 to 24, steadied rental demand in 2021. With the rental universe contracting slightly, the vacancy rate moved lower but remains high historically."
Regina's overall vacancy rate declined due to steady demand and a slight decrease in supply. Same-sample rents were stable as an elevated vacancy rate kept very little pressure on apartment rents. Meanwhile, affordable units remained out of reach for many low-income households.
Vacancy
Stable demand and a slight decrease in Regina's rental market dropped the vacancy rate to just over 7 per cent in 2021. While Regina's overall vacancy rate declined, it was still historically high, signifying a looser rental market.
What's more, overall employment last year recovered to above pre-pandemic levels, which helped keep rental occupancy steady. Among youth aged 15 to 24 —most likely to be renters — overall employment was up by just over 9 per cent last year. Meanwhile, the 2021 unemployment rate in this age group fell to 10.6 per cent, as both full-time and part-time employment posted double-digit gains.
Improving employment prospects and ample choice for renters (due to high vacancies) likely contributed to a higher turnover rate, which jumped 7 percentage points from 2020 to 35 per cent in 2021.
Average rent
Over the past few years, a high vacancy rate has supported stable-to-lower rents in Regina. This led to more competitive rents for older apartments, which typically have a higher vacancy rate than newer units. The higher vacancies in older units likely contributed to the lower average asking rent than rent paid in occupied units.
The vacancy rate for newer units was slightly lower than for structures of all ages. The newer units also had an average rent of $1,378, almost 30 per cent higher than overall average rent ($1,156).
Affordability
Just over 8 per cent of Regina's rental units would be affordable to renter households with less than $31,000 annual income. Most of these units are small, with only one or two bedrooms. Approximately 60 per cent of Regina's rentals would be affordable to households making $48,000 or less
Condo Market
Regina's condo vacancy rate was stable last year, with supply and demand decreasing at a similar pace. While only 19 more condo units were added in 2021 from the previous year, investors committed 248 fewer units to long-term rentals. On the one hand, this might reflect stronger demand for condo ownership during the COVID-19 pandemic, which has resulted in continued price gains. Before the pandemic, condo prices had been declining. The recent upward trend in prices might have prompted some investors to sell their units.
19. FINAL THOUGHTS FOR THE REST OF 2022
Incentives to lure tenants to buildings are here to stay, as this Daily Hive piece suggests, but there are fewer now than during the height of the pandemic and in cities with tight vacancies such as Vancouver they are few and far between. Some of the popular incentives are: free wifi and cable for a year, free parking for a year, gift cards to Amazon, a free month's rent and bonus cash.
The pandemic has forever changed the types of amenities renters are looking for in their new units. Some of the most desirable features post-pandemic are: pet-friendly units, a washer and dryer, more space for cooking, a backyard, a second bedroom for office space, partially furnished units, co-working spaces and refrigerated delivery rooms for groceries.
Intuitive, safe digital tools are becoming the norm after the pandemic for both renters and landlords.
Rentals.ca pledges to stay on top of these stories, trends, insights, news and data to help keep you in tune to the rental heartbeat of Canada.
To see the past three Rentals.ca annual reports:
Rentals.ca 2021 Rental Market Predictions From Experts Across Canada
Rentals.ca 2020 Rental Market Predictions From Experts Across Canada
Rentals.ca 2019 Rental Market Predictions From Experts Across Canada
Sarah Moore, a Toronto-based writer and editor, contributed to this report