1. INTRODUCTION
Rents will continue to climb in 2020 in major metropolitan areas in Canada, but while the increases won't be as much as the last few years, finding the right rental will continue to be a challenge, according to housing experts from around the country.
The average rental rates will increase by 3 per cent year over year on a national basis in 2020, according to Rentals.ca's and Bullpen Research & Consulting's December National Rent Report.
Annual rental rates could increase in 2020 by as much as 7 per cent in Toronto, 5 per cent in Montreal, 4 per cent in Ottawa and 3 per cent in Vancouver, according to the rent report.
Rentals.ca talked to 25 housing professionals and experts including Canada Mortgage and Housing Corporation (CMHC) senior analysts, data analysts, economists, developers, affordable housing advocates, investors and city councillors for their insight on the 2020 rental market in Canada.
THE YEAR OF THE RENTERS' OR BUYERS' MARKET?
For the developer and property manager, the rental market performed well in 2019, with strong demand across Canada, peaking in popularity in the third quarter, according to Local Logic in Montreal.
"In 2019, online rental activity shows rental listings are increasingly more in demand compared to for-sale properties, and we expect that to continue into 2020," says Vincent-Charles Hodder, CEO of Local Logic in Montreal.
Local Logic is tracking shifting lifestyle demands of renters and sees more families renting rather than owning, which "has led to a larger number of more diverse rentals available on the market.
"As more families continue to rent as opposed to buy, we see renters for larger homes are willing to sacrifice their ability to take transit or walk to get their groceries in favour of being located near a quality school," he says, "We expect the rental markets to perform very strongly in areas close to schools in 2020."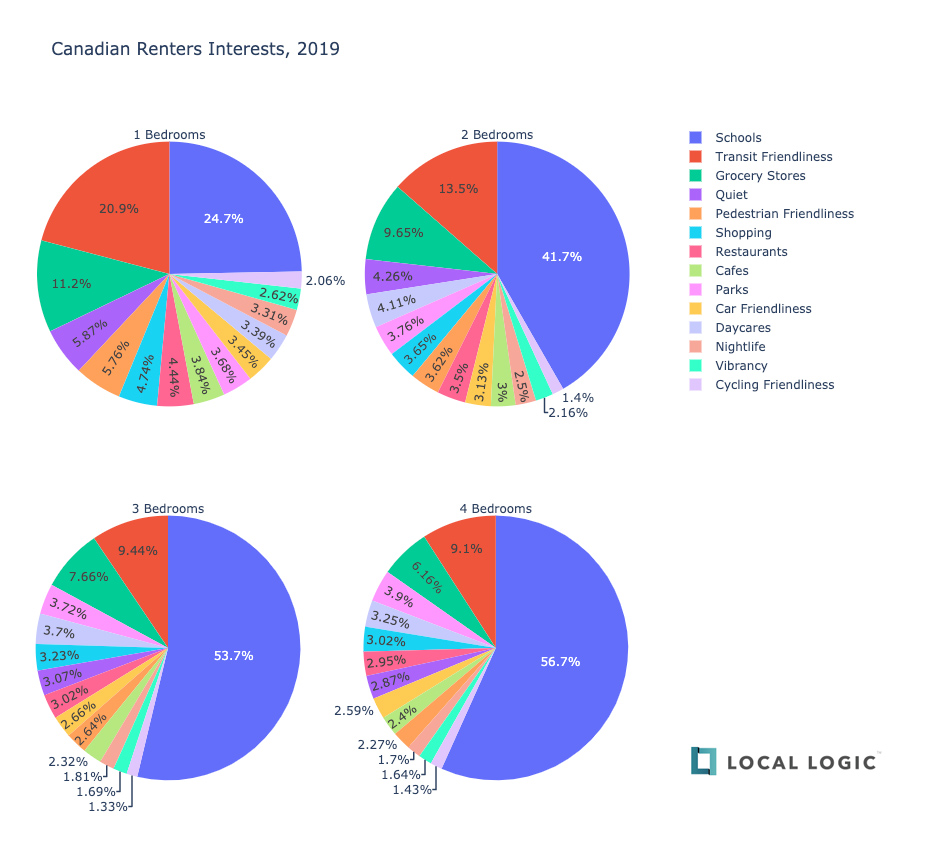 AFFORDABILITY WILL REMAIN AN ISSUE IN 2020 FOR RENTERS
For the renter, 2019 mirrored the last few years. Supply did not match rental demand in much of Canada — except the Prairie Provinces — and high and rising real estate prices and the stress test kept many would-be homeowners in the rental market longer.
Competing in the crowded rental market last year were millennials moving around mostly for new jobs and looking for the best apartment amenities; immigrants finding their way in a new country; and baby boomers retiring, downsizing and selling their homes to capitalize on their equity to rent again. They are tired of mowing grass and shoveling snow.
And, let's not forget the big affordability issue with many Canadians trying to make ends meet to survive in purpose-built rentals and co-ops. For example, in Toronto, 58 per cent of young households spend over 30 per cent of their income on rent and utilities, while 35 per cent spend over 50 per cent, according to the Candian Rental Housing Index. A healthy rent to income ratio is 30 per cent.
"Affordability will remain a major issue in 2020," says Matt Danison, CEO of Rentals.ca "We will see more short-term rental regulations, vacancy taxes, co-living developments, smaller apartment units, telecommuting, and millennials living with their parents longer."
As the desire for different living spaces are shifting, as prices increase, as digital tools become more common and as demand is stronger, developers, property managers and renters are looking for more creative solutions to housing problems. Governments at every level will also need more creative and flexible thinking.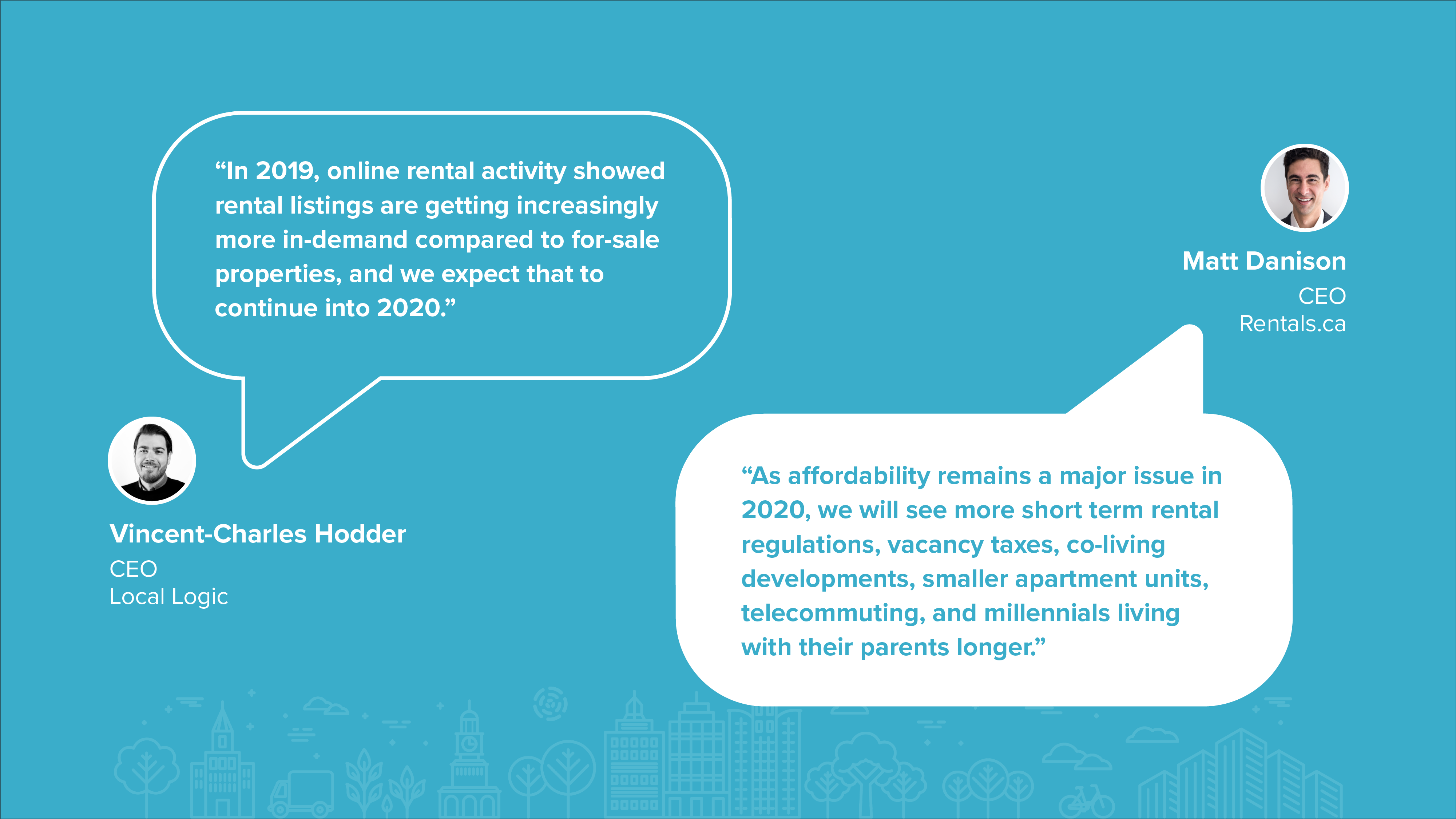 WHERE RENTS ARE HIGH AND VACANCY RATES ARE LOW
Rents have been, are, and will continue to be highest in Toronto and Vancouver. Vacancy rates range from an unhealthy 1 per cent to 1.5 per cent.
Most surrounding cities of the GTA and Greater Vancouver are also seeing rising rents as more people move trading the higher housing costs of the big cities for lower rents but longer commutes.
Rents are also increasing in Montreal, Ottawa and Halifax, where vacancy rates are under 2 percent.
Only in the Prairie Provinces are rents more stable and vacancy rates in the 3 per cent-plus healthy rate per CMHC. Winnipeg is the exception with increasing rents this year.
Let's take a deeper dive into the 2020 rental market.
2. RENTAL MARKET TRENDS AND INSIGHTS FOR 2020
EXPECT THE MARKET TO BE UNDERSUPPLIED IN 2020 IN CANADA
Veteran housing analyst Ben Myers has one wish for 2020: "I wish everyone on all sides of the housing debate would do a bit more reading on solutions that have actually worked and more research on what policy changes have not worked."
The president of Bullpen Research & Consulting said "the mortgage stress test, expanded rent control, changing AirBnB legislation, rapid population growth, and record rental housing construction continues to disrupt the balance between supply and demand nationally. We expect the market to continue to be undersupplied overall in Canada in 2020."
Here are some trends he sees this year:
More renovations of older run-down apartments, as rent growth has been high enough to justify those investments,

More rental apartment starts, with a greater focus on smaller units, more affordable units and more shared amenities,

More alternative rental options like laneway suites, tiny homes, co-living developments,

More buildings sold as condominiums to individual owners who agree to lease all suites in the building in a pooled rental arrangement (popular in university towns).

He also said he wouldn't be surprised if corporations start buying condominiums to ensure they have close-by housing for their incoming graduates. "It would be a great recruiting tool to have properties available within walking distance of their office."
He sees rents continuing to rise overall in Canada (3 per cent) and in Toronto (7 per cent).
"According to the latest Housing Market Outlook report by CMHC for the Toronto CMA," Myers says, "The population of the metro area is expected to grow by 139,000 people in 2020 — another huge year. Despite the expected increase in apartment completions (condo & rental), demand will likely far exceed supply for another year."
Myers believes Toronto is a "livable" city for few people, "which essentially means you're planning a city for the rich. When there is a limited amount of anything desirable, the most affluent people have the resources to pay the most for those things, and housing is no exception."
There is a massive waiting list for social and affordable housing in the Greater Toronto Area and the city of Toronto, Myers says. "The "Housing Now" initiative, spearheaded by the city of Toronto, is trying to upzone government lands for a mix of affordable and market housing, but continues to run into opposition from politicians for being too tall and too dense.
"The local NIMBYs are out in force because they'll lose a parking lot, they might lose a view, they might experience traffic congestion, and poor people might move into their community," Myers says. "There will never be anywhere near enough affordable rental product as land is in short supply, and the land that is available gets regulated to death, resulting in thousands of lost units."
Myers says rent control would be "much more effective at 5 per cent instead of 2 per cent."
He says 5 per cent would prevent rent gouging, but would allow landlords to charge rents much closer to the actual market rates on vacant units. (In the United States, two states enacted rent control last year — Oregon at 7 per cent and California at 5 per cent.)
He says as it is, landlords "'renovict'" tenants, hoping they won't return after the renovation, or they say they are moving into the unit themselves, only to re-rent the unit several months later.
"Rent control often leads to discrimination in the leasing prosess," Myers says. "A landlord is more likely to rent to a student who is only going to stay for a year, as opposed to a single mother looking to establish roots in the community and stay long term."
He believes "there should be much higher punishments for landlords for false or fraudulent evictions, and there should also be a way for landlords to recoup losses associated with tenants who destroy or damage rental units or abuse the system."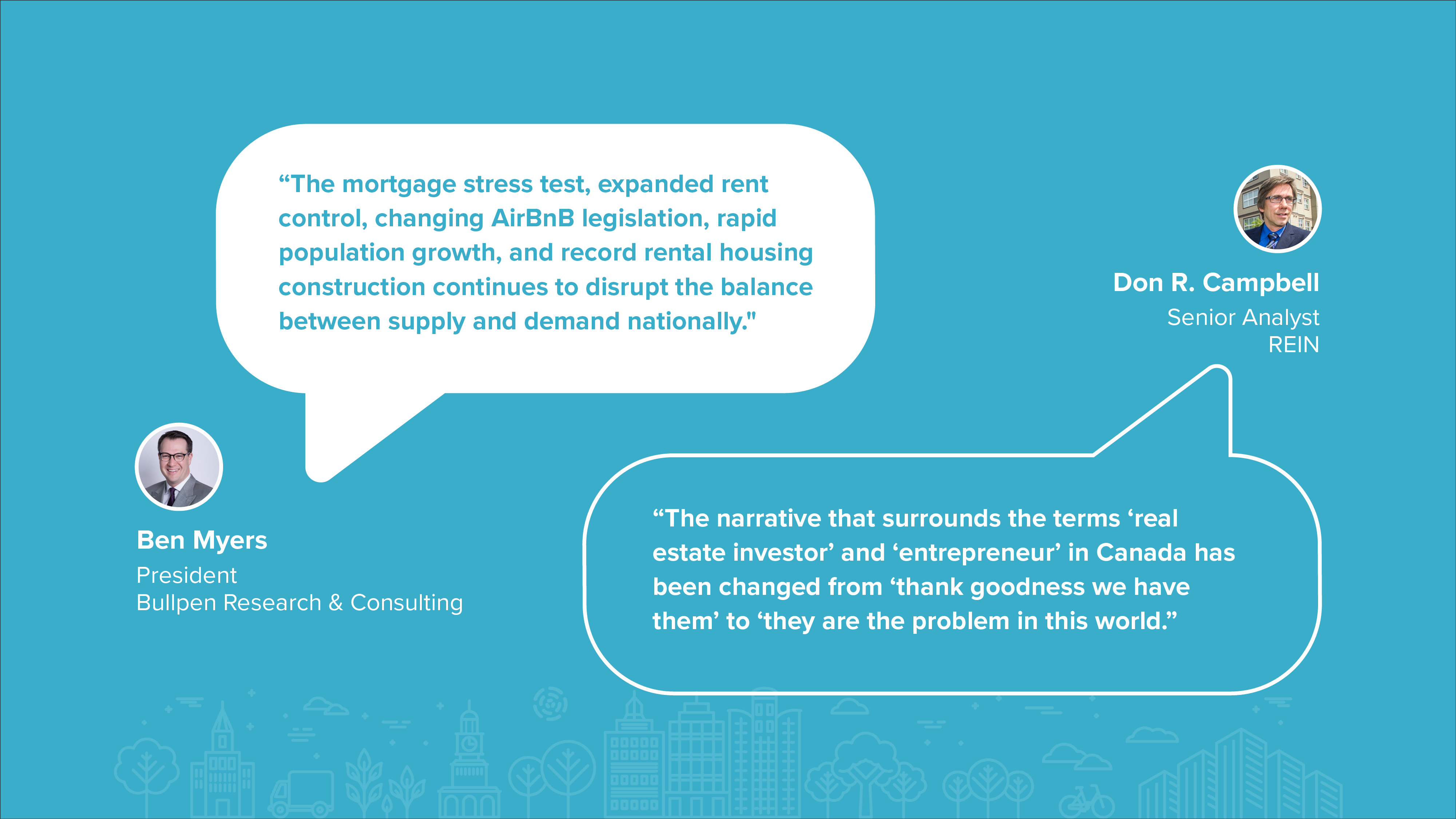 2020 A LANDLORDS' MARKET IN MANY REGIONS OF THE COUNTRY
Author of eight books, real estate investor, researcher, philanthropist and educator Don R. Campbell believes rents will go up in 2020 depending on regional economics and demographics.
Campbell is the senior analyst with the Real Estate Investment Network and the president of Cutting Edge Research, Inc.
"The demographic shifts we are witnessing in the GTA, Hamilton and Ottawa will keep upward pressure on rental rates," he maintains, "While in other regions, such as Edmonton and Calgary, the upward pressure will not be quite as high — although higher than 2019.
"Overall, the demand being created by the record high immigration rates coupled with the large millennial cohort moving through the housing market — although a bit delayed — will definitely keep rental demand strong in many regions," he says, "And with the delay in supply, rents will increase.
He adds that it will continue to be a landlords' market this year "in many regions of the country, especially in Ontario, Quebec and British Columbia. In other regions, especially on the prairies, a renter will have more choices."
Campbell believes one of the problems with the rental market is government at all levels vilifying independent, real estate investors and entrepreneurs.
"In fact," he says, "It seems the narrative that surrounds the terms 'real estate investor' and 'entrepreneur' in Canada has been changed from 'thank goodness we have them' to 'they are the problem in this world."
He says elected officials "gain political points," but put a burden on housing providers with more taxes, regulations and tighter rules on rental property financing.
He says a CMHC survey shows 50 per cent of rental properties in Canada are owned by independent investors.
"Remove those 50 per cent," he says, "And you would have a rental crisis that would ripple from the streets of every city all the way to the halls of Parliament.
3. IN TORONTO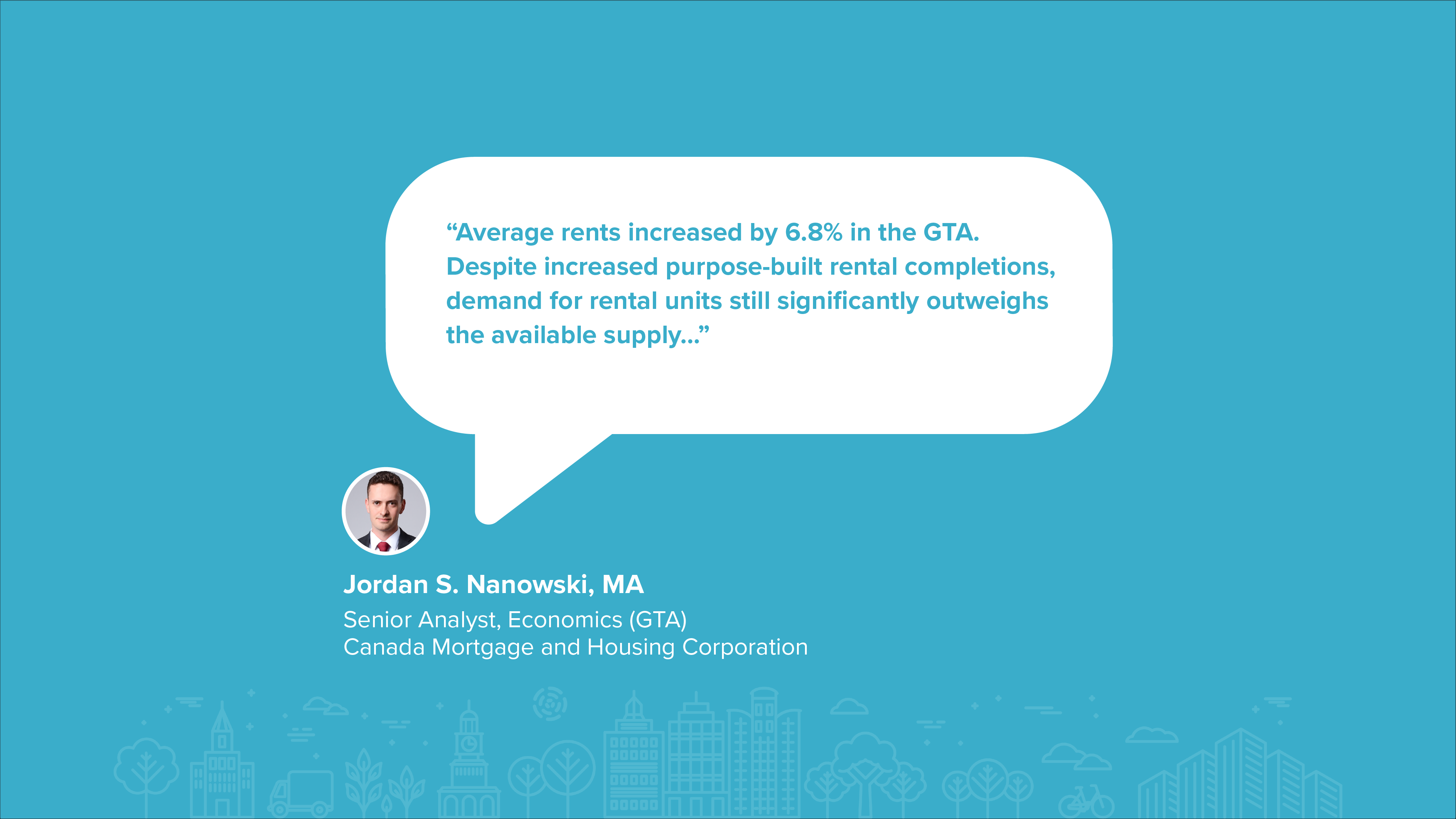 WHAT WILL IT TAKE TO CHANGE THE TIGHT MARKET AND RISING RENTS?
The rental market will remain tight in 2020, and rents will increase in Toronto.The vacancy rate increased to 1.5 per cent in 2019 up from 1.1 per cent in 2018. The vacancy rate forecast by the CMHC Housing Market Outlook for 2020 is 1.2 per cent.
"Average rents increased by 6.8 per cent in the Greater Toronto Area (GTA)," says Jordan S. Nanowski, MA (Econ), senior analyst, Economics (Greater Toronto Area) Policy and Innovation, Market Insights for CMHC. "Despite increased purpose-built rental completions, demand for rental units still significantly outweighs the available supply, which creates tight rental market conditions where landlords can charge new tenants higher rents."
Nanowski wrote the CMHC Rental Market Report for the GTA published Jan. 15.
And, he says, newly completed purpose-built rentals typically charge higher rents, which has also contributed to the growth of average rents for the market.
Nanowski says affordability is "the biggest issue facing the GTA rental market," and to address the problem supply of affordable rentals should be directly targeted and increased."
Even with rising supply, he says, it has not been enough as demand is "bolstered by current housing market conditions and strong growth in key rental demographics (individuals aged 25-44, immigrants, non-permanent residents)."
"Condominium apartments have acted as the de-facto rental accommodation supplier for many years in the GTA," Nanowski says. Approximately one-third of GTA condominium apartments are rented out." For new condominiums, that number is nearly 50 per cent.
"Demand for these units are exceptionally strong," he says. "This is evident by a 0.8 per cent vacancy rate in the GTA."
More units are being built and are in the pipeline for Toronto, but will they be enough for the fastest growing city in North America? In a study from Ryerson University's Centre for Urban Research and Land Development last year, Toronto grew by more than 77,000 residents by the end of July 2018. The study said that was more than the next three cities combined — Phoenix, AZ; San Antonio, TX and Fort Worth, TX.
And, according to most projections, growth is not slowing down for Canada's largest city.
A Nov. 4 story in The Globe and Mail states: "In Toronto, there were about 7,800 rental units under construction in September…The boom in rentals could go a long way in addressing low vacancy rates in many cities, but is still far off what's needed to offset a rising population for Toronto. A recent Royal Bank of Canada report determined Toronto would have to build an average of 26,800 units a year to bring vacancy rates up to a healthy 3 per cent…."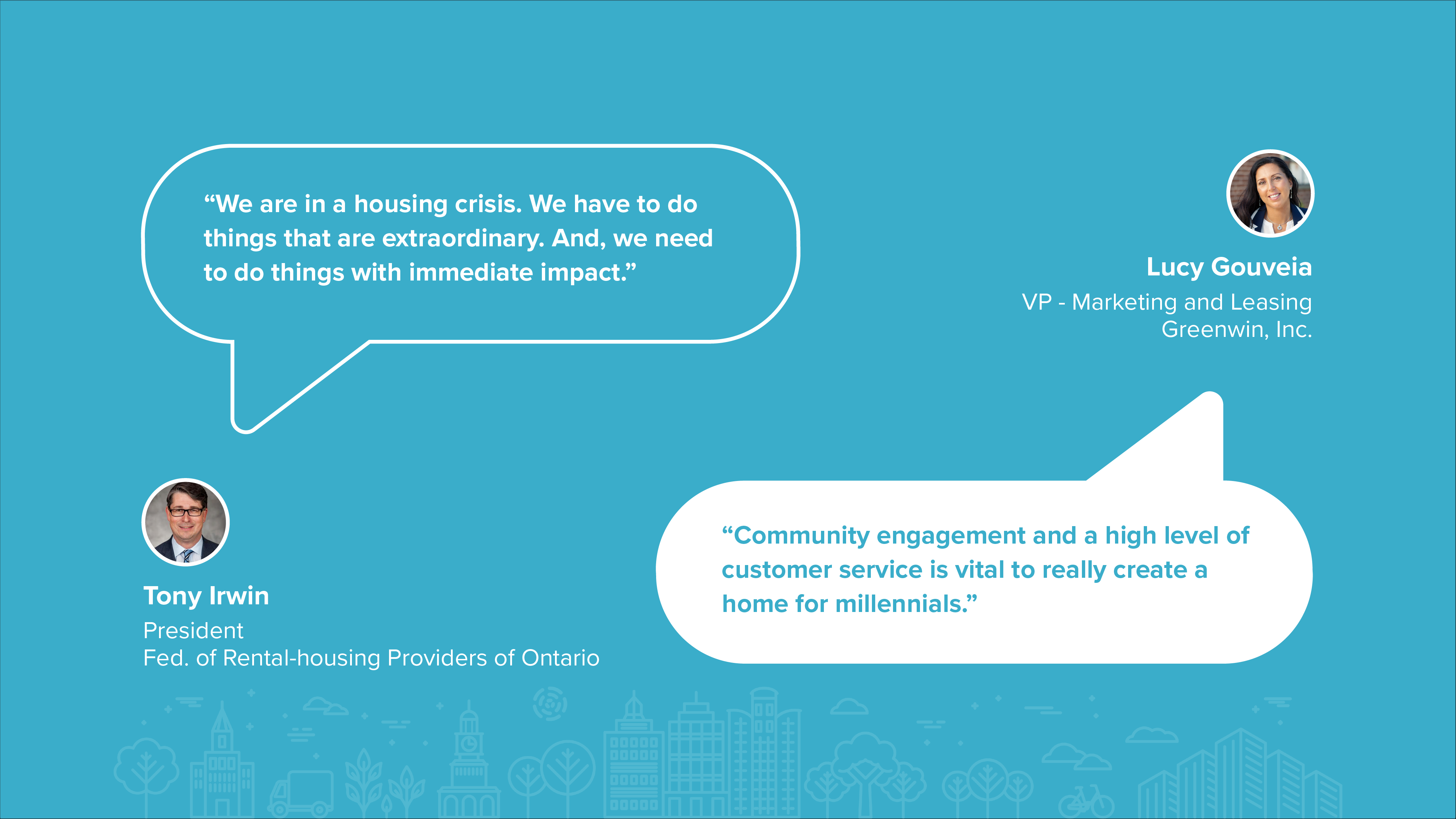 "It's nowhere near what we need," says Tony Irwin, president of the Federation of Rental-housing Providers of Ontario (FRPO). "We are in a housing crisis. We have to do things that are extraordinary. And, we need to do things with immediate impact."
Some of Irwin's extraordinary suggestions with immediate impact include:
Developing "Unicorn sites,"

Streamlining the city's development approval process,

Engaging with communities — NIMBYs and tenants' groups — sooner in the development process,

Bringing Toronto's outdated zoning codes up to date, such as considering rental-only zoning as done in Vancouver, and more as-of-right zoning.
Irwin says Unicorn sites are "a no-brainer," part of the solution — if the government would get out of the way. "The space is there; the infrastructure is there."
Irwin defines Unicorn sites in a Mortgagebrokeragenews.ca article from last year: "It's a term we use to describe a piece of property with one or two towers that have room for a third and even a fourth tower. We need the municipal government to expedite approvals, though, because land is no longer abundant, so if those sites can be leveraged to build another tower, the government should be supportive and expedite approvals."
Although Irwin is realistic and says "no one thing will solve the housing crisis," he believes "by leveraging these sites and fast-tracking them, we could put a dent in the problem."
Irwin says developers have built more condominiums than apartments because that's what has made sense economically.
But, he says, because of the stronger demand for apartments especially from millennials and seniors, government — Toronto City Hall — needs to streamline the process, restructure fees, and add incentives for developers to build more apartment rentals.
"The biggest challenges for developers," Irwin says, "is the time it takes to get projects approved, high land costs and high building costs."
A big issue in providing enough housing in Toronto, according to Irwin is getting disparate groups together including NIMBYs, tenants groups, politicians, builders and property managers, "to engage with one another and actually get something done."
He wants to see collaboration, groups making some concessions to find common ground.
He says the issues are complex, but because groups do not work toward a middle ground, what often happens is nothing but keeping the process "paralyzed."
He advocates engaging early with all groups, and says to move the process forward there "has to something between yes and no" for NIMBYs.
Irwin says in his role, he encourages talking early and often with community groups. He says the issues are not easy or straightforward, and "people get very emotional," but he says "the stakes are high" and engaging early could be the catalyst to move forward on the housing crisis.
Irwin calls Toronto "underzoned" and says zoning laws are "outdated." He says zoning needs to be updated to reflect the city's current population and trends.
He mentions Vancouver's "rental-only zoning, which make way for six-storey rental buildings in commercial districts not already covered by community plans," as something for Toronto to consider, along with more "as-of-right zoning." This type of zoning means no lengthy delays, fees, or special permits or amendments, and allows the city to fit more homes into a neighbourhood without rezoning. For example, Toronto allowed property owners in the former city of Toronto and East York to add laneway rentals without changing zoning in 2018.
Irwin also agrees with the city's decision to regulate short-term rentals because of the low vacancy rate. "It takes housing out of the market for long-term renters," he says, "We need every unit we can get."
Some housing officials argue that the short-term rental regulations could free up as many as 5,000 units for long-term renters.
Irwin is hopeful the housing crisis in Toronto can be turned around.
"We're starting to see the numbers go in the right direction," he says, "We are seeing more applications, more shovels in the ground, and more units opening. But it's still really slow. He's hoping for more policy changes.
"The more buildings built," he says, "Will have a positive effect on renters." He's hoping the vacancy rate will begin to creep up by 2021 and 2022.
Last month, Toronto City Council committed to a 10-year, $23.4 billion HousingTo plan which among other measures promises to build 40,000 affordable rental units.
Information: Toronto's Housing Now, Ontario's Housing Supply Action Plan and Canada's National Housing Strategy.
From a property manager's perspective, Lucy Gouveia, vice president, marketing and leasing at Greenwin, Inc. says, "There are absolutely not enough affordable rentals in Toronto."
She echoes Irwin's sentiments that a real solution to the Toronto housing crisis involves building more purpose-built rentals.
"Unfortunately, rentals are time-consuming to build; this is made worse by the costly barriers we face, Gouveia says, "Developers need to have the flexibility and support to start building to meet the demand within the rental market."
She says the high demand for purpose-built rentals comes from increasing rents, immigration, and a large number of international students coming to Toronto.
Both Ryerson and the University of Toronto have waiting lists of international students for residency, she maintains, "Let alone the existing population of students who would like to live near school."
She sees millennials setting the trends for property managers.
"All facets of the rental experience must be taken into consideration to create a home for them," she says. Having a strong digital presence in the rental market is becoming more important: "from looking for an apartment, to living in the apartment — even to moving."
Gouveia says the downtown core, "especially within the financial district," will be the hottest rental market in Toronto.
4. IN MONTREAL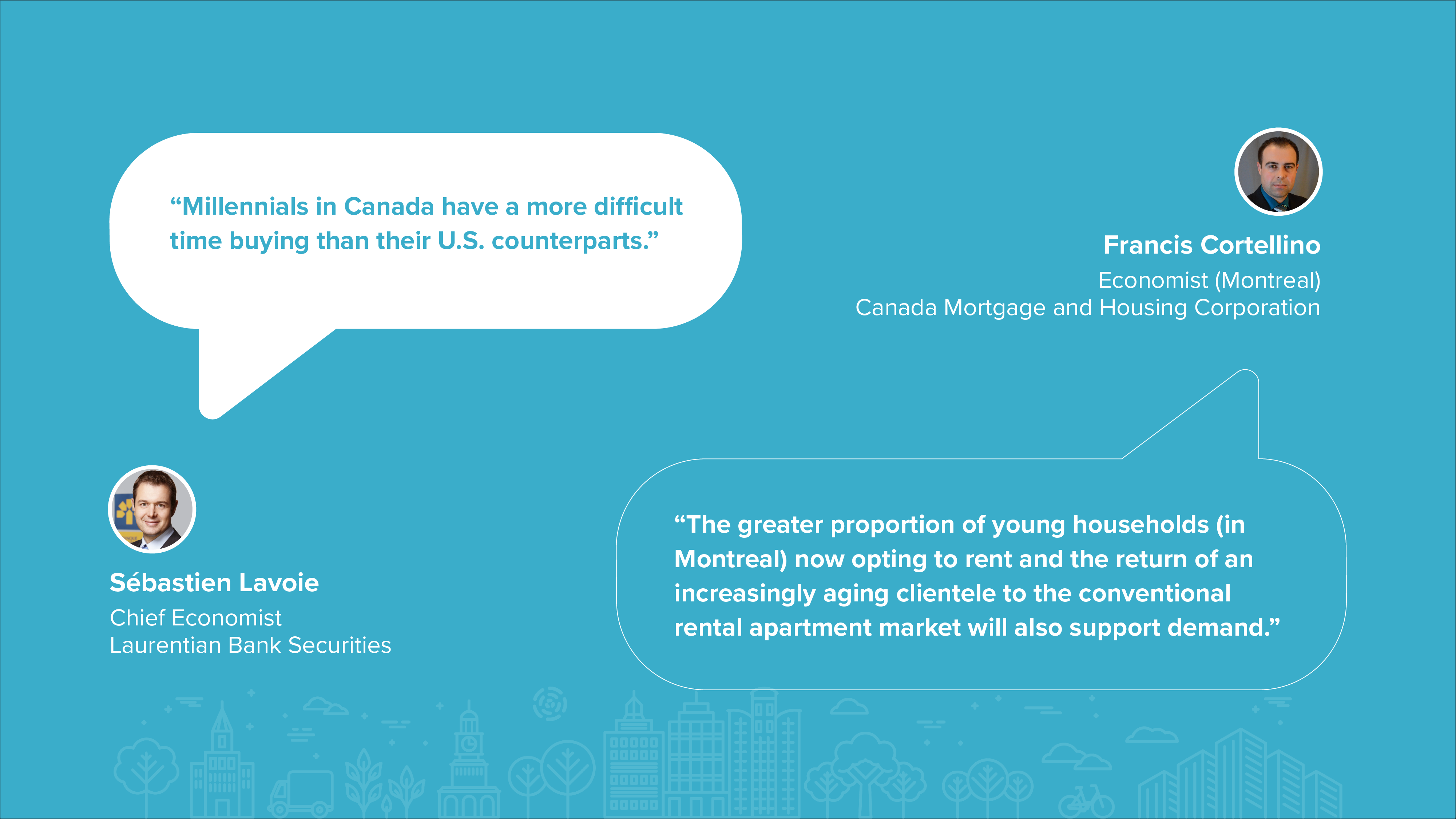 RENTAL MARKET GETTING TIGHTER, BUT STILL STABLE FOR 2020
Montreal is beginning to lose its reputation as the friendly renters' city, known for its numerous apartments and lower rents. Vacancy rates are low and predicted to go lower in 2020, while rents are going up.
The vacancy rate for Montreal decreased in 2019, reaching 1.5%, a 15-year low, according to the latest CMHC report. The forecast for this year is even lower at 1.3 per cent.
The estimated change in average rent in the Montréal CMA was 3.6 per cent in 2019, a more pronounced increase than in recent years, says CMHC economist Francis Cortellino in the Rental Market Report released Jan. 15.
He says the average rent should increase this year, driven by the generally higher rents for newer apartments as well as the tighter rental market conditions.
Cortellino says in 2020 and 2021 demand will remain high from immigrants and non-permanent residents coming to Montreal.
"The greater proportion of young households now opting to rent and the return of an increasingly aging clientele to the conventional rental apartment market will also support demand," he says. As for supply, "many new units will be added to the rental housing stock from now until 2021…"
"Compared to the rest of Canada, the rental market in Montreal is not making as much headway on the for-sale market," says Hodder, the CEO of Local Logic, "With home searchers evenly split between wanting to rent or buy."
Even with new rental units added — 10,000 in 2018 according to CMHC — Montreal's rental market is getting tighter.
In the face of rising rents and lower vacancy rates, Sébastien Lavoie, chief economist, Economic Research and Strategy, Laurentian Bank Securities, believes the market will have some stability in 2020.
"The good news is that the building of rental units surpassed those for homeownership purposes," he says, "Implying the decline in the rental vacancy rate is likely to stabilize in 2020.
"The stars remain aligned for the rental market," he adds.
He offers three key reasons.
First, he says, "the growing segment of atypical jobs" means less stable labour income, which favors a rental market over a homeownership market.
Second, he says, immigrants rent longer as they take time to integrate into the labour market.
Third, he says, "millennials in Canada have a more difficult time buying than their U.S. counterparts." The home ownership rate of U.S. millennials is increasing, he says, while "the rapid urbanization trend and expensive urban markets" keep Canadian millennials in the rental market longer."
Lovoie explains that too many millennials in Canada are either unable to buy or simply prefer to rent longer. This contrasts with the situation south of the border.
"U.S. millennials just surpassed baby-boomers as the number one driver of housing demand, allowing the homeownership rate to increase," he says. "In contrast to Canadians, U.S. millennials are willing to live farther away from core centres, such as Tacoma relative to Seattle or Colorado Springs relative to Denver.
"There are large communities in the U.S. that are relatively affordable, which is not the case in Canada," he adds.
Lavoie says Montreal has the highest percentage of households renting in Canada, which reflects "the dynamic university programs, robust immigration, and relatively lower income levels."
5. IN VANCOUVER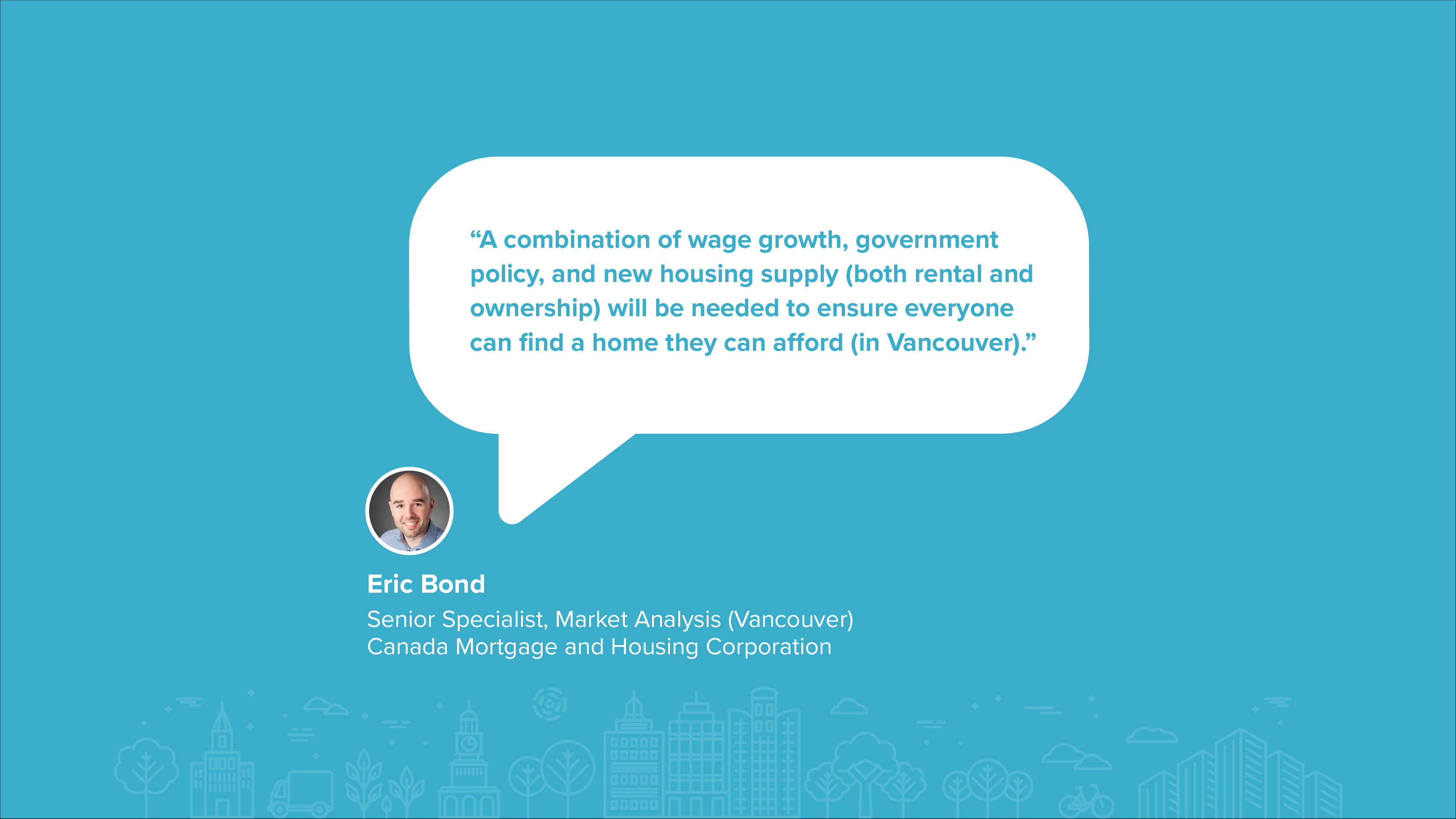 HIGH HOUSING COSTS CHALLENGE FIRMS TRYING TO RECRUIT AND RETAIN EMPLOYEES
Affordable housing will remain a hot topic for Vancouver in 2020. Vacancy rates are unhealthy, what's being built doesn't match demand, and rents are sky high. The average monthly rent for a two-bedroom in November was more than $3,000, according to the December National Rent Report from Rentals.ca and Bullpen Research & Consulting.
The high housing costs challenge firms trying to recruit and retain employees in Vancouver, says Eric Bond senior specialist, Market Analysis for CMHC.
"A combination of wage growth, government policy, and new housing supply (both rental and ownership) will be needed to ensure everyone can find a home they can afford," Bond says.
"Despite record construction of new units," he says "Strong demand for rental accommodation resulted in continued low vacancy rates and higher rents across Metro Vancouver."
Vacancy rates remained about the same at 1.1 per cent in 2019 compared to 1 per cent in 2018, and are predicted by CMHC to only go up to 1.2 per cent this year.
Bond says average rents will continue to increase faster than inflation.
One of the biggest discrepancies in the Vancouver rental market in 2019 was the asking rent for vacant units, which was 20.8% higher than rent paid for occupied units. He says the low vacancies from continued strong demand has caused this gap.
But he adds, "the pace of construction of purpose-built rental apartments is increasing.
"There are 7,518 purpose-built rental apartments under construction in the Vancouver CMA," says Bond, "And as these units come online over the next two years, they will provide more choices for tenants."
But Bond cautions "more new supply is needed both to renew the current rental stock and meet future demand."
He cites the National Housing Strategy, CMHC's Rental Construction Financing Initiative as an example to "support creating new rental apartments through favourable construction and mortgage financing terms."
A report from the Canadian Centre for Policy Alternatives in early December written by Marc Lee says: "To fully address Metro Vancouver's housing crisis, an ambitious build-out program of 10,000 new units annually of non-market rental housing is needed and should include public housing and co-ops that are truly affordable for ordinary households."
The report says the cost would be about $2.5 billion. "The greatest need is rental housing stock for low- to moderate-income households, precisely the kind of housing that is unprofitable for private-sector developers who would rather build luxury units for sale to the highest bidders worldwide."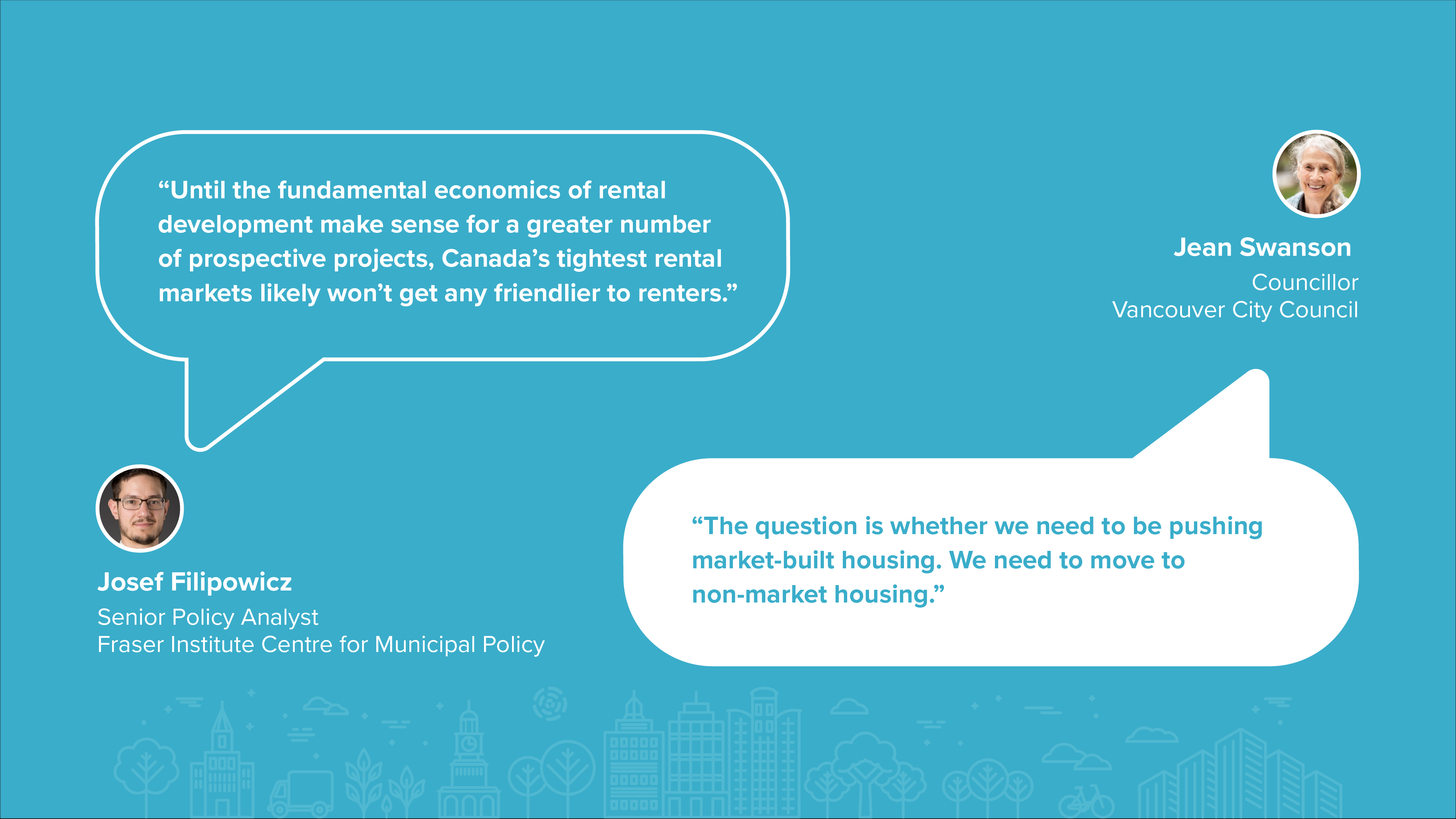 Vancouver City Councillor Jean Swanson was elected in 2018 running with The Coalition of Progressive Electors. One of her priorities is "protecting renters by freezing rents, meaning no annual allowable rent increase for four years, and implementing vacancy control so landlords can't raise rents as much as they like when a tenant leaves or is forced out."
Vacancy control does not allow a landlord to raise rents when a unit changes tenants. It stays under rent control.
She believes without vacancy control rents will continue to rise.
She says vacancy control would take the profit motive out of evictions. "We would have fewer evictions, and rents would be lower," she contends. She says there are a lot of "pretty old purpose-built units" in the city, and "as soon as someone moves out, the rent goes up hundreds of dollars."
"The question is whether we need to be pushing market-built housing," she says, "We need to move to non-market housing."
She would like to see the city zone for rental only. "This might lower the property values," she concedes, "but we could build co-ops, and that's what people want — cheaper land and cheaper financing."
She says there's a "desperate need" for federal and provincial grants for low-income social housing.
Josef Filipowicz, senior policy analyst for the Centre for Municipal Policy for the Fraser Institute, attacks the Vancouver — and Toronto problem for that matter — from another perspective.
"Until the fundamental economics of rental development make sense for a greater number of prospective projects," he says. "Canada's tightest rental markets likely won't get any friendlier to renters."
He believes for rental developers to justify buying lots, they need to add density to their projects (i.e. more floors). But zoning laws often prohibit the density to "render projects more feasible (and house more renters). This either prompts the need to rezone properties (which can be fraught with considerable uncertainty, costs and delays), or deters purpose-built rental development altogether."
Here's what Filipowicz believes the municipal, provincial and federal governments need to do to improve the housing crisis:
Municipal: To add all the rental units needed in tight markets, municipalities need to relax restrictions to allow more density.
For example, the Squamish Nation recently announced plans to build thousands of rental units in eleven towers in Vancouver's relatively low density Kitsilano neighbourhood. The density of the project, as well as the absence of various regulatory barriers — notably minimum parking requirements — greatly helped the project's feasibility.
"Vancouver would do well to learn from this initiative, which is taking place on land that is exempt from local zoning and regulation."
Provincial: Rent control might be well intentioned, but it is also highly damaging to purpose-built rental feasibility. Rental developers must take into account the long-term revenue potential their projects present.
Rent control, as imposed in B.C. for example, limits this long-term potential, further eroding the case to build rental over strata (condominium) units. Combined with reduced regulatory burdens and uncertainty at the municipal level, the removal of rent controls would encourage further rental construction, in turn freeing up older, cheaper units at the lower rung of the rental ladder.
Federal/provincial: Senior levels of government might not control zoning and the development permitting process, but they do control billions of dollars in transfers to municipalities, notably infrastructure funding for major transit projects.
These projects, such as subway expansions in Vancouver and Montreal, are costly, and should benefit as many people as possible. The provincial and federal governments can attach conditions to the major transportation projects they fund, such as pre-zoned (also called "as-of-right") density increases along major transit corridors, or expedited approvals for new homes.
While one side argues for local government to provide more co-op and social housing, the other argues for government to make it easier to build more units.
Early odds are that neither will happen in 2020.
6. IN OTTAWA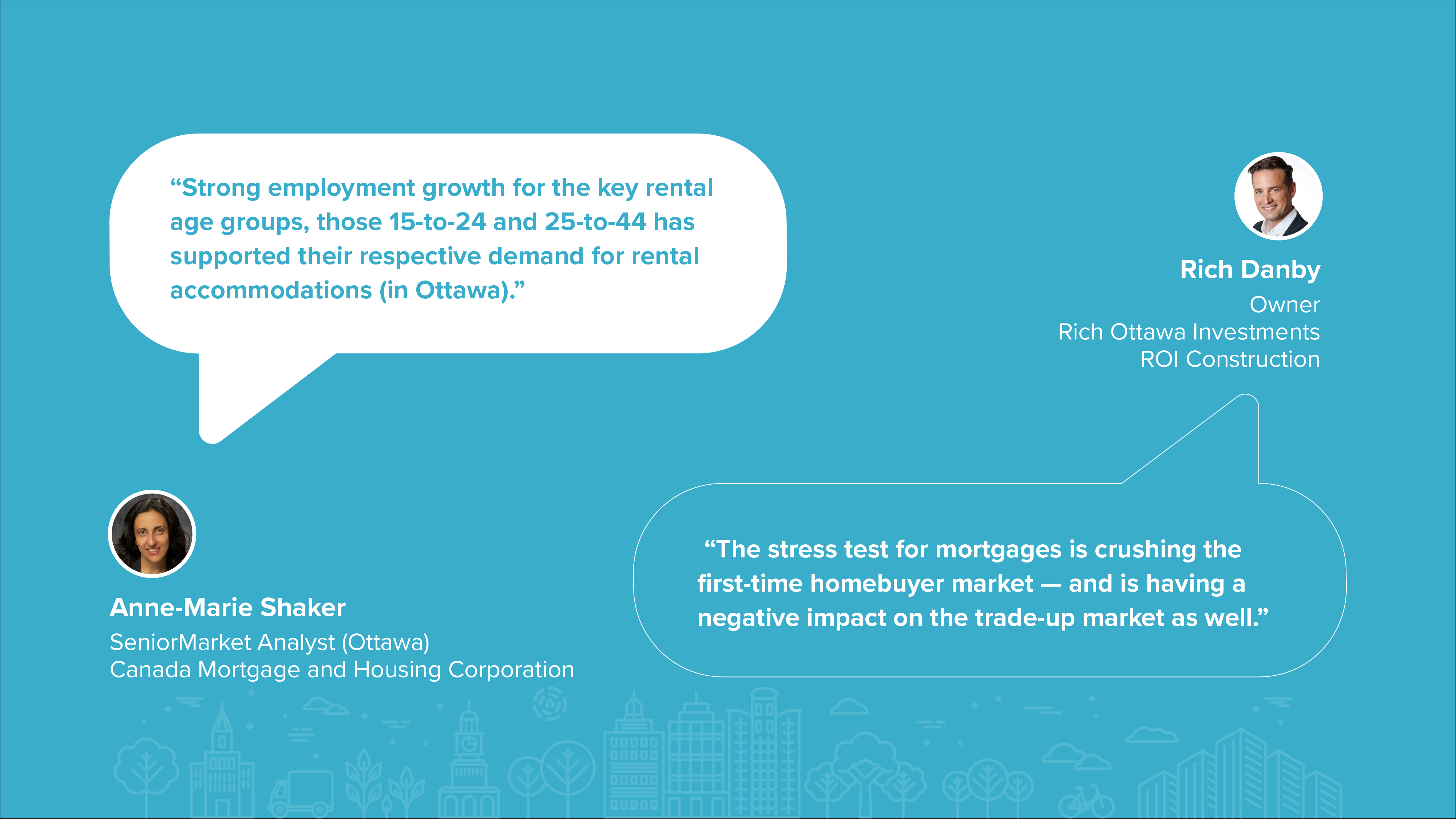 RENTS WILL INCREASE IN 2020 WITH MORE DEMAND AND LOWER INVENTORY
"Average rents are expected to rise in 2020 above inflation due to robust demand and continued growth in supply of newly built purpose-built units," according to Anne-Marie Shaker, CMHC senior market analyst. "Rental demand in Ottawa is supported by a growing population benefiting from robust immigration levels."
Through September 2019, immigration rose by 4.1 per cent year over year, she says. Immigrants tend to rent for the first few years. With several local colleges and universities, Ottawa also draws a steady flow of local and international students supporting rental demand.
Shaker wrote the CMHC Rental Market Report for Ottawa released Jan. 15.
"Strong employment growth for the key rental age groups, those 15-to-24 and 25-to-44 has supported their respective demand for rental accommodations," she says. "These two groups are key to the rental market as they are often students and young professionals who have yet to make the transition into homeownership."
Demand remained strong in Ottawa in 2019 and has kept pace with rising supply so that the vacancy rate remained low rising only slightly from 1.6 per cent to 1.8 per cent in 2019.
The expectation is for the vacancy rate to move higher in 2020 and 2021 as more supply comes on the market, according to the fall CMHC Housing Market Outlook. But demand has kept pace with rising supply over the last two years.
Rich Danby, owner of Rich Ottawa Investments and ROI Construction, sees the biggest "hurt" renters face in Ottawa is affordability.
"A lot of young people from Ottawa — we're talking 18-25 — are choosing to live at home with their parents versus renting because the rents are too high, he says. "A lot of Gen Z kids and millennials are choosing to simply stay home."
But Danby believes there are a few things the government can do to help.
"First, get rid of the stress test," he says. "The stress test for mortgages is crushing the first-time homebuyer market — and is having a negative impact on the trade-up market as well."
Danby contends the more qualified first-time buyers, "the more balanced the market will be for rental prices and availability."
Danby would also like to consolidate and simplify the process of new construction. When a buyer closes on a building, he or she has to pay the Harmonized Sales Tax (HST), then the buyer applies for a rebate through the Canada Revenue Agency (CRA). (The HST combines the federal goods and services tax (GST) with the provincial sales tax (PST) into a single value-added sales tax.)
"It doesn't make sense to pay HST and then get a rebate," he contends "It should just be a reduced tax-rate or rolled into the price and financed as part of the transaction."
Another idea Danby floats is to allow investors to buy properties with an insured mortgage, i.e. a 5 per cent down payment.
"Right now, our market could sustain that platform," he says, "But when the market turns — rents stabilize and the housing prices rise — this would no longer be an option."
Danby believes rents in Ottawa will increase in 2020.
"Most investors I talk to all agree they're going to climb," he says, "We're seeing lower inventory on the market for rentals, coupled with a high demand and that will, obviously, continue to drive prices upward."
Danby sees many reasons to expect higher rents in Ottawa. At the top are: Would-be first-time home buyers remain renters, as they are faced with the stress test, affordability, debt fatigue, and competing offers for houses. And, many retiring baby boomers are opting to sell their homes and rent.
All this means more demand, and higher demand combined with low inventory translates to higher rental prices.
Danby hopes to see some stabilization in the rental market as affordability causes tenants to not move as much. Even with more and more immigrants and newcomers to Ottawa from other Candadian cities, he says without trade-up or lateral movement, demand should decrease a little at some point.
He thinks more families will be looking for three-bedroom rentals as a "starter home" versus entering the market as buyers, and roommate situations to share expenses will become more popular in suburban centers to make housing more affordable.
Danby believes affordable housing should be the responsibility of all Ottawa neighbourhoods, not just the urban core. He says multifamily residences have been stifled in "neighbourhoods with deep pockets and heavy influence."
Less focus should be on how "ugly" affordable housing could be, he says, and more attention should be given to "what can we do to make these neighbourhoods more desirable?"
Danby believes housing is "only going to get less affordable" going forward, so he advises residents to be "a little more savvy" by saving, by thinking of trading up soon, and to look at other neighbourhoods outside downtown with "excellent walkability and public transportation."
What areas of Ottawa does he like best for renters?
Neighbourhoods closest to the universities/colleges and downtown will continue to be hot, he says along with the Wateridge and Barrhaven areas.
7. IN CALGARY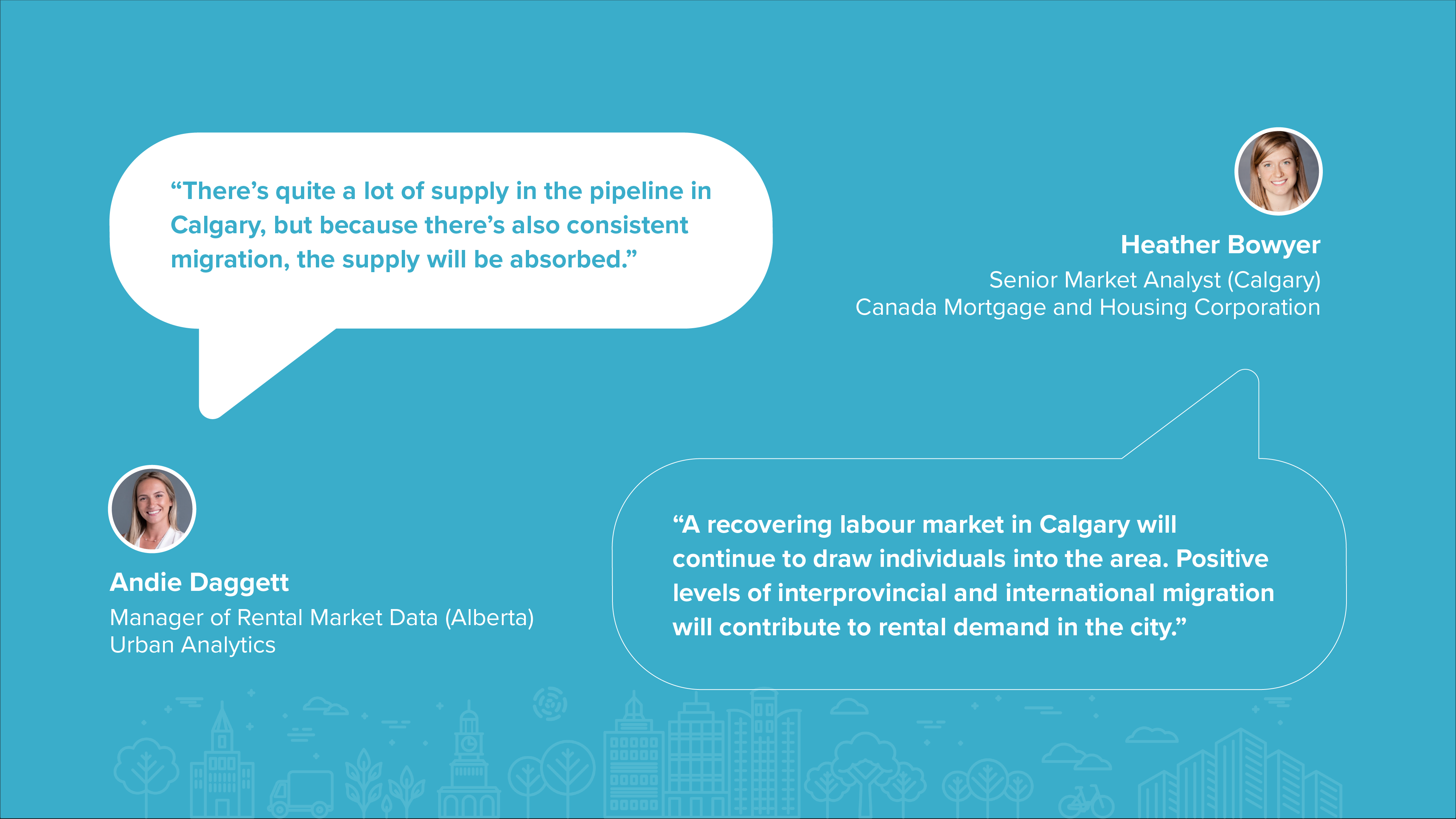 RENTERS STAYING IN THE MARKET LONGER
In Calgary, home prices are still dropping, unemployment remains high compared to other large cities, more people are moving to Canada's fourth largest city — and the rental market is growing.
"A recovering labour market in Calgary will continue to draw individuals into the area," says Heather Bowyer, senior market analyst for CMHC. "Positive levels of interprovincial and international migration will contribute to rental demand in the city.
The vacancy rate remained unchanged at 3.9 per cent from October 2018 to October 2019 and is expected to decrease to 3.2 per cent this year and to 2.8 per cent in 2021.
"As the economy continues to recover," she says, "The rental market in Calgary will continue to strengthen."
She sees moderate increases in rent coming this year after a small increase in 2019 as market conditions improve and the vacancy rate declines. And, she says as rental units are being built and become available, rents will increase because "newer units tend to command higher rents."
Bowyer, who wrote the CMHC's Rental Market Report for Calgary released Jan. 15, said affordability challenges and a recovering economy have created more demand for lower-priced housing. As a result, between 2017 and 2019, builders produced 2,905 new rental starts, more than doubling the number of starts — 1,093 — in the pre-recession years between 2011 and 2013.
"Overall," Bowyer says, "Because Calgary is still recovering, we are not seeing the same rental market we had during the boom years."
Calgary is also seeing strong growth in both supply and demand for condominium apartments, she adds, which has grown faster than the purpose-built rental market.
Andie Daggett, manager of rental market data (Alberta) for Urban Analytics, predicts a slight rent increase for the city in 2020, especially in the densely populated Beltline neighborhood. The vacancy rate is decreasing in the Beltline and downtown.
She says the Beltline is a popular area for renters, and she sees Sunnyside, Hillhurst, Inglewood and Bridgeland as continuing to be trendy neighbourhoods for renters.
Daggett believes rents will increase around 3 per cent in 2020.
She says many people are choosing to rent instead of buy for a variety of reasons including the unemployment rate; economic and political uncertainty; the mortgage stress test; "Downsizers" and empty nesters selling and coming back into the rental market and millennials' desire to rent longer to maintain a more flexible lifestyle.
She says Urban Analytics is tracking 57 actively leasing new purpose-built rental buildings. These buildings are either in their initial leasing campaign, or stabilized and experiencing regular unit turnover. While condominium construction has outpaced apartment building, she sees some condo development switching to rental.
"There's quite a lot of supply in the pipeline in Calgary," Daggett says. "But because there's also consistent migration, the supply will be absorbed."
She described most of the newer rentals coming online as "roommate affordable," but obviously renting on your own is a more difficult proposition.
As the newer rentals come online with concierge and service amenities, tenants are moving from their older buildings and paying a higher price. But she says the market stays competitive because landlords for the older buildings are lowering their rents and offering financial incentives for those on the lower end of the pay scale.
Daggett says the permitting process is easier and faster than in cities such as Toronto and Vancouver, and believes the more incentives governments at all levels can offer developers of purpose-built rentals the better it will be for renters.
Daggett believes millennials are "slowing down" their lives and thereby taking more time to decide to buy a home. "At the end of the day, I believe Calgarians want to buy a home," she says. "But they are staying in the rental market longer."
Daggett, who was born and grew up in Calgary, believes the city is growing beyond its economic uncertainties because it's such a great place to live.
Calgary was ranked the fifth most livable city in the world in 2019 on the annual Global Liveability Index of 140 cities by The Economist Intelligence Unit.
Daggett loves the natural surroundings of Calgary with mountains, lakes, hiking trails, the slower pace with less traffic and the comparatively affordable housing.
8. IN EDMONTON
CUTTING RED TAPE, TAXES WOULD HELP AFFORDABLE HOUSING
Edmonton is the country's fifth largest city, and vacancy rates should trend lower here, according to the Canada Mortgage & Housing Corporation. And, as most everywhere, millennials are getting into the home ownership market later than the previous generations.
Energy has fueled Edmonton and Alberta's economy for a long time; but as oil and natural gas have diminished somewhat, city officials and economists are talking about developing other sectors such as technology, services and tourism.
Although rents have been going down and more rental buildings are coming on the market, rents could be on the rise with a lower vacancy rate in 2020.
Jim Fowler, executive director of HomeEd, believes they will.
The vacancy rate in Edmonton in 2018 was 5.3 per cent, which declined to 4.9 per cent in 2019, according to CMHC's latest report. The vacancy rate forecast by the CMHC Housing Market Outlook for this year is 3.4 per cent.
"As such, it's reasonable to expect rent to go up as vacancy (rates) goes down," Fowler says. "Given current trends, I would expect rental rates in 2020 to go up between 3% and 5%."
Fowler's biggest issue with housing in Edmonton is the lack of affordable units for lower income residents.
"The current shortfall of affordable housing is estimated to be at 20,000 units — it's a very critical situation right now," he says, "and the shortfall continues to grow."
Fowler says many neighbourhoods have no affordable housing at all. But he adds, "a number of communities in Edmonton have stepped up to the plate and have worked with housing providers to develop some innovative and affordable housing, which is fantastic."
"Perhaps additional incentives to communities and developers (profit and nonprofit) would generate more affordable housing units."
Fowler says the city is taking steps to deal with the affordable housing crisis by changing bylaws and zoning, adding more funding, and improving the approval process. But he says he would like to see the other levels of government — provincial and federal — step up to solve the affordable housing problems in Edmonton.
He mentions two things he "has heard over the last few years" to take pressure off the crisis: Ease the red tape and incentify affordable housing builds with tax reductions.
"Why are affordable housing units/buildings paying market taxes given they are not charging market rent?" he asks, "It's a good question that nonprofit and for-profit developers would like to have answered."
Fowler is high on the new Ice District as a hot area for renters for 2020. The $2.5 billion mixed-use area is 10 hectares of downtown and a portion of the neighbourhood of Central McDougall.
"Lots of people want to be as close as possible given the access to entertainment, services, and transportation," Fowler says. "As people leave other areas of the city to move into the Ice District, they are leaving units in well established parts of the city which can create plenty of opportunity for those who are seeking a good deal — you just have to be willing to do some leg work."
HomeEd is a nonprofit housing provider for affordable rental housing to low-and moderate-income households in Edmonton.
9. IN WINNIPEG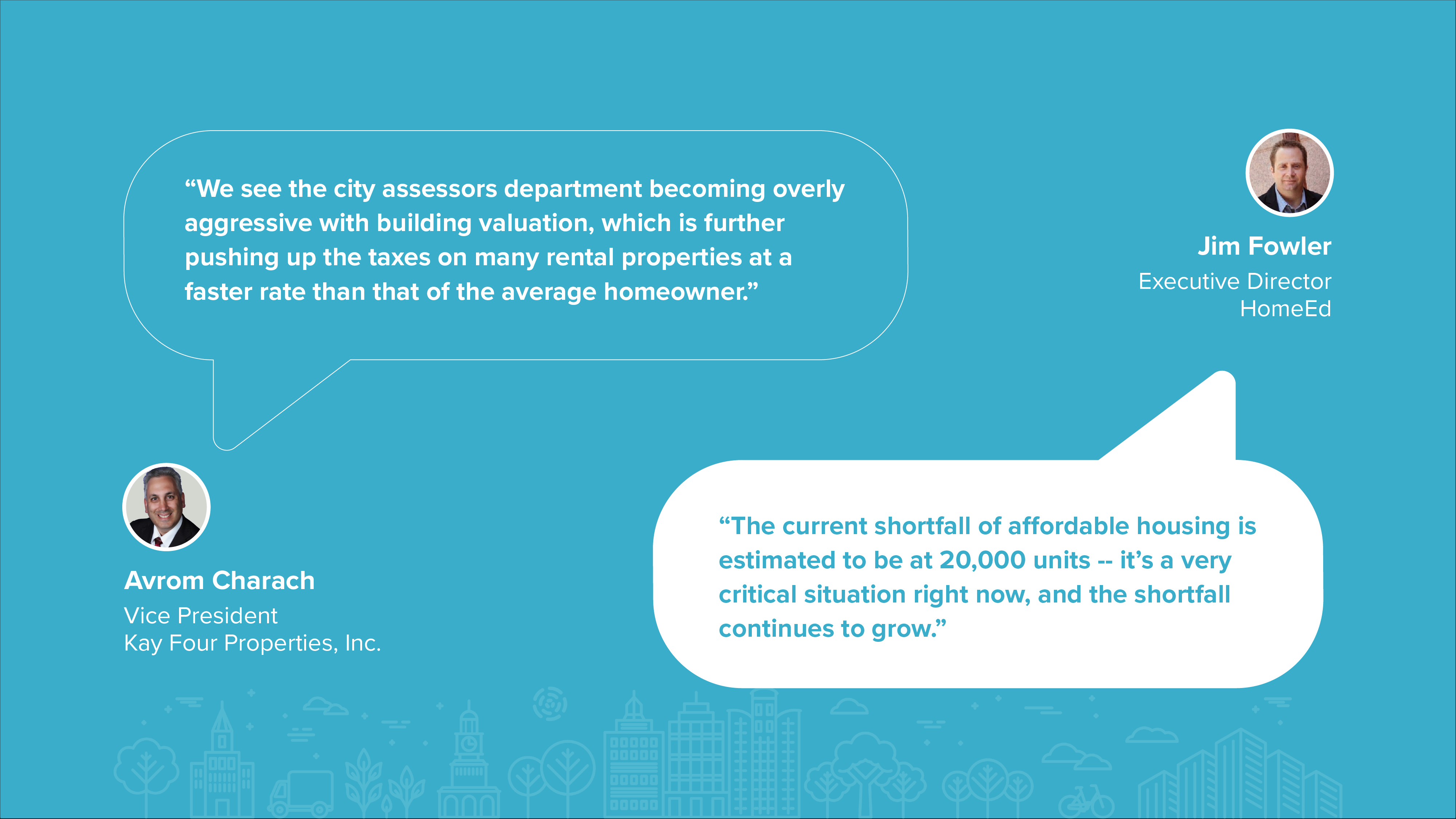 NEW CONSTRUCTION, INFLATION WILL DRIVE HIGHER RENTS
Avrom Charach, vice president of Kay Four Properties Inc., sees more purpose-built and condominium units coming online, and he suggests rents will increase by 4 per cent to 4.5 per cent in Winnipeg.
The vacancy rate forecast by the CMHC Housing Market Outlook for 2020 is 3 per cent for Winnipeg.
The government guideline is tied to CPI and is 2.4 per cent in Manitoba for 2020, but Charach says "the more than decade-long trend of increases outstripping the guideline" will continue.
He says new construction will drive the increases, along with "managers continuing to apply for increases above the guideline" because their costs outstrip inflation.
Charach says new construction will also lead to older stock being renovated which should lead to a better quality of rental stock in Winnipeg. And, as renters move into the higher-priced, newer units, he believes this "filtering" will open up older, less expensive units for renters needing more affordable housing. He would also like to see "government initiatives offset the costs of upgrades on older properties to improve the quality of some of the oldest housing stock."
He does worry as the city of Winnipeg looks for ways to cut its budget with shrinking access to funds, officials will "once again talk of removing garbage collection from apartments — something included in the property taxes we pay and could cost thousands of dollars per property for pick up….
"We see the city assessors department becoming overly aggressive with building valuation," Charach says, "Which is further pushing up the taxes on many rental properties at a faster rate than that of the average homeowner."
One tax, Charach hopes will be changed is the monthly $50 to $75 per unit school tax.
"Our recently re-elected provincial government has promised to do that incrementally," he says. "This will help lower income renters since they pay the same portion of their rent toward school taxes as higher income renters."
Charach is a fan of vacancy decontrol to "allow managers to upgrade suites between tenants and pass on the costs only to the new tenant rather than lumping them in with the costs of all other repairs when applying for rent increases above the guideline. That will keep rents lower for tenants."
Charach says the hottest neighborhoods for renters in Winnipeg are just off Kenaston and Waverly – in Waverley West, Bridgewater, Seasons of Tuxedo because of all the construction of purpose-built rentals and condominiums. He also sees an upturn in rentals in North East Winnipeg because of construction.
10. IN LONDON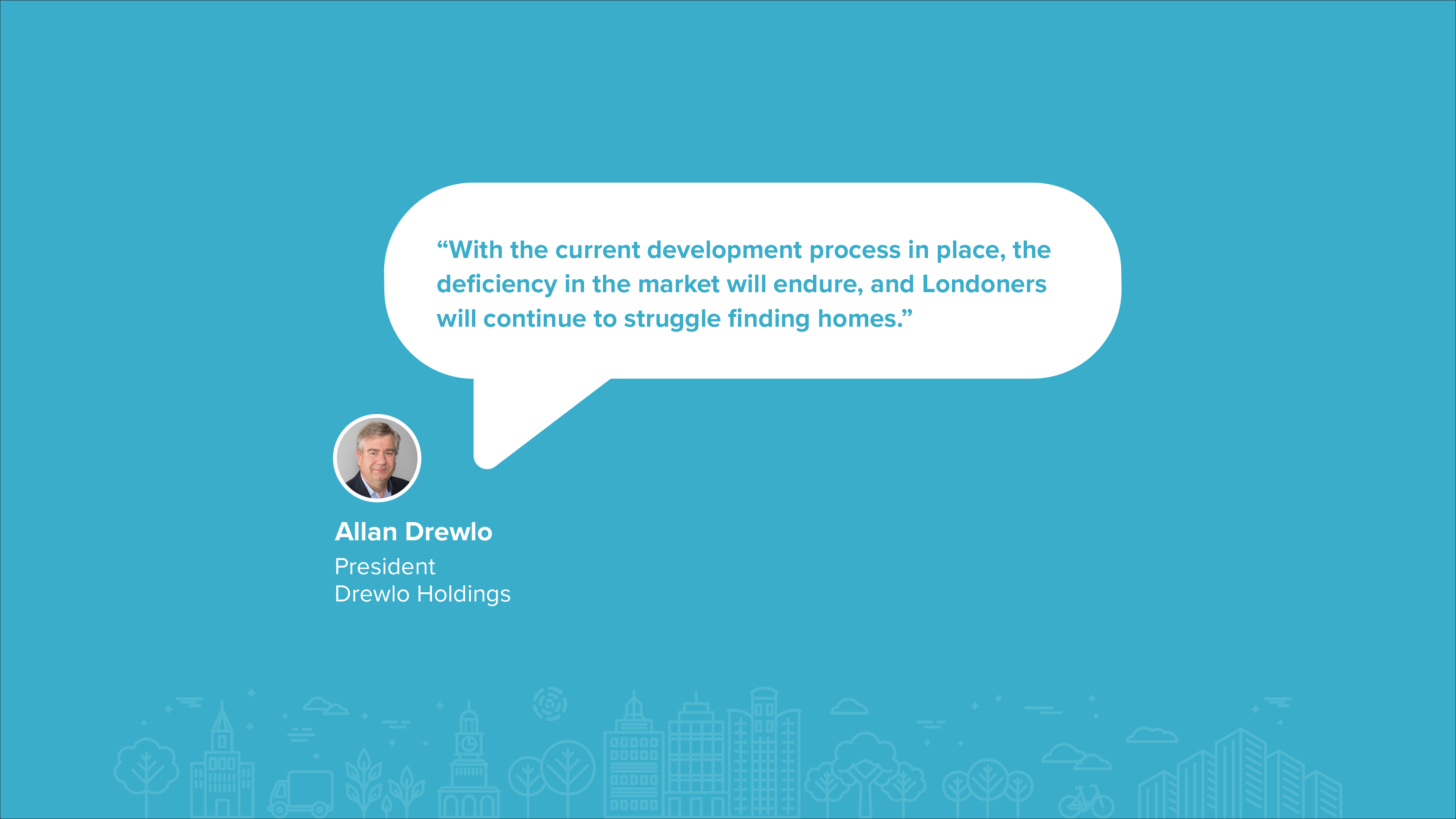 LACK OF SUPPLY HINDERS RENTAL MARKET
Allan Drewlo, president of Drewlo Holdings, believes rents will increase slightly in 2020 in London.
"In 2019, we saw landlords increase their rates, but as more purpose-built units hit the market, prices should stabilize," says Drewlo.
The vacancy rate forecast by the CMHC Housing Market Outlook for 2020 is 2.3 per cent for London.
London continues to grow past the amount of housing available in the city; much of the growth coming from the GTA, where professionals are escaping high rents and mortgage payments.
"As the population grows, the shortage will continue or even get exacerbated further, Drewlo contends. "With the current development process in place, the deficiency in the market will endure, and Londoners will continue to struggle finding homes."
Drewlo sees three major issues hindering the rental market keeping the vacancy rate low and causing rents to increase, even if only slightly: Lack of supply; government red tape and restrictions on developers; and NIMBYism.
Supply is the biggest issue.
"There is just not enough diverse product on the market for London residents," he says.
And then, he says "the process to get shovels in the ground is too long."
He says these delays and restrictions make it more costly to build, and they increase the final cost to the consumer.
"Cities, provinces, and the federal government could incentivize the construction of purpose-built rentals by limiting development restrictions and streamlining the approval process," Drewlo contends. One project can take years.
He's hopeful "Ontario's Housing Supply Action Plan and the proclamation of Bill 108 will give municipalities like London the opportunity to streamline the development process and get more purpose-built units approved which will alleviate the supply stress."
But as more purpose-built rentals are filling a void in the market, Drewlo says, "long-term homeowners are apprehensive about having rentals in their neighbourhood due to increased population density."
As several purpose-built towers opened in 2019 and people move in, older, less expensive apartments are opening up helping folks on a fixed income, he says.
Drewlo tabs Northwest –specifically Hyde Park — and downtown London as the hottest markets for renters in 2020.
Drewlo says Londoners flock to the Northwest "because of the public schools, proximity to Western University, and amenities – from local restaurants to big box stores. The neighbourhood has always been a hot market for home sales, but as housing prices increase, there is a higher demand for rentals."
He says with several developers constructing purpose-built rentals in the downtown core, "we expect to see an increase in downtown London's population in the next few years."
Drewlo Holdings Inc. has over 8,900 units built, owned and managed by the family-owned business in London, Kitchener, Burlington, Woodstock and Sarnia.
11. IN HALIFAX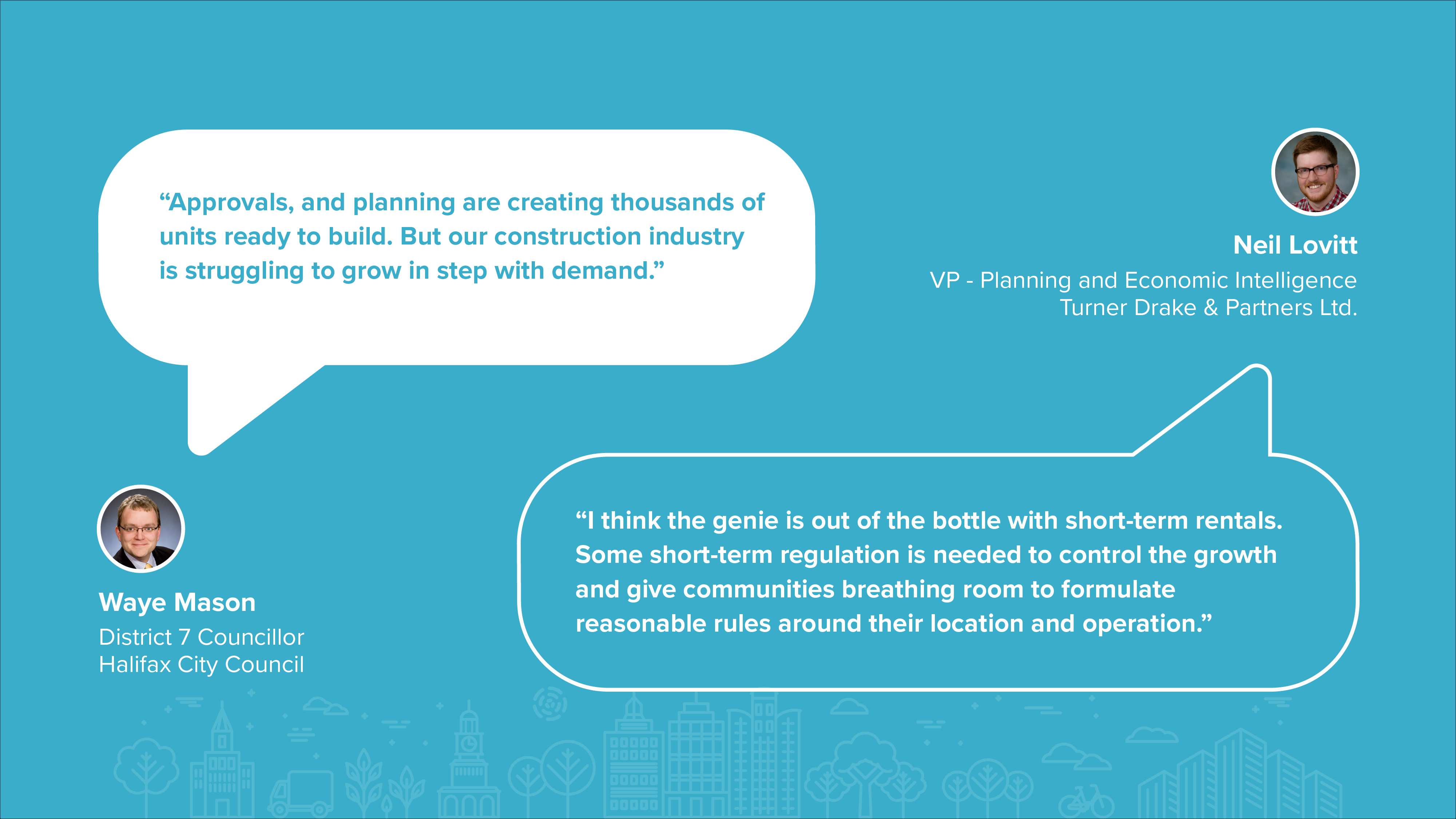 LACK OF HOUSING SUPPLY WILL KEEP RENTS INCREASING IN 2020
Rents are rising and will continue to increase in Halifax in 2020. So says Halifax District 7 Councillor Waye Mason and Neil Lovitt, vice president of Planning and Economic Intelligence at Turner Drake & Partners Ltd., a multidisciplinary real estate consultancy.
Mason says rents will continue to increase by 5 per cent to 10 per cent in the regional centre for the next couple of years, "until more inventory comes online and takes the pressure off.
"Approval, and planning are creating thousands of units ready to build," Mason contends, "But our construction industry is struggling to grow in step with demand."
Lovitt is on the same page, but he frames it another way.
"Average monthly rents are likely on the way up as the impact of a recent drop in vacancy continues to ripple through the market," he says. He also argues "developers have brought 40 per cent more units to market this year compared to the same timeframe in 2018, and the pipeline of units under construction is still 10 per cent higher."
The vacancy rate forecast by the CMHC Housing Market Outlook for 2020 is 1.8 per cent for Halifax.
Mason says more units will be coming through the approval process faster in the coming year, and he believes "even more in 2021."
Lovitt believes "the influx of new purpose-built rentals will again drive an increase in asking rents as they come to market at higher prices."
He sees two problems Halifax will encounter next year and beyond.
"On the top end, we are experiencing significant demand growth from new population and changing household preferences which the development industry is having trouble keeping up with," Lovitt maintains. "On the bottom end, income and social supports have not kept pace with inflation while the operating costs of our older residential stock have exceeded it. More and more of the rental population is now falling outside the boundaries of what the market can deliver, which means we need the public sector to come back in and provide non-market options in a way it hasn't for decades."
Both believe short-term rentals will need to be regulated to make more units available for long-term renters.
"I think the genie is out of the bottle with short-term rentals," Lovitt says, "Some stop-gap regulation is needed to control the growth and give communities breathing room to formulate reasonable rules around their location and operation."
"In some key areas of the North End and around the universities there is a perception, which data somewhat supports, that short-term rentals are making a bad situation worse," Mason says. "Regulation like Toronto just brought forward is expected for short-term rentals sometime in the new year."
Mason cites the recently approved Centre Plan for speeding up the approval process for development.
"We have a shortage of housing, we have insufficient rent available through the provinces income assistance program to pay the kind of market rents we are seeing now," Mason says. He says 2,000 people and families are on the waiting list for social housing.
Lovitt says he would like to see "the local and provincial governments stop engaging in a circle of blame about providing non-market housing, and get to work on actually delivering solutions."
He is also not a fan of the province's "capped assessment system," which systematically shifts the residential tax burden from high-valued owner-occupied housing to rental tenured housing.
" Recently, the government has announced an intention to review the policy in light of the inequities it's produced," he says, "But frankly, I said the same thing last year, and there's been little true action since then."
12. IN HAMILTON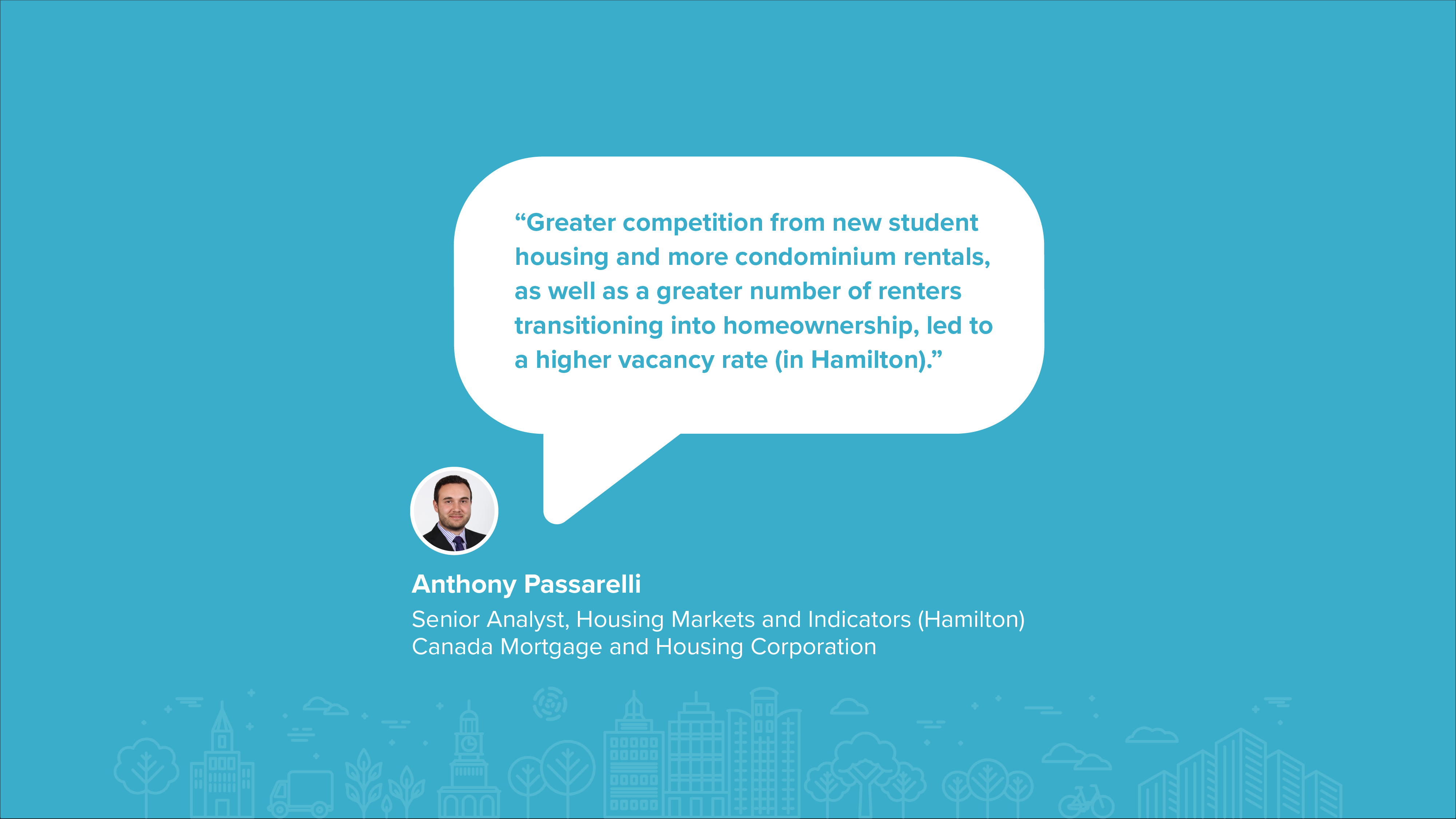 EXPECT ANOTHER YEAR OF 3 PER CENT TO 5 PER CENT RENT INCREASES
Average rent growth in Hamilton has been 3 per cent to 5 per cent a year since 2012, says Anthony Passarelli, senior analyst, Housing Markets and Indicators for CMHC.
"We expect similar rent growth in 2020," he says, "Given the vacancy rate will be fairly steady."
But, Passarelli says the significant gap between asking rents for vacant units versus actual rents for occupied units led to low turnover, as many tenants stayed put and accepted the full Ontario rent increase guideline of 1.8 per cent.
Passarelli wrote the CMHC Rental Market Report for Hamilton published Jan. 15.
The vacancy rate increased from 3.1 per cent in 2018 to 3.9 per cent in 2019, and is projected by CMHC to go back down to 3.2 per cent this year.
"Greater competition from new student housing and more condominium rentals, as well as a greater number of renters transitioning into homeownership led to a higher vacancy rate," Passarelli says.
The uptick in home buying, he attributes to a strong local economy and a number of millennials now in their 30s, which he says "typically make up the largest share of first-time buyers."
He believes rental demand will remain strong with high immigration levels and a similar number of student renters.
Passarelli says, new rental supply tends to be either student housing or condominium apartments, which do not directly serve renters who can afford low to medium rents.
"New supply targeted at these other market segments would help," he says.
13. IN SASKATOON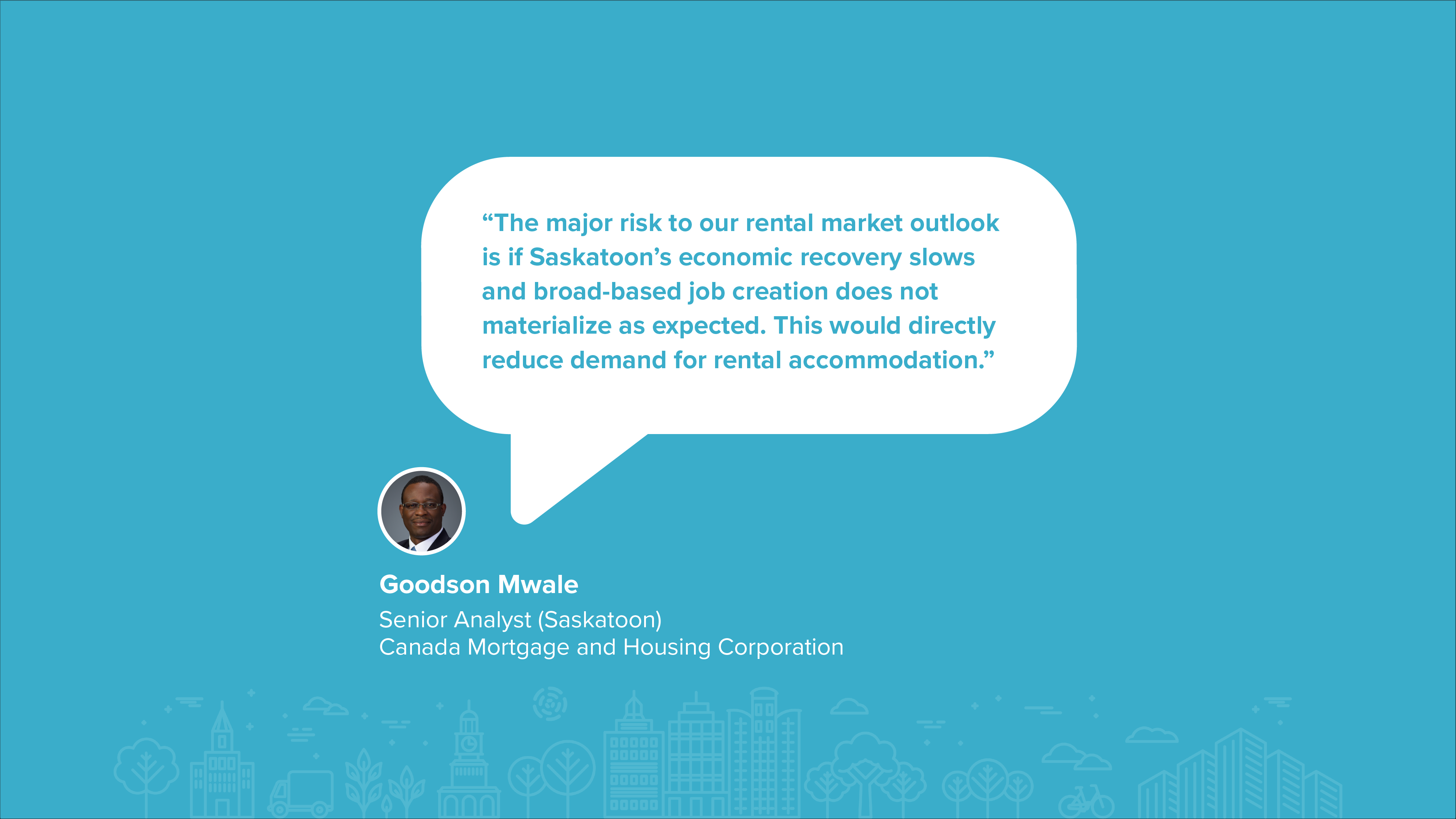 VACANCY RATES DOWN FOR 3RD STRAIGHT YEAR BUT STILL HIGH
Vacancy rates dipped more in Saskatoon than most other major metropolitan areas in Canada, but are also still higher than most other big cities, according to CMHC's January Rental Market Report.
The vacancy rate decreased to 5.7 per cent in October 2019 from 8.3 per cent in October 2018, according to Goodson Mwale, CMHC senior analyst and author of the report.
This is the third year in a row vacancy rates have moved lower.
Mwale says average rental rates are expected to increase "at a moderate pace," as the vacancy rates should move lower through 2021.
An anomaly with Saskatoon rents from the 2019 survey results indicate lower average asking rents for vacant units than in occupied units. This was the case for all bedroom types across the Saskatoon CMA, according to the report.
Mwale wrote the CMHC Rental Market Report for Saskatoon published Jan. 15.
In 2020, Mwale expects "rental demand in Saskatoon to strengthen further, supported by improving economic conditions and population growth."
"Across the Saskatoon CMA," he says, "A strengthening labour market, and rising costs in the home ownership market have supported firmer demand for rental accommodation."
But, he says, more than 500 rental apartments were at various stages of construction at the end of December. As these become available over the coming months, this "will moderate the decline in the vacancy rate."
"The major risk to our rental market outlook is if Saskatoon's economic recovery slows and broad-based job creation does not materialize as expected," Mwale says. "This would directly reduce demand for rental accommodation."
14. IN REGINA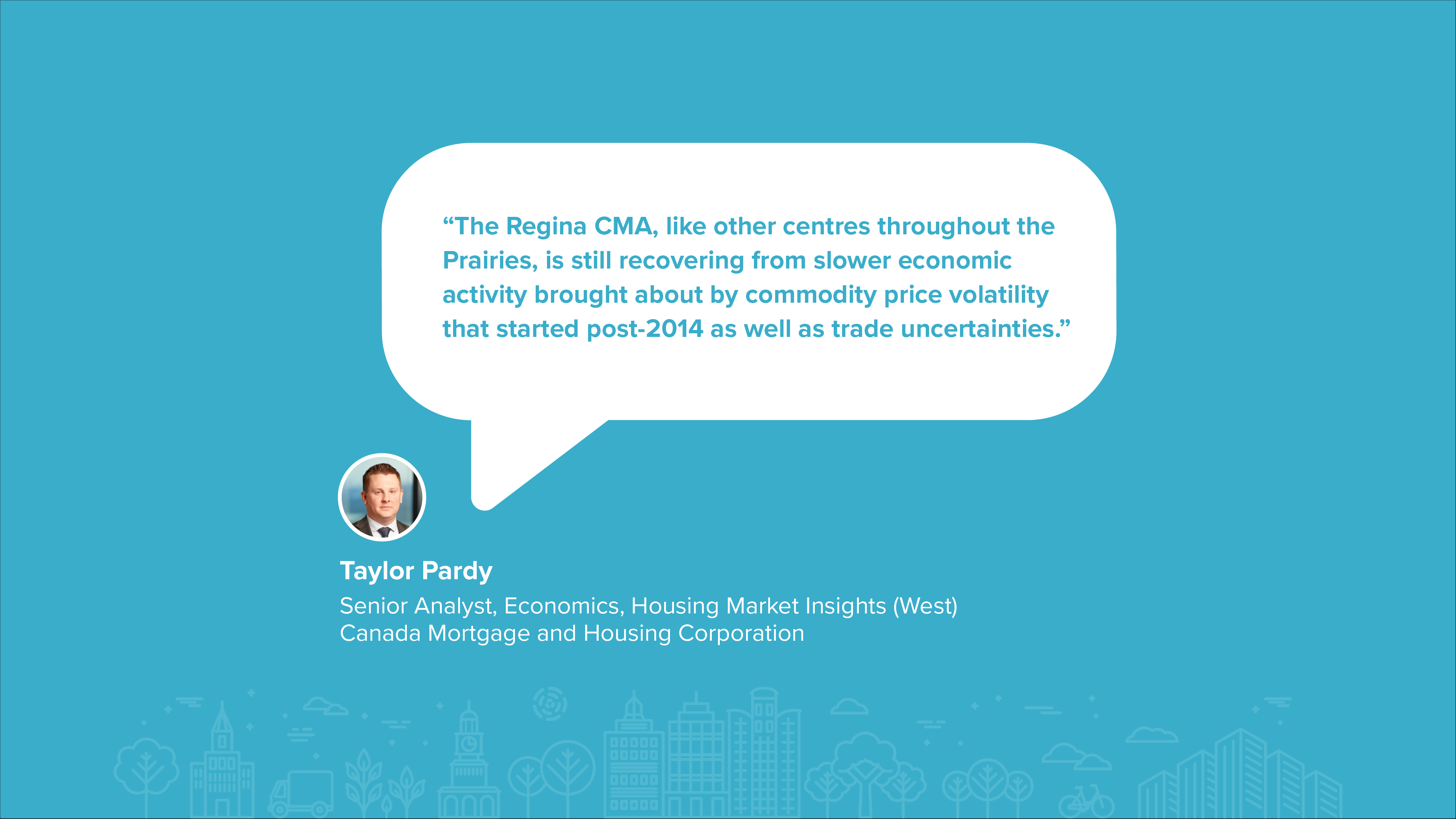 RENTS COULD SEE SMALL INCREASE IN 2020 AS VACANCY RATES SHOW SMALL DECREASE
"The Regina CMA, like other centres throughout the Prairies, is still recovering from slower economic activity brought about by commodity price volatility that started post-2014 as well as trade uncertainties," says Taylor Pardy, senior analyst, Economics, Housing Market Insights, West for CMHC.
The purpose-built apartment vacancy rate remained relatively unchanged in 2019 at 7.8 per cent relative to 7.7 per cent in 2018. The vacancy rate is forecast to drop in the next fews years — 7.3 per cent this year and 6.6 per cent in 2021 — but still remain high compared to most Canadian metropolitan areas.
Following two years of declines, average two-bedroom rents in the Regina CMA are expected to stabilize and potentially see a modest increase in 2020, he says, "after posting a slight decline of 0.2 per cent in 2019."
Pardy wrote the CMHC Rental Market Report for Regina released Jan. 15.
"Barring a more rapid improvement in economic conditions, improvements in the rental market in the Regina CMA are likely to be gradual," he says.
Employment growth, and population increases through immigration and intra-provincial migration along with decreasing supply, "will put downward pressure on the vacancy rate in 2020 and help to stabilize rents," Pardy says.
Strong demand outpaced supply in the rental condominium apartment segment in October 2019, he says, driving the vacancy rate down to 5.7% from 9.6% in the previous year.
15. IN VICTORIA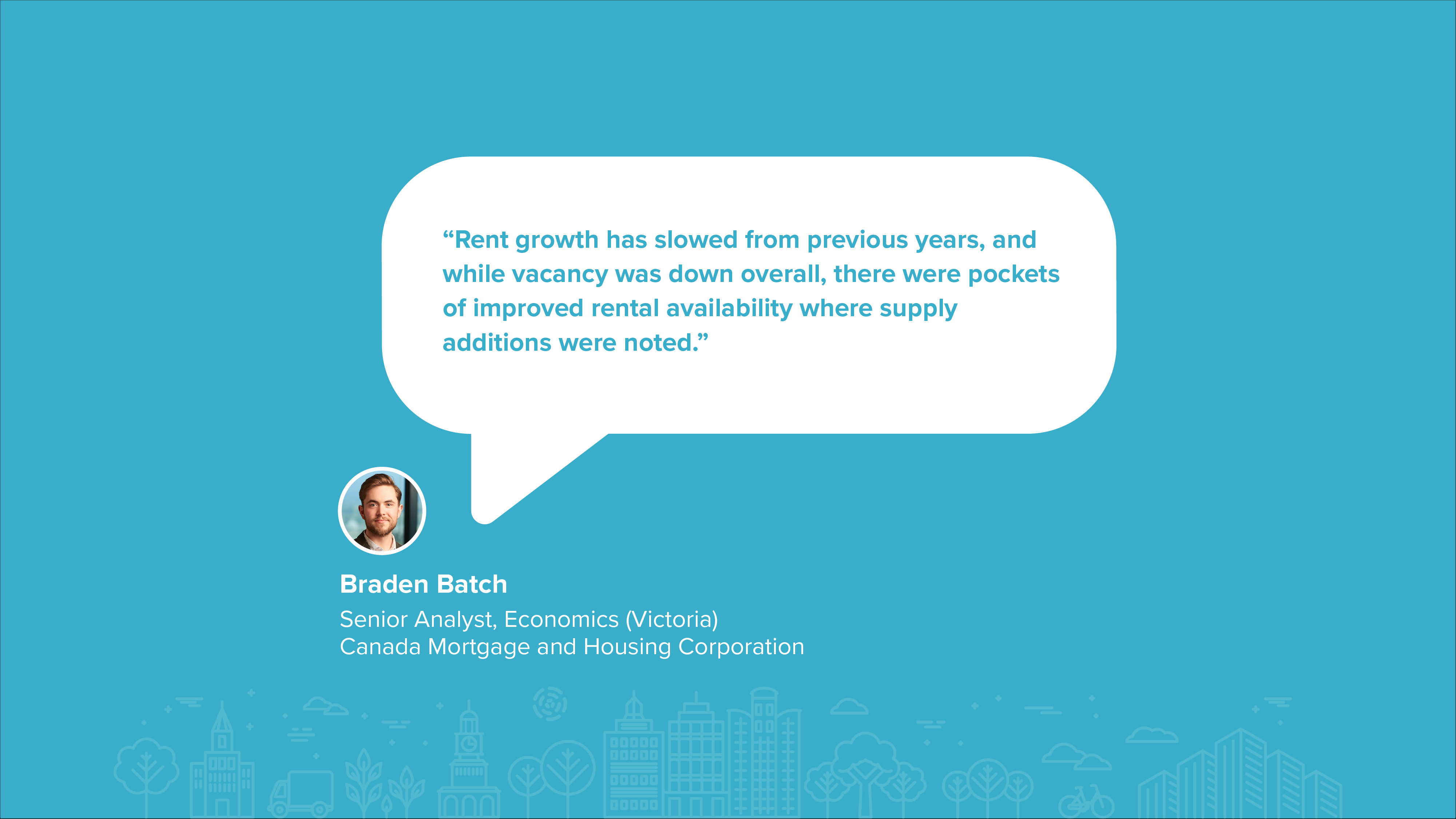 RENTS UP A LITTLE AS VACANCY RATE DOWN A LITTLE
Same-sample rents increased 3.4 per cent in Victoria, a slower rate than in the past two years as a result of easing demand pressures, says CMHC Senior Analyst Braden Batch in the Rental Market Report released Jan. 15.
"Rent growth has slowed from previous years, and while vacancy was down overall," Batch says, "There were pockets of improved rental availability where supply additions were noted. (The effect of supply might be more localised than citywide.)"
One major trend is more new units coming to the market, which tend to command higher rents, he says. "So a higher proportion of new rentals in Victoria going forward will move the average higher."
Batch says the decreasing same-sample rents in the most recent data implies the rate of rental growth is slowing down. Population growth is also expected to slow over the next two years, and that means there is likely an increase in supply following a decrease in demand to look forward to this year.
The vacancy rate in Victoria decreased from 1.2 per cent in 2018 to 1 per cent in 2019. The vacancy rate is projected to go back up to 1.6 per cent this year and 1.8 per cent next year, according to the fall CMHC Housing Market Outlook.
The turnover rate for Metro Victoria rental units was high at 20.8 per cent in 2019, exposing roughly one in five units to current market rental prices, he says in the report.
Purpose-built rentals did not grow in step with rental apartment completions in Victoria, partially due to removal of units. The vast majority of purpose-built units are over 40 years old, and often requires removal from the supply for renovation, demolition, or repurposing, the report says.
For at least the past 10 years, housing demand in Metro Victoria has shifted toward the rental market and away from the ownership market.
A low unemployment rate in Metro Victoria and a higher job vacancy rate than the national average have attracted young workers who have low homeownership rates, and are likely to be renters.
16. RENTALS.CA'S 2020 PREDICTIONS
WHAT WILL MAKE NEWS HEADLINES FOR THE RENTAL MARKET IN 2020?
"Last year, we saw a lot of headlines about the housing crisis and warnings of rental price increases," says Matt Danison, CEO of Rentals.ca. "In 2020, while rents will still rise, we expect to see investors and developers shift from the condo frenzy to building more rentals."
He believes the majority of this new rental stock will include top-of-the-line amenities, advertised as luxury rentals attracting young professionals with high-paying jobs.
While this will begin to help loosen vacancy rates a little, he says the affordability issue will still be a challenge in 2020.
Here are nine rental housing issues that could make more headlines in 2020, according to Danison.
Secondary cities outside major metropolitan areas will experience higher prices both for homes sales and rentals. One such city is London, Ontario where home prices are expected to reach an

all-time high of $450,000

. But in comparison,

prices in London are a little

over half of what they are in Toronto

.

Commute times will become longer as more people move away from city centres to afford better places to live. Hamilton is an example of a growing commuter city. According to the Social Planning and Research Council which put out a

Rental Landscape Report

in December, Hamilton "has been particularly challenged by rising rents." Rents have increased by 21 per cent since 2015, the report says.

Record immigration will continue to drive growth in Canada's rental market as it has in the past few years. Last year, Canada added a net 437,000 people from abroad…helping to drive its fastest population increase in 30 years, even with declines in fertility, according to a

Jan. 7 Bloomberg story

.

More

co-living

developments will spring up in 2020 with the focus on attracting young professionals looking to live downtown, but can't afford an apartment on their own. Think of co-living as a co-working environment. Renters have a private bedroom, but the kitchen, living room and other spaces are common areas.

Housing analysts will be closely tracking experimental and innovative projects such as

Sidewalk Labs

in Toronto and the

Squamish Nation development

in Vancouver as more creative developments emerge "to tackle the challenges of urban growth."

With more immigrants, international students, millennials moving more often and more senior citizens entering the market, rental scams will be more prevalent in 2020. (Rentals.ca has taken measures with staff to vet every listing, and the rental site also uses artificial intelligence to detect potential scams to create the safest rental marketplace across Canada.)

To serve the growing gig economy, rentals that include a den for an office space or apartment buildings that offer a creative, co-working space will be in high demand in 2020.

Will adjustments be coming soon for the stress test to make it easier for would-be homebuyers to qualify for a loan? We'll soon see, as Prime Minister Justin Trudeau directed Finance Minister Bill Morneau in December to "review and consider recommendations from the financial agencies"

to make the stress test more "dynamic."

Hmmm. Wonder what "dynamic" means here? Options on the table are lowering the qualifying rate from 5.19 per cent, and getting rid of the requirement that borrowers have to go through the stress test again when changing lenders.

Will Vancouver's

'empty home tax'

ease the vacancy rate in the city? It hasn't yet after a year, but it has generated close to $40 million for affordable housing. The jury is out, but according to a

Point2 Homes report

,

1.34 million homes sat empty or are temporarily occupied in Canada in 2016

—

the most recent data available.

What will other cities do to cure the empty-home syndrome in Canada? This will continue to make headlines in 2020.
Rentals.ca pledges to stay on top of trends, insights, news and data to help keep you in tune to the rental heartbeat of Canada.