1. INTRODUCTION
Finding the right apartment, house or townhouse to call home will continue to challenge renters in 2019 in most of Canada's larger cities, according to housing experts from around the country.
The low vacancy rates added to increased immigration and higher interest rates will also drive monthly rents even higher, experts said in Rentals.ca's predictions for 2019.
The average rental rates will increase by 6 per cent year over year on a national basis in 2019, according to Rentals.ca recently released monthly rent report.
Annual rental rates could increase as much as 11 per cent in Toronto, 9 per cent in Ottawa and 7 per cent in Vancouver, according to the rent report.
Rentals.ca talked to 16 housing professionals including data analysts, professors, economists, property managers, rental advocates, landlords and politicians to get their take on the 2019 rental market in Canada.
2. RECAP OF 2018 RENTAL TRENDS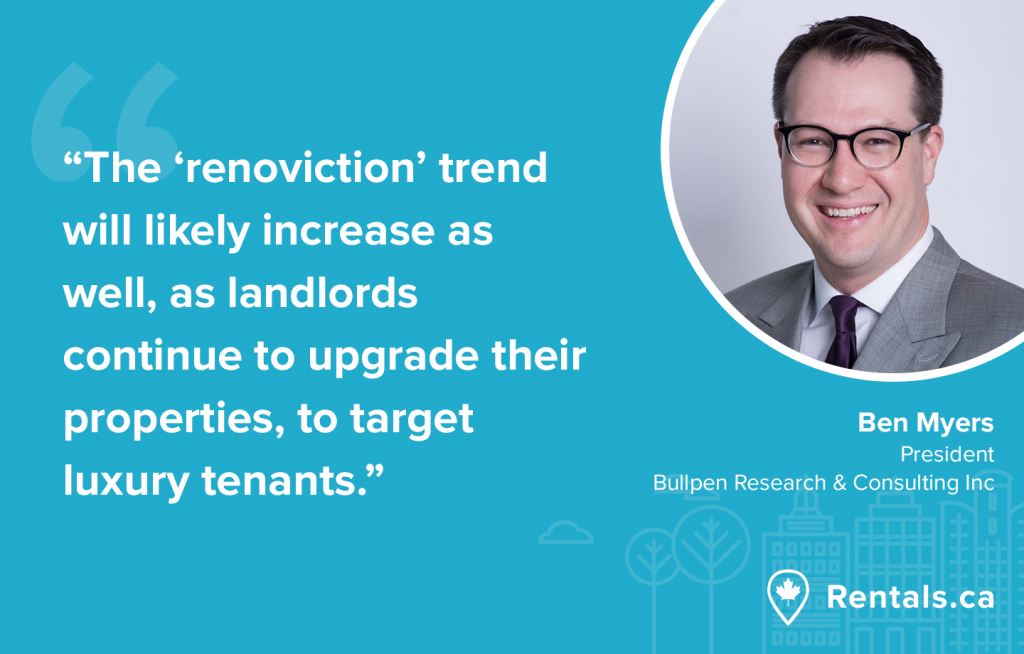 Ben Myers, president of Bullpen Research & Consulting Inc., a boutique residential real estate advisory firm, said low vacancies and higher rents are trends that will carry over from 2018. He also cited increased immigration and "renoviction" as issues continuing into the new year. Here are his insights on trends that will carry over from 2018 to 2019:
Vacancy rates are getting even lower in several major Canadian cities including Vancouver and Toronto. Tougher rent-control rules have led to more investors selling their rental properties, which has contributed to the spike in rental rates in several cities. The trend is likely to continue in 2019.
Immigration is at a record high nationally and expected to increase in 2019. The change in the mortgage stress test has reduced credit availability and pushed more people to rent that were looking to buy in 2018. The increase in rental demand has not been offset by new supply. From January to October 2018, the combined number of new rental housing units built across all of the Census Metropolitan Areas in Canada has been just under 32,000 units, an increase of nearly 6,000 units over the same period last year, but hardly enough to satisfy the additional demand from immigration and reduced home-buying activity.
With the unemployment rate in Canada at its lowest level since the measure became an official statistic in 1976, young professionals with stable employment will be looking at creating new households. In places like downtown Toronto, new household formations will add to demand and create more bidding wars and intense competition for quality rentals. The "renoviction" trend will likely increase as well, as landlords continue to upgrade their properties, to target luxury tenants.
According to the Canada Mortgage and Housing Corporation (CMHC), demand for rentals is outstripping supply, with the national vacancy rate falling to 2.4 per cent. That's the lowest it's been since 2009.
"The decrease in the vacancy rate was attributable in part to the strong increase in international migration. This factor, combined with the growth in youth employment and the aging of the population, drove up demand for rental housing." said Aled ab Iorwerth, deputy chief economist at CMHC.
3. INSIGHTS FOR 2019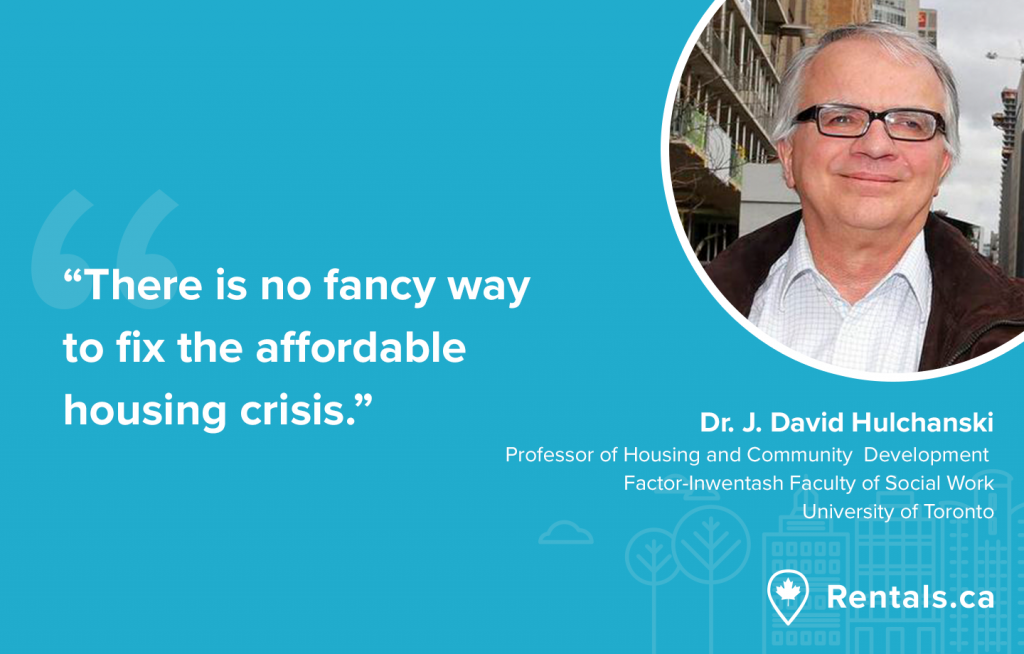 Dr. J.David Hulchanski, professor of Housing and Community Development at the University of Toronto's Factor-Inwentash Faculty of Social Work, and Ted Tsiakopoulos, regional economist (Ontario) for Canada Mortgage and Housing Corporation (CMHC) cited four factors affecting vacancy rates: The challenges of home ownership among first-time buyers causing them to stay in the rental market; home owners deciding against moving to stay in their homes longer tightening that market; higher interest rates; and the surge in international immigration in recent years making the rental market more competitive.
Dr. Hulchanski said rents will continue to increase especially in Toronto, Vancouver and Ottawa.
"There's no reason why they would not," he said.
AFFORDABLE HOUSING DEFINITION
To best understand this report, it is important to have a concrete understanding of housing affordability. The city of Toronto defines "affordable housing" as anywhere between 80 per cent and 100 per cent of market value. "Deeply affordable housing" is defined at 40 per cent of market rate. This means that an affordable rental in Toronto or Vancouver equates to around $2,000 per month for a one-bedroom.
4. IN TORONTO:
MORE RENTAL UNITS NEEDED 'AT EACH AND EVERY PRICE POINT'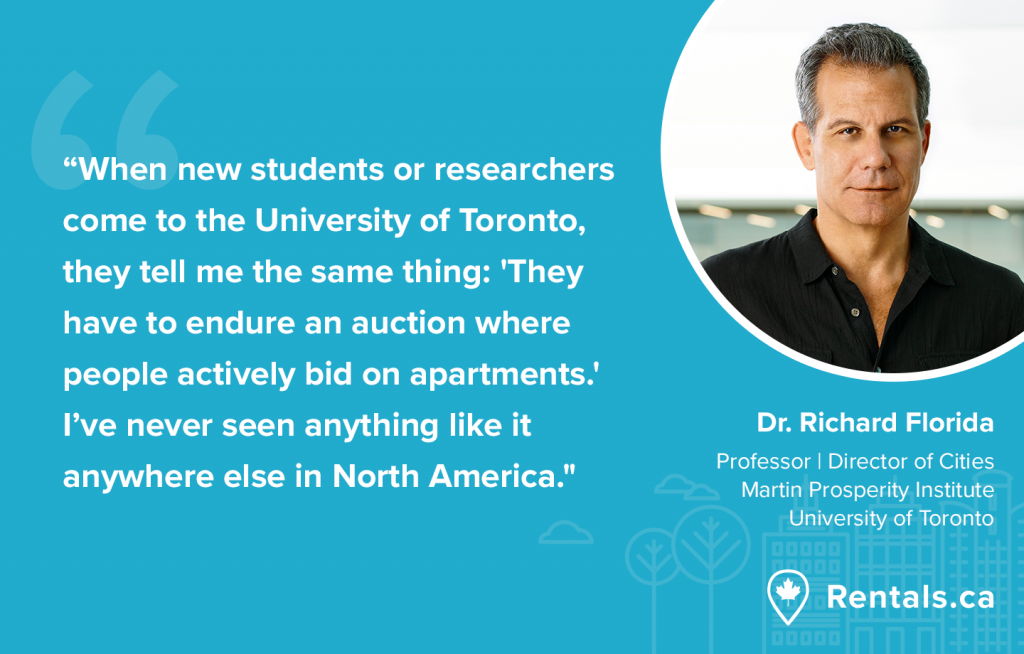 "The big issue to me in the Toronto rental market is not just price or affordability but inventory or supply," said Dr. Richard Florida, professor and Director of Cities at the Martin Prosperity Institute at the University of Toronto's Rotman School of Management.
"We need to build a lot more rental housing at each and every price point."
Tsiakopoulos agrees.
"(Vacancy Rates in) major centres in Ontario remain near historic lows," he said. But he is hopeful that vacancy rates will begin to rise in "12 to 24 months as more rentals are being built" to accommodate the increasing demand.
This is being accomplished through Canada's National Housing Strategy in "a collaborative approach at every level of government" to address the growing affordable housing crisis. The National Housing Strategy, announced Nov. 22, 2017, is a 10-year, $40 billion plan that will give more Canadians a place to call home.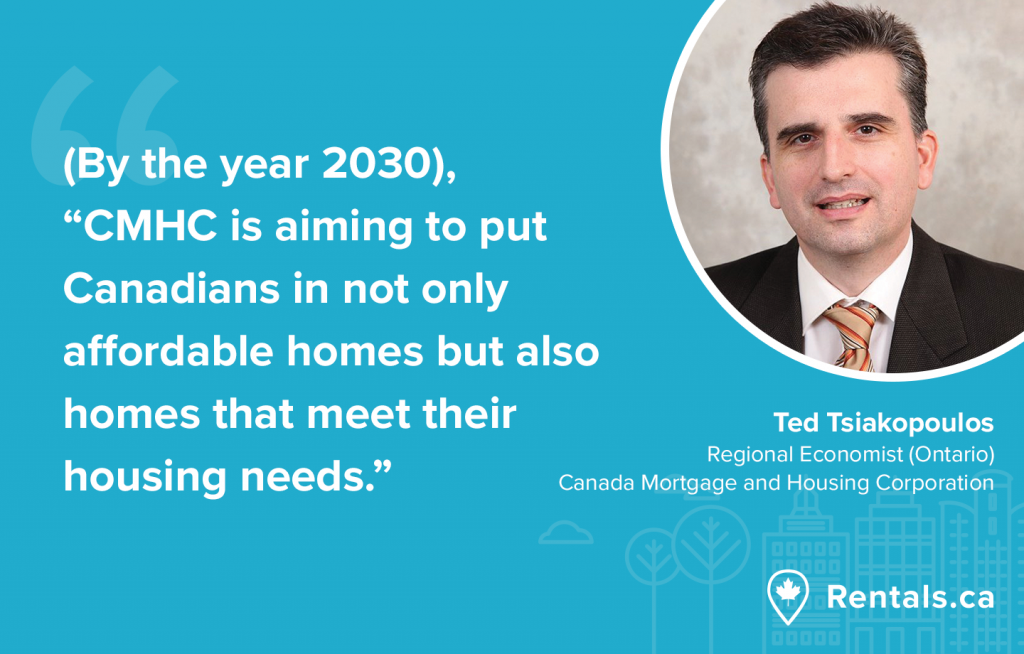 Tsiakopoulos explained, "(By the year 2030), "CMHC is aiming to put every Canadian in not only an affordable home but also one that meets their housing needs."
The city of Toronto will work with the federal and provincial governments on Mayor John Tory's recently proposed "Housing Now" initiative. This initiative activates "11 transit-oriented sites" – currently surplus city land — which will create not only affordable housing, but also as Valesa Faria, Affordable Housing Development manager in Toronto puts it, will help to "create complete communities across the city."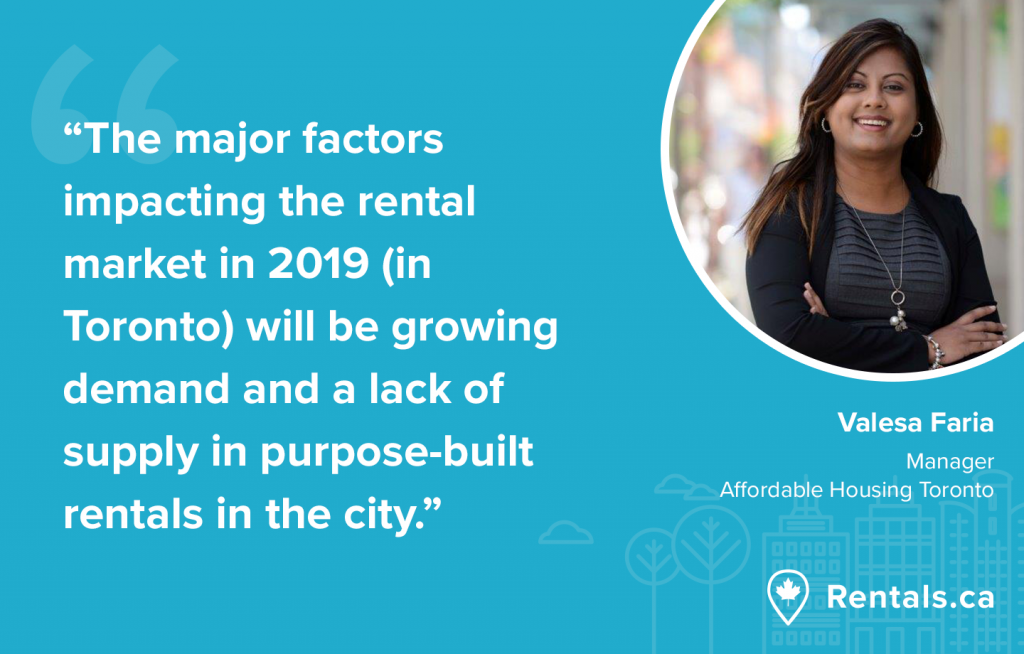 Faria said that the mayor's goal is to add 40,000 units in the next 12 years. She said the city hopes to realize 3,300 or more affordable units a year, beginning in 2020
But Myers pointed out that Toronto has the lowest turnover rate in the country, and perhaps the lowest in North America at 11 per cent, which will lead to higher rents.
"With increasing rents and declining credit availability for mortgages, residents are likely to stay put, he said. "With expanded rent control implemented in 2017, tenants are incentivized to stay in their current home. This is not ideal, as some people may choose not to take a job in another part of the city because of higher rents. As fewer units are turned over, there is less supply, and rental rates increase further.
"The dynamic is shifting away from 'bubbly' house prices to 'bubbly' rental rates," Myers said.
He added that economists are calling for another two increases in interest rates in 2019.
The Bank of Canada raised interest rates 5 times in 2018, with the benchmark rate ending at 1.75 per cent in October. In a press release following the last rate increase, the Bank of Canada stated it "will continue to take into account how the economy is adjusting to higher interest rates, given the elevated level of household debt."
Economists expect rates to keep climbing over 2019 as the economy regains a solid footing.
Dr. Hulchanski also said he believes student housing is one of Toronto's greatest challenges.
"With 70,000 students at the University of Toronto's three campuses," he said. "pressure on the rental market intensifies even more."
He said there is no federal or provincial aid for students right now. In the 1960s/70s, building student housing was part of the social housing program. This program provided subsidies to building companies to encourage the creation of student-designated housing, but that no longer exists. This adds to the major need for affordable housing among the general population, and as Dr. Hulchanski pointed out, "There's no fancy way to fix the affordable housing crisis."
"We claimed to have some housing problems back then, and we did," he said. "But it is much worse today. Families are now being forced to double up in units, and this is putting stress on building systems and creating even worse issues."
5. IN VANCOUVER:
AFFORDABLE HOUSING PROBLEM COULD GET WORSE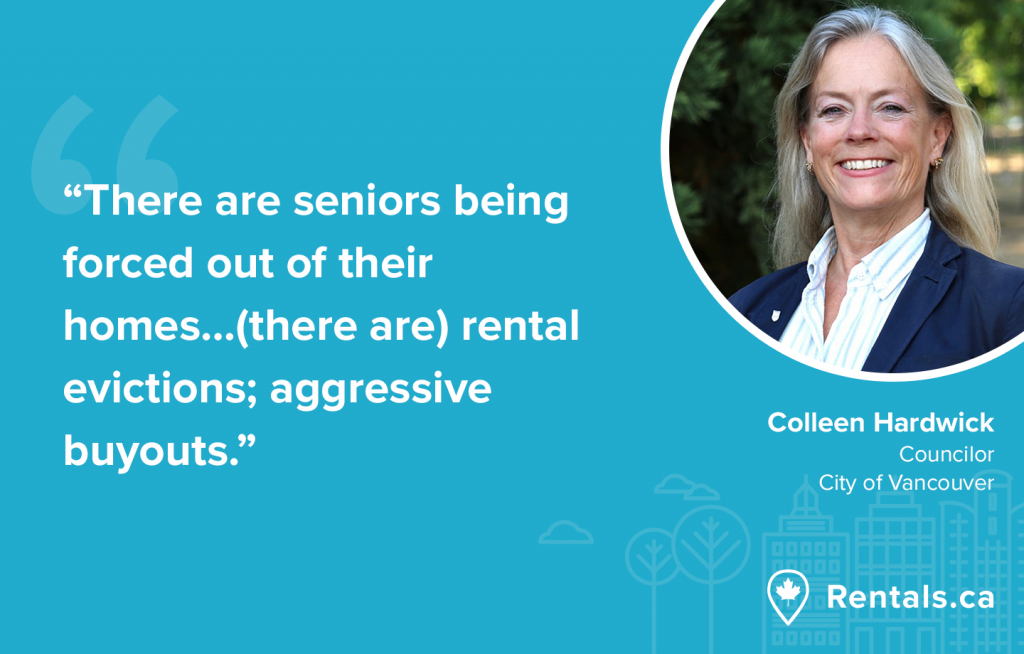 In Vancouver, City Councilwoman Colleen Hardwick wants to see her city take a more aggressive posture in dealing with affordable housing.
When asked if there are sufficient affordable rentals in Vancouver, Hardwick said, "No, obviously not. Seniors are being forced out of their homes. There are rental evictions; aggressive buyouts."
She said the provincial school tax puts an unfair burden on Vancouver homeowners who pay a disproportionate amount of taxes funding British Columbia schools. In 2019, Vancouver homes valued at $3 million or more will pay even more of the school tax. About a quarter of Vancouver homes are at the $3 million valuation level and more, according to research by Andy Yan, director of the Simon Fraser University City Program.
"As those taxes are implemented," Hardwick said. "Seniors are going to be losing their homes."
The newly elected councilwoman hopes to see a more balanced rental market in 2019 where there are more options for renters and taxes are reined in.
She believes that more diverse housing types in single-family neighbourhoods "are the kinds of housing forms that people enjoy rather than being crammed into high rises." Hardwick is pushing for more equalized housing that sees traditional middle class apartment dwellers mixing in with higher income single families.
She's taking a wait-and-see-attitude on the city's recent law to limit foreign housing investments and the city's push to create rental-only zones.
Hardwick cited interest rates, housing price stabilization, flipping properties, and building newer rentals to replace older buildings as the issues to watch in 2019 for Vancouver.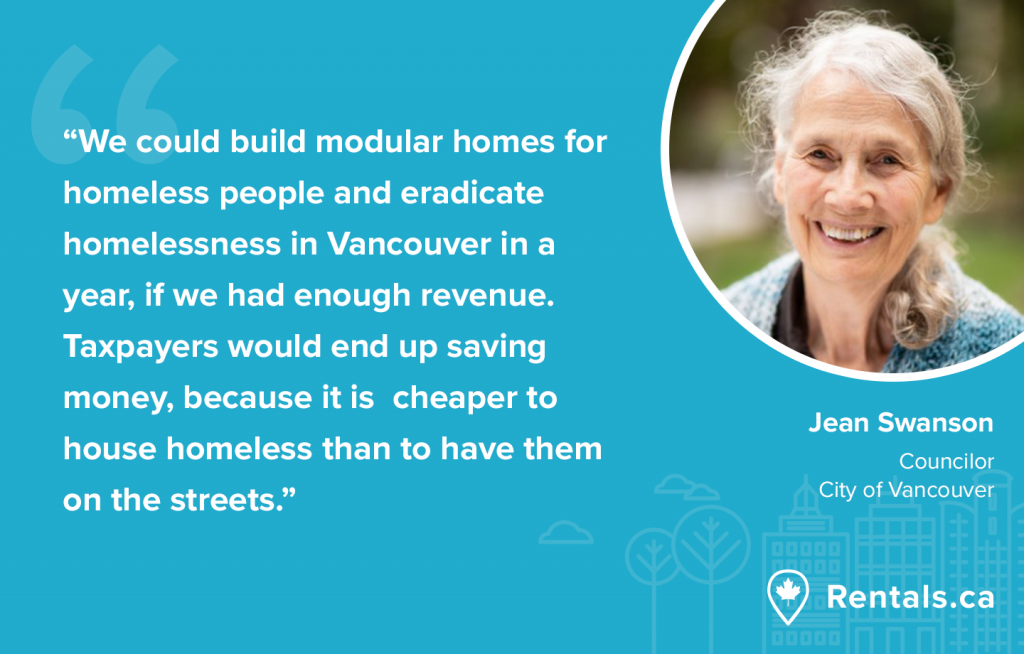 Jean Swanson, another Vancouver City Councilwoman, is also worried about affordability.
"Lots of young people are living with their family until they are 35," she said. "And many are doubling, tripling and quadroubling up." She said she met a young couple whose rent is only $500 per month, but they were living with six others in a two-bedroom.
"The issue is scarcity; the vacancy rate is low," she said. "Owners are buying out buildings at inflated prices, and without vacancy control they are buying out the tenants…the older the building, the more vulnerable the tenants."
Swanson explained that vacany control would solve this, as would a rent freeze on the 2.5 per cent increase. She explained that vacancy control would prevent landlords from raising rents in between tenants, and a rent freeze would make yearly increases impossible.
Swanson also wants to reduce homelessness by introducing more affordable units in Vancouver by building more modular homes.
"We had 600 units of modular housing built over last year," she said. These 320-square-foot houses are built offsite and moved to a location. They are small but functional with their own independent bathrooms and can be made permanent with a foundation.
And, she said the modular homes can be built in nine weeks.
"In my experience, it takes three to seven years to build a social-housing building in Vancouver, she said.
"We could build modular homes for homeless people and eradicate homelessness in Vancouver in a year, if we had enough revenue," Swanson added, "Taxpayers would end up saving money, because it is cheaper to house homeless than to have them on the streets."
6. IN OTTAWA:
INVESTORS LIKE NEIGHBOURHOODS WITH NEARBY TRANSIT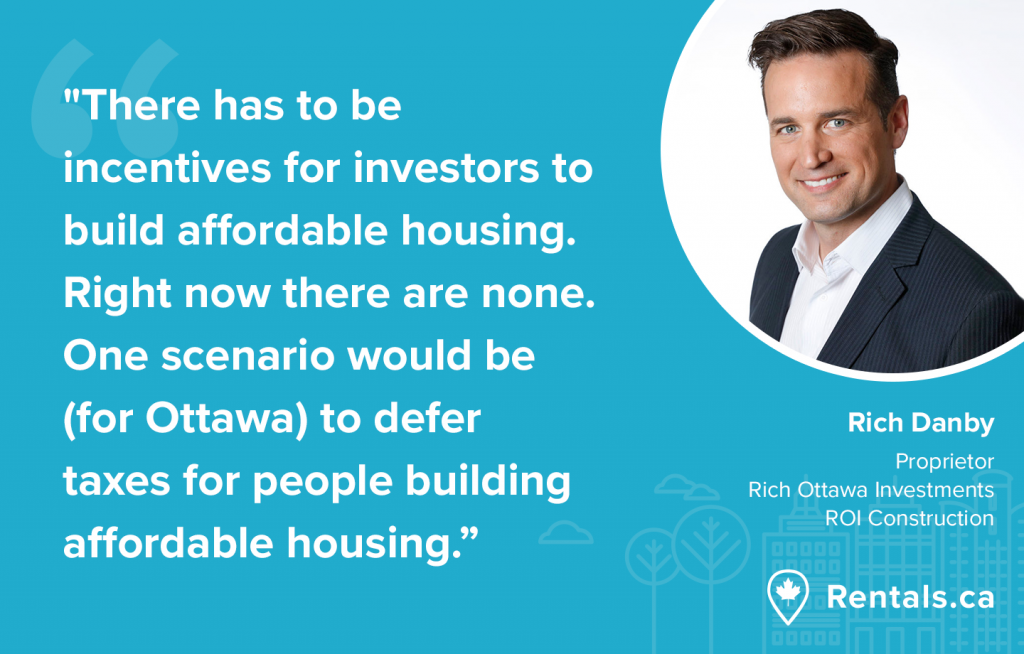 On the investment side of the rental market, Rich Danby, owner of Rich Ottawa Investments and ROI Construction in Ottawa, sees continuing opportunities for investors, but he also cautions that affordability and low vacancy rates will have to be dealt with in the country's capital city.
"There are higher rents than ever before. For a two-bedroom, the average rent rose by its highest level in 15 years, as higher interest rates and higher mortgages discourage tenants from buying a home." Danby thinks this problem will continue.
"They are topics no one wants to discuss," he said. When it comes to affordable housing, "it's hard to get politicians on the record." He said incentives for investors such as deferred taxes would help, but he added, there are no easy solutions to this problem.
Danby, president of the Ottawa Real Estate Investors Organization, believes nearby transportation in Ottawa neighborhoods will have a bigger influence on where investors choose to put their money.
He's bullish on the Stittsville and Little Italy communities because of the proximity of light rail transit, and he likes Ottawa Apartments in the Lebreton Flats neighbourhood because of its high walk score, nearby transit and good restaurants.
Danby said he believes millennials (ages 25 to 34) will continue to outpace Baby Boomers and Gen Xers as the majority of renters. Most other experts we talked to agree.
"Millennials are not as keen to settle down, " Danby said. "They care more about convenience and amenities, and are looking more at quality of life."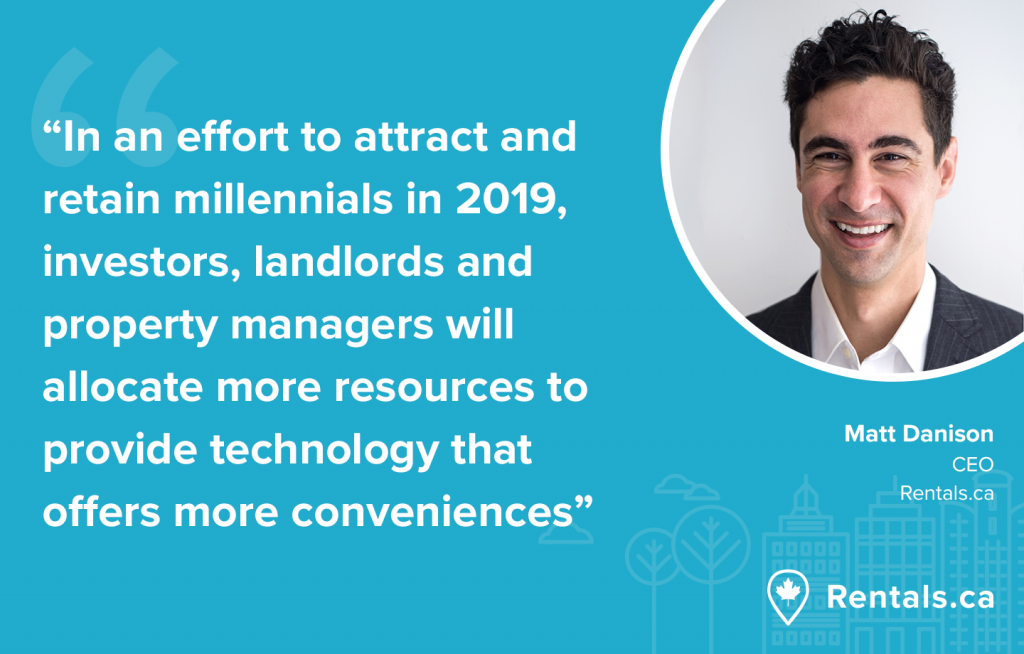 Matt Danison, CEO of Rentals.ca, said to attract and keep millennials, landlords will have to think tech, along with more amenities and convenience.
For example, he said a breakfast bar vendor offering coffee, juice oatmeal and pastries could be available in a common area of a rental building in the mornings. Or, he suggested that a cook could be available a few hours in the evening to grill chicken and toss a salad.
He said free WiFi, smart appliances and co-working spaces and nearby transit are attractions millennials want.
7. IN MONTREAL:
WITH THE MOST RENTAL STOCK, MORE TO BE BUILT IN 2019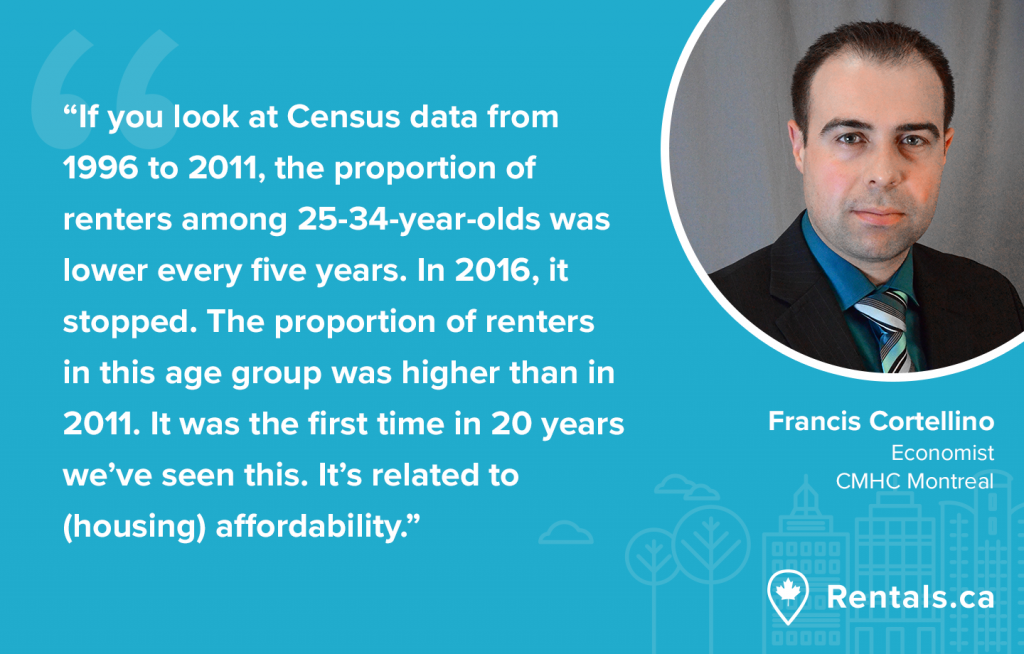 Montreal has more rental stock than any other big city in Canada, Francis Cortellino, economist for the Canada Mortgage and Housing Corp. said. And, he added, the city will see even more Montreal rentals built and open up in 2019.
Immigration is a major factor in Montreal, and many immigrants choose renting over buying in their first few years. He said more demand for rentals has pushed rent increases up about 2.5 per cent.
Cortellino said "Montreal rents are more affordable because of the higher number of units, and because there are more older rental buildings."
Montreal has been and will probably always be one of most affordable markets, he said. Between the years 2011 and 2016, the number of renters increased nationwide, but this increase tracked "lower in Montreal when compared to other major cities such as Vancouver and Toronto."
Cortellino said it will be interesting to see if the increase in rental construction in 2019 will keep up with demand, and if the trend of more rental buildings being built than condos will change in 2019.
8. IN HALIFAX:
IN A TIGHT RACE, BUT DEMAND STILL OUTPACES SUPPLY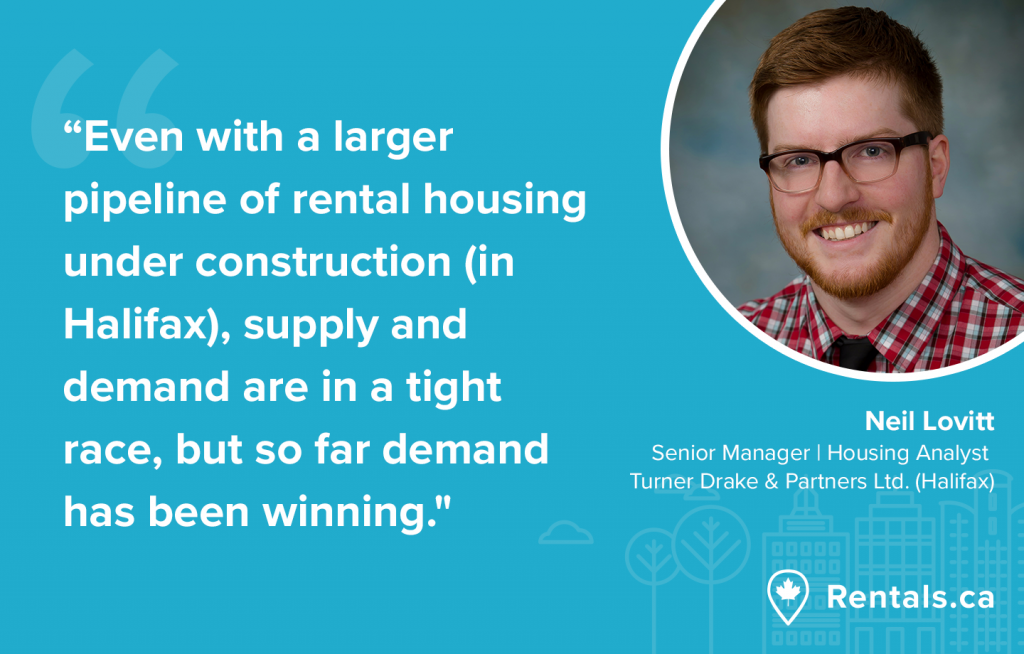 In Halifax, Neil Lovitt, housing analyst and senior manager for Turner Drake & Partners Ltd., sees the continued population growth of the city spurred by high immigration rates as the major factor affecting housing in 2019.
Even with "a larger pipeline of rental housing under construction," Lovitt said. "Supply and demand are in a tight race, but so far demand has been winning."
Lovitt said, "by definition, the need for affordable, non-market housing cannot be met by the market," He described the problem as "a broader social issue that should be met by society at large." He said the government could help ease the problem with "direct supplementation to households and the creation of new non-market units.
"Though the rental space is going gangbusters, our overall pace of housing construction has not really strayed from the historic average," Lovitt said. "Expanding development opportunities and streamlining approval processes should help us keep pace if demand continues at these rates over the long term."
9. IN WINNIPEG:
RENTS LIKELY TO INCREASE 3 PER CENT TO 5 PER CENT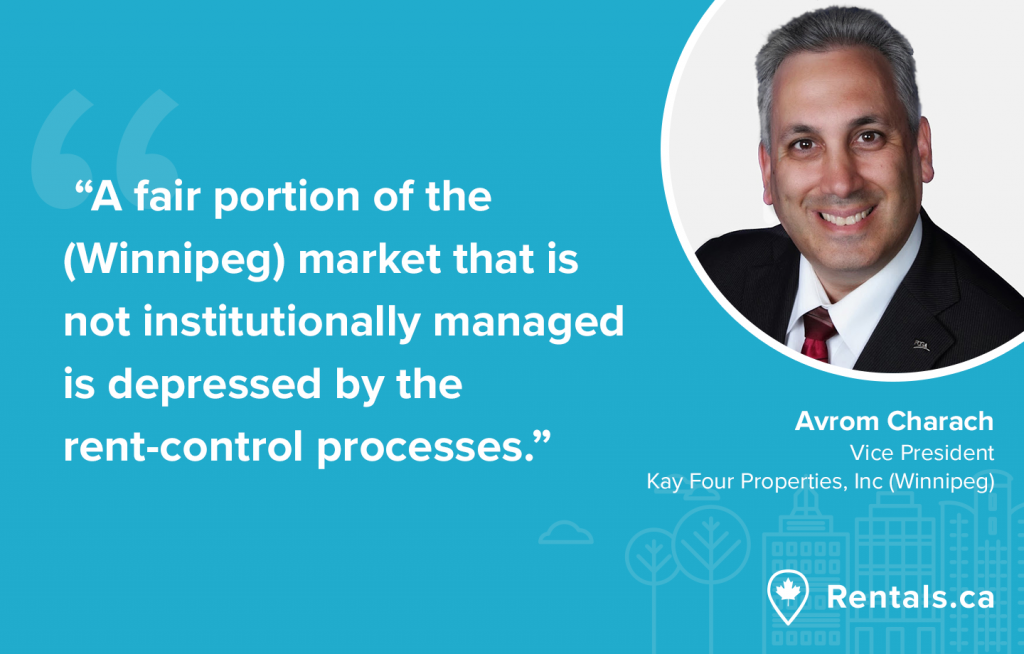 Avrom Charach, vice president of Kay Four Properties, Inc., said the main factors that will affect the rental market in Winnipeg in 2019 are rent control, immigration and construction.
"We are at equilibrium for construction and migration…Mid-market vacancy rates in 2011-2012 were at almost zero. This pushed development and has lead to a vacancy rise of 3 per cent to 5 per cent." Charach explained that while this is not ideal for landlords, who generally want more control and less vacancy, it's a win for tenants.
But while more people are moving too and searching for apartments for rent in Winnipeg, Charach said, "Rent control still remains as a big issue," he said. "Rent control is bad here; it's one of the worst in the nation."
He explained that in Winnipeg, larger institutions are still supported while independent owners suffer. Part nine of the Manitoba Rent Control act allows you to further "increase rents if your costs are going up."The large institutional buildings are only able to keep up with rising maintenance costs by raising rent in the 3 per cent to 5 per cent range, which is double or triple what the (law) says it should be."
But he said the "mom and pop shops" do not have the time to use the law to their advantage, so their rents go up by the controlled rate of 1.5 per cent to 2.5 per cent and "eventually they get squeezed out." Charach also said, "affordable housing in Winnipeg is being suppressed by the rent-control process."
The long and short of it is that, "Rents will likely increase this coming year in the 3 per cent to 5 per cent range."
10. IN CALGARY:
SPIKING OIL PRICES, HIGH UNEMPLOYMENT AFFECTING MARKET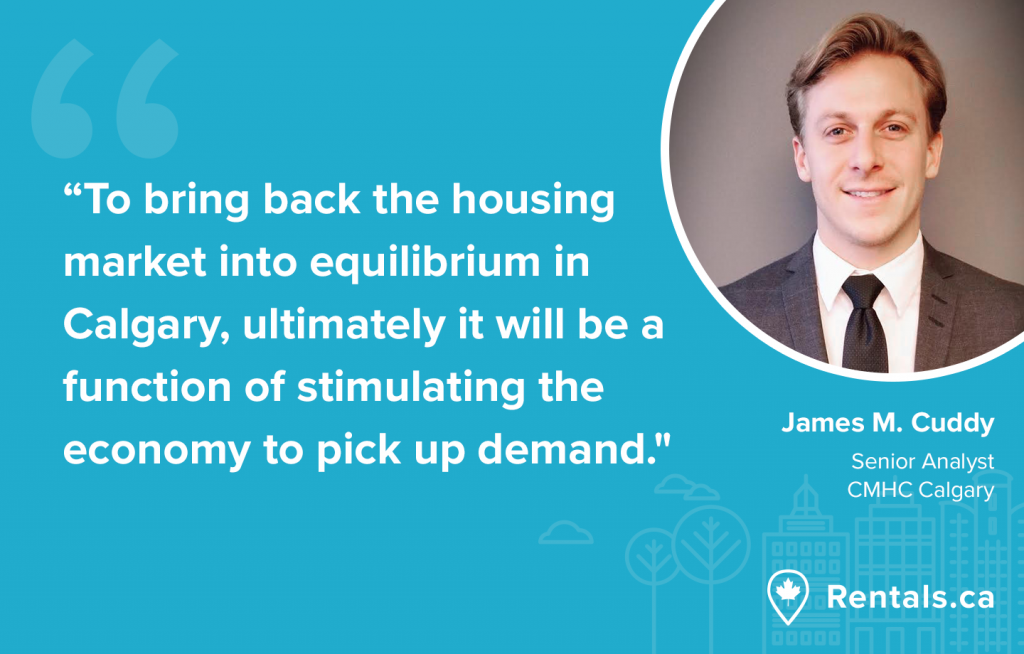 As the energy market goes in Calgary, so goes the housing market.
James M. Cuddy, senior analyst for CMHC, said that spiking oil prices and high unemployment at 8.2 per cent has "put downward pressure" on the rental market.
"Given high unemployment and recession, affordability has been eroded across Calgary. Vacancy rates declined to 3.9 per cent from over 6 per cent the year before. These affordability challenges are putting an increased demand on rentals," and the millennial generation and international migrants are leading this demand."
He said even though vacancy rates have declined, Calgary still has "lots of inventory." It's still higher than most other Canadian cities, he said.
Prices will remain flat, and "under the rate of inflation," he believes because of the inventory levels.
"To bring back the housing market into equilibrium in Calgary," he said. "Ultimately, it will be a function of stimulating the economy to pick up demand."
As in other cities, affordable housing for Calgary Apartments is a problem. He stated that for 2019, he wants to "see the number of individuals with core housing needs go down." Homelessness and unemployment remain high in Calgary, and this has caused further demand for socially designated housing.
He said there is 4,000 on a waiting list for affordable housing in Calgary and 3,000 homeless in the city.
11. IN EDMONTON:
6,000 ON A WAITING LIST FOR AFFORDABLE HOUSING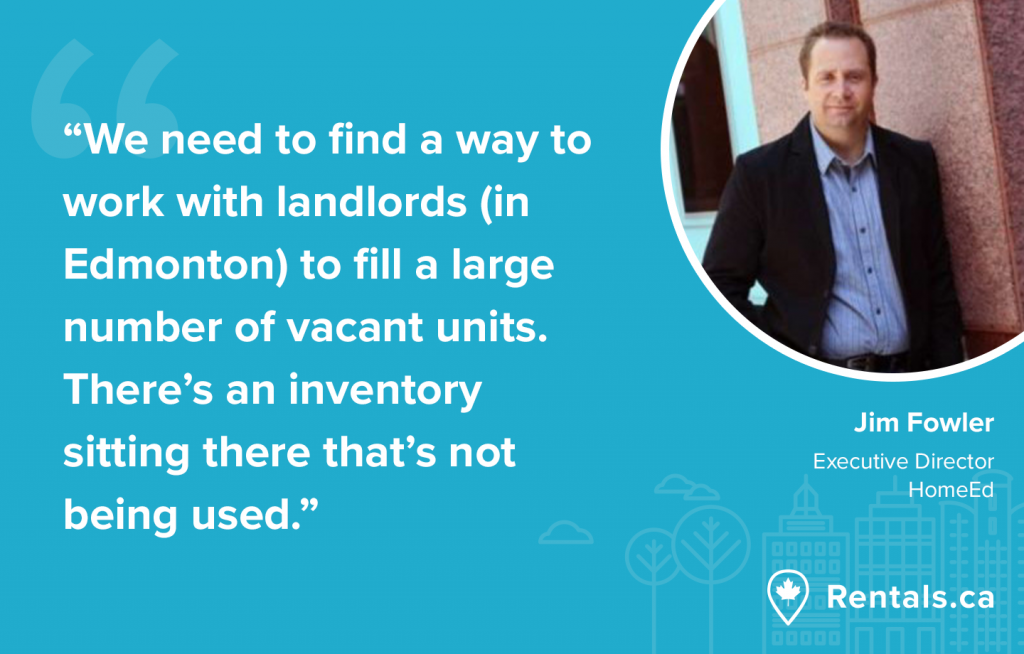 Jim Fowler, executive director of homeEd, a non-governmental organization that provides social housing for Edmonton, said access to affordable housing is a dire need for the residents of the city.
"Even though homeEd supplies places at 10 per cent to 25 per cent below market rent, (many people are) spending more than 30 per cent of their income (on housing)," he said. "There is not enough affordable inventory to keep up with demand. There are thousands of units of shortfall."
There has been a large recent influx of new Canadians to Edmonton this year, which has been a factor in "shrinking the rental market".
According to Fowler, there are 6,000 people on a waiting list for affordable housing. He suggested two ways to combat this issue.
The first is to "expand non-market providers like homeEd," and to allow the agency more opportunities to construct and acquire buildings.
The second is to foster partnerships between the city and market landlords.
"Start making better use of existing vacancies," he said. "There is more than 5 per cent vacancy across the city which would easily cover the 6,000 on the waiting list," he said. We need to find a way to work with landlords to fill a large number of vacant units. There's an inventory sitting there that's not being used."
He advises those searching for Edmonton rentals to allow time to find the best deal out there. A lot of people begin the process too late, he said. "Take some time to see what's out there and use your findings as leverage with your current landlord.
The lack of inventory is going to lead to an increase in rental prices. "The for-profit landlords are going to take advantage of the shrinking inventory and up their prices," he said.
12. IN ST JOHNS:
HIGH NUMBER OF STUDENTS, OIL WORKERS FUEL RENTAL MARKET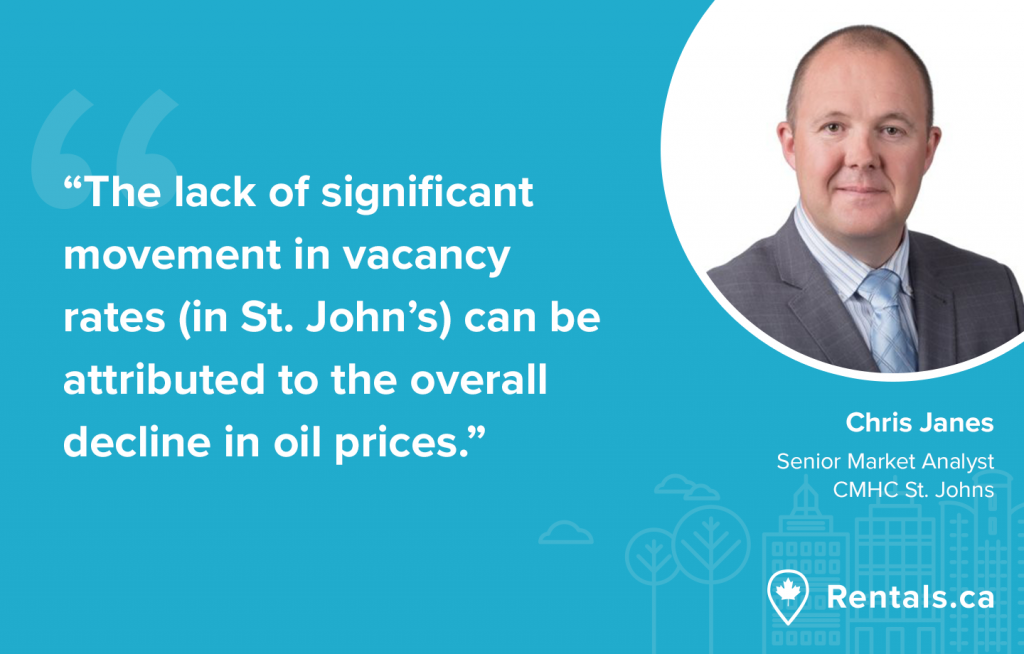 Chris Janes, a senior market analyst with CMHC in St. Johns, hopes 2019 is a reflection of the previous year.
In 2018, St. John's and the Atlantic coastline experienced significant population growth, as well as growth in jobs and income. These key indicators could translate well for the housing market in 2019.
"In 2016, the vacancy rate in St. Johns peaked at 7.9 per cent and then (this year) went down to 6.3 per cent." While this is a move in a positive direction, it is not by a significant margin. The lack of significant movement in vacancy rates can be attributed to the overall decline in oil prices, which Janes "sees as temporary," and he believes "most companies will remain profitable."
Janes remains hopeful, "with demand picking up, and with a lack of new supply the market should level at 6 per cent by 2020."
The detached homes — generally an upper three-bedroom house with two units in the basement — are in large supply and are not often surveyed by CMCH as rentals competing with the traditional three-plus-unit structures. This presents a hole in the rental market data, he said.
The 18,000 students at Memorial University supply a steady number of tenants in the St. John's market as does oil and gas workers. The oil market is on the rebound in the Atlantic market, and CMHC is expecting a further influx of oil workers to the area on an annual basis.
Two other factors influencing the St. John's market, according to Janes are a low birth rate, and a large outmigration. Both these combine to create "Canada's fastest aging population," which is putting continual stress on the rental market and could lead to more affordability issues.
13. IN SASKATOON:
HIGH VACANCY RATE DECLINING BUT NOT FAST ENOUGH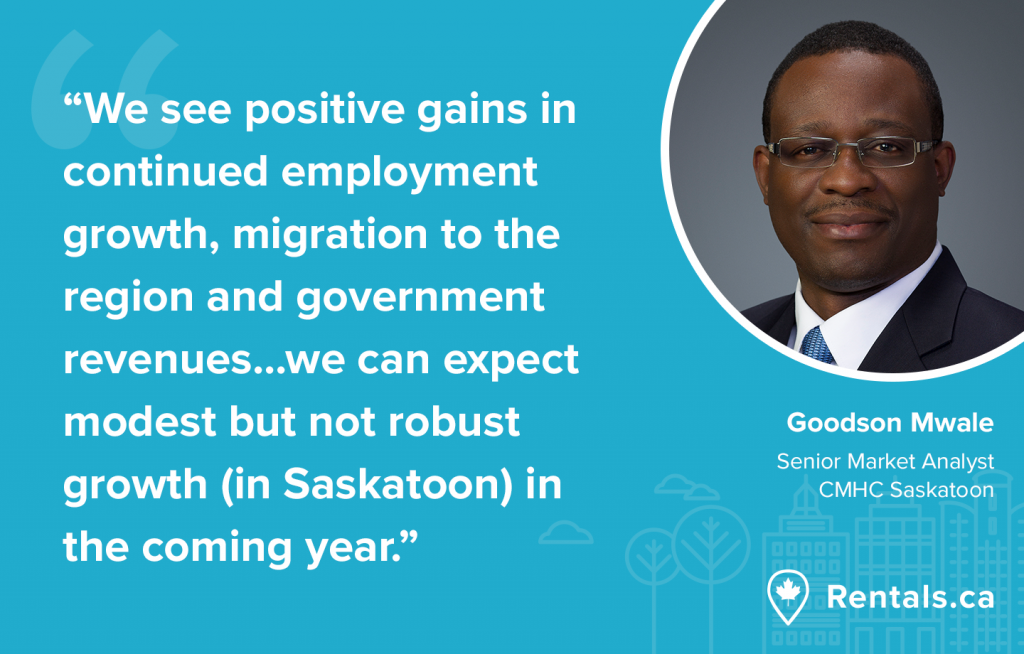 Goodson Mwale, a CMHC senior market analyst in Saskatoon, is seeing less of a decline in vacancy rate than expected. The decline this year went from a start of 9.6 per cent to 8.3 per cent, a significant drop but not nearly as large as the projected 7 per cent. CMHC is projecting to reach a 7 per cent vacancy rate by 2019 and 6.5 per cent by 2020.
Mwale attributes this continued drop in vacancy rate to continued employment growth and more favourable net migration. Even though vacancy rate came down to 8.3 per cent, it's comparatively still high.
"It is not as dire here as it is in Alberta when it comes to oil. Our oil is 60 per cent net heavy, and the lighter the oil the better the price," he said.
Lighter oil produces a greater percentage of diesel fuel and gasoline, and is easier and cheaper to refine when compared to heavier oils. The higher percentage of light oil in Saskatchewan's oil reserves translates to a less volatile market. The static market, and the recent rebound of oil prices are positive signs for the different sectors of the economy.
"We see positive gains in continued employment growth and migration to the region." Mwale explained, however, that this growth will be modest, not robust.
14. SOME HOPEFUL SIGNS FOR THE RENTAL MARKET IN 2019
In Toronto, a citywide process is under way to create the city's next 10-year housing plan from 2020-2030.
"We are looking at what is needed across the housing spectrum, from emergency shelters all the way to home ownership," said Faria. "It includes students, seniors, indigenous housing; pretty much everything."
Faria also listed a few examples of housing projects the city is sponsoring or in partnership with that will see continued progress in 2019:
Cuddy is hopeful that the national CHMC funding will spur new creative projects by Canadians. If any Canadians have ideas for housing projects and are worried about not meeting minimum requirements, he suggests reaching out to one of the several "housing affordability specialists" to see what help they can offer.
In Saskatoon, Mwale is hopeful that the Saskatchewan's young population will drive market demand further, despite constant population drain to main hubs in British Columbia and Ontario. The younger generation is drawn to the province's more stable light oil fields and cheaper housing options.
15. RENTALS.CA'S 2019 PREDICTIONS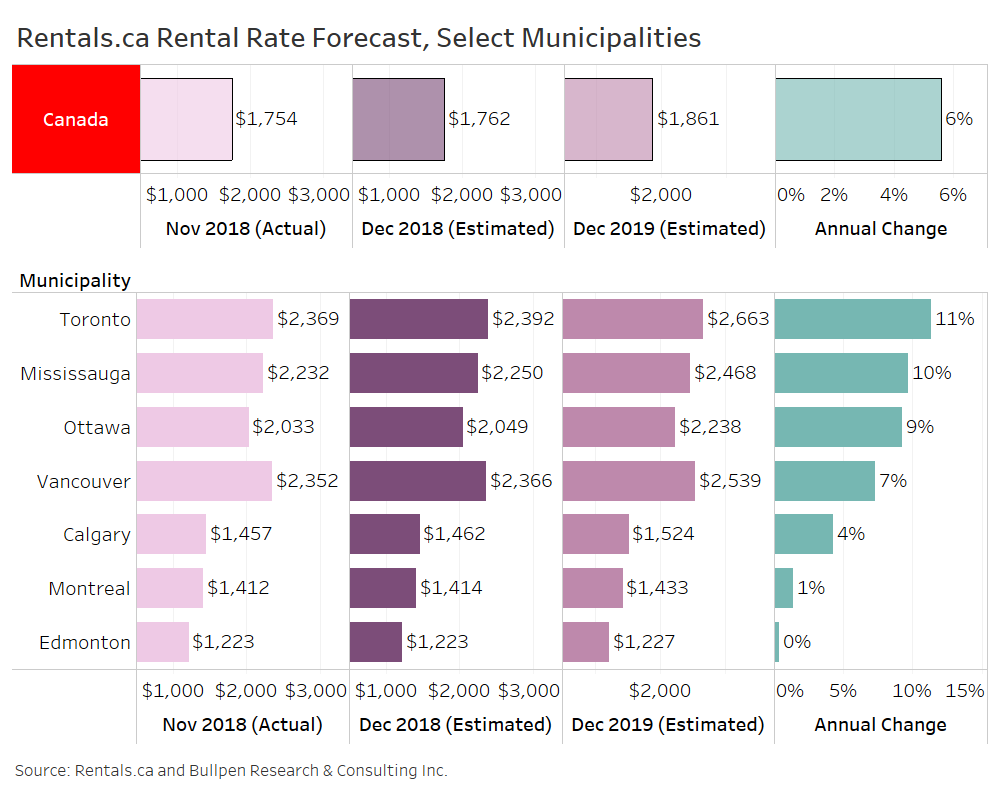 1) The average rental rates will increase by 6 per cent year over year on a national basis in 2019. On a municipal basis, an annual rental rate growth of 11 per cent is expected in Toronto and 7 per cent in Vancouver.
Ben Myers: Several Greater Toronto Area (GTA) municipalities are among the most expensive rental markets in Canada, with Oakville and Vaughan the highest among the suburban markets, and the former municipalities of Etobicoke, North York and East York tops among the "416" area with rental rates rivaling Vancouver.
There is trepidation among potential homebuyers following the bubble-like conditions and the subsequent price correction in the GTA housing market last year. Many Torontonians are choosing to lease instead of buy, with tenants staying put to avoid paying the higher market rate for an available unit. This phenomenon has reduced rental listings in this high-demand environment.
Matt Danison: The new mortgage stress test, higher interest rates, and higher home prices have dramatically increased the number of people looking for rental accommodations this year.
Many young couples and families have decided to postpone purchasing a home, which has driven two-bedroom rental rates to nearly $2,600 a month in Toronto and over $2,000 a month in Ottawa. Rents have been pulled up by recently completed high-design condo apartments for lease, which can go for significantly more than the older stock of Toronto apartments.
2) The price-to-rent ratio in 2019 will tilt toward renting in Toronto
Ben Myers: In Toronto, it's more expensive to own. The monthly carrying costs for many condominium apartment units are more than a landlord would charge for a similar suite.
This would lead one to conclude rents will continue to go up, as gaps tend to close over the long run.
Of course, all this is affected by a number of variables including the level of immigration, job growth, mortgage qualification rules, interest rates, and shifting preferences regarding homeownership.
3) Canada's plan to increase housing availability will not be enough to offset increased immigration. (Canada plans to allow about 1 million immigrants in the next three years.)
Ben Myers: There's just not enough supply to match the high housing demand. And, the Vancouver and Toronto markets have too much red tape in their municipal planning processes to ever keep up.
The net population growth for Ontario over the past 12 months has been over 250,000, significantly higher than the long-run average of 150,000.
New housing units completed annually in Ontario have been relatively unchanged at about 70,000 new units over the past couple of years. And many of these are not purpose-built rentals (apartment buildings and row houses). So, demand is far outpacing supply, especially rental demand.
The only way in the long run to fix the demand issue is to not let as many people in the country! Since we know that won't happen, and neither do we want it to happen, we must find ways to allow supply to match demand.
A few ways we could do this is to provide incentives for people to put in basement apartments, triplexes, and laneway units — allow more renters in 'stable neighbourhoods.'
Matt Danison: In October 2018, the government of Canada revised its immigration levels for 2019 through 2021. According to this plan, Canada will accept between 310,000 and 350,000 permanent resident applications in 2019. That's an increase of about 1 per cent of Canada's total population.
New immigrants tend to rent during the first years after settling in Canada. And, most favour the bigger cities of Montreal, Toronto and Vancouver. So while the immigration push will continue to pressure the rental market nationwide, the effect will be felt more in these cities.
4) Millennials will continue to be the biggest segment of the rental market, and landlords will need to offer more amenities and conveniences to attract this age group.
Matt Danison: Landlords and property managers will need to get creative to better appeal to the millennial market in 2019 and beyond, by building smaller and thus more affordable units with more common-building amenities.
With current supply issues, I don't think we will see a magic solution to meet demand in 2019. Thus, we have to be smart about how new purpose-built rentals are designed.
Danison suggested new rentals be built at 500 square feet to 600 square feet instead of the average 870-square-foot-unit in Canada (from Rentals.ca November rent report).
With the smaller units, more common areas and amenities such as fitness centers, saunas, Ping-Pong tables, video games, large-screen TVs, chess tables, and co-working spaces could be added. This would create more rental units without sacrificing too much prime square footage, and add more affordable units that appeal to millennials.
Another perk to this strategy would be more neighbours engaging with one another instead of "heads down looking at smartphones."
Other creative amenities could be, for example, a breakfast bar vendor offering coffee, juice oatmeal and pastries in a common area in the mornings. Or, how about a cook coming in a few hours in the evening grilling chicken and tossing salads? More hotel-like services could emerge.
Ben Myers: Millennials want connectivity and convenience. They are attracted to amenities such as smart buildings, co-working spaces, WiFi in the lobby and fitness centres, common areas with bars or video game rooms and theatre rooms.
5) Interest rates will continue to increase, and that will influence more people to continue to rent rather than buy.
Ben Myers: Economists are calling for another two increases in 2019. This will make it harder for first-time homebuyers, who may decide to keep renting.
6) Canadian governments — national, provincial and city — will need to play catch-up to the growing affordable housing crisis or face consequences.
Matt Danison: Governments will need to take real steps to solve this crisis, or they will have disgruntled seniors, students, and renters with steep rent increases knocking on their doors. There could be protests or even strikes.
More basement apartments (many illegal) could hit the market. Due to lack of supply and high rents, homeowners will continue to renovate basements and rent them as an attractive source of revenue.
Ben Myers: (He mentioned some steps to take above in No. 3:) A few ways we could do this is to provide incentives for people to put in basement apartments, triplexes, and laneway units — allow more renters in 'stable neighbourhoods.'
7) Rental scams (local and foreign) will increase in 2019 targeting desperate people looking for rentals.
Matt Danison: With the country's decreasing vacancy rate, the last thing you want to fall victim to, is a rental scam. In 2018, we unfortunately read countless stories of scammers who took advantage of prospective tenants, as the stress of searching for a new home can make people more vulnerable.
Studies show that vacancy rates have dropped to 2.4 per cent (lowest since 2009). In 2019, With 2019, we don't see any reason that scammers will slow down as our country welcomes new immigrants, and people continue to relocate for new jobs and other reasons. Scam artists tend to prey on those, who feel the pressure to move as soon as they see a "great deal" on a property.
Although Rentals.ca carefully reviews submitted listings for fraud, we still urge users to be diligent in their rental search. Fraudsters go to great detail to make their post(s) more believable.
In 2019, we hope to see more action by authorities. But as a community, we need to be on the
alert to stop fraud by bringing more awareness to this crime.
Rentals.ca sister brand TorontoRentals.com has created a video to help educate potential tenants on what to look out for when searching for rentals to avoid being victim of a rental scam.
If you suspect fraud, you can report it to the Canadian Anti-Fraud Centre.
8) More condo investors will sell off their rental properties
Ben Myers: Recent studies have shown a significant share of condominium apartment landlords in Toronto and Montreal are cash-flow negative.
Despite continued price and rent growth in the Toronto-area market, there is no doubt that this was a factor in the decline in the share of condo units owned by investors in the GTA in 2018 (per CMHC data). Expanded rent control in Ontario was also cited as a reason investors chose to sell off their rental properties.