As more and more people move to Halifax for jobs, for schooling, for its natural beauty and culture, where will they all live?
Halifax has been and is in a housing crunch — not a crisis — but the cost of housing is going up, rents are higher, and finding a suitable place to call home can be challenging.
Rentals.ca  contacted experts from the Halifax Regional Council, Halifax Regional Municipality, Canada Mortgage and Housing Corporation (CMHC), Housing Nova Scotia and Turner Drake & Partners to discuss the problems and solutions for housing in 2019.
Let's start with the rental vacancy rate at 1.6% in late 2018 for the Halifax Census Metropolitan Area, according to a CMHC report. That's down from 2.3% in 2017. The rental apartment vacancy in Halifax has not been under 2% since October 1990, according to a CMHC Rental Market Survey.
Worse, for a three-bedroom rental, the vacancy rate was 1.3% in late October.
Finding a place to rent is not easy. Demand outpaces supply, rents go up, and people make choices to settle for something less than what they want (downsize), get a second job, move away from their jobs and increase commute times, or they learn to pay more than the recommended 30% of their income on housing.
"Give yourself plenty of time to search for Halifax rentals," said Matt Danison, CEO of Rentals.ca. "We recommend starting your rental search three months in advance.
"A lot of people begin the process too late, and unless they get lucky, they might be forced to go with something either out of their budget or in an undesirable location."
In the April national rent report by Rentals.ca and Bullpen Research & Consulting, Halifax was 19th of 30 cities listed for a one-bedroom rental at $1,110. But Halifax ranked 13th on the list for average monthly rent in March for a two-bedroom at $1,569.
(The Rentals.ca numbers show vacated properties that better reflect current values. The figures better represent the actual rents a potential tenant would encounter when seeking to rent an Halifax apartments.)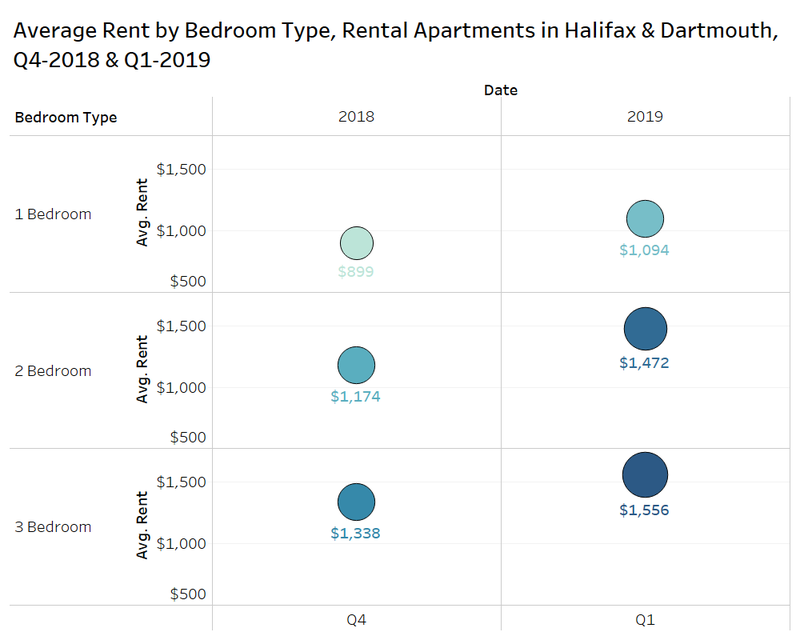 Rentals.ca  asked Halifax Deputy Mayor Waye Mason if he sees a time soon where supply will catch up with demand.
"No, I really don't," he said in an email reply. "It is taking some time for both the government and the industry to catch up with pent-up demand created by three-going-on-four years of unprecedented growth, and growth in the urban core rather than suburbs."
He pointed to three problems clogging supply: Government processes need to be streamlined; builders have "to actually build — "there has been a surprising number of approvals (dozens and dozens) that have not gone under construction" — and rising construction costs because of the "building boom" and labour.
"We simply are not growing inventory fast enough for our population growth," he said.
As for affordable housing, Mason said, "I don't see any effective plan to grow low-income and workforce housing" coming from the province of Nova Scotia.
He said the Halifax Centre Plan contains a requirement for density bonuses that mandates a cash contribution to an affordable housing fund. He said the long-debated, contentious plan should be adopted this summer.
"It is hard to predict how fast this will generate meaningful amounts of money," he said.
According to the Halifax Regional Municipality, the Regional Council in 2015  moved forward with the Halifax Centre Plan, a process to develop a new land-use by-law for the Regional Centre — Halifax Peninsula and Dartmouth within the Circumferential Highway. (If you click on the Centre Plan, make sure to watch the four cool videos.)
Besides the density bonuses, the plan has other strategies to ease the housing issues in Halifax.
The Centre Plan puts forth many ideas to improve the Regional Centre and is based on research, statistical analyses, and a lot of community feedback. The plan is forecasting 33,000 more residents in the next 15 years, so part of its core is where to put all these new people.
Neil R. Lovitt, senior manager, Planning & Economic Intelligence at Turner Drake & Partners, doesn't disagree with the Centre Plan's density bonus program and its other initiatives, but he said "Its initial iteration will probably not generate the magnitude of impact that many are expecting."
He mentioned other Halifax strategies such as exempting affordable housing projects from permit fees. But, he added, "while helpful, they are not generally actions that will produce significant results in and of themselves."
Lovitt, agrees with Mason's assessment that even with apartment construction at "full tilt," it's not enough to meet demand.
For affordable housing, Lovitt said, "We've never had a higher rate of construction for purpose-built rental units, and it continues to increase. I think the industry is doing all it can on that front."
Lovitt said. "Halifax's developers increased the supply of rental housing by a larger amount than either Toronto or Vancouver" in 2018.
He said the vacancy rate could persist and even go lower in the short term with the latest population estimates from Statistics Canada. In 2016, the Halifax Census Division numbered 403,131 people up from 390,390 in 2011.
And, more are on the way. According to World Population Review Halifax has 410,816 residents in 2019 and projects a population of 464,117 by 2035.
So, where is all this growth coming from?
"Our tight vacancy is being driven significantly by a recent boom in international and domestic migration," Lovitt said, "As well as an upswing in net non-permanent residents.
Katelyn MacLeod, senior analyst, Economics CMHC, said that as well as the uptick in immigration, the population is aging and more rental units are a popular choice for retirees looking to downsize.
She also said "an increase in local employment levels, combined with the economic slowdown in the Prairie provinces are keeping more young adults in (Nova Scotia)." Employment levels in Halifax increased by 5.4% year over year as of October 2018, according to the CMHC.
The decline in the vacancy rate has created a limited supply of available units, and that has likely reduced the mobility between rental properties, causing the turnover rate to decline, she said. The tenant turnover rate for all units declined in 2018 to 20.9%.
She believes the level of construction of apartments will remain high throughout 2019.
In fact, said MacLeod, "The number of rental apartment units currently under construction as of March in Halifax has reached a historical high."
But is it enough? And, is enough being done to help seniors, single-parent families, students and low-income families find affordable housing?
A 2018 report from the British Columbia Non-Profit Housing Association said: '
■     One in five renters spend more than half their income on housing and utilities.
■     The Nova Scotia rental market is the fourth unhealthiest in Canada
■     40% of homes in Halifax are rentals, and the number of renters in Halifax is higher in percentage than any other city in Canada.
Housing Nova Scotia is tasked with addressing affordable housing for low-income Nova Scotians. The agency's purpose as stated on its website says: "Our goal is simple but ambitious: to ensure all Nova Scotians can find a home that's right for them at a price they can afford in a healthy, vibrant community that offers the services, supports and opportunities they need."
Rentals.ca asked the agency how many households it estimates in Nova Scotia do not have this.
In an emailed answer from the staff of Housing Nova Scotia: "As per Statistics Canada — Core housing need is an indicator used to reflect the number of low-income households which could not access affordable, suitable, adequate housing without spending 30% or more of their total household income on housing.
"Data indicates that 49,450 households (12.8%) in Nova Scotia are in core housing need. Of the households in core housing need in Nova Scotia, 34% are homeowners and 66% are renters.
The report says "the vast majority (74%) are in trouble not because of housing issues but because of budget problems — the household is contributing more than 30% of before-tax income toward shelter."
Housing Nova Scotia manages just over 2,150 public housing buildings consisting of about 11,500 units that over 17,000 tenants call home.
The waiting list for these 11,500 units is about 3,400 seniors and families.
Also, Housing Nova Scotia offers programs to low-income households to help seniors and persons with disabilities stay in their own homes.
Housing Nova Scotia is in year two of a three-year program investing $18 million to create up to 1,500 new affordable housing opportunities through rent supplements. More than 550 rent supplements have been granted so far. Housing Nova Scotia said it now assists 2,000 low-income households across Nova Scotia with rent supplements through partnerships with private and not-for-profit landlords.
The agency's Home Repair and Adaptation program has also helped nearly 1,000 senior households with repairs and adaptations so seniors could continue to live in their homes.
Going forward, Housing Nova Scotia has four initiatives including developing "a provincial housing strategy and action plan to advance long-range housing outcomes for the province, while leveraging federal National Housing Strategy funds."
The agency has seven goals from these initiatives including:  reducing the public housing waitlist, ensuring the most vulnerable are served and increasing the supply of affordable housing. It also wants to offer "portable" rent supplements, where the supplements would follow renters when they move.
Housing Nova Scotia pointed out that according to CMHC, 4,020 apartment units  were under construction as of March — which surpassed the previous record set in November.
Still, Halifax Deputy Mayor Mason argues that more needs to be done in dealing with affordable housing in the Halifax Regional Municipality. He believes Housing Nova Scotia's numbers do not match the need in urban areas — especially Halifax.
"We have a real issue with the provincial government not having a plan to really address urban challenges," he said. "Rent supplements have their place, but we are not renewing not-for-profit units, and we are not building anywhere enough new units."
He has said before that the affordable housing duties for the capital city should be turned over to  the Halifax Regional Municipality, which the province has resisted.
Lovitt of Turner Drake & Partners also believes the Halifax Regional Municipality is hamstrung in dealing with affordable housing because it falls under provincial jurisdiction.
He said the federal government has tried to encourage the construction of affordable housing through CMHC financing, "but the programs come with additional requirements that currently make them uncompetitive with market-rate capital."
He believes that Halifax housing is not in crisis like Toronto or Vancouver, but he says both the province and municipality are now playing catch up "to the resurgence of market demand in the core area, and more recently, the boom in population growth overall.
"Slow growth has historically allowed the government to step back and not keep pace in terms of social supports or creating new non-market housing," he said. Meanwhile, the municipality has been slow to enable "investing appropriately in transit and other public infrastructure." (To check out what's happening with housing and affordability in Halifax, see this Royal Bank of Canada March 2019 Economic Research report.)
One problem both Mason and Lovitt believe should be fixed that hinders progress for housing in the municipality is the Residential Tax Assessment Cap. Basically, this cap allows property tax on rental buildings to go up disproportionately compared to other housing classifications.
Rentals.ca asked both their opinions on the cap.
"We are trying to get rid of the cap," Mason said. " Assessment should be uncapped, and everyone should be taxed at market.  Nova Scotia Federation of Municipalities is working on this for all 50 municipalities in the province."
In fact, in a Jan. 29, 2019, letter to Honourable Chuck Porter, Minister of Municipal Affairs, Nova Scotia Department of Municipal Affairs, Halifax Mayor Mike Savage requested Municipal Affairs to focus on the original intent of the program and "provide greater affordability for low-income homeowners and residents."
In a Halifax Regional Municipality report, one of the major findings was that housing affordability is being adversely affected. It also said, "the CAP has shifted higher taxes toward apartment buildings, while making it more difficult for renters to purchase their first home."
"This should absolutely be changed, Lovitt said, "And it is an issue that a diverse assortment of stakeholders have been raising for quite some time; local governments, public administration professionals, industry groups, and ourselves.
"…Every time we analyse its effects, we find that it shifts the burden of taxes onto low-income neighbourhoods and provides wildly disproportionate tax breaks to those who least need them. It's therefore another facet of our housing affordability issue."
Speeding up and streamlining the approval process for rental buildings to be built in Halifax is another issue the municipality is working to change.
Mason said he estimates the process to be from 18 to 36 months depending on the project, the location and other variables. He said the Centre Plan, when approved, should speed things up.
The municipality said it is working on five initiatives to speed up application intake, the review and assessment process for planning applications. One of the five initiatives is to develop a new, electronic case management tool to provide both staff and applicants with a "state of the art" on-line application system.
Lovitt said he believes the Planning Department is targeting approval of this new process for this fall. "I hope that timeline sticks," he added.
The Regional Municipality pointed to the Regional Council's approval In 2018 of the  Affordable Housing Workplan; developed with the input of the Halifax Housing and Homelessness Partnership.
The Regional Council has also addressed, according to the Regional Municipality, barriers to shared housing, as well as secondary suites and backyard suites.  
Some of  the measures above, the Centre Plan and other measures taken by the Regional Municipality are also meant to ease the housing burden for students. The municipality said it has consulted with universities and colleges on some of the measures.
Will all this solve the problem in the next few years?
Lovitt is hopeful.
"We've got growing pains," he said. "They might be manageable… if the municipality actually implements (and most importantly, funds) the initiatives and plans it's been working on."