Apartment rental websites make any renter's home hunting journey easy. Whether you have a home with specific features in mind or just in the browsing mode, Vancouver apartment rental websites can save you time by easily narrowing down your search to include your exact needs – all from the comfort of your own home! 
Some handy tips before we dive in: Ensure you start your search for at least 3 months in advance of needing to move. You don't want to be stressed out trying to find a new home last minute! It's also crucial that you meet the property manager/landlord and sign a lease before sending any funds towards your future rental.
Here are our top 10 picks (spoiler alert: the 1st one's us 😉 ) for Vancouver's best apartment rental websites that can help you find the perfect home:
1.  Rentals.ca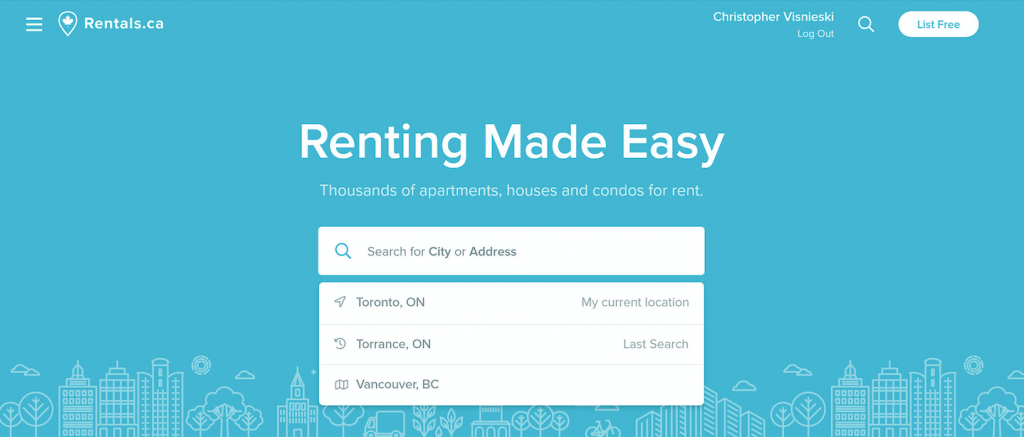 Rentals.ca is a national apartment rental website that serves over 100 cities across Canada. The site focuses on exceptional design and support to make the process of searching for a new home in Canada easier.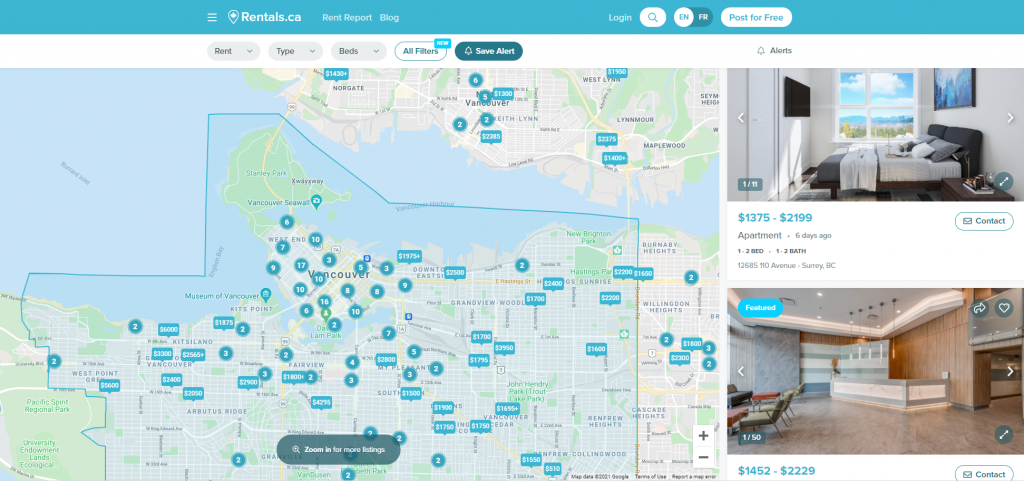 Rentals.ca features search tools that let you cater your search for Vancouver apartments for rent by price range, bedrooms, bathrooms, property type, and whether it is a pet friendly apartment. The site also features a user-friendly interactive map view that shows the prices of rental listings, making your apartment hunting easy, time-efficient and great for finding properties near your school or work. If you're an independent landlord, you can also post your property for free! 🙂 
2. Rentfaster.ca
If you're looking for apartments for rent in Vancouver check out Renfaster.ca. Originating in Calgary, RentFaster.ca has expanded across Canada but they have a large concentration of rental listings are in Alberta and British Columbia. You can save listings that you're interested in into a My Favorites list for future reference and comparison, which can help during decision time! They actually provide a mini rental application template on their website, which you can easily fill out and submit basic information (employment history, contact details, etc.) to multiple landlords hassle free while saving time. 
3. Rentspot.ca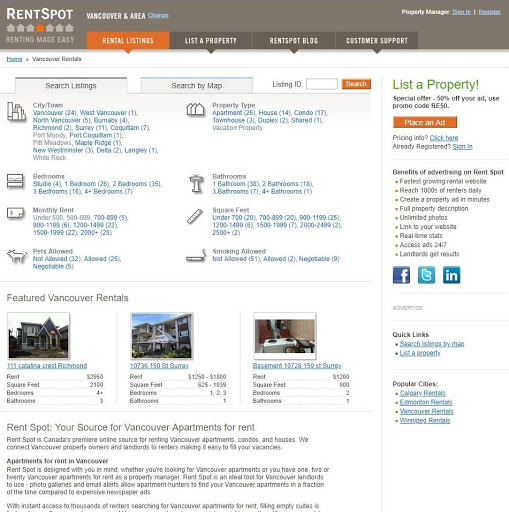 RentSpot.ca has a wide range of apartment and house rentals across Canada, and a large concentration in British Columbia and Alberta. You have the option of searching through a list or map view here, and able to view the exact number of properties that fit a specific filter before selecting it. What a time saver! The most handy part of RentSpot.ca is that they have a filter that sorts all their properties by square footage, so you can get the perfect sized Vancouver home for you in a flash. 
4. Aptrentals.net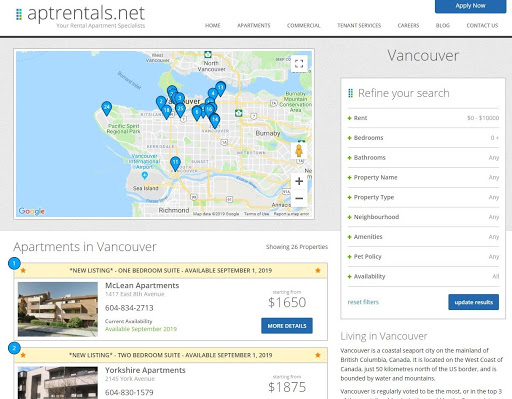 Aptrentals.net offers apartments and houses for rent in British Columbia, and they have a large concentration of Vancouver listings to choose from. Blue pins on the map tells you how many listings are in the surrounding area, allowing you to select the neighborhood you want to live in and explore available listings there further. They have a large range of filters available as well, from neighborhood search to property type. 
5. Padmapper.com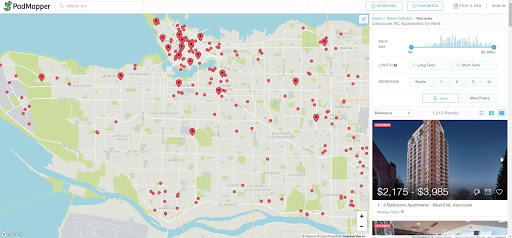 PadMapper.com focuses on improving the geographical aspect of finding a property, or "pad". You can explore Vancouver apartments for rent on a map while using price, type, number of bedrooms, and rental duration filters to tailor your search. As well, with PadMapper you can draw custom shapes on their map to outline the areas where you want to see Vancouver apartments and houses for rent from. Pretty cool!
6. Rentsline.com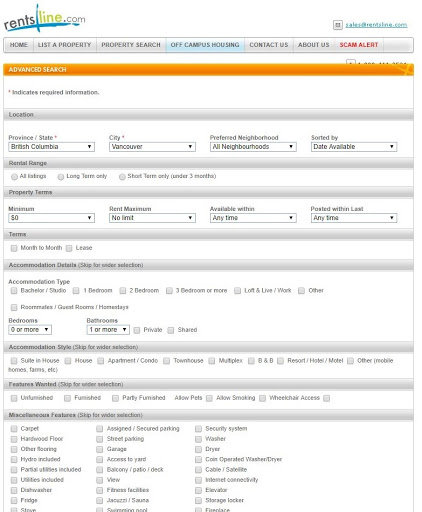 Rentsline.com hosts a large number of British Columbia rental listings, concentrated in Vancouver, Richmond, Burnaby, and New Westminster. For Vancouver listings, you can search by neighborhood and choose from over 25 different ones! Along with neighborhood filters, you can also narrow down your search through accommodation style, type, price, furnished, utilities, pet-friendly, carpets, parking, and more. This is great if you have a specific type of Vancouver home in mind and want to quickly find the perfect fit for you.
7. UVRentsline.com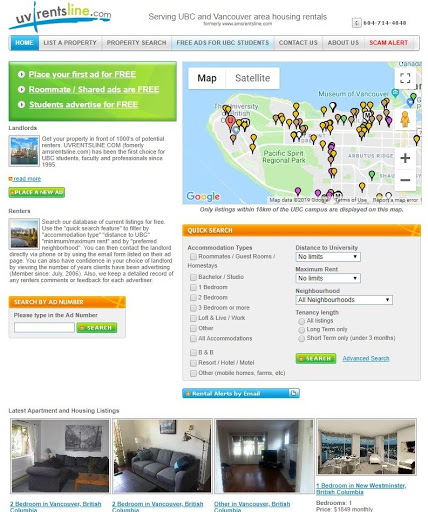 UVRentsline.com is a rental website tailored to students, faculty, and professionals attending the University of British Columbia. Students can advertise for free and also post roommate ads safely on the site. Handy filters like distance to university, neighborhood search, and tenancy length help students who may be searching for their first rental easily find accommodation. Their map is also color coded by accommodation type, so you can spot the ones you like quickly and jump on them before they rent out!
8. ApartmentLove.com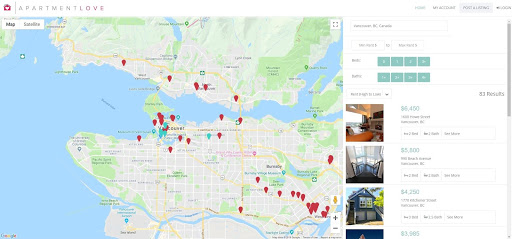 ApartmentLove.com is all about that feeling you get when you come across a home and fall in LOVE. They encourage their landlords to tell the backstory of the property in their listings; how they themselves fell in love with the space and what feeling they want their tenants to have when they move in, as opposed to just stating basic price and amenity facts. You can relax and deep dive into apartment hunting while reading their beautifully worded Vancouver listings – now that's some refreshing renting therapy!
9. Kijiji.ca
Kijiji is the world's largest classified site, and is a major hub for second-hand items and apartments/homes for rent. You can find some inexpensive available properties for rent here, with new Vancouver listings uploaded regularly. However, as with any classified site, be careful when sharing personal information to independent landlords. Always make sure to read through listings carefully and don't send any money upfront, as there could be scammers – if something seems too good to be true, it probably is.
10. Craigslist.org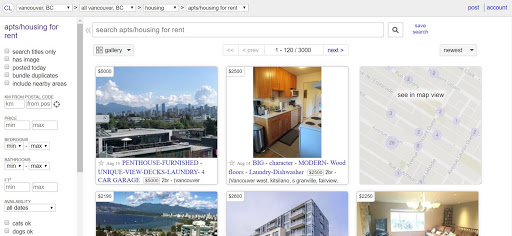 Ask any Canadian what classified site they first think of, and they'll say Kijiji. But in the West Coast, and for Vancouverites, Craigslist is the go-to classified site for selling/purchasing second hand goods or browsing Vancouver apartments and houses for rent. In fact, it's so popular in British Columbia that a musical was made about it! Since the majority of people in the West Coast use Craigslist, you can find a huge variety of rental offerings from all price points – which can be great to snag homes for a great deal!
Other Apartment Hunting Resources
Social media is a great place to directly connect with landlords and get a good sense of their relationship with tenants. Sometimes, tenants will post reviews about their experience with a certain landlord or property, which can be helpful on your rental search. Facebook groups such as

this one

can be a great place to find a good deal on a Vancouver rental property! However, as with any social media, make sure to keep all your personal information to yourself until you are confident that the landlord is serious about renting out their property. 

If you're a student, check if your university/college has an off campus housing directory for student rentals or a university roommate Facebook group! These resources are great ways to find short term rentals on a smaller budget. 
Helpful Related Articles
Ready to rent? 
Feeling a little bit more comfortable with the renting process? You can jumpstart your apartment search now with Rentals.ca and browse available listings in Vancouver. Click here to search for Vancouver Apartment and House Rentals (we upload new listings daily)!