Carly MacDougall, 23, of Toronto is the winner of Rentals.ca free rent giveaway in December.  
Her name was pulled from among the entrants to the "Wrap your Rent December" holiday contest. 
MacDougall has lived in the King West neighbourhood for a year, but she grew up in nearby Uxbridge. 
The graduate of Laurentian University has worked almost two years at Symple Loans Canada. 
In her time away from work, she loves music, exploring the city and coffee shops.   
Rentals.ca asked her a few questions about her renting experience in Toronto: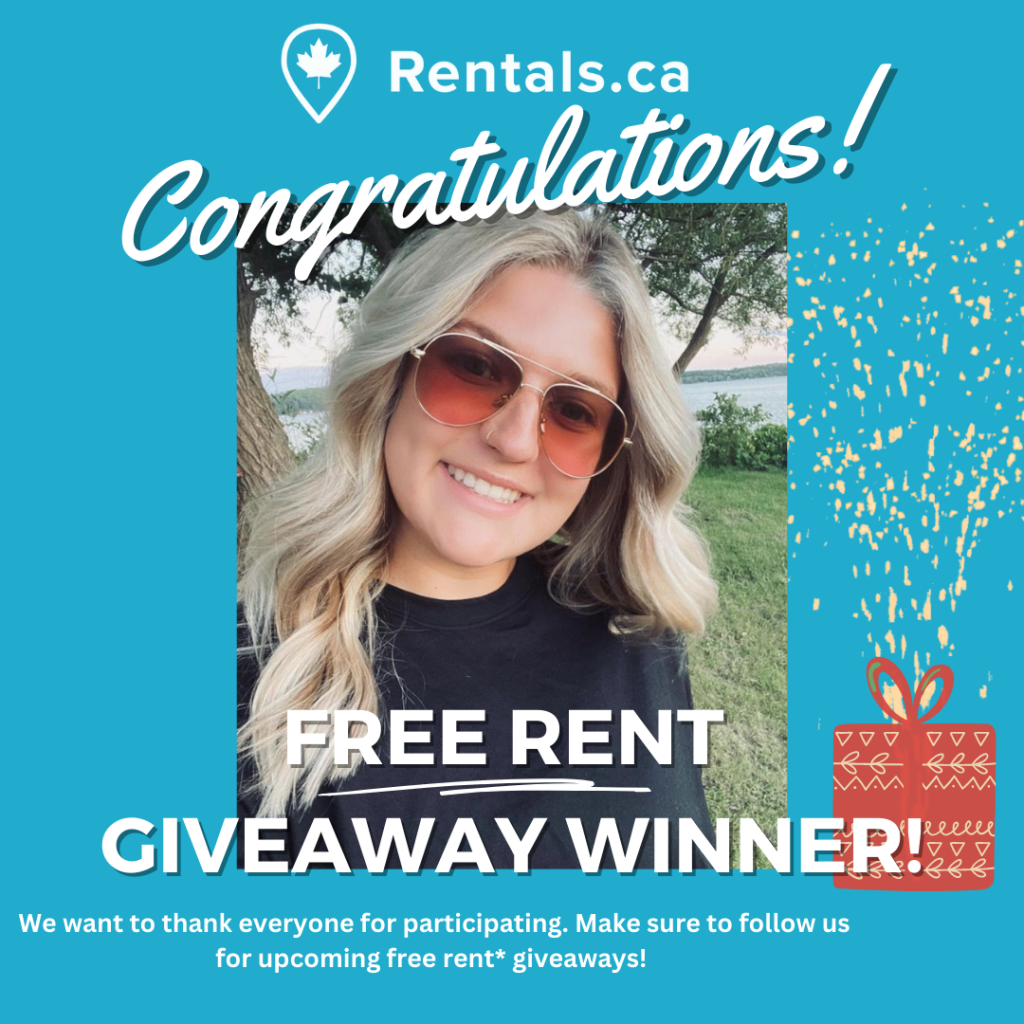 Q) What do you like about your neighbourhood?
A) MacDougall loves King West because it's a safe area, with a lot of residents close to her age, and she can walk to work. She loves the lifestyle, convenience, and proximity to work.
King West is a trendy neighbourhood in Toronto known for its nightlife, multicultural restaurants, street art and rooftop patios. 
Q) What's some advice you have for someone looking for a place to rent?  
A) She says to look for "how much pride management takes in the building" in keeping it up and taking care of problems. 
She also says prospective renters should check off a list of the most important amenities the building offers. 
MacDougall says the management at her building schedules events such as Christmas parties, has areas to barbecue and common spaces to entertain so tenants can get to know each other and also to bring in friends to socialize.  
Q) What's something you would change about where you live?
A) MacDougall says she would look for more storage and/or closet space in the next place she rents. 
Many rentals are short space for storage, so she as many others her age, rely on parents to take care of that need. 
Q) What would you change to make renting easier or more efficient?
A) MacDougall says it's a fulltime job looking for a place to live, and she wishes the process could be streamlined. 
"It's such a big commitment of time; everything is so competitive; there can be so many offers on a place," she says. She would do away with the bidding. 
"Just tell me the price," she says. 
One thing she would like to see is something like an application portal, where you don't have to fill out a new set of documents for every place you want to rent. MacDougall thinks something similar to LinkedIn would work, where you fill out an application that could be reviewed by a number of landlords or property managers. 
Q) What things have you done to your place to make it more cozy or comfortable?
A) MacDougall has added her own touches such as comfortable blankets and has tried to be "self-sufficient in my own space so I don't have to go out a lot." 
For example, she has a really nice coffee maker, so even though she loves coffee shops, she doesn't need to hit one every day.  
Q) With a free month of rent, what do you plan to do with the extra cash now freed up in your budget? 
A) MacDougall has two trips planned this year – to Puerto Rico and Portugal – and the extra cash will give her a bit more leeway in her budget for her travels.