It's always a relief when you find a great tenant who is ready to sign a lease with you. But if your rental is in Quebec, you can't write a lease contract yourself as you would elsewhere. To protect both the landlord and tenant, all Québec leases have to use the same standardized government-mandated lease agreement. In this article, we'll go over some of the major points of this standard lease and give you a few extra tips that might not be obvious.
1. The Quebec standardized lease form in a nutshell
Since 1996, the Régie du logement du Québec mandates by law that all lease agreements in the province of Québec follow a standardized form. In French, it's called the formulaire de bail de la Régie du logement. It was put in place so that both landlords and tenants have a clear understanding of their rights and obligations under the Loi sur la Régie du logement (loosely translates to the Housing Management Law).
The first thing you'll notice when you pick up the form (we'll get to where you can find them later) is that it's a rather thick document. The form itself is eight pages in double carbon copy. The first page is straightforward; both parties fill out their personal information: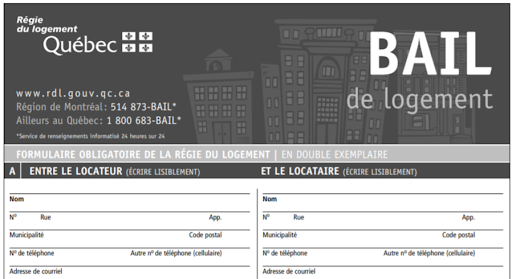 But perhaps what's unique with the Quebec standardized lease form is that at the end, there's a 3-page resume of the Loi sur la Régie du logement (the province's rental law):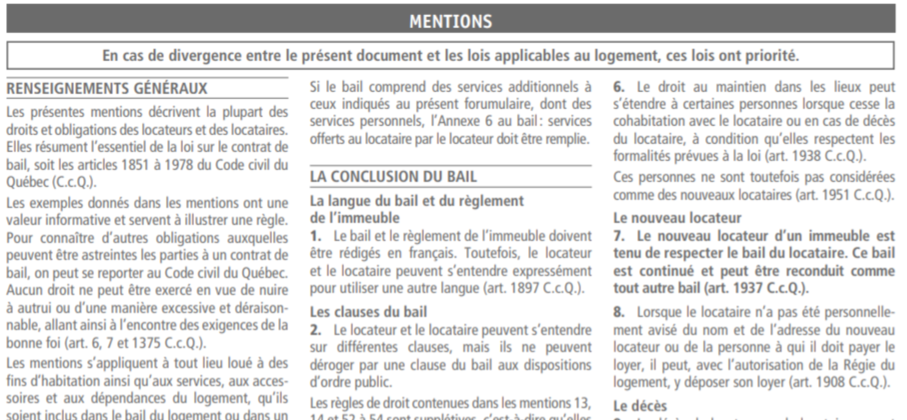 Once both parties (landlord or tenant) have signed the document, neither can claim that they didn't understand their obligations under the Québec rental law. And that's the point of this form: to make sure everyone understands their rights and responsibilities.
2. Is the Quebec standardized lease agreement mandatory?
Short answer: yes. There are some exceptions where both landlord and tenant can agree verbally, but it's best to stick to using the standard lease form.
As a Québec landlord, you have a few obligations:
You have to get the tenant to sign the lease before the move-in date.

You have to hand any extra documents (like condo rules and bylaws) to the tenant before signing the lease.

You have to give one of the copies of the signed lease to the tenant.

You have to provide the lease in the tenant's official language choice.
3. What information do I have to put into the lease?
Filling out the formulaire de bail de la Régie du logement is straightforward:
Part A: the contact information of both the tenant and landlord

Part B: a description of the rental (address, parking spots, amenities, etc.)

Part C: the duration of the lease agreement. In Québec, tenants and landlords can agree to an indeterminate lease duration. It avoids having to fill out the form every year.

Part D: the rent agreement (how much and what's included). Later down in the article, we go over a few things you

can't

ask of a tenant in Québec when it comes to safety deposits.

Part E: services and who pays for them.

Parts F, G and I: boilerplate statements that dictate how the rental agreement can be modified or canceled.

Part H: signatures of both parties.
From your end, filling out the Québec standardized takes about 15 minutes. However, at the time of signing, what's important to do is go over point-by-point with the new tenant what's in each section. This will ensure that:
all the rules of the building (if there are any) are properly conveyed.

special considerations (i.e., non-smoking rental) are well understood.

The tenant is aware of all the inclusions (i.e., appliances, furniture, heating, wifi, etc.)
Getting your tenant to read the lease agreement is a great way to reduce future complaints. Luckily, the form is designed in a way that guarantees this. At the end of each page, the tenant has to initial. There are also fields the tenant must initialize throughout the lease.
4. Reminder: the language of the lease agreement
Once the Québec standardized lease agreement is signed, any future correspondence with your tenant regarding the lease must be in the language from the original signed form. If you both signed a French lease, any document you send that deals with issues of the rental must be in French.
Note that you can buy copies of the standardized lease in either language if you're more comfortable in English. If you're having a hard time filling out a French lease, you can compare it to a blank English one. Formats are the same in both languages.
5. Where can I get a copy of the Québec standardized lease?
Oddly, the form you'll need to lease a rental isn't free – despite being a requirement imposed by the provincial government. Luckily, each form only costs $1.99 (don't forget to claim the tax deduction.) So if you need a form, you have three options:
Order one from

Publication Quebec

, or follow this

direct link

for the English form.

Buy one from the offices of the

Régie du logement

(if you live nearby)

Some bookstores and postal offices carry forms. If you live in an urban centre, note that Staples (

Bureau en gros

) sells them.
6. Tips when preparing the standardized lease in Québec
The mandatory lease form doesn't leave much out of the equation, but landlords can do a few things to protect their investments:
7. Tip #1: Include non-smoking clauses, if appropriate
If you're not willing to allow smoking inside the rental, you can include a special mention in the lease. Although tenants have a right to freely use their residences, the provincial government has made it clear that such a clause by the landlord is acceptable.
8. Tip #2: Limit the size and quantity of pets allowed
Worried about those antique hardwood floors but still want to attract tenants with pets? In section E, you can specify pet restrictions. This is where you can include restrictions on pet weight (i.e., no dog over 50 lbs)
9. Tip #3: Don't try to include deposits for damage
In most other provinces, landlords are allowed to ask for a deposit for damages. However, Quebec law strictly prohibits landlords from doing so. If you include such language in your lease form (and subsequently enforce it), your new tenant could file a complaint against you at the Régie du logement.
10. Tip #4: You can ask for ID, but can't make a copy of it
Every landlord wants to prevent fraudsters from taking advantage of them. So it's normal to ask for proof of ID. Just bear in mind that if a tenant shows you his or her ID (driver's license, health insurance card, passport) you can't keep a record of it (i.e., take a picture of it.)
11. Tip #5: Only write on one page at a time
Some landlords (like the writer), use their pens passionately. This creates a problem since the standardized lease is on carbon copy. And to make things worse, the separator pages that come with the lease are too thin to prevent imprinting on the page under. Ideally, rest each page on the writing surface individually.
12. Tip #6: Make sure your tenant gets a copy of the lease
Once you're done writing the lease and the tenant signed and left his or her initials throughout, make sure the tenant leaves with a copy. The form comes with carbon copies for the tenant. All you have to do is rip the bottom of the page and voila! If in the heat of the moment, the tenant forgets to bring a copy home, you can send a scan. But just to be safe, hand them (or mail) the carbon copy.
13. Tip #7: Buy multiple copies, in both
If you're the type to mix up name, surname, full name and such at a doctor's or dentist's office, it's best to pick up several copies of the form when you're there. Even the most seasoned landlords make mistakes.
Wrapping up
The Québec standardized lease form has its pros and cons. On one end, you have less flexibility to include clauses and conditions. But on the other, that's what protects you from overstepping and getting a complaint with Régie. Luckily, it's a straightforward process: just go through it one step at a time!