The average property listed on Rentals.ca in August was offered for rent for $1,914 per month, a decrease of 0.7% month over month, the second consecutive month of decline. The median asking rent in August of $1,800 per month is also down from July ($1,825).
National Overview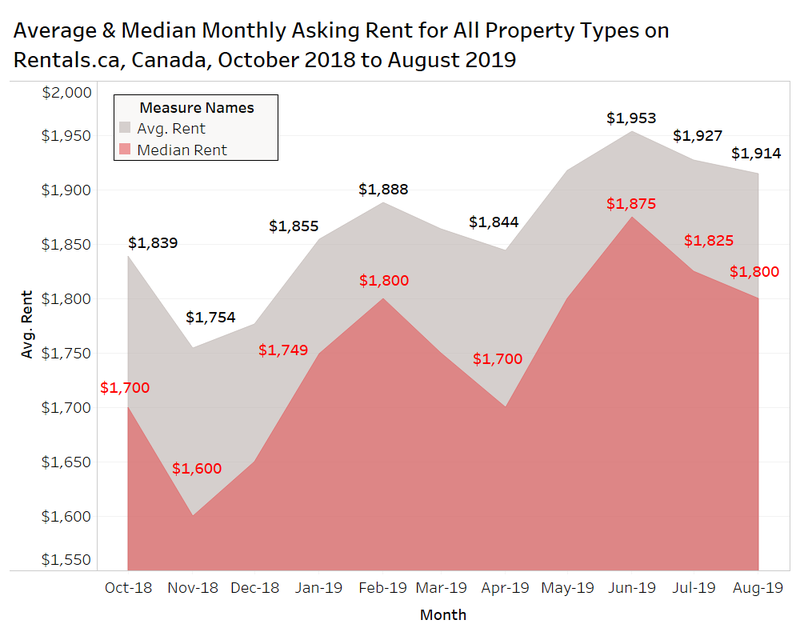 The total number of listings on Rentals.ca increased in August, which is not surprising given that August and September are the months with the highest number of moves according to the fourth annual Canadian Multi-Res Tenant Rental Survey. Avison Young & Informa Exhibitions released preliminary results of its survey, in which close to 18,000 Canadian tenants responded to over 100 questions, at the recent Canadian Apartment Investment Conference. Some of those results will be discussed in this report.
Part of the decline in the national rental rate in August can be attributed to a decline in the percentage of higher-priced condominium apartments and single-family home listings in August, and an increase in the less expensive rental apartments. The chart below shows the monthly breakdown of Rentals.ca listings since October 2018.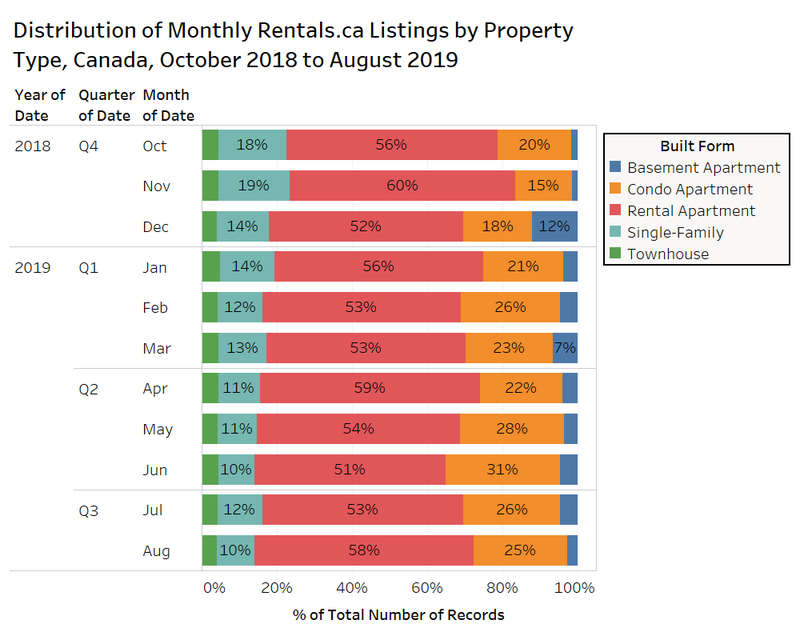 Amy Erixon, the Head of Global Investment Management at Avison Young-Investments (Canada) presented the results of the Canadian Multi-Res Tenant Rental Survey in early September and indicated that even though 56% of survey respondents live in two-bedroom units, many tenants in smaller units want a second bedroom. According to data from Canada Mortgage & Housing Corporation (CMHC) in October 2018, 49% of rental apartments in Canada are two-bedroom unit types.
The number of listings on Rentals.ca in August for rental and condominium apartments doesn't match those shares, with only 41% of listings having two bedrooms. However, the share of listings for two bedrooms has been trending up slightly over the last couple of months from 37% in early 2019.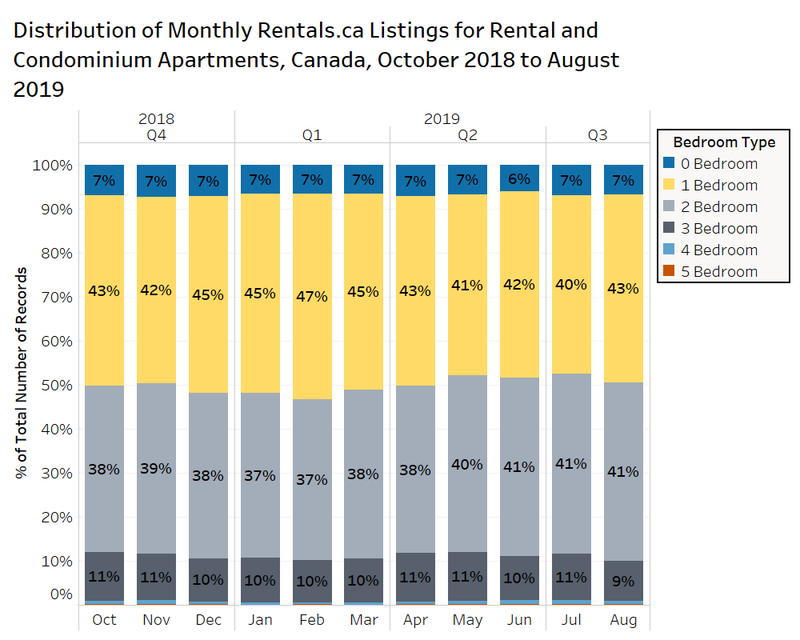 According to the Canadian Multi-Res Tenant Rental Survey, 32% of rental households are single person, 41% of rental households have two people, and 27% have three or more people. The three-plus category is up from 24% last year, and 21% in 2017.
The lack of two-bedroom listings, and the increase in households with three or more people appears to be having an impact on rents nationally in Canada. The Rentals.ca data shows that rents in the third quarter (July and August only) have increased over Q1-2019 by 4.7% for two-bedroom suites, and 5.4% for three-bedroom suites.
The average rental rate for studios and one-bedroom units have been relatively flat in Canada overall in 2019.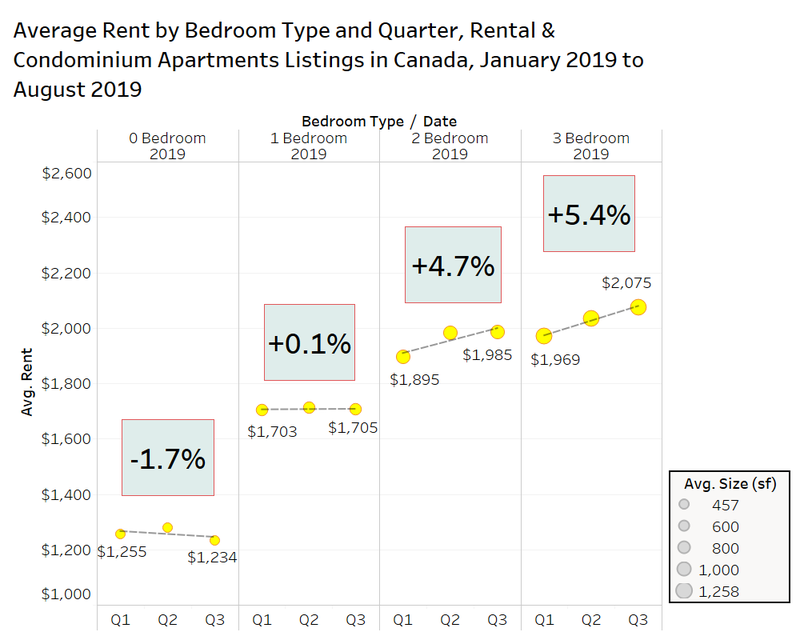 One of the questions on the Canadian Multi-Res Tenant Rental Survey asked: How much is another bathroom worth? Just under 10% of respondents said $25 to $50 more in rent, 13% said $100 to $150 more in rent, while 17% said they pay $50 to $100 more in rent on a monthly basis.
The chart below shows average rent levels by property type and number of bathrooms in Canada in 2019 using Rentals.ca listing data.
The tenant survey results are interesting, but generally if a unit has more bathrooms, it is also a larger unit, so the premium to add that extra bathroom will be much more than what tenants want to pay.
Landlords are asking about $340 more for a rental apartment with 1.5 baths versus a unit with just one bathroom. When comparing rental apartments nationally with two bedroom versus one bedroom, the premium is $744 for a unit with a second bathroom.
Those premiums are smaller for condo apartments at $308 and $520, but that is to be expected because the condo units are much smaller. The average rental apartment with two bathrooms is 1,122 square feet (sf), verus the average two-bedroom condo apartment at 957 sf. The sample size of condos with three or 3.5 bathrooms is small, and thus the numbers don't show a further premium (likely older units).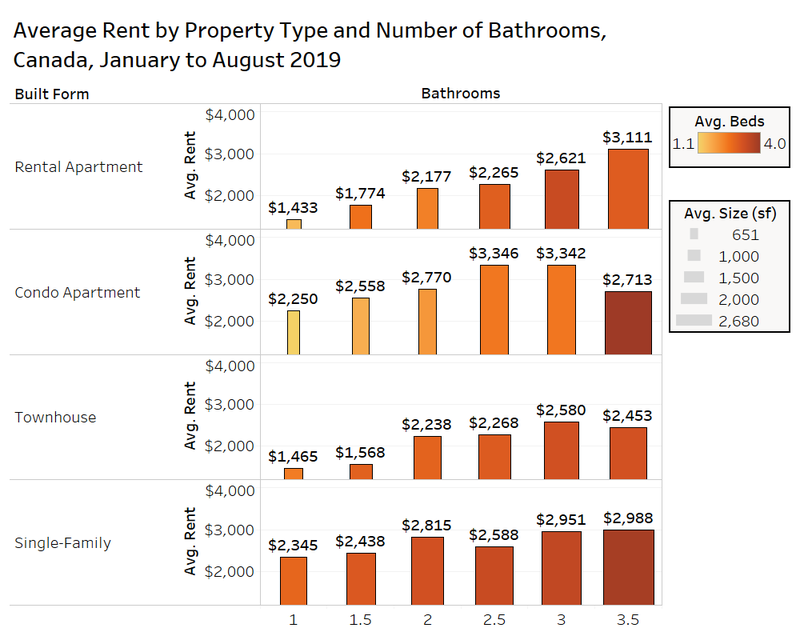 Provincial Rental Rates
The chart below shows the average monthly rental rates for select provinces in Canada over the last three months (rental apartments only). British Columbia, Ontario and Quebec are seeing rental rates trend up, while Saskatchewan, Alberta and Manitoba are experiencing rental rate declines.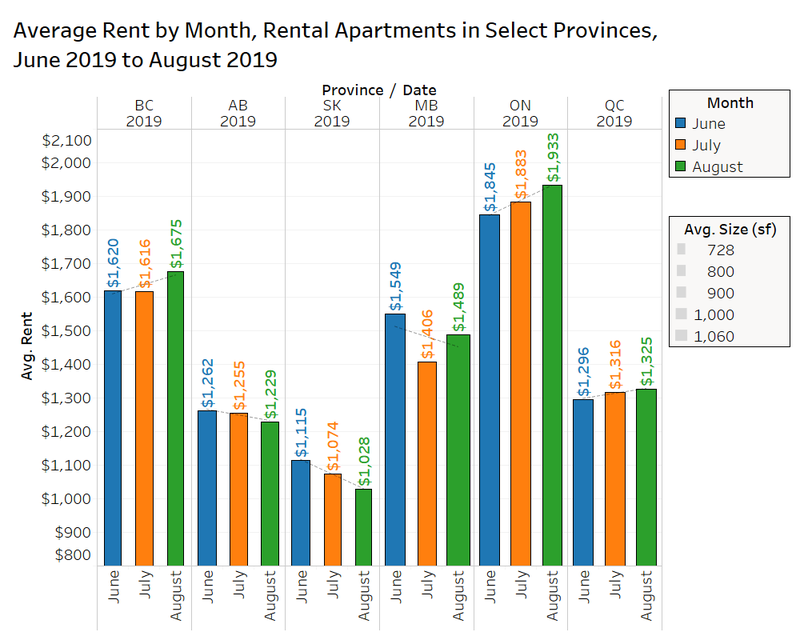 Provincial Rents Per-Square-Foot
On a per-square-foot basis, Ontario remains the most expensive market over the past three months with an average rent of $2.57 psf, and a median rent of $2.43 psf. Rent per square foot has increased significantly in British Columbia from late last year to $2.49 psf (median: $2.34), up from $2.01 psf in Q4-2018.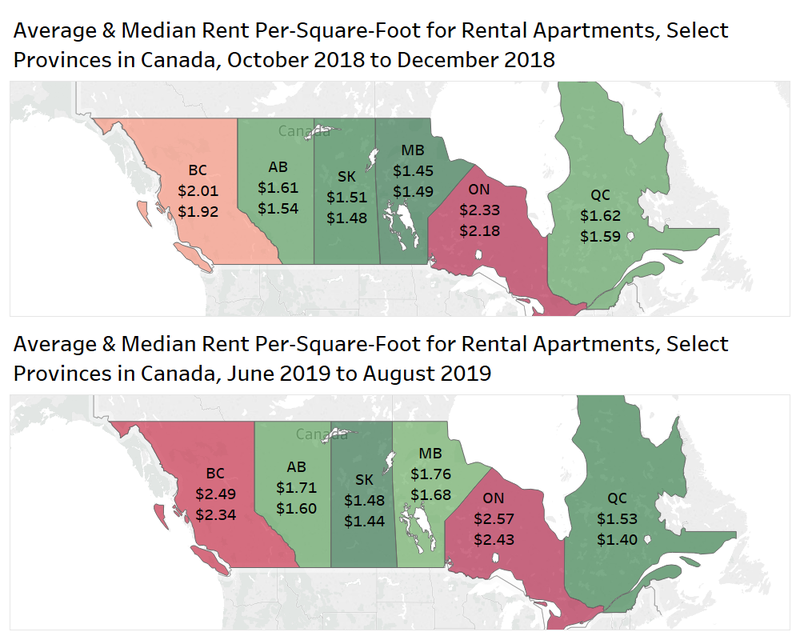 Municipal Rental Rates
One of the more noteworthy findings of the Canadian Multi-Res Tenant Rental Survey is the percent of income that tenants are paying for rent. The least surprising is the result from Montreal, that shows the average tenant is spending 32% of income on rent. The chart below shows the average price for rental listings on Rentals.ca in various months over the past year (all property types), showing that Montreal is one of the least expensive major markets in Canada, but rates have been rising substantially in 2019 to $1,541 per month (median: $1,399).
The biggest surprise in the findings is that the average respondent to the survey in Vancouver is only spending 34% of income on rent, while renters in much less expensive markets such as Calgary and Edmonton are paying 36% and 37% respectively. Calgary and Edmonton rents overall have been relatively flat over the past year, with the average rent rising by $7 and $22, respectively from November 2018 to August 2019.
It may not be that tenants in Vancouver have significantly higher incomes, they could be settling for much smaller units, or sharing the rental expense with a roommate more often that tenants in other markets.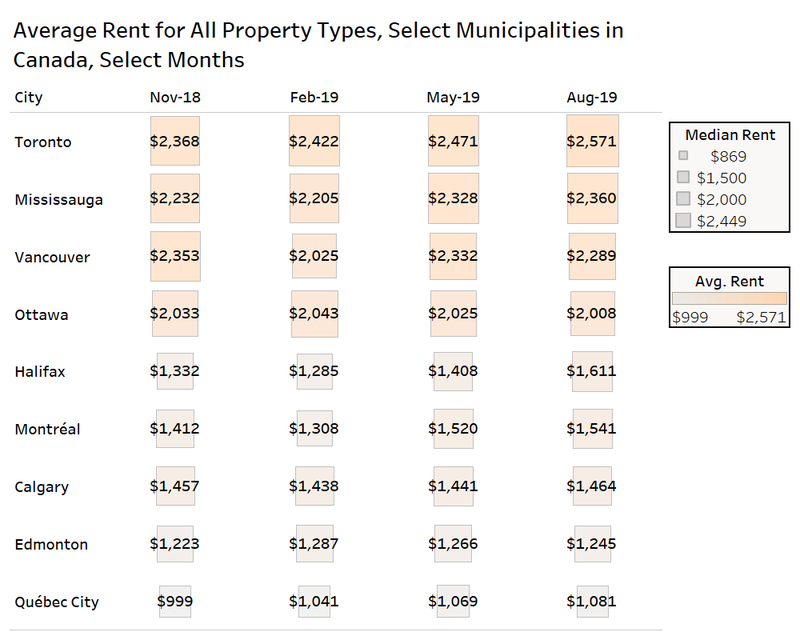 Toronto tenants surveyed are paying 42% of their income on rent, the highest among the major markets in Canada. According to Rentals.ca listings data, landlords are asking $2,571 for the average rental unit in Toronto (former City of Toronto boundaries, pre-amalgamation). The median value of all built forms is $2,449 per month, which is up from $2,200 in late 2018. With rents continuing to rise at a double-digit pace in Toronto, it is no surprise that affordability is getting much worse. The Canadian Multi-Res Tenant Rental Survey also shows that Torontonians under 30 are spending 49% of their income on rent.
Likely the second most surprising finding to Vancouver's lower than expected rent-to-income ratio, is Halifax's higher than expected ratio. Tenants in Halifax that responded to the survey are spending 40% of their income on rent. Rental rates have been rising quickly in Halifax in 2019, with the average rent increasing by over $300 per month from early 2019 for all property types. In terms of pageviews per listing on Rentals.ca, Halifax is the most popular municipality in Canada, while Dartmouth is 5th most popular.
Rental Rates versus Unit Sizes
The sharp rise in the average rental rate in Halifax is worth looking at in greater detail, despite the popularity of the municipality on Rentals.ca. The chart below plots the average rent for rental apartments in August for several of the top Canadian municipalities against the median unit size of the listings (not all listings have unit sizes associated with them, but the sample size is likely representative of the overall sample). The dashed line or "trail" shows where this relationship between the two variables has been over the last six months.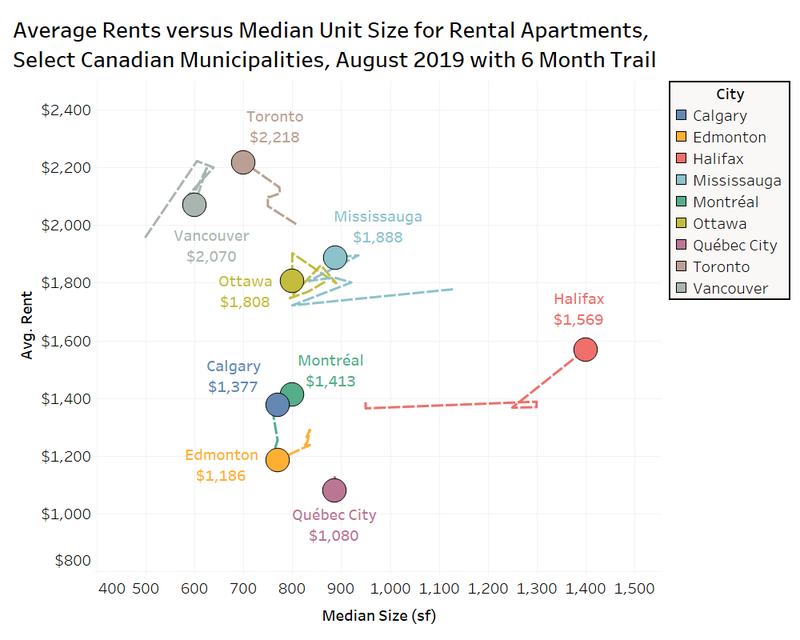 The data shows that the median rental apartment unit listed on Rentals.ca in Halifax has grown significantly over the last six months from under 1,000 sf to 1,400 sf. With almost 4,000 new rental apartments completed from 2016 to 2018 in Halifax, and another 877 in 2019, there are a lot of new units leasing, plus the popularity of Rentals.ca in the province is attracting new landlords with older and larger product.
There has not been a significant change in the median unit size in Quebec City, Calgary, Montreal or Ottawa, but units are getting smaller in Edmonton, Toronto and Mississauga, but slightly larger in Vancouver.
Halifax Insights
Another factor impacting the rise in rents in Halifax is an increase in three-bedroom and four-bedroom apartments for rent in Halifax on Rentals.ca.
In Q4-2018, just under half of the listings were two-bedroom units, while 12% of the listings were three-bedroom units. Over the past three months, the share of two-bedroom units has dropped to 44%, the three-bedroom share has increased to 19%, and some expensive four-bedroom apartments have hit the market with an average rental rate of $2,750 per month.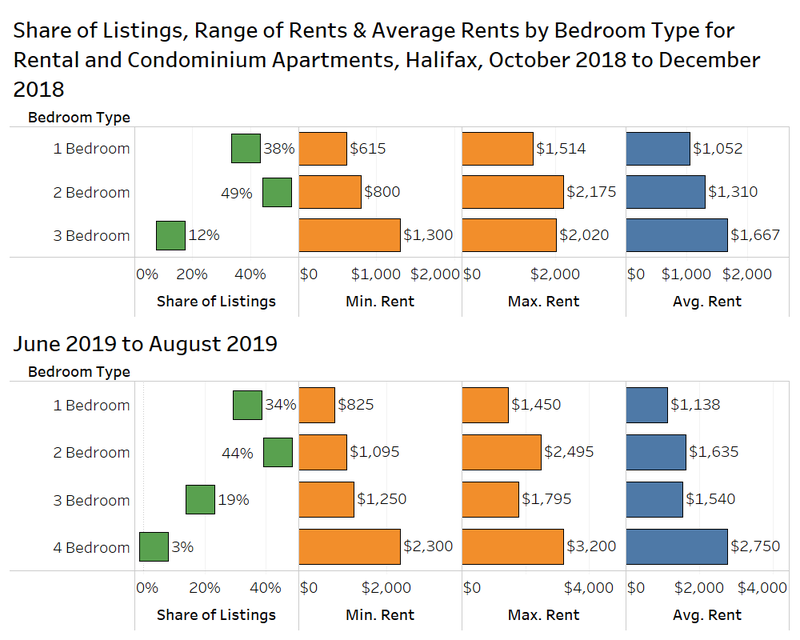 Toronto Insights
From the data on Rentals.ca, there is a clear preference among prospective tenants for downtown Toronto. The upper left hand panel in the chart below shows the number of pageviews on Rentals.ca by postal code in Toronto for all property types in 2019.
M5V is the most popular postal code for online rental activity; this area encompasses the Entertainment District, King West and the Fort York/Harbourfront area. M4Y is the second most popular area, which includes The Village and part of the Yonge Street corridor south of Bloor Street to Carlton Street.
The lower left hand corner shows the average rent levels, with the highest rents in the "upside down T" that travels from Yonge Street at Steeles down to Lake Ontario, from the Beaches in the east to the Etobicoke waterfront in the west. The most expensive rent is actually in M2P, which includes York Mills and Hoggs Hollow.
The bottom right hand map shows the average number of bedrooms in the Rentals.ca listings in 2019, with the darker shade of green indicating fewer bedrooms, and the darker shade of navy indicating more bedrooms. Most of the small units are downtown, but there is a high concentration of smaller units in south Etobicoke as well. There are large rental units (many being single-family and townhouses) in north Etobicoke and south Scarborough. In M2H, which includes the Hillcrest Village area of North York on either side on Don Mills Road, has an average rental unit with 2.9 bedrooms, compared to just 1.1 in M5B (Ryerson University area).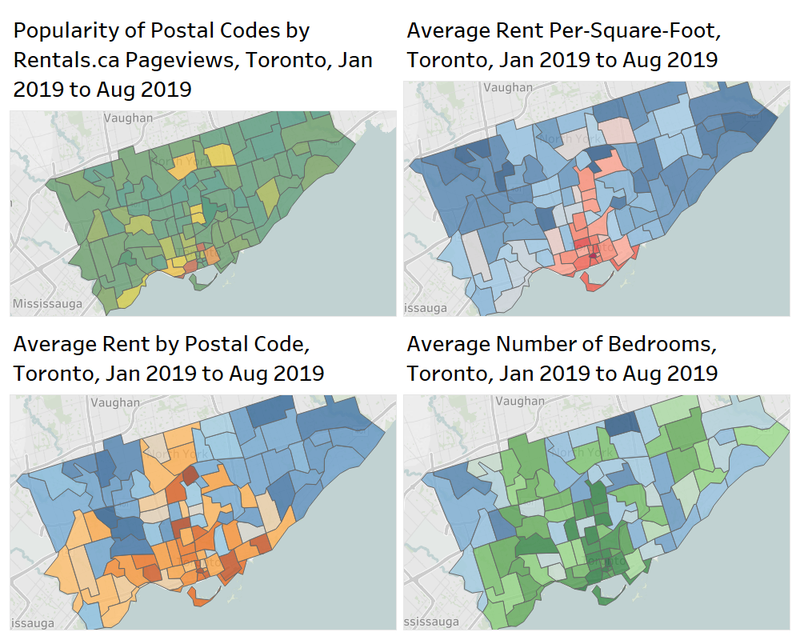 Lastly, the upper right hand corner shows the average rent per square foot. High-demand areas coupled with small unit sizes translates into higher rents per foot. Based on the unit sizes, high-demand Yorkville doesn't have the highest rent. It is in M5H, a small postal code in the Financial District, with average rents of $4.88 psf in 2019.
Select Toronto Condo Projects
Given the changing composition of units each month, there can be volatility in the per-square-foot rental rates on a monthly basis. Different listing locations can result in shifting average rent levels.
The chart below shows the average rent per-square-foot for several recently completed condo projects with high levels of investor-landlord lease activity. The thickness of the line indicates the number of listings.
Two of the projects are in South Core or waterfront area, Ten York by Tridel and Harbour Plaza, a two-tower development by Menkes. Harbour Plaza experienced declining average rent levels in 2019, while Ten York is at virtually the same level in August ($3.79 psf) as January ($3.78).
The other three projects have experienced significant growth in rent levels. Menkes' 87 Peter in the entertainment district has seen rents increase by 5.9% since January to a whopping $4.70 psf. Rental rates at YC Condos by Canderel rose 7.5% since January to $4.18 psf, while E Condos at Yonge and Eglinton has experienced rental growth of 13.3% since January to $4.01 psf.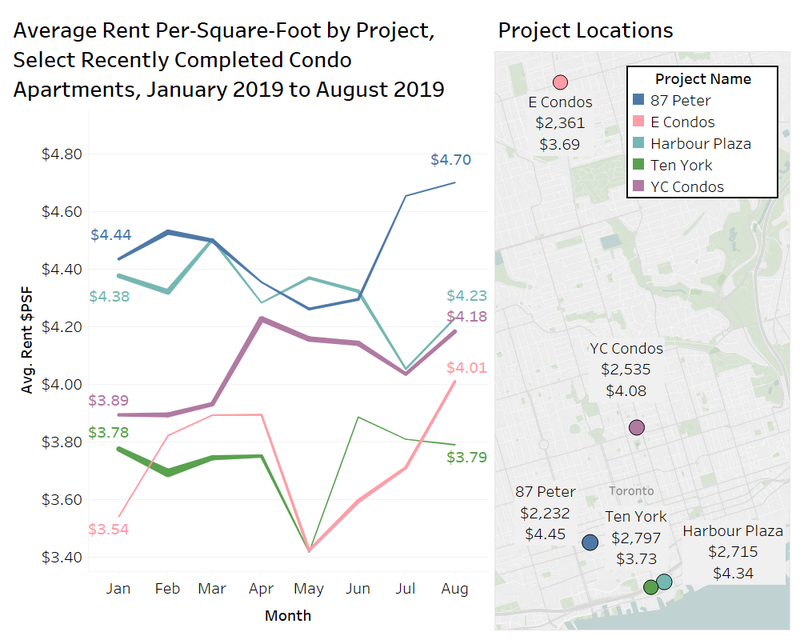 Conclusion
August is one of the busiest months for moving in Canada, but that increased activity didn't result in an increase in rental rates month over month, as the average rent for all property types on Rentals.ca nationally declined by 0.7% to $1,914 per month.
Despite the monthly decline, rental rates are up 8% from the end of 2018. However, not all the increase can be attributed to either an increase in demand or a dearth of supply. Many landlords are commiting to improving their buildings via renovations and recouping those investments via higher rents.
The Canadian Multi-Res Tenant Rental Survey by shows that 36% of tenants would pay more rent for a renovated kitchen and bathroom. In terms of dollar values on average, tenants would pay $11 more per month for a washer/dryer in the buildings, $11 more for an ensuite bathroom, $12 more for a kitchen renovation, $14 more for a balcony/outdoor space, $15 more for a covered parking spot, $18 more to live in a new building, and $20 more for in-suite laundry. Landlords will continue to upgrade and reposition their multi-residential buildings to capture some of this greater willingness to pay for better amenities.
Fewer than half of respondents to the survey indicated that they are happy with their current rental unit, so there is likely to be considerable movement over the final months of the year. This increased activity, coupled with increased apartment renovations, and rising rental apartment completions could result in double-digit annual rent growth in Canada in 2019.