According to Rentals.ca data, the average Canadian property was listed for $1,954 per month in September, an increase of 2.1% compared to August. The national rental rate in September just topped the previous high-water mark for the year of $1,953 in June.

National Overview
The median asking rent in September of $1,875 per month is up from August ($1,800). The chart below shows the average rental rate by month for all property types (single-detached, semi-detached, townhouses, condominium apartments, rental apartments and basement apartments) in Canada, with the size of the marker indicating the median rental rate.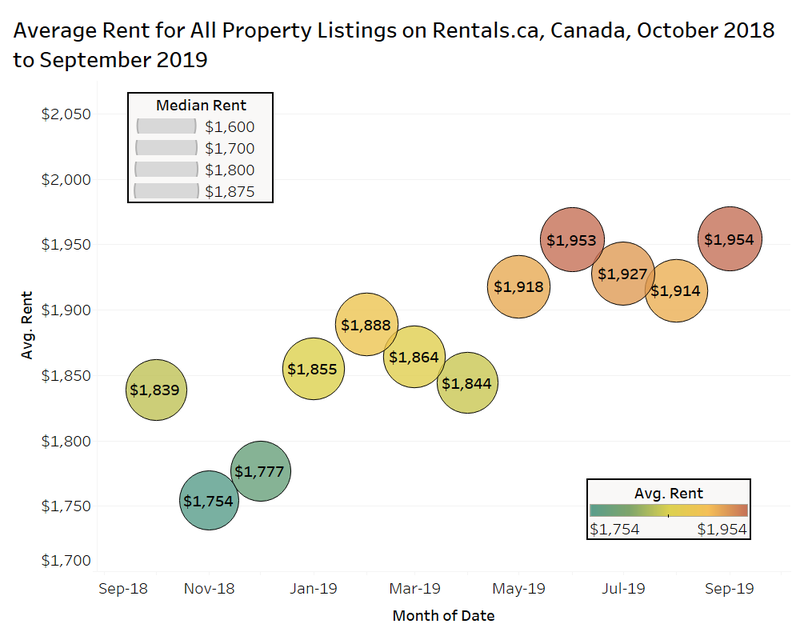 Given the fluctuations that can occur with monthly readings, this Rentals.ca National Rent Report will also look at the quarterly data to smooth out the "lumps" in the data with the larger three-month sample of listings activity.
The average property listed on Rentals.ca in the third quarter of 2019 was offered for $1,933 per month, an increase of 1.2% over Q2-2019. The median rental rate was $1,839 per month, which represents a jump of 2.2% quarter-over-quarter.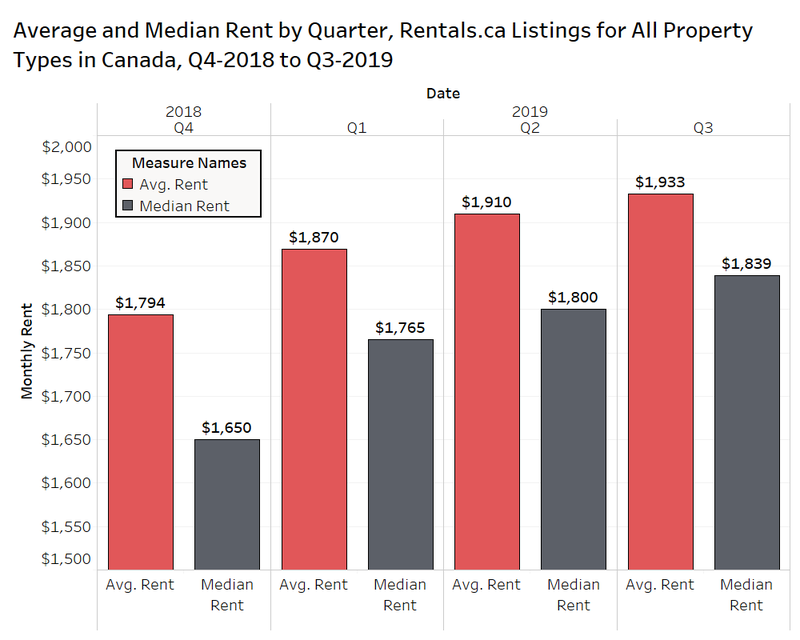 As mentioned in previous National Rent Reports, the composition of units listed on Rentals.ca can impact monthly and quarterly rental rate movements. The chart below looks at the average size of rental units by bedroom type and quarter. The data markers also show the average rental rate for the property types in each quarter.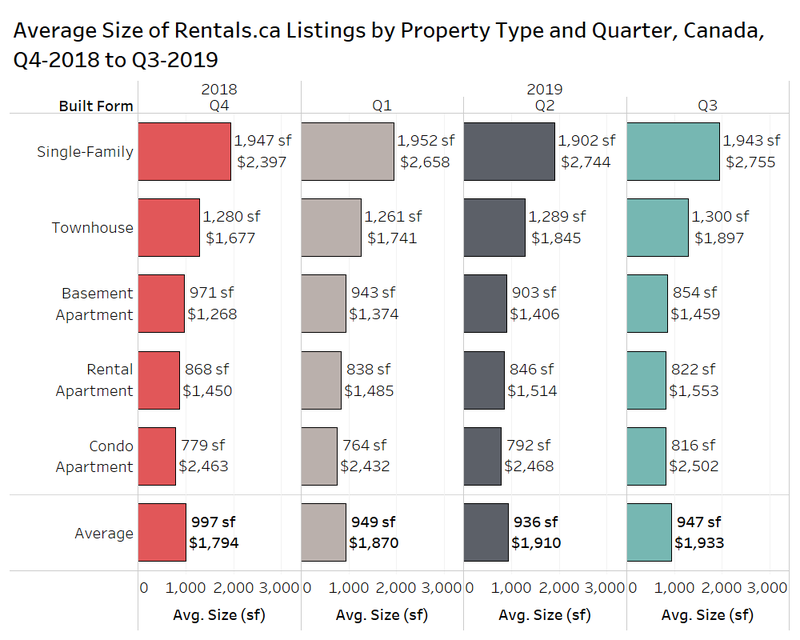 Single-family, townhouse and condominium apartment units were all larger on average in the third quarter in comparison to Q2-2019. However, rental apartments, which account for 56% of all Rentals.ca listings in Q3-2019, decreased in size from 846 square feet (sf) in the second quarter to 822 sf this past quarter, offsetting the increases in the other property types.
In terms of quarterly rent growth, basement apartments experienced the biggest quarterly increase at 3.7%, but greater rent volatility is expected when the sample of transactions is small. Basement apartments in Q3-2019 were listed for 15% more than the fourth quarter of 2018. As mentioned in past reports, there is high demand at the bottom of the rental market as affordability worsens in many markets.
Condo apartment rent growth has been relatively tame on a national basis, rising just 1.6% in Q3-2019 over Q4-2018, while rental apartments have increased by 7% from $1,450 per month on average in Q4-2018 to $1,553 per month in the third quarter of this year.
Developers and property owners keep a close eye on how much rent can be generated per square foot. When building new apartments or making major renovations to old apartments, consideration must be given to the rent that can be generated per-foot, while keeping in mind the increased costs to build smaller apartments, the higher level of turnover in small apartments, and quality of tenant in a studio versus a two-bedroom plus den.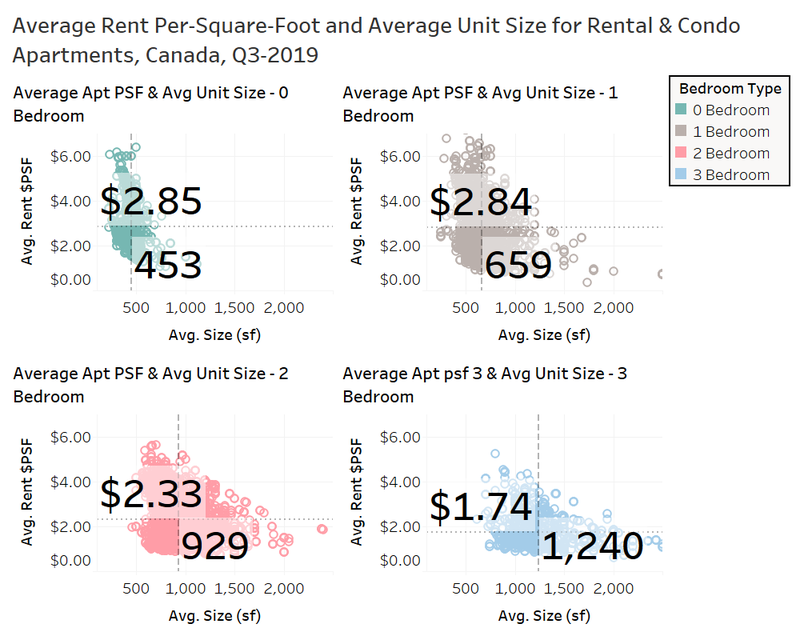 The chart above shows scatter plots by bedroom type for rental and condo apartments by bedroom type in Canada in the third quarter. The average rent per square foot and average unit size are shown in bold. Studios listed for rent in Q3-2019 are about 450 sf on average, available for $2.85 (per square foot (psf). One-bedroom units are listed at almost the same rate ($2.84 psf), with a unit size that is about 200 sf larger (659 sf) — most likely because studios are only offered in higher-priced markets. Two-bedroom units are about 300 sf larger than one-bedroom suites (929 sf) and were offered at $2.33 psf on average in Canada. Three-bedroom units are 300 sf more than two bedroom units (1,240 sf), with landlords asking $1.74 psf on average in the third quarter.
Provincial Rental Rates
On a provincial level, Ontario had the highest rental rates in September, with landlords seeking $2,334 per month on average (all property types), an increase of 0.5% from August ($2,321). In British Columbia, the average asking rent was $1,912 per month, an increase of 1.0% month over month. Alberta moved in the opposite direction in September, with average rental rates for all built forms declining by 0.9% from $1,292 in August to $1,281 in September.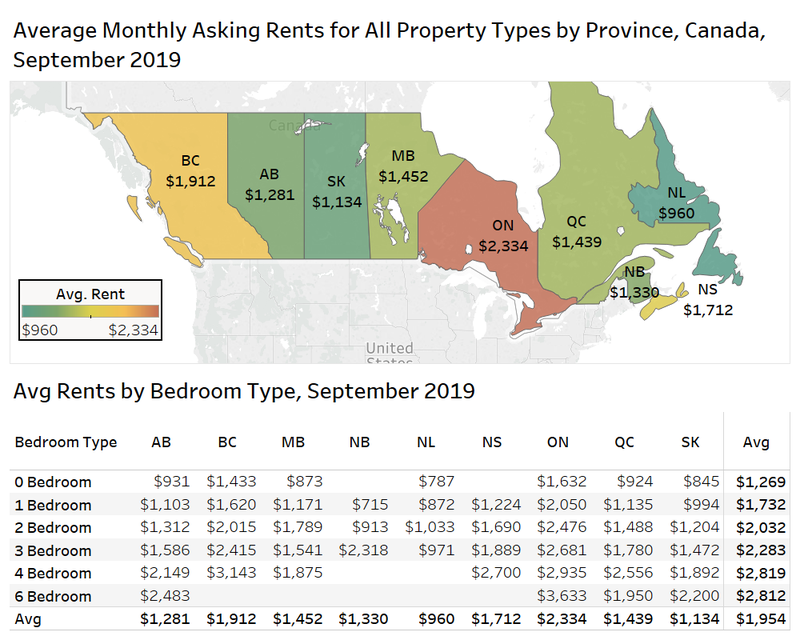 The bottom panel in the chart above shows that it is more expensive to rent a studio unit in Ontario, than a three-bedroom unit in Alberta, Manitoba and Saskatchewan.
Looking at the overall average for these provinces, going from a studio to a one-bedroom costs about $350, and adding bedrooms from that point will cost a tenant $300, $250, and $550 per month, respectively. There was no real difference in the average rent for five-bedroom versus six-bedroom homes for rent, however, it should be noted units listed for above $5,000 per month are eliminated from the sample tracked in the National Rent Report.
The chart below looks at the average rental rate for all property types in Q3-2019 in the four most active provinces on Rentals.ca. The circles around the average rents reflect the composition of units by property type, with Ontario having a higher share of single-family and condominium apartment product, which contributes to the high monthly rental rate. Quebec has the highest share of rental apartments, while Alberta has the lowest share of condominium apartments.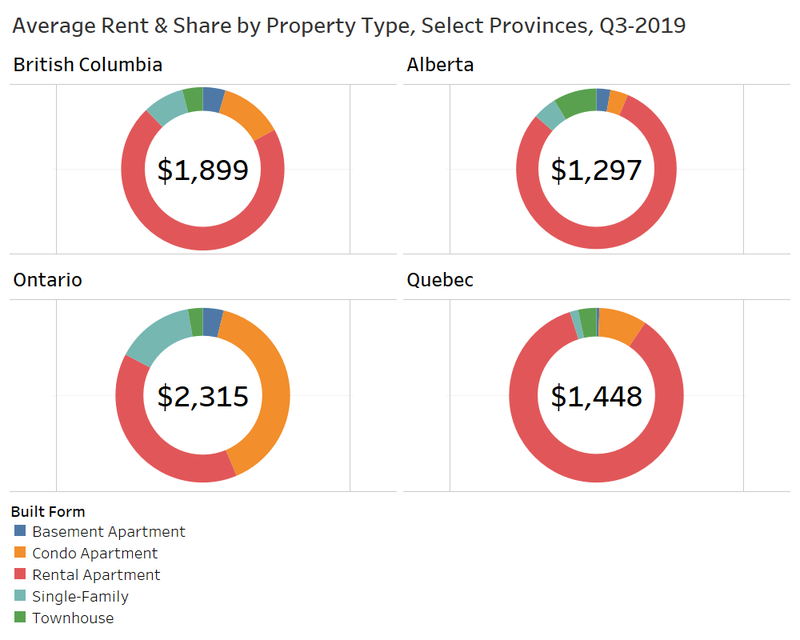 The chart below plots quarterly rent growth for all property types versus the average rental rate for four provinces, and shows the relationship between the two variables in the previous two quarters.
In terms of quarterly rent growth, Manitoba has seen rapid rent appreciation recently, with an 11.4% quarterly rise, following a 14% jump in Q2-2019. Demand for rental has increased in Manitoba, but part of the rise can be attributed to a new high-end rental apartment project opening in downtown Winnipeg, and a significant drop-off in basement apartment listings, which usually pull the average rental rate down.
The best way to gauge growth in a market is to look for a more apples-to-apples comparison, and there is nothing more comparable than looking at just one building. The Penthouse Condos is a conversion project at 100 Princess Street in Winnipeg's historic Exchange District. The 6-storey, 60-unit building was completed in 2012 and has had six to eight rental listings per quarter in 2019. The average rent was $1,344 in Q1-2019, $1,432 in Q2-2019 and $1,472 in Q3-2019. Increases of 6.5% and 2.8% during the last two quarters, respectively. Clearly, this is a unique project, but it shows demand is strong for Winnipeg rentals.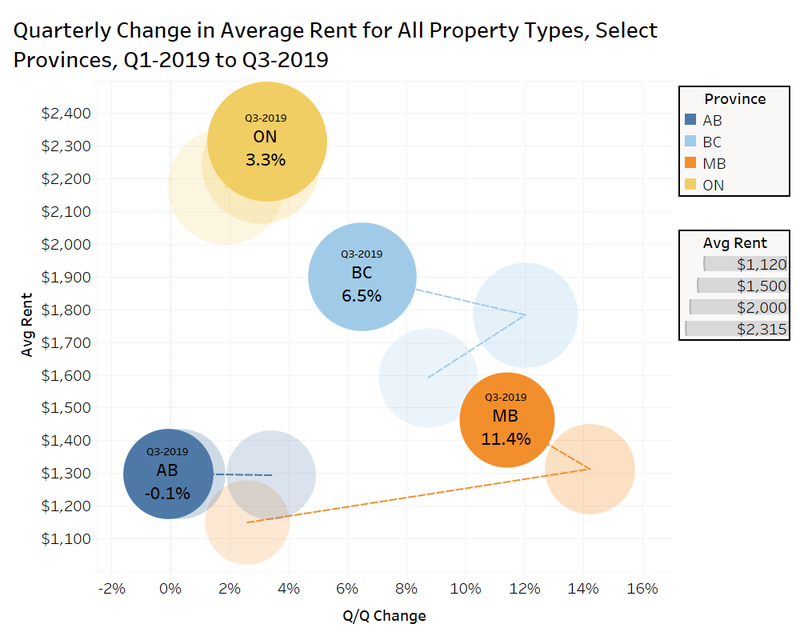 British Columbia had rent growth of 6.5% quarterly, following a huge jump of 12% in Q2-2019. Part of this rapid rent inflation can be attributed to a noteworthy rise in the number of condo apartment listings in the province in the third quarter.
Ontario has been the most consistent market, growing by 1.9% quarterly in Q1-2019, 3.1% in Q2-2019, and 3.3% in the third quarter.
Municipal Rental Rates
The chart below shows how median rental rates have changed in various municipalities in Canada on a quarter-over-quarter basis. Median rents are used to eliminate outliers.
The median rent was the same or higher in Q3-2019 versus Q2-2019 in most of the major municipalities on the east side of Canada, while many geographic areas on the west side of the country, including Vancouver, Calgary, Edmonton, Saskatoon, Regina and Red Deer all experiencing declines.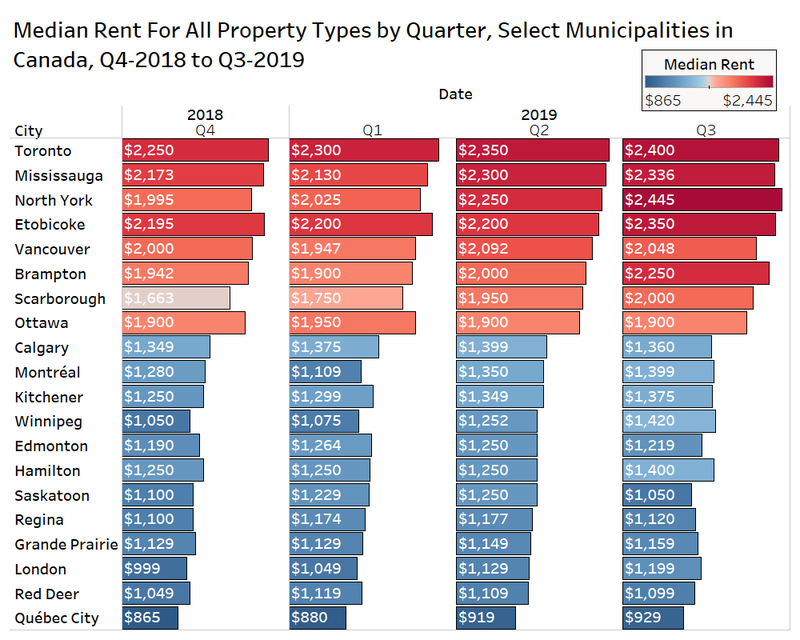 The chart below looks at the average rental rate for rental apartments by municipality (only includes cities with 50 or more listings in Q3-2019). The colour of the box represents the average rental rate, and the size of the box represents the median rental rate.
Not surprisingly, Toronto (former City boundaries, pre-amalgamation) is the highest priced rental apartment market with an average rent of $2,200, compared to $2,156 in East York, and $2,103 in Vancouver. Although the sample size is small, with just 54 listings in the quarter, Yellowknife has higher average rents than many Ontario municipalities at $1,929 per month.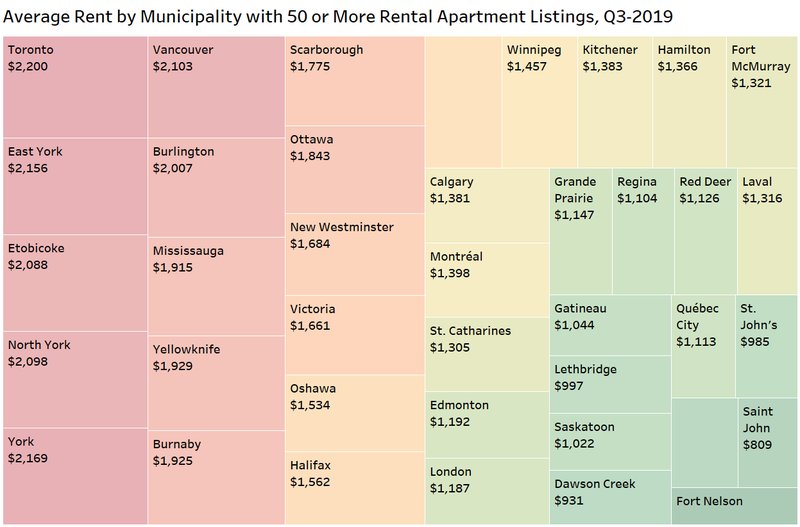 Toronto, Vancouver and Montreal
A recent report on the rental market in Canada by RBC Economics states: "Strong demand has pushed rental vacancy rates to historically low levels and rents are now reaching uncomfortable highs. In the coming years, rental demand is only set to go up—way up in the case of Toronto and Vancouver, where high home prices have crushed some home-ownership dreams. If big cities have any hope of tackling affordability issues, rental supply must increase significantly. There are reasons to be optimistic about Montreal and Vancouver, where strong apartment and condo construction will send a wave of new rental units to market. Calgary, meanwhile, has breathing room thanks to elevated rental vacancies. But Toronto is a different story. Despite purpose-built apartment construction rising four-fold since 2014, rental supply is unlikely to come close to demand in the coming years. A deliberate policy to boost rental supply is needed—with specific targets and incentives to achieve them."
RBC concluded that Toronto is 9,100 units short on rental supply, Montreal is 6,800 units short and Vancouver is 3,800 units short. These estimates are based on the number of units required to reach a 3% vacancy rate.
When looking at Rentals.ca listings data over the past year for rental and condominium apartments (two property types that compete for the same tenants), Montreal rents have been relatively flat over the past year. Rentals in Vancouver are up about $150 on average over the past year, while Toronto is up over $200 per month on average. This "price signal" suggests that Vancouver would need more units than Montreal, as there is likely a lot more latent demand waiting to rent if there were more units available.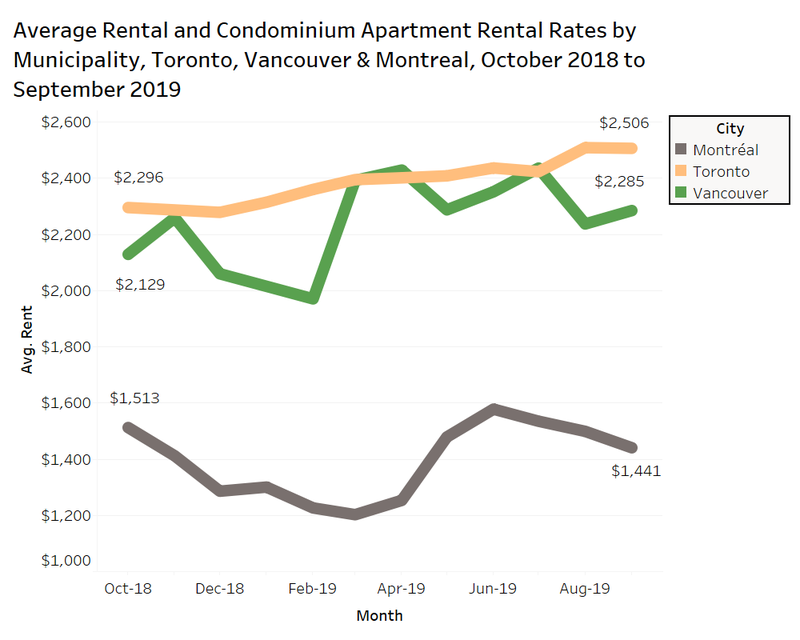 Montreal Condo and Rental Apartments
Montreal is a unique rental market, including both four-bedroom and five-bedroom rental units in many rental apartment buildings. When you strip out those unique units and focus solely on studios to three-bedroom rental and condominium apartment suites, the quarterly data does show that Montreal rents are increasing.
Rental rates declined for one-bedroom and three-bedroom rentals in Montreal quarter-over-quarter, however, when you look at the rent per square foot, all bedroom types increased in Q3-2019 over Q2-2019. When looking at one-bedroom and two-bedroom units, which account for about 75% of the rental market, rents per square foot are up 6.4% and 8.6% quarterly for one- and two-bedroom suites, respectively.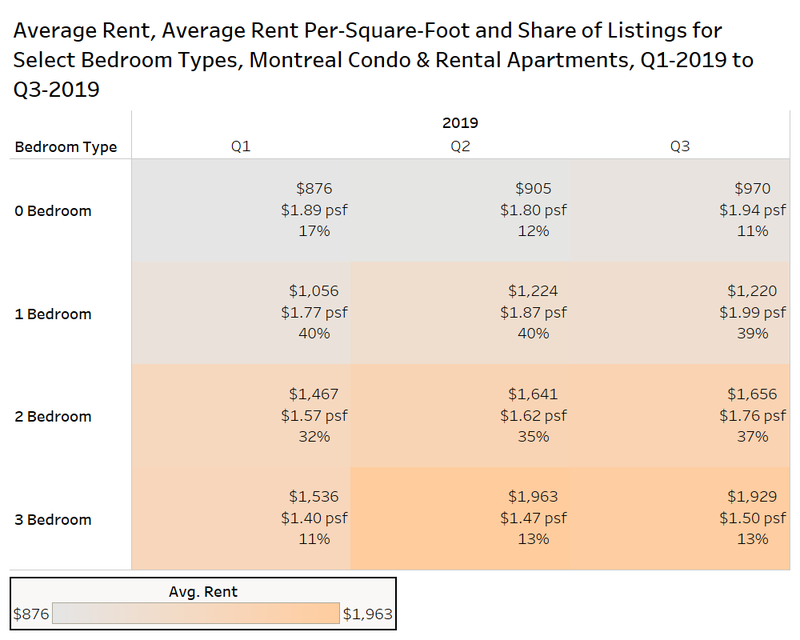 Toronto Condo Rental Market
Rental rates per square foot in the Toronto condo rental market continue to trend upward, but the chart below shows that average studio and three-bedroom rents have been relatively flat over the past year, while one-bedroom and two-bedroom units slowly appreciate. Two-bedroom units have been the clear favourite among prospective tenants, with the slope of the linear trendline showing the largest upward angle.
The data also shows the relationship between unit size and per-foot rental rates. The smaller the unit, the higher the rent per square foot.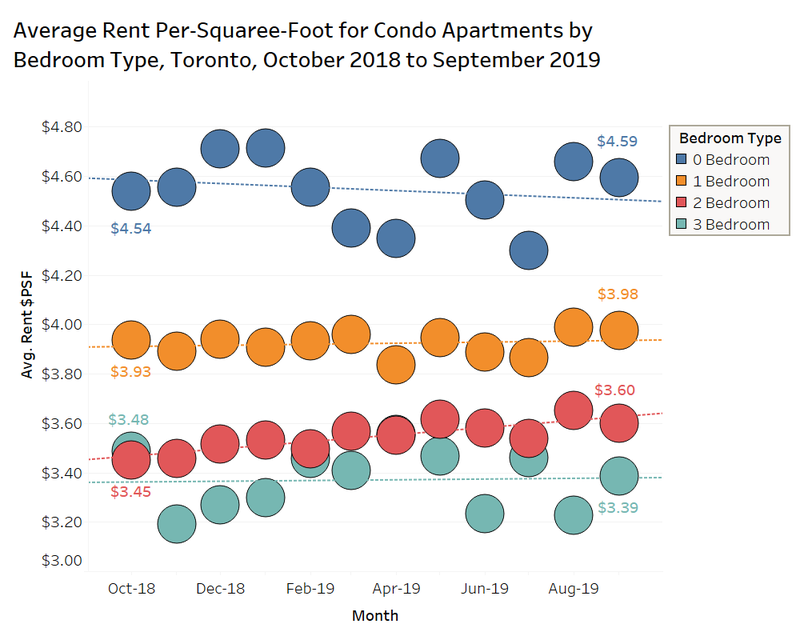 Getting even more granular, the chart below shows condo projects in Toronto with five or more listings on Rentals.ca in each of the last four quarters.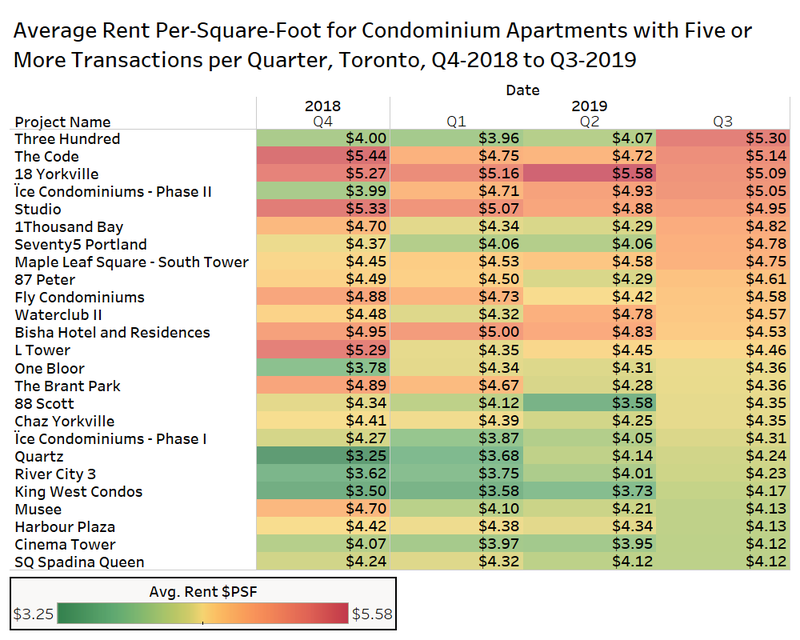 The most expensive projects are now pushing above $5 psf in rent, with the majority of the most expensive condominium apartments experiencing rent growth quarter over quarter.
Conclusion
Providing incentives is the only way developers can make the numbers work on rental in many Canadian markets, but its impact on affordability and rental rates may be small.
As RBC reported, the markets in Canada's major cities are already significantly undersupplied, and much of the new construction is only making up for past shortfalls. Rent subsidies will increase demand in the rental market, and may also result in tenants seeking out larger apartments than they could normally afford.
Between July 2018 and July 2019, Canada's population grew by a whopping 531,000 people according to Statistics Canada — that's roughly one person every minute. The annual growth rate was 1.4%, the highest among G7 countries. As we know, these increases are driven mainly by immigration (82% of the total). The growth rate was even higher in Ontario at 1.7%. Expect to continue to see rent growth outside of the western provinces.