Rents continued to surge across Canada during October, rising 11.8% year over year to an average of $1,976 across all property types. Rents charged last month were an average of $209 per month higher than in the same month a year ago ($1,767) and $130 per month (+7%) higher than the pre-pandemic high in October 2019 ($1,845). The latest annual increase for rents was more than double the annual increase in average hourly wages of employees in Canada at 5.6%, as reported by Statistics Canada for October.
Rentals.ca November 2022 Rent Report
1. National Overview
The monthly rent growth trend showed strong momentum in October, with rents rising 2.2% from September. In the period since March when interest rates began to rise, the average rent in Canada has increased by 9.2%, which compares to a nearly equivalent 9.9% decline in benchmark resale prices between March and October as reported by the Canadian Real Estate Association.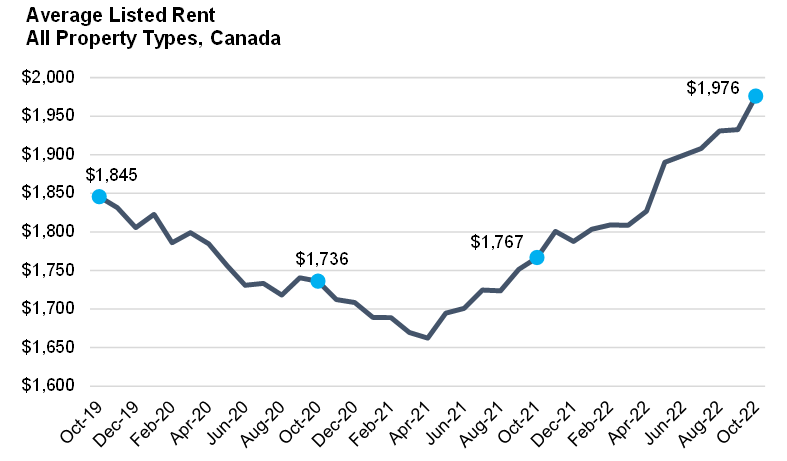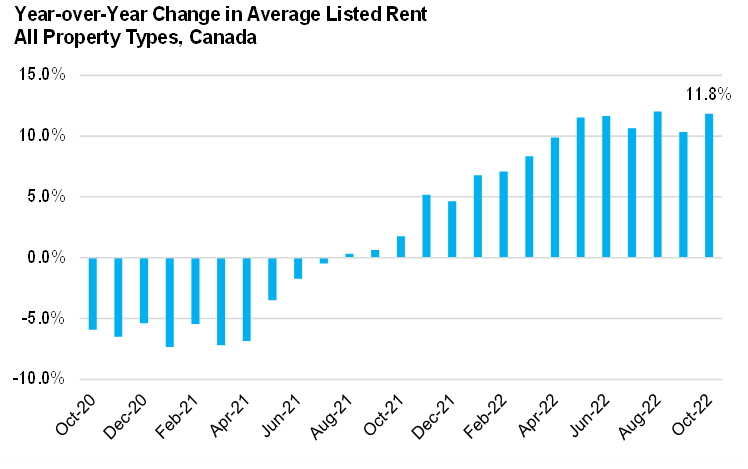 Average rents in purpose-built rental and condominium apartments increased by 10.8% year over year in October to $1,889. By unit type, average rents grew the fastest year over year for two-bedroom units, up 10.9% to $2,065. This was followed by 9.9% annual growth for one-bedroom units to an average of $1,711. Relatively slower rates of annual rent growth were recorded for three-bedroom (7.5%) and studio (+7.0%) apartments, reaching $2,307 and $1,391, respectively.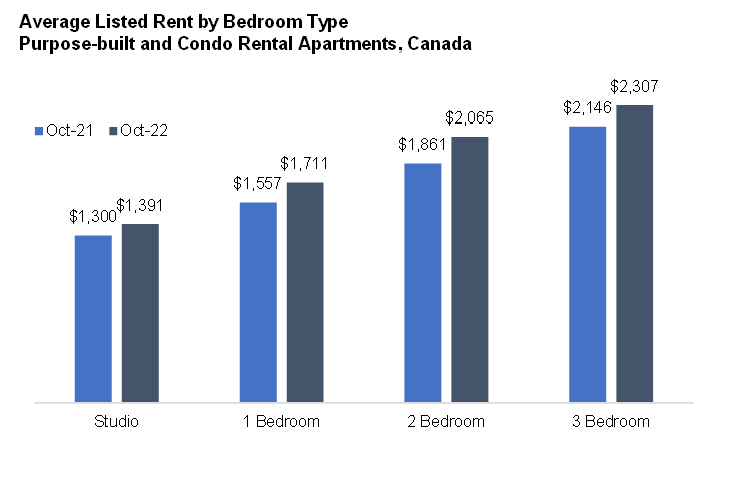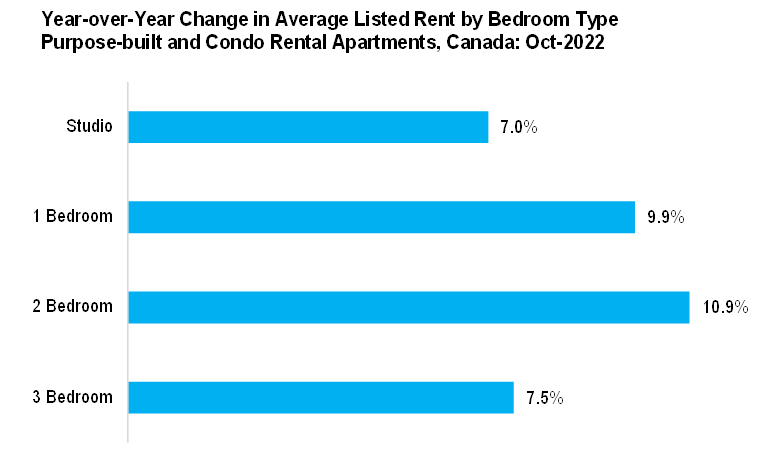 2. Provincial Overview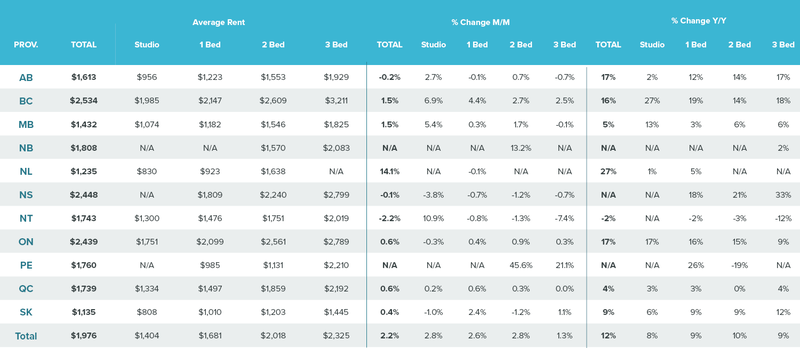 Regionally, rents increased the most in Atlantic Canada, with year-over-year growth of 32.2% to hit an average of $2,199 for purpose-built and condominium apartments. In a distant second for growth was Ontario, which still posted a strong annual rent increase of 17.7%, followed by British Columbia and Alberta with growth of 15.1% and 13.2%, respectively. The fastest growing provinces for rent inflation also experienced the fastest rates of population growth over the past year to Q3-2022. Similarly, the provinces with the slowest rates of rent growth — Saskatchewan, Manitoba, and Quebec — recorded below-average population growth.
British Columbia remained the most expensive province for rents with an average cost of $2,433 for purpose-built and condominium apartments, while Ontario is beginning to close the gap with an average rent of $2,372. The Atlantic provinces moved into third spot with an average rent of $1,854, surpassing Quebec ($1,711) for the first time.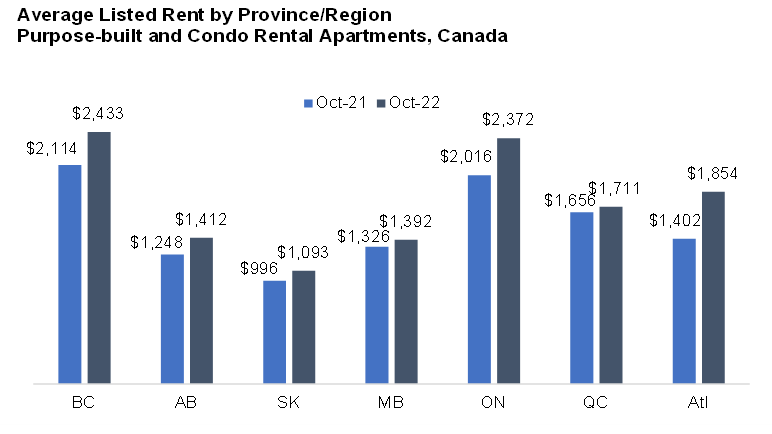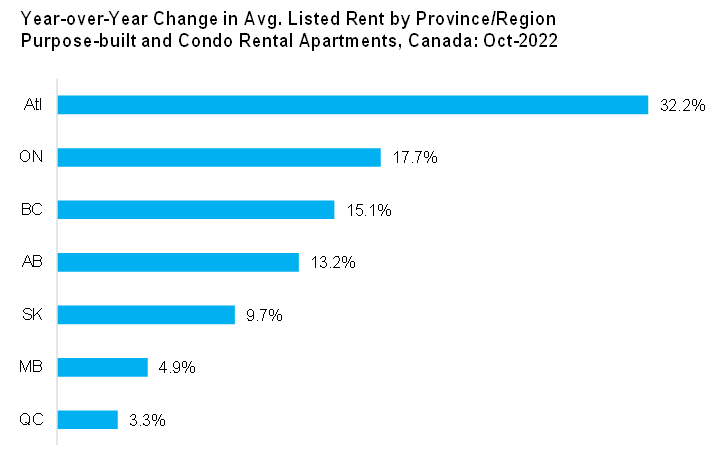 3. Municipal Rental Rates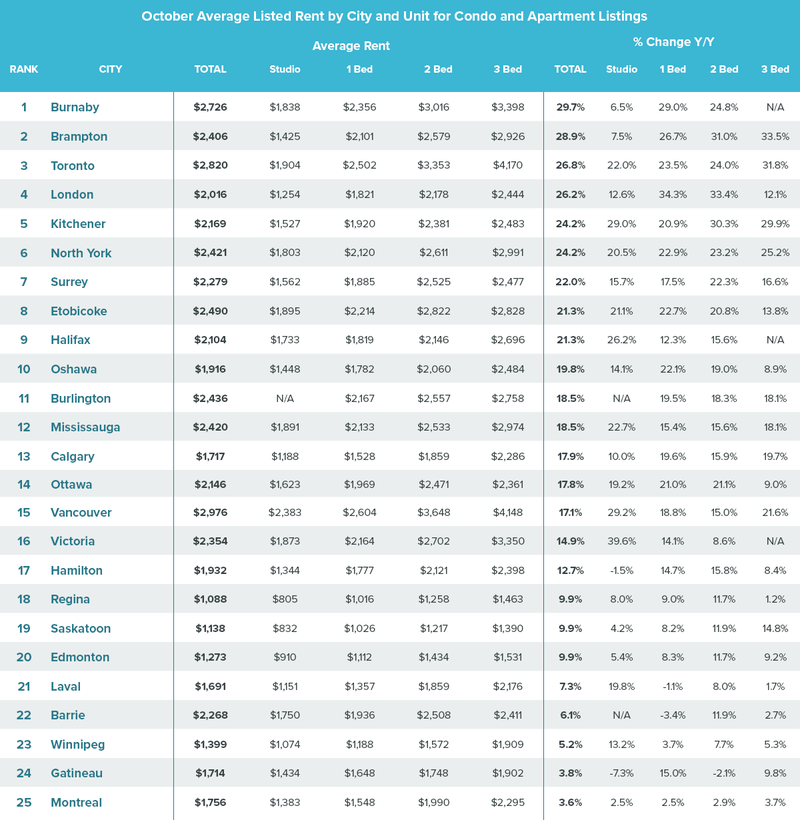 Among major markets in Canada with populations over 1 million, average rents for purpose-built and condominium apartments remained highest in Vancouver at $2,976. But average rents in Vancouver have slipped by 3.5% over the past two months after reaching a high of $3,083 in August. Rents in Toronto have risen to an average of $2,820, holding steady month over month in October. The third most expensive of Canada's largest markets is Ottawa, where rents surged 7.6% month over month in October to an average of $2,146. Montreal and Calgary rents have converged at averages of $1,756 and $1,717, respectively, while Edmonton remained the most affordable of Canada's largest markets with an average rent of $1,273.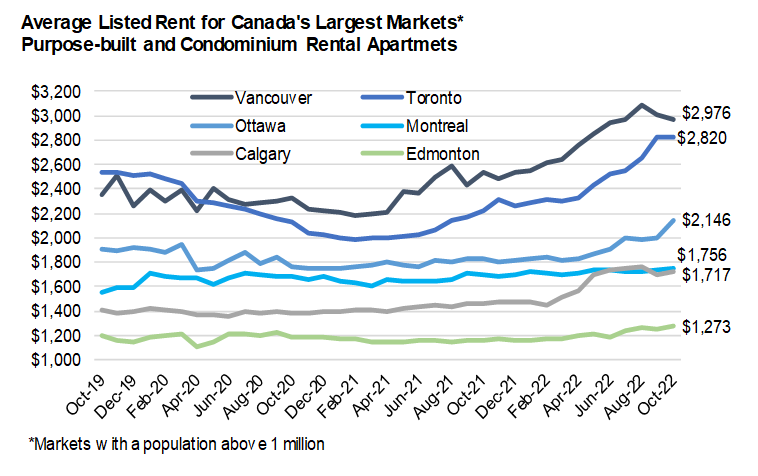 Toronto has experienced the strongest annual growth in rents over the past year among Canada's largest markets, with one- and two-bedroom condominium rental and apartment average rents up 24% from a year ago to $2,502 and $3,353, respectively. Ottawa rent growth came in a close second with annual growth of 21% to reach averages of $1,969 (one-bedroom) and $2,471 (two-bedroom). In Vancouver, average rents were up 15% annually for one-bedrooms ($2,604) and 19% for two-bedrooms ($3,648). The slowest rent increase among Canada's largest markets was found in Montreal, with annual growth of 3% for condo rentals and apartments to an average of $1,548 (one-bedroom) and $1,990 (two-bedroom).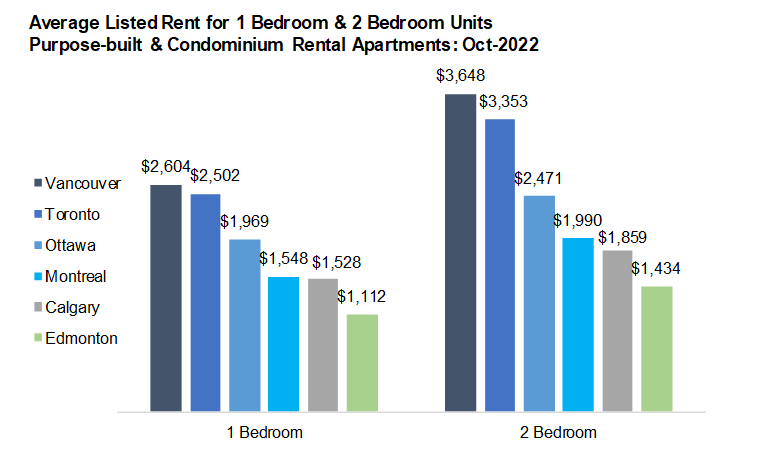 Among more mid-sized markets in Canada, average rents for purpose-built and condominium apartments generally averaged over $2,000 per month, with the exception of Winnipeg ($1,399) and Quebec City ($1,267). Bordering Toronto, Mississauga was the most expensive of the mid-sized markets with an average rent of $2,420, followed by Victoria with an average rent of $2,354. Just outside of the GTA in Kitchener, London and Hamilton, average rents ranged between $1,932 and $2,169.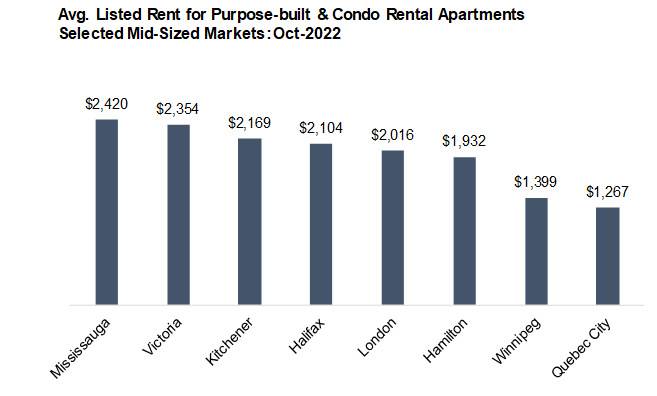 Compared to a year ago, rents grew the most in London and Kitchener with annual increases of 26% and 24%, respectively, followed by Halifax with growth of 21%. The most affordable of the mid-sized markets in Quebec City and Winnipeg saw the slowest annual rent growth of 9.9% and 5.2%, respectively.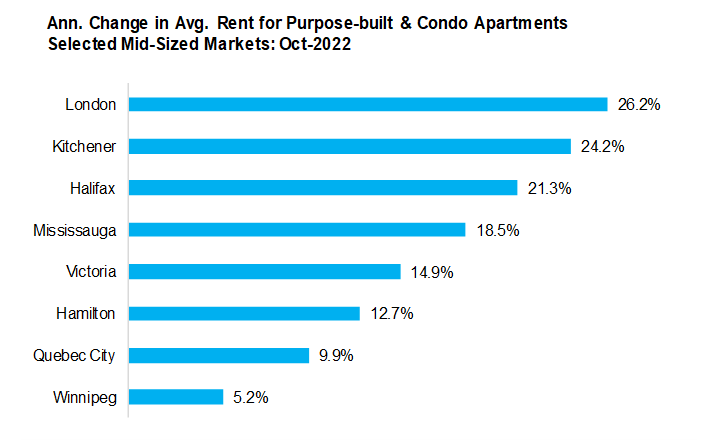 Rentals.ca Data
The data used in this analysis is based on monthly listings from the Rentals.ca Network of Internet Listings Services (ILS). This data differs from the numbers collected and published by the Canada Mortgage Housing Corporation (CMHC).
The Rentals.ca Network of ILS's data covers both the primary and secondary rental markets and includes basement apartments, rental apartments, condominium apartments, townhouses, semi-detached houses, and single-detached houses. CMHC's primary rental data only includes purpose-built rental apartments and rental townhouses. CMHC also collects data on secondary market rentals, but this is reported separately.
CMHC's rental rates are based on the entire universe of purpose-built rental units (rental stock), regardless of rental tenure. CMHC rental rates are reflective of what the average household spends on rental housing and not the current market rents for vacant units. The data used in this report is based on the asking rates of available (vacant) units only and reflect on-going trends in the market. This covers a smaller sample size but is more representative of the actual market rent a prospective tenant would encounter. The Rentals.ca Network of ILS's data typically provides much higher rental rates compared to CMHC, as vacant units typically reset to market rates when not subject to rent control.
The average and median rental rates in this report can also skew higher than CMHC's data for the following reasons: the inclusion of larger more expensive unit types such as single-family homes, townhouse units, and large luxury condominium units; the presence of duplicate or multiple listings at the same property and the survivorship bias where more expensive or over-priced units take longer to lease and remain in the sample longer.
Properties listed for greater than $5,000 per month, and less than $500 per month are removed from the sample. Similarly, short-term rentals, single-room rentals, and furnished suites are removed from the sample when identifiable.