In February, the average property listing on Rentals.ca was offered for rent at $1,888 per month in Canada overall, an increase of 1.8% monthly from $1,854 in January. The median rent was $1,800 per month, up from $1,747 in January.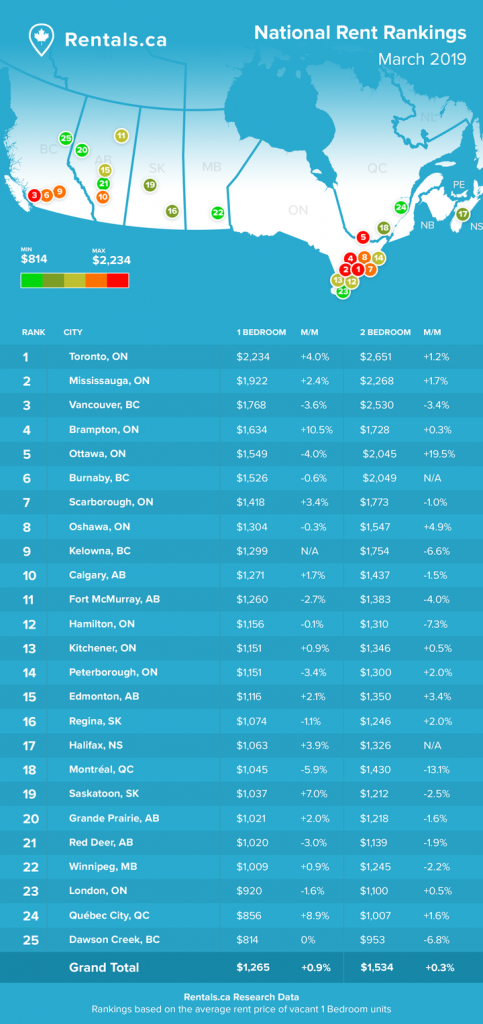 National Overview
The chart below shows the average and median rent levels by bedroom type for all property types in Canada in February. Landlords were asking $1,295 per month for studio units on average in Canada, an increase of 4.5% monthly from January ($1,239). One-bedroom units were offered at $1,717 per month on average in February, 4.6% higher than January ($1,642), while two rental bedroom units were offered at $1,905 per month on average, up 3% from January ($1,850).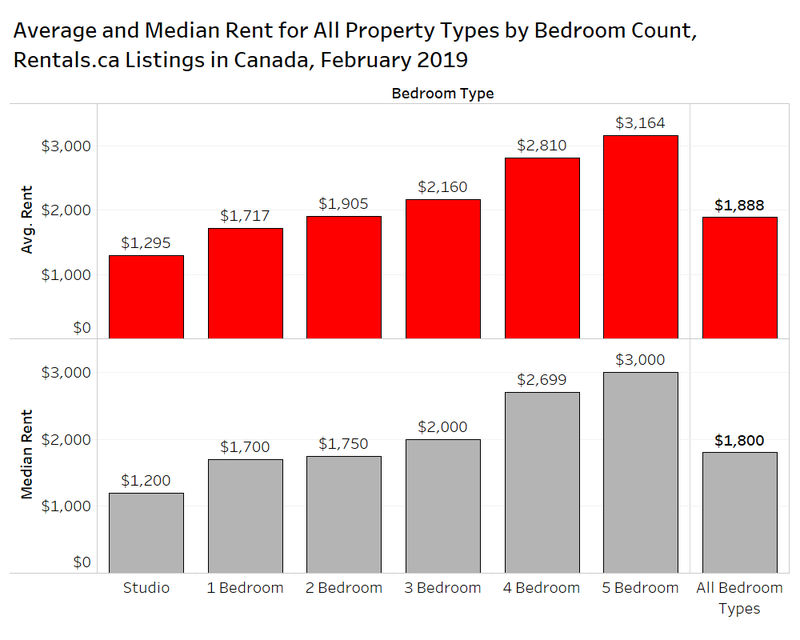 Nearly 65% of all pageviews on Rentals.ca in February were for rental apartments. The average rental apartment in Canada was listed at just over $1,500 per month, with an average size of 849 square feet (note that unit sizes are not available for all listings). At just over 15% of the pageviews, condominium apartments were the second most popular unit type on Rentals.ca in February.
Landlords are asking $2,430 per month on average for condos in Canada, which are smaller on average than the older rental apartments at 758 square feet. Leasing of condo apartments is much more prevalent in Toronto, which contributes to the high national rental rate for smaller product.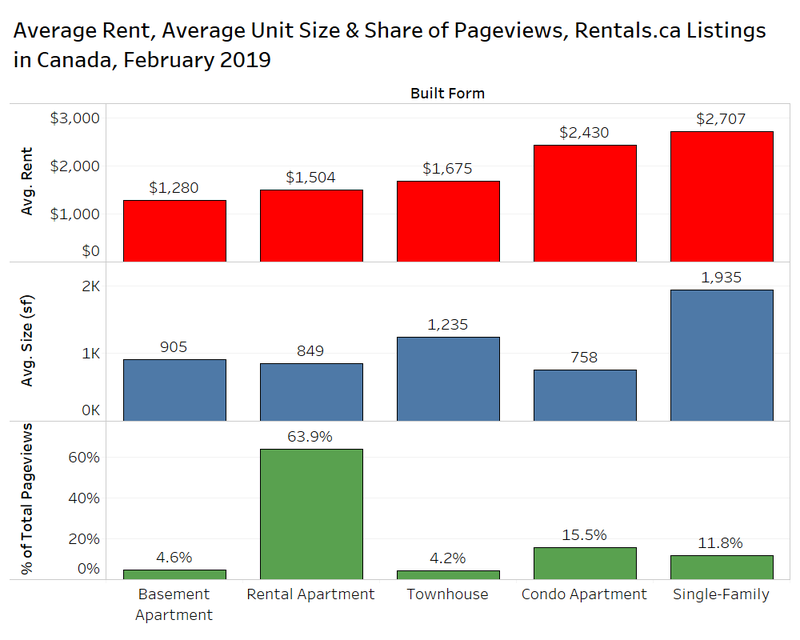 The luxury rental market in Canada — units at $3,000 a month or greater — accounted for 9% of listings on Rentals.ca in February. The bulk of the rental listings (48%) were available from $1,000 to $1,999 per month (see chart below).
For two-bedroom units, 51% of listings range from $1,000 to $1,999 per month, while 30% range from $2,000 to $2,999 per month.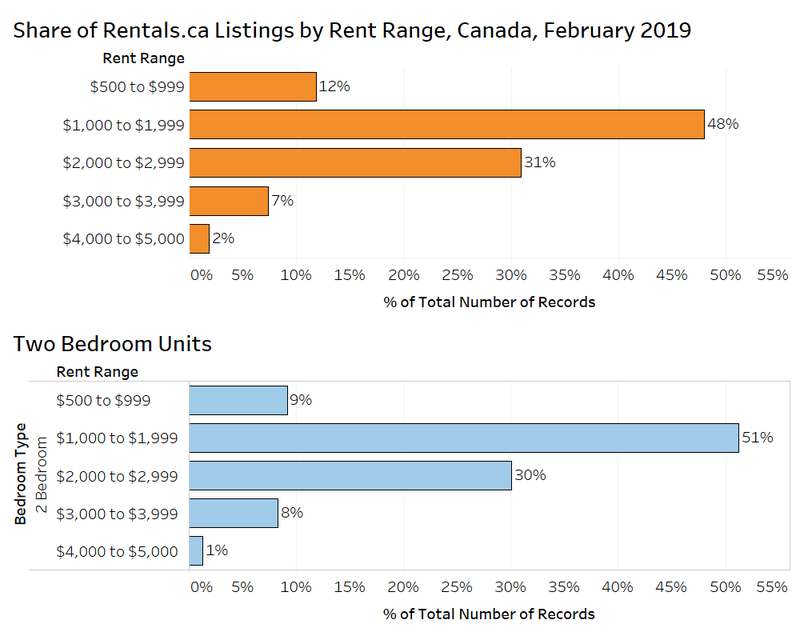 Provincial Rental Rates
On a provincial level, Ontario had the highest rental rates in February, with landlords seeking $2,197 per month on average (all property types), an increase of 1.5% from January ($2,164). In British Columbia, the average asking rent was $1,582 per month, virtually unchanged from January. Asking rents in Alberta were up month-over-month by 0.5%, rising from $1,285 in January to $1,291 in February.
The figure below maps the average and median rental rates by province in Canada in February, while also showing the average unit size for all property types by province. The largest rental units on average are found in Quebec at 970 square feet, followed by Ontario at 952 square feet and Manitoba at 922 square feet.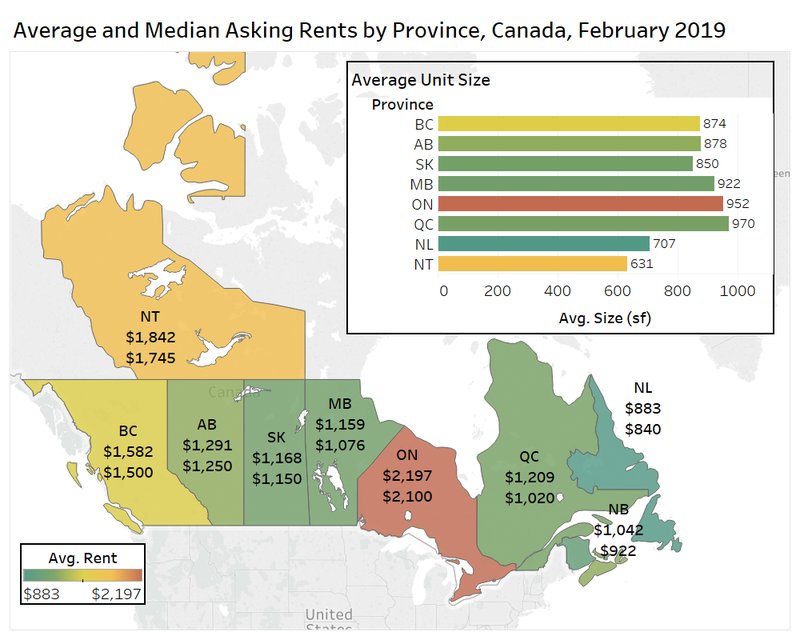 When looking at rental apartments only, Ontario has the largest unit size at 906 square feet, narrowly topping Manitoba at 904 square feet. Quebec drops to third, with an average unit size of 846 square feet.
The majority of the listings on Rentals.ca are in Ontario, but the following chart focuses on the other provinces with 25 or more listings.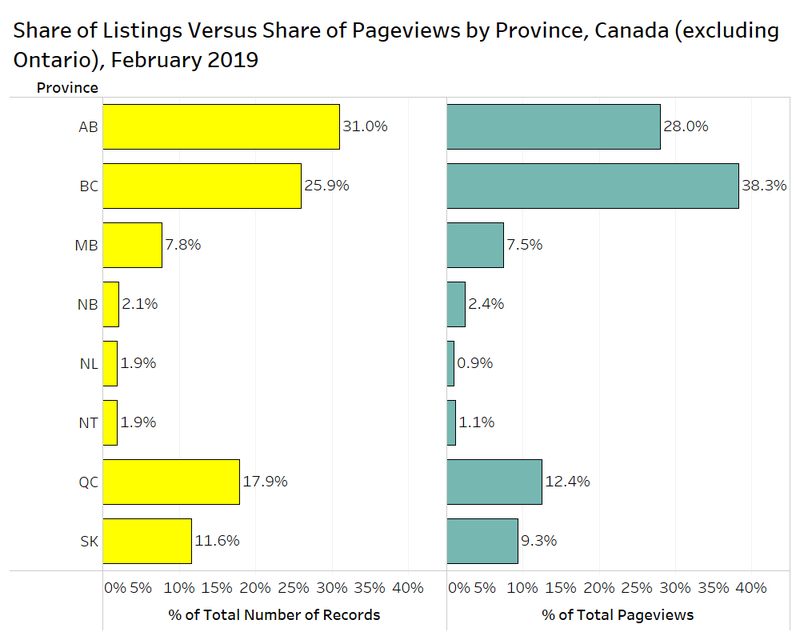 By comparing the market share of total listings by province and comparing that to the market share of pageviews by province, we can get a sense of where demand is exceeding supply. In British Columbia, the share of pageviews is far exceeding the share of records. Supply and demand are fairly even in Alberta, Manitoba, New Brunswick, but supply is exceeding demand in Quebec and Saskatchewan.
Municipal Rental Rates
Looking at the same listings versus pageviews data on a municipal basis shows that there is excess demand in Toronto, Calgary and Vancouver (when referring to Toronto in this report, we are using the former City of Toronto boundaries, pre-amalgamation).
In Toronto, that excess demand resulted in higher rents. One-bedroom units were listed at $2,234 per month in February, an increase of 4.0% from a month earlier (see opening infographic), while two-bedroom units were listed at $2,651 per month, an increase of 1.4% from January.
Rents increased month-over-month for one-bedroom Calgary rentals, but declined for two-bedroom rentals. In Vancouver, both one- and two-bedroom rentals experienced monthly declines, but the municipality is the second most expensive market to find a rental unit in Canada.
Condo Rental Rates by Municipality
The chart below looks only at condominium apartments, showing the average rent per-square-foot (top) and average monthly rent (bottom). This chart includes several of the GTA suburban markets. Landlords are now asking $3.81 per square foot for Toronto condos, well ahead of Vancouver at $3.52 per square foot.
Two of the least expensive markets to rent a condo apartment are Saskatoon at $1.46 per square foot and Gatineau at $1.30 per square foot.
To further break down the condo apartment data, the chart below plots the average rent and average unit size for the three top condo markets in the Greater Toronto Area: the former cities of Toronto, North York and Etobicoke.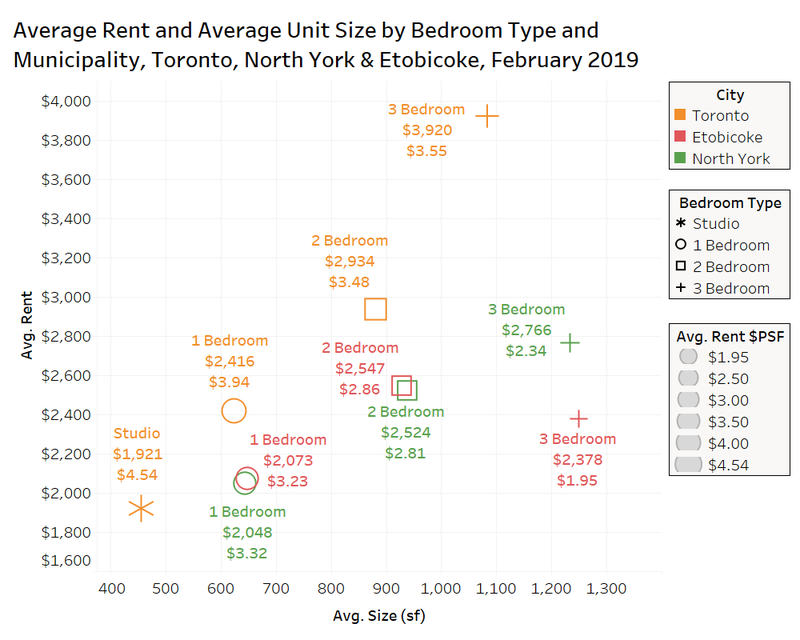 Landlords are now asking over $1,900 per month on average for studio units with condo tenure in Toronto (the sample size of studios outside of Toronto was too small to display). To rent a one-bedroom unit in Toronto ($2,416), a tenant will need to shell out about $350 more than in North York and Etobicoke on average. For a two-bedroom unit, a tenant looking in Toronto ($2,934) will need about $400 more on average than in North York and Etobicoke. The big difference between the cities is in the asking rents for three-bedroom units, where North York and Etobicoke suites are larger than Toronto by over 150 square feet, but the asking rental rates for the Toronto units are over $1,000 per month more on average.
The city of Toronto has a new policy in the works to require developers to build a certain percentage of three-bedroom units in new condominium and rental apartments. The city wants to ensure there is a range of housing options and encourage families to live downtown. However, as the map below shows, any of those families looking to rent a three-bedroom condo would need to be fairly affluent, as there is only one unit of the 16 listings in February under $3,000 per month. The majority of listings range from $3,500 per month to $4,500 per month.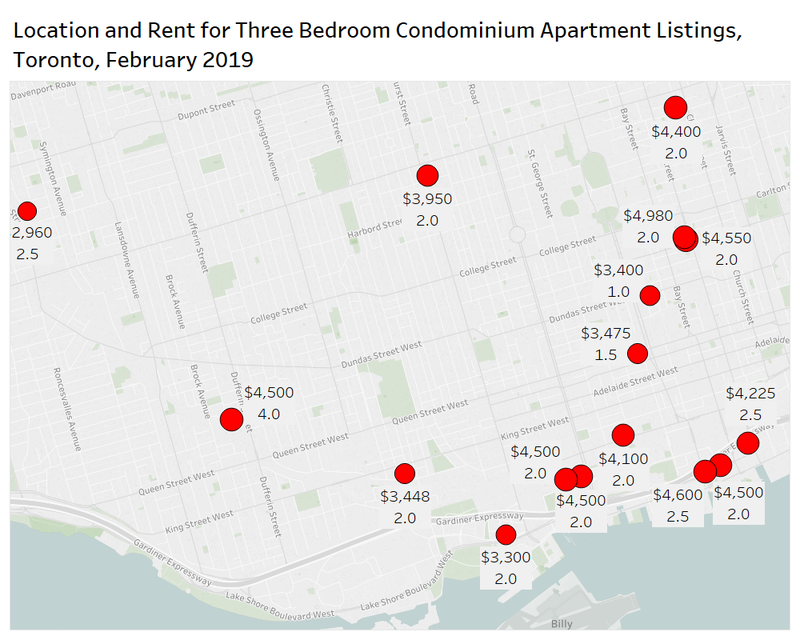 Ottawa is one of the most popular markets for listings and pageviews on Rentals.ca, and the chart below shows that nearly 65% of listings in the municipality in February were available from $1,000 to $1,999 per month. About 22% of Ottawa Apartments on Rentals.ca is comprised of one-bedroom units available from $1,000 to $1,999 per month and 20% of the market is made up of two-bedroom units available in the same rent range.
Less than 6% of the rental market in Ottawa is luxury product available for over $3,000 per month.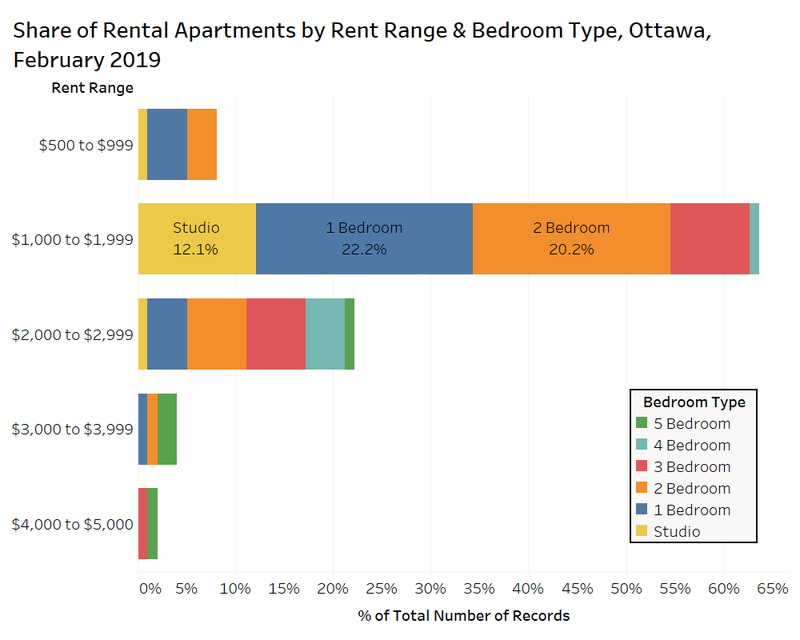 There is a wide array of rental apartments available to lease in Ottawa — the smallest a 336-square-foot studio suite. The chart below shows the minimum, maximum and average unit size by bedroom type (excluding four- and five-bedroom apartments).
One-bedroom rental apartments in Ottawa range from a low of 375 square feet to a high of 800 square feet, averaging 571 square feet. There is apparently a two-bedroom unit for lease in Ottawa at 460 square feet, but that may be a liberal interpretation of a den by the listing agent. The average two-bedroom rental apartment in Ottawa is nearly 870 square feet, with average rent of $1,975 per month.
Three-bedroom rental apartments in Ottawa range from a small 750-square-foot unit, to a large 1,800-square-foot unit, averaging 1,252 square feet. The average three-bedroom apartment is listed for $2,127 per month.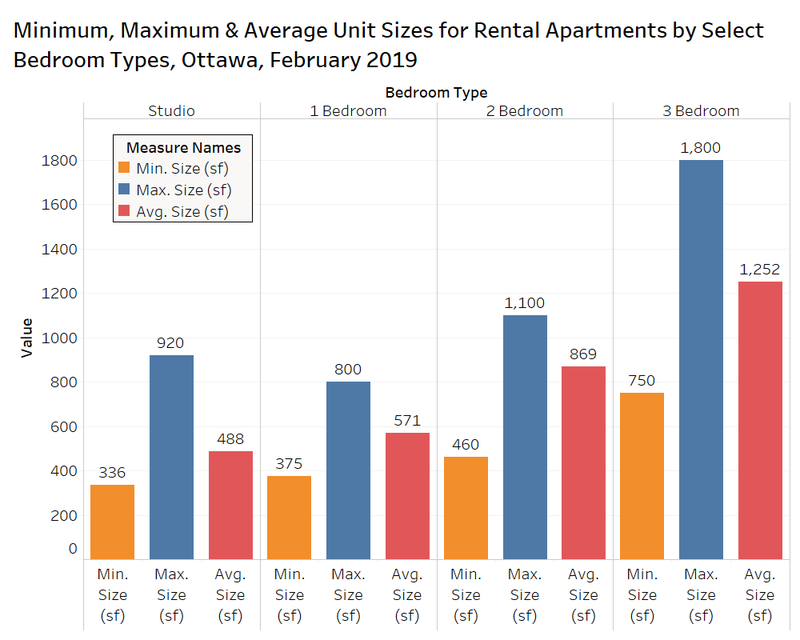 Conclusion
Less than stellar national macroeconomic data released recently suggests the Bank of Canada will hold steady on interest rates in 2019. Some banks and lenders have lowered their mortgage rates over the past month, which will encourage some tenants to purchase their first home and relieve pressure on the rental market.
The chart below shows average and median rent levels for all property types in Canada have risen in each of the last three months, as demand increases in advance of the prime spring leasing season.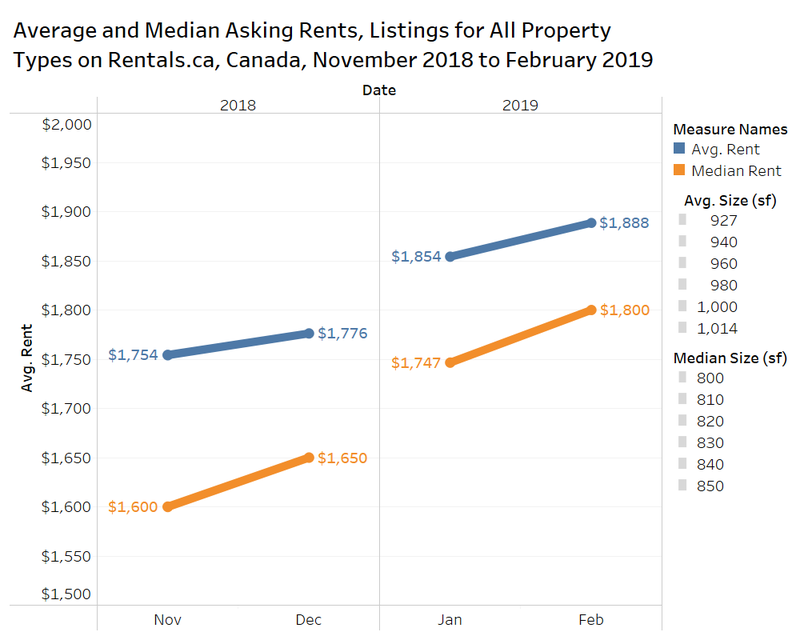 Despite affordability concerns, average rental rates continue to climb in Toronto. A combination of factors has contributed to the increase in rental demand: Rising resale condo prices, tighter mortgage credit availability, expanded rent control reducing turnover, and high population growth. The chart below shows statistically what that upward pressure on rent levels has done to the average and median rent for listings on Rentals.ca over the past four months.
There have been over 10,000 apartment completions (condo and rental tenure) in the Toronto CMA over the past six months, which has not dampened rent growth yet. The metro area likely needs closer to 30,000 units annually to satisfy demand, and that level of growth isn't likely to happen in 2019.
Rentals.ca continues to expect rent growth in Canada, and especially Toronto, for the remainder of 2019.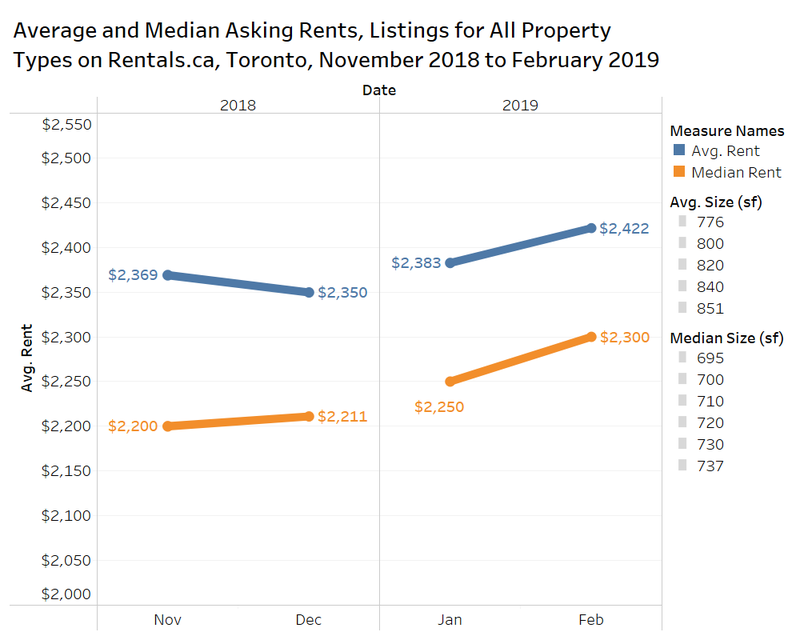 Rentals.ca Data
The data used in this analysis is based on monthly listings from Rentals.ca. The data is much different than the more familiar numbers collected and published by Canada Mortgage Housing Corporation (CMHC).
Rentals.ca data includes basement apartments, rental apartments, condominium apartments, townhouses, semi-detached houses and single-detached houses, where CMHC's primary rental data only includes rental apartments and rental townhouses. CMHC does collect some data on the secondary market, but it is reported separately.
The CMHC rental rates are based on the entire universe of purpose-built rental units in Canada (the stock), while Rentals.ca data is primarily based on the asking rents of vacated units only (the flow) — this is more representative of the actual market rent a prospective tenant encounters. The Rentals.ca data set typically produces much higher rental rates in comparison to CMHC, as vacated units are not subject to rent control.
The average and median rental rates via Rentals.ca can also skew higher than CMHC's data for several reasons: The inclusion of larger and more expensive unit types like singles, row units and condos; the survivorship bias (overpriced units remain in the sample longer); and the multiple listings of the same property at different rent levels every month.
It should also be noted that properties listed for above $5,000 a month and below $500 a month are eliminated from the sample of units analyzed. Also, short term leases, single-room rentals, and furnished rental units are eliminated from the sample where identifiable.