The average rent for all Canadian properties listed on Rentals.ca in June was $1,770 per month, down 2.4% monthly and 9.4% annually. The median rental rate was $1,700 per month in June, down $50 from May 2020 and $125 from June 2019 (-6.8%).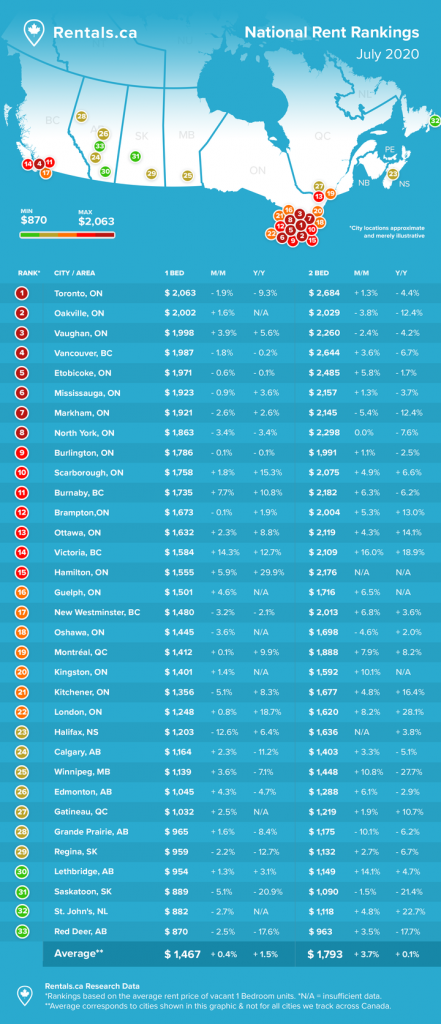 Rentals.ca July 2020 Rent Report
1. National Rental Rates by Month
National average rents have continued to suffer under the COVID-19 pandemic, with rents decreasing in April, May and June.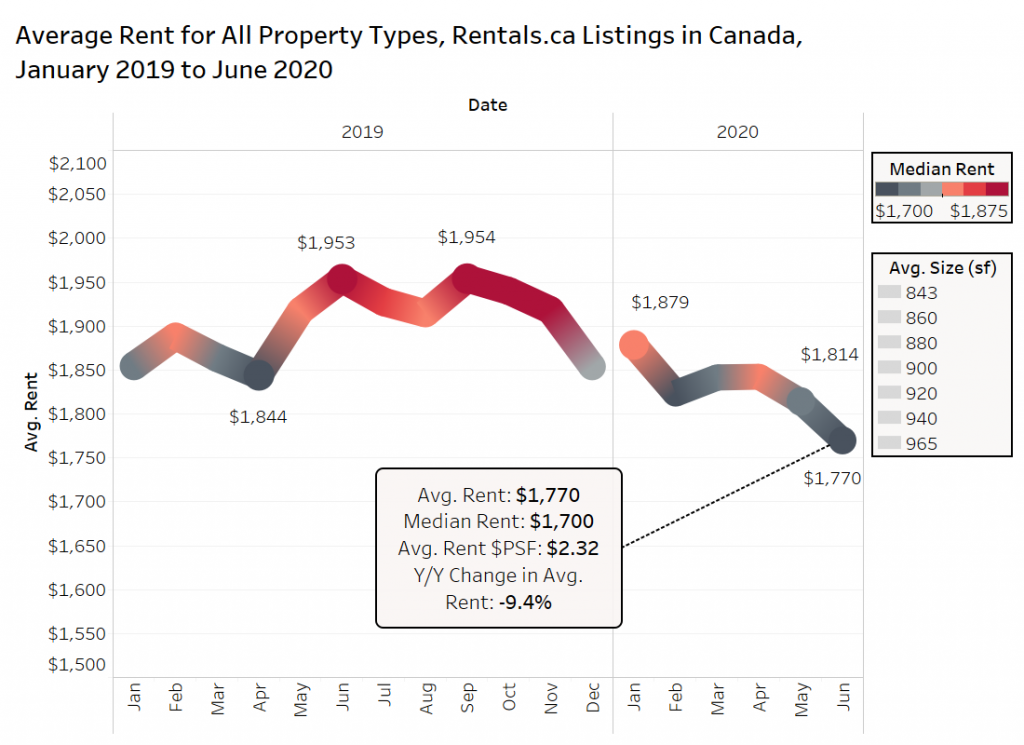 On a per-square-foot basis, the average rental rate was $2.32 per square foot (psf) in June, nearly identical to May ($2.33 psf), but down 7.4% from the 2019-high of $2.51 psf in June of last year.
Rental Apartment Rents by Month and Year
The chart below shows the average asking rent for rental apartments only in Canada for 2019 (black) and year-to-date in 2020 (red).
The national average dropped again in June for all property types, but when isolating just rental apartments, which typically make up about 55% of the listings on Rentals.ca, the average rent bounced back sharply in June, rising 6.7% monthly to $1,564 from May. Average apartment rents are at the highest level since October 2019.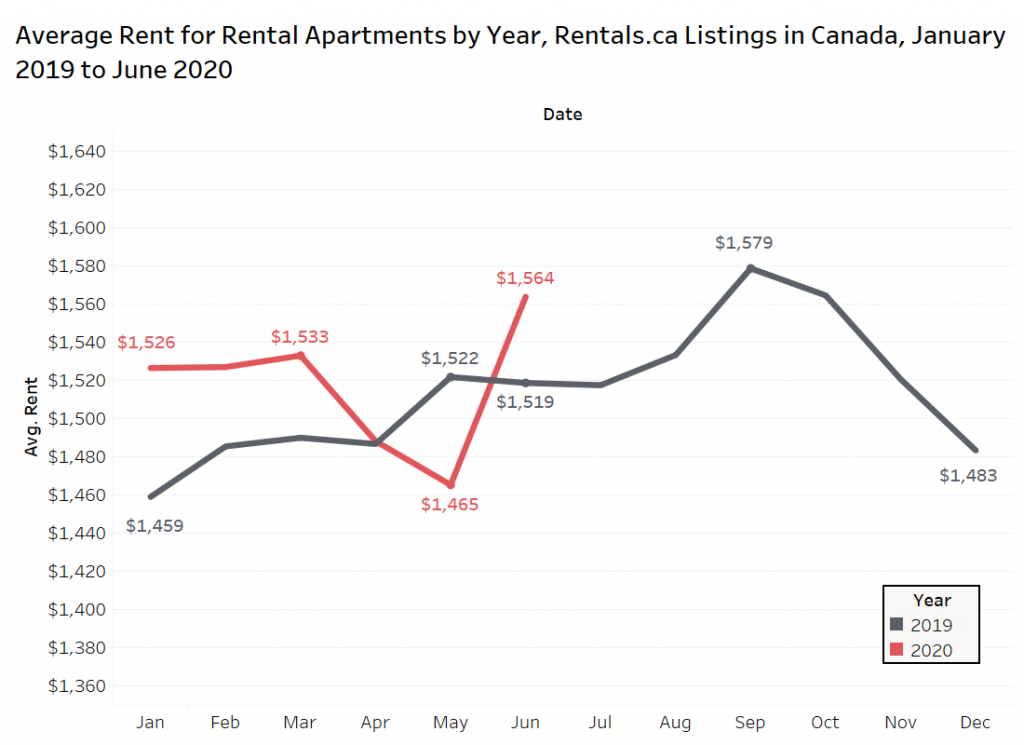 Average Rent by Property Type and Quarter
June marked the end of the second quarter, a quarter fully impacted by the COVID-19 pandemic.
The chart below shows the average rent levels in Canada by property type in the first and second quarters of 2019 and 2020 to get a sense of how the health crisis has impacted rents on a quarterly and annual basis.
The most expensive units are single-family homes, with landlords asking $2,526 per month on average in Q2-2020, a slight decrease of 0.9% from Q1-2020, and a significant decrease of 8.0% since Q2-2019. Condo apartments had average rents of $2,272 this past quarter, a decrease of 5.7% since Q1-2020, and a decline of 7.9% annually.
Townhouses, rental apartments, and basement apartments all increased both quarterly and annually in Q2-2020.
Rental apartments, which make up the majority of the listings on Rentals.ca, experienced both a year-over-year increase (1.4%), and a small quarter-over-quarter increase (0.1%). Given the large size of rental apartment listings, it is the most reliable property type to review and is the most reflective of rental market conditions nationally.
It is clear that the most expensive properties are still seeing declines, but the less expensive properties are trending up again. A further examination of rental rates by bedroom type and unit size are required.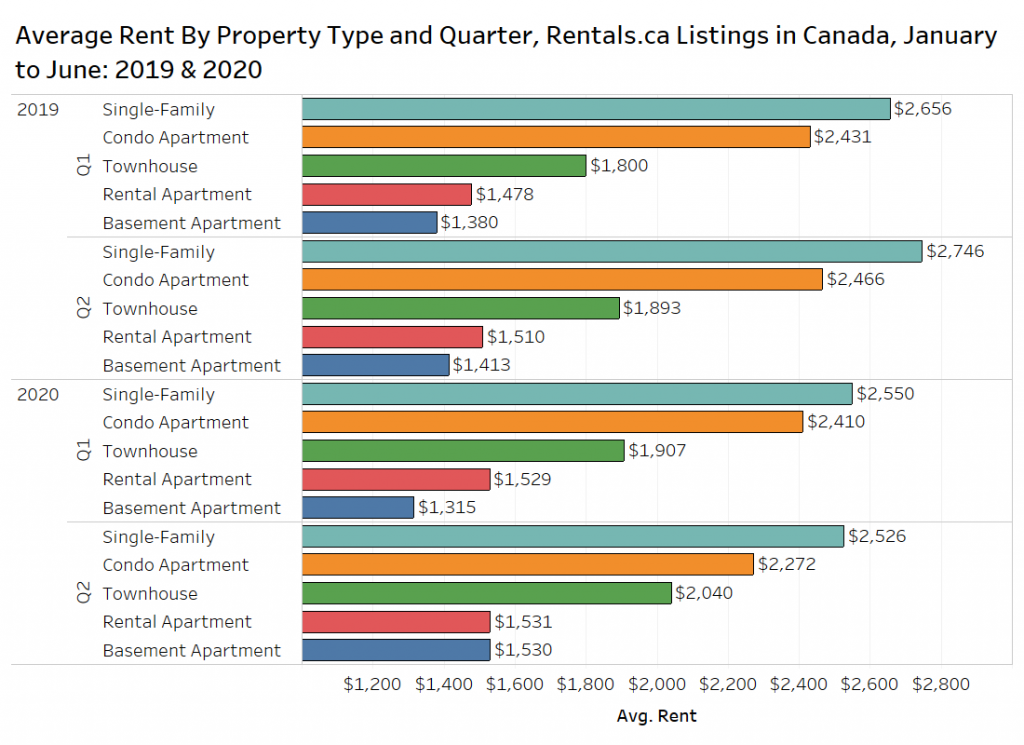 Average Rent and Median Rent by Bedroom Type
The chart below shows the average (yellow) and median (blue) rent by bedroom type in the second quarters of 2019 and 2020.
Median rent increased for studio units by $95 per month, up 7.9% over Q2 2019, but the average rent was only up 0.1%. One- and two-bedroom units also achieved annual increases in the median rent levels, with one-bedrooms increasing by $29 (1.8%) and two-bedrooms by $4 (0.2%), but both experienced declines in average rent. Rental rates for three- and four-bedroom units remained relatively flat year over year.
The largest decline was experienced by five-bedroom units, which are primarily single-family homes, with the median rent down 13.3% and average down 7.3% from Q2-2019 to Q2-2020.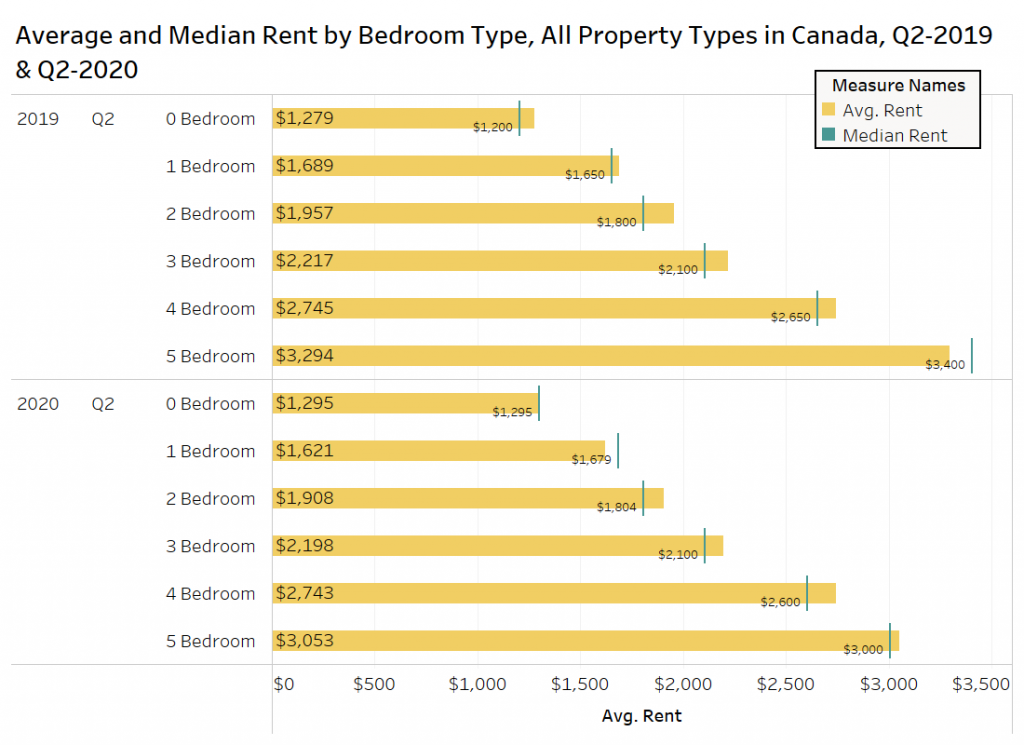 Rent by Rounded-Unit Size
The chart below shows the average rent for all property types by rounded-unit size from the second quarter of 2019 to the second quarter of 2020. Units are rounded to the nearest 100, and includes only units from 500 square feet (sf) to 1,000 sf – these sizes have the most listings.
Average rent for all unit-size groupings, with the exception of 800-sf units, experienced monthly declines ranging from 0.3% to 3.9%, while 800-sf units increased by 0.9%. Year over year, changes were dramatic, with all unit sizes showing declines. The 500-sf and 700-sf units each posted double digit declines, with 500-sf units decreasing by 10.2% and 700-sf units by 11.8%. The smallest annual declines were felt by 1,000-sf units (-3.4%) and 900-sf units at -5.5%.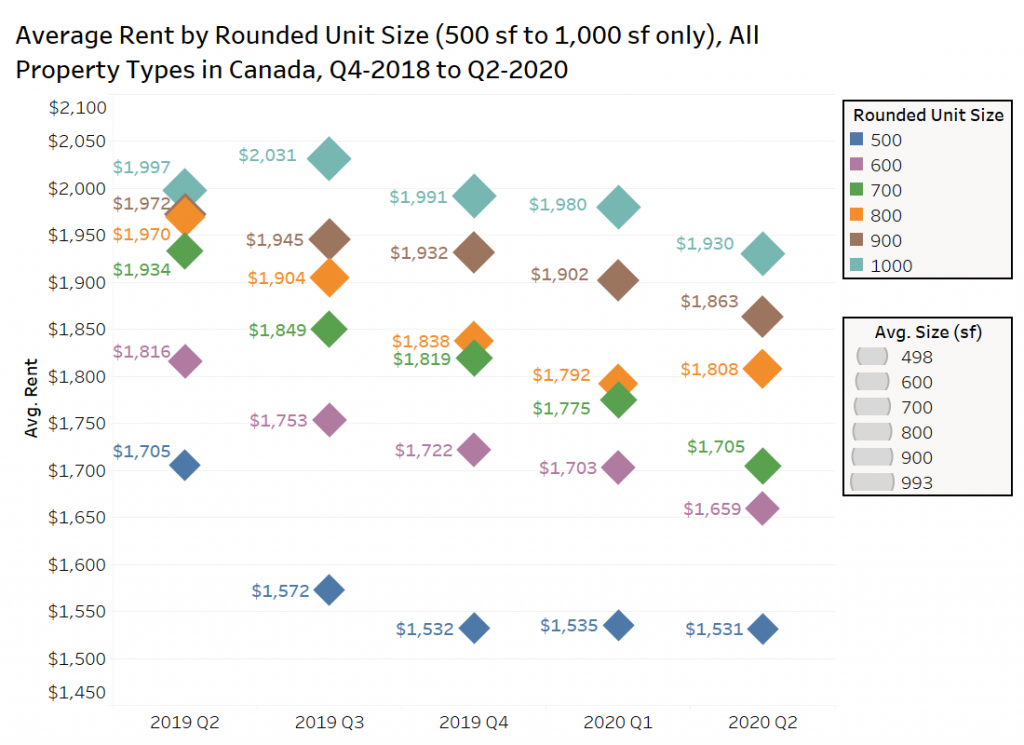 2. Provincial Rental Activity
The chart below looks at the average rent for all properties listed on Rentals.ca in June by province (top), with the average provincial rents by quarter in Q1-2019, Q2-2019, Q1-2020 and Q2-2020 shown in the bottom panel.
On a quarterly basis, rent increased in British Columbia, Saskatchewan and Quebec, while Alberta, Manitoba, and Ontario all experienced decreases between the first and second quarters of 2020. Ontario had the highest average rent ($2,116) followed by British Columbia ($1,987), while Saskatchewan had the lowest ($1,040).
On an annual basis, rents are still up in BC and Quebec, but down in the other four major provinces.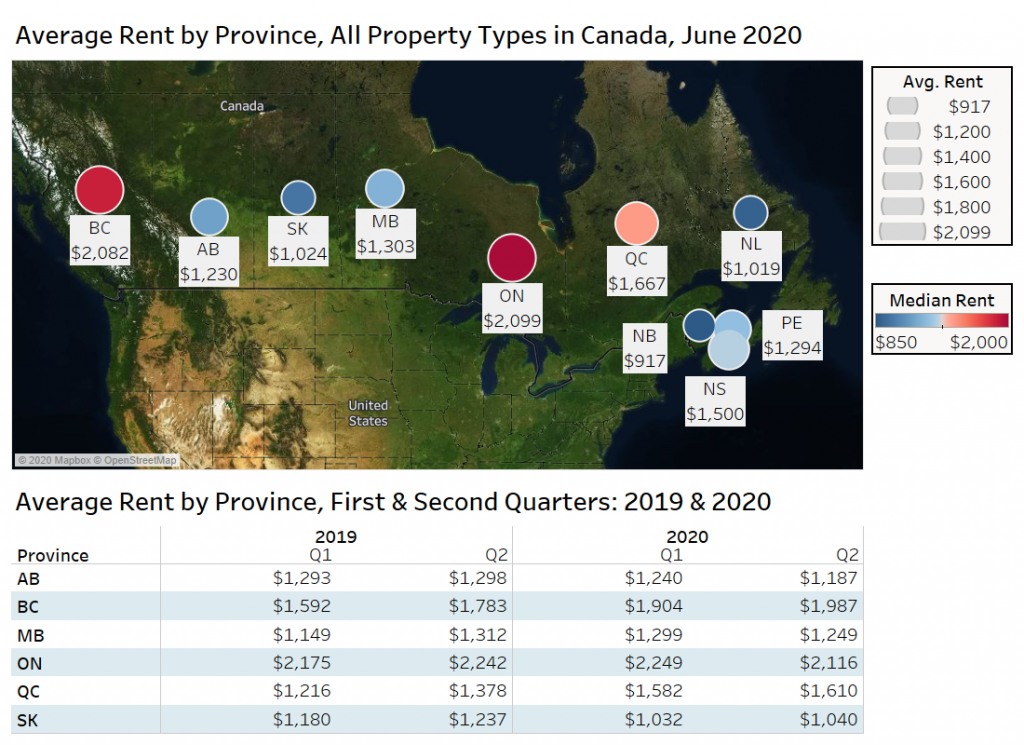 Rental Apartment Units Sizes and Rent Per-Square-Foot by Province
The chart below looks at unit sizes for rental apartment listings by size, showing the 10th and 90th percentiles as well as the average unit and rent per square foot.
The smallest apartments are in Saskatchewan — 691 sf in 2020. Quebec had the largest units at 870 sf, with Ontario close behind at 843 sf.
British Columbia had the highest rent per square foot in the country at $2.64 psf in 2020, surpassing Ontario's $2.53 psf — Ontario had higher rents per square foot in the first half of 2019. Saskatchewan had the lowest rent per square foot at $1.51. Manitoba and Alberta were tied at $1.64 psf in 2020, with Manitoba rising 12.3% annually and Alberta declining 7.2% annually.
There is some variance across the provinces; apartments generally range from about 500 sf to 1,200 sf.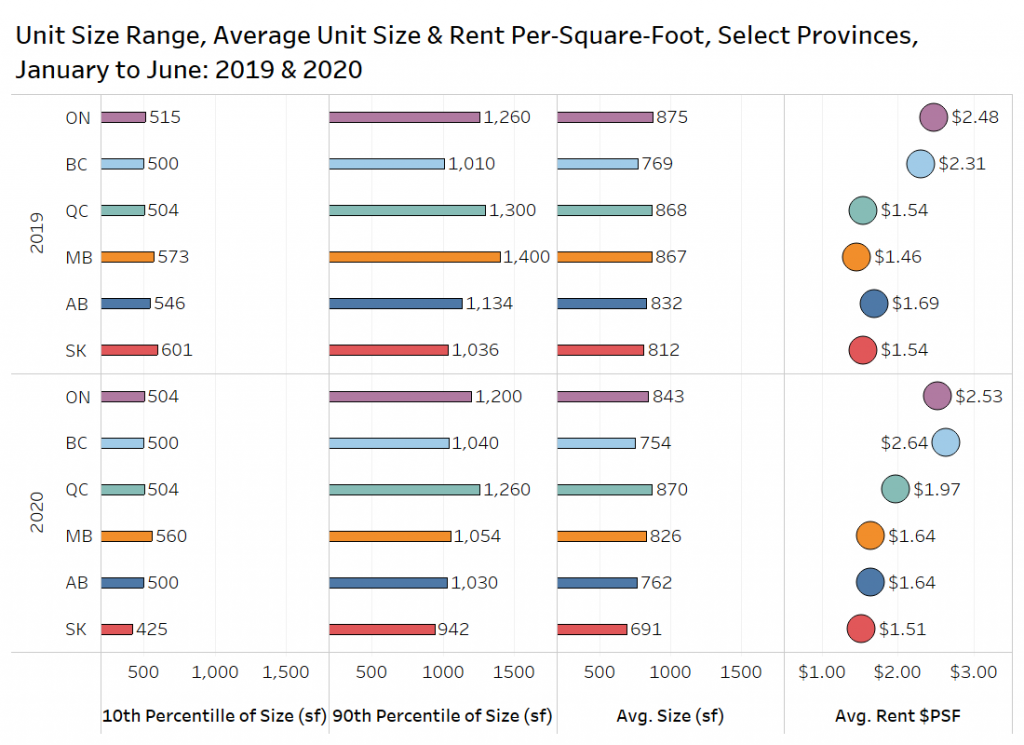 3. Municipal Rental Rates
The chart below presents data on the average rental apartment and condominium apartment rental rates by municipality and area in Canada for June 2020, with the monthly percent change in average rent shown on the right. (Includes former municipalities prior to amalgamation in Toronto.)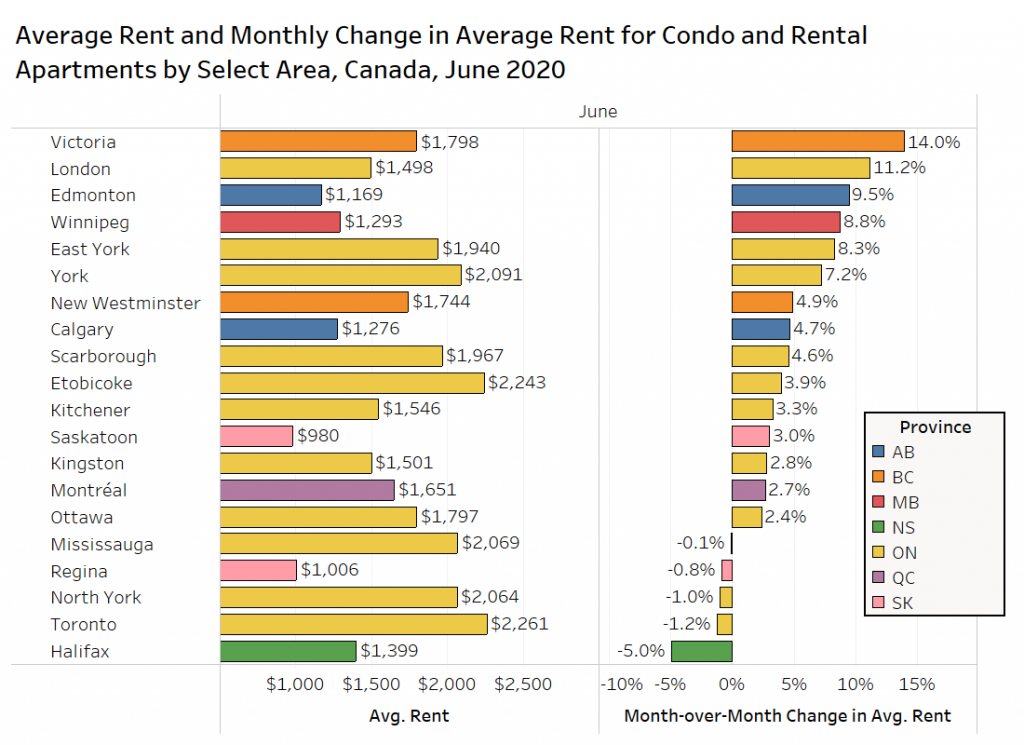 At the city level, month-over-month average rental rates increased by over 10% in two municipalities, Victoria (14.0%) and London (11.2%). Edmonton (9.5%), Winnipeg (8.8%), East York (8.3%) and York (7.2%) all had monthly increases of greater than 5%, while Mississauga (-0.1%), Regina (-0.8%) North York (-1%), Toronto (-1.2%) and Halifax (-5%) all experienced negative growth. Rental rates are clearly bouncing back for the majority of major cities in Canada.
Toronto had the highest rent in June 2020 at $2,261 followed by Etobicoke at $2,243. Saskatoon had the lowest rent at $980, and was the only city with average condominium apartment and rental apartment rents under $1,000.
Calgary and Edmonton Insights
The chart below looks at the average rent for condominium and rental apartments in Calgary and Edmonton from June 2019 to June 2020. Looking at the data on an annual basis, all bedroom types are down year over year. More encouraging, month-over-month results show that all bedroom types increased: three-bedroom suites increased by 6.8%, two-bedroom units jumped 5.8% and one-bedroom units were up 4.8% monthly.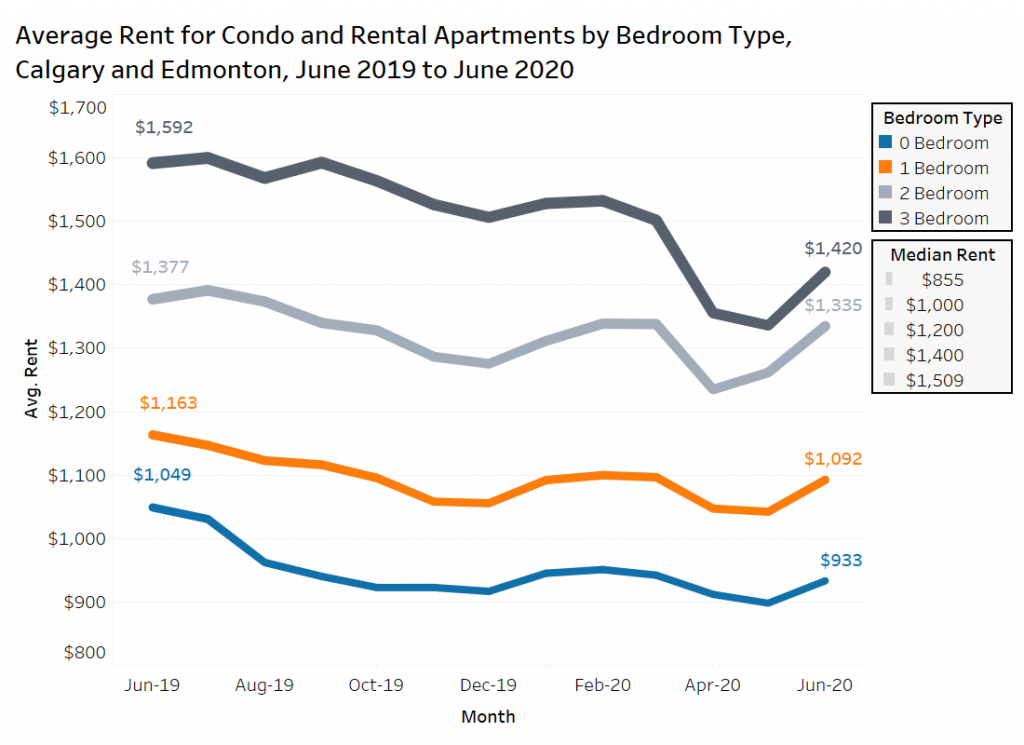 Toronto Insights
There has been much discussion over the last three months regarding how the influx of units that were previously being used as short-term rentals has impacted rental rates in Toronto (former boundaries, prior to amalgamation).
Condominium apartment rental rates had already started to soften early this year from the 2019 high of $3.88 psf before the pandemic, as COVID-19 drastically lowered demand and increased supply. In March of 2020, the average rent per square foot landlords were asking for condos was $3.82 psf, which declined further to $3.65 psf by May (-4.5% COVID-related decline). The average rate was unchanged month over month at $3.65 psf, but is still down 6% annually.
Rental apartments experienced tremendous rent growth from January 2019 to January 2020, rising 15.4% from $2.93 psf to $3.38 psf. That rate then dropped 12.4% to a pandemic-low of $2.96 psf in May. However, the rental market bounced back in June, rising 7.7% monthly and is now up year over year as well at $3.19 psf. Rentals.ca has a significant sample of rental listings in Toronto, and this type of monthly rent volatility is rarely observed. But keep in mind many landlords are offering incentives, with a number of new purpose-built rental apartments offering two months free rent.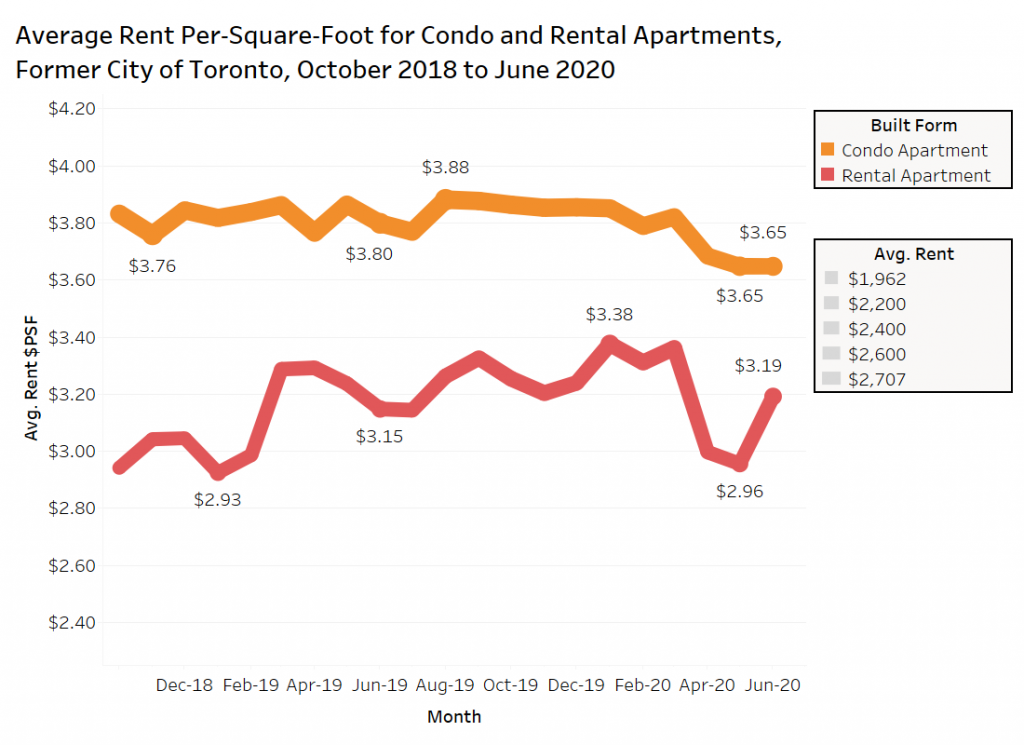 There is a significant number of apartments under construction in Toronto, which start to add even more supply to the market and potentially put more downward pressure on rental rates.
However, some pundits have predicted that tenants will choose to live outside of Toronto if the work-from-home trend continues, and fear of elevators and density heightens due to the COVID-19 virus. It is possible the fear of transit (many cities in North American are experiencing ridership declines of 50% or more) might be the bigger issue, resulting in tenants looking for apartments close to work, so they can walk and avoid traffic and transit altogether.
4. Conclusion
When looking at all property types in Canada, the average rent declined for the third consecutive month in June. However, the bulk of the declines can be attributed to the most expensive units for rent, single family homes and condominium apartments. When focussing solely on rental apartments, the average monthly rent bounced back significantly in June, rising 6.7% over May.
The impact of COVID-19 is not uniform across the country; approximately 950,000 jobs were added last month nationally, and according to some estimates, approximately 40% to 45% of the people who lost jobs during the pandemic have gained them back. The resale housing market in several major Canadian cities has started to gain steam as well, an indicator that the pandemic-related recession could be short-lived.
That said, the unemployment rate is still high, immigration will be well below recent annual intakes, and many students will continue to live at home as classes are held virtually.
These will all negatively impact demand.
It is difficult to tell how much pent-up tenant demand there is from tenants afraid to move during the health crisis.
Lastely, what will happen when the mortgage deferral and eviction ban periods end, and what will occur when government assistance programs are discontinued?
We will continue to monitor the data on a monthly basis and report our findings.