In December, the average property on Rentals.ca was listed for rent at $1,776 per month in Canada overall, an increase of 1.3% month-over-month. Properties listed for above $5,000 a month and below $500 a month are eliminated from the sample of units analyzed. Also, short-term, single-room and furnished-rental units are eliminated from the sample where identifiable.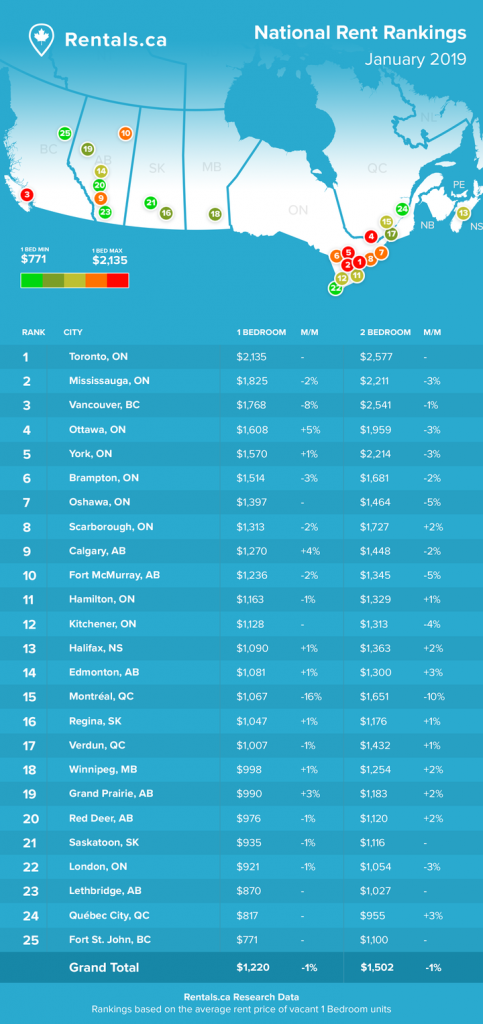 National Overview
The chart below includes a map of all of the listings on Rentals.ca in December, as well as the average rent by number of bedrooms, and the market share by bedroom type across all of the Canadian listings.
About 36% of the listings on Rentals.ca are for one-bedroom units, with an average monthly rent of $1,577 per month. Just over 34% of all listings have two bedrooms, with an average rent of $1,764 per month.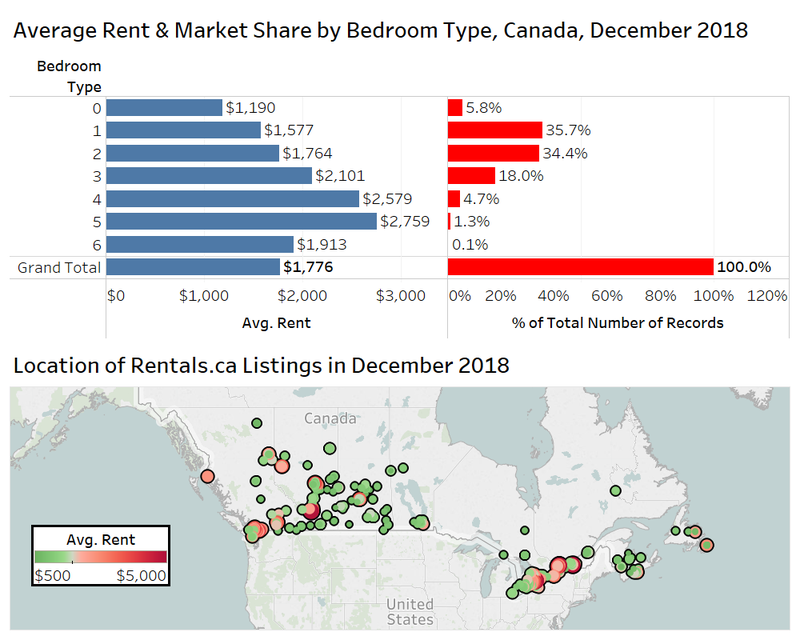 The scatter plot below shows all of the Rentals.ca listings for one- and two-bedroom units where the landlord or owner listed the unit size. The data shows that for every additional square foot of living space in a one-bedroom unit, a landlord charges approximately $2.55 more per month. For each additional square foot of space in a two-bedroom unit, a landlord will charge approximately $2.05 more a month.
The chart also shows there are a few one-bedroom units above 1,000 square feet. These are predominantly basement apartments and loft condo apartments.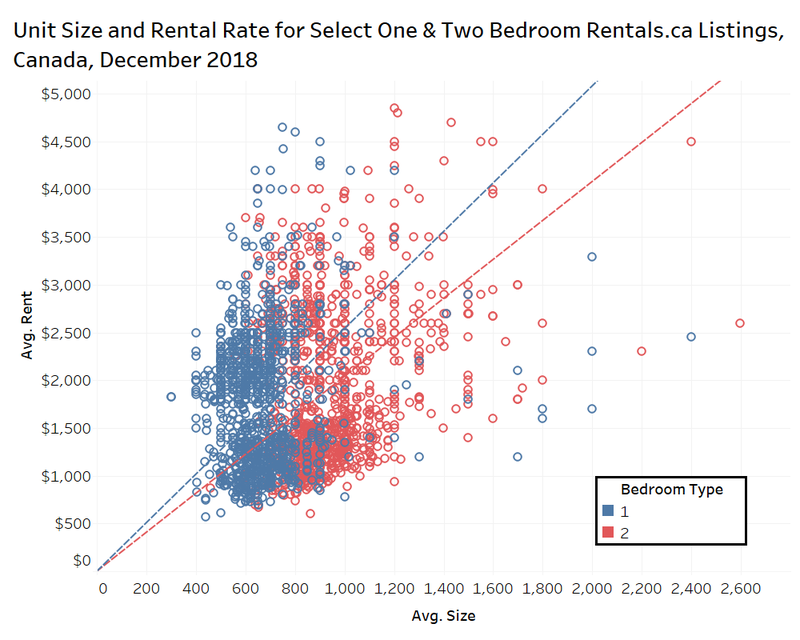 Across Canada, the rent charged for single-family housing (single-detached and semi-detached homes on average) was only slightly higher than condominium apartments ($2,534 versus $2,450). One explanation is that there are many more condo apartments for lease in Toronto versus any of the other markets. On a per-square-foot basis, a tenant has to pay twice as much on average for a condominium apartment than a single-family home ($3.40 versus $1.56).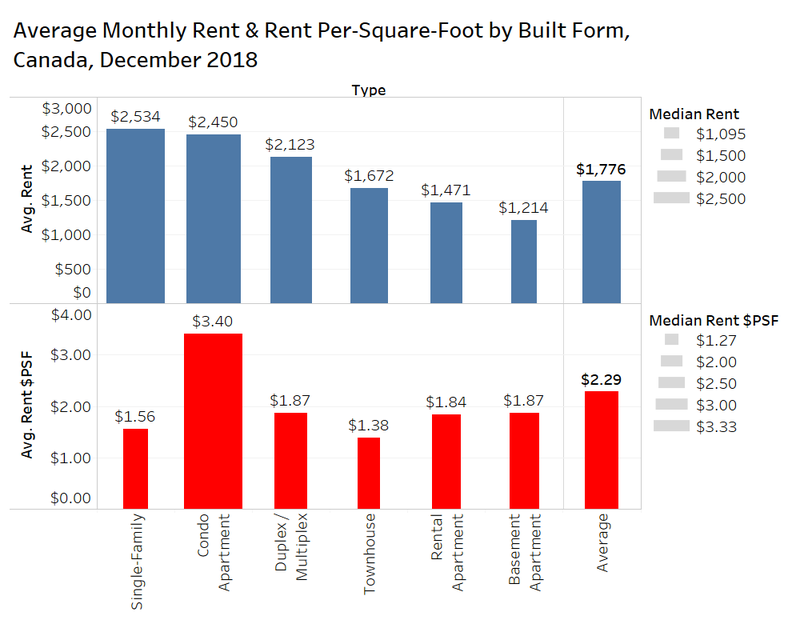 Apartment towers have continued to get taller, and not just in Toronto and Vancouver. The chart below examines the average rental rate and unit sizes by bedroom type for low-rise, mid-rise and high-rise rental apartments across Canada.
When comparing the size of units in mid-rise versus high-rise buildings, studios are 8% larger, one bedroom units are 7% larger and two bedroom units are 6% larger. However, the big discrepancy is the three-bedroom units, which are 19% larger.
The expectation here is that rents for high-rise apartments would be much higher, as the units are larger, taller buildings are typically in the downtown areas of major cities, and there are usually floor and view premiums added to the rents. The data indicates that tenants may be more interested in "human-scale" projects in comparison to mega-towers. However, the composition of the sample is important, and there was a higher share of B.C. buildings in mid-rise sample, than the other apartment categories.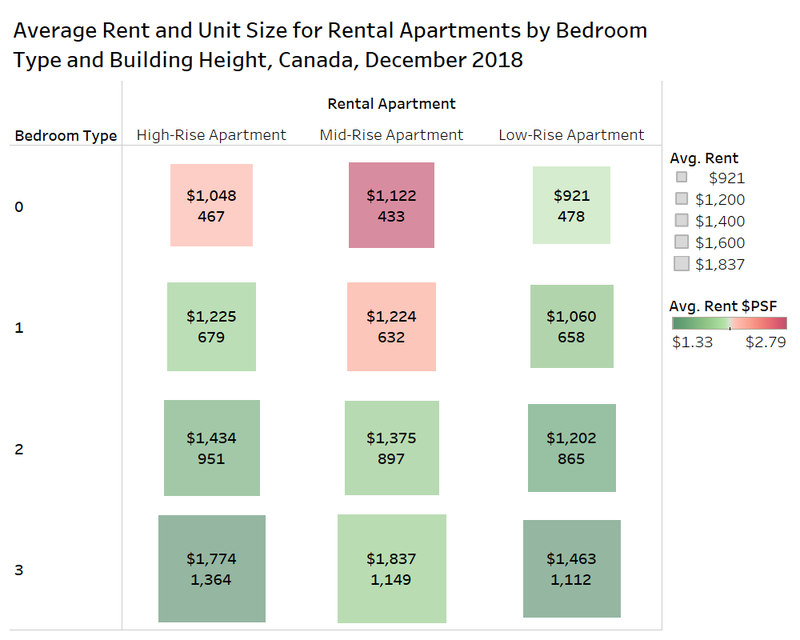 Provincial Rental Rates
On a provincial level, Ontario had the highest rental rates in December, with landlords seeking $2,123 per month on average, a decrease of from $2,144 in November. The median rent in Ontario in December was $2,000 per month.
The Northwest Territories have the second highest rents at $1,811 per month (small sample size), followed by British Columbia at $1,520 per month.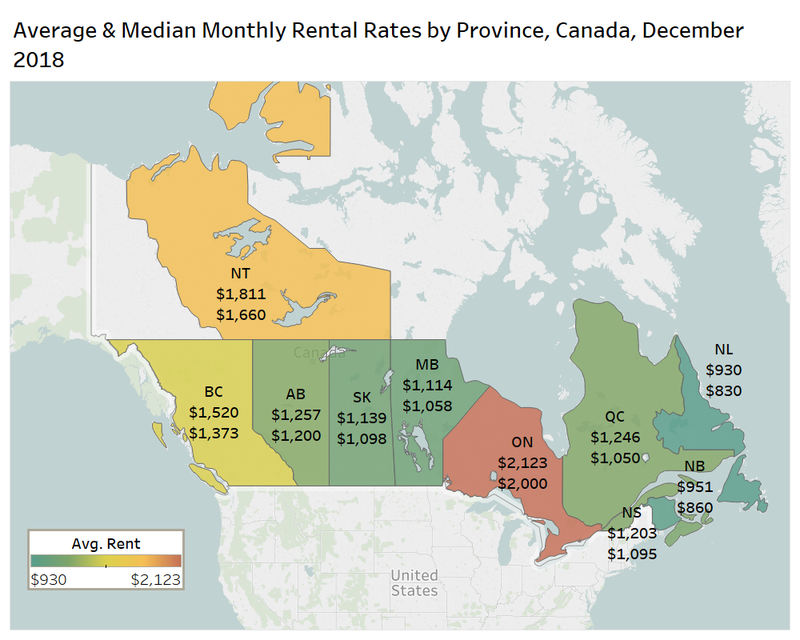 The chart below shows the change in the median rents in the fourth quarter for the provinces with the most Rentals.ca listings. Only Quebec experienced a decline in the median rental rate in December. The chart also shows the stark difference in Ontario rental rates in comparison to the other provinces.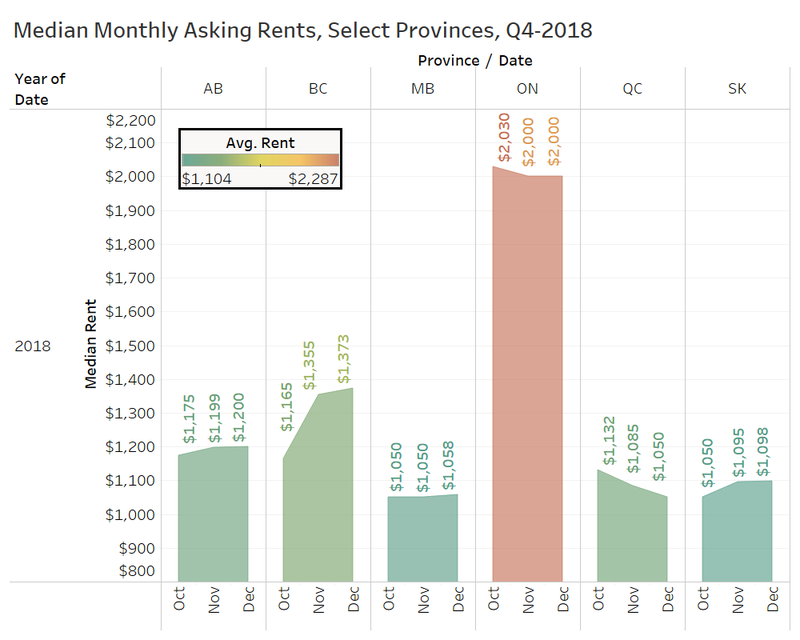 Municipal Rental Rates
On a municipal basis, Toronto had the highest one-bedroom rents in Canada at $2,135 per month in December, virtually unchanged from a month earlier. A number of GTA suburban markets were among the most expensive cities in Canada for renters, with one-bedroom units going for $1,942 per month on average in Oakville, $1,825 in Mississauga, $1,904 in Richmond Hill, and $1,790 in Markham.
The chart below plots a select number of the municipalities based on their median and average rent. The markers show the median rent for all bedroom types, and all built forms. The GTA cities are closely clustered, as are several of the western Ontario cities.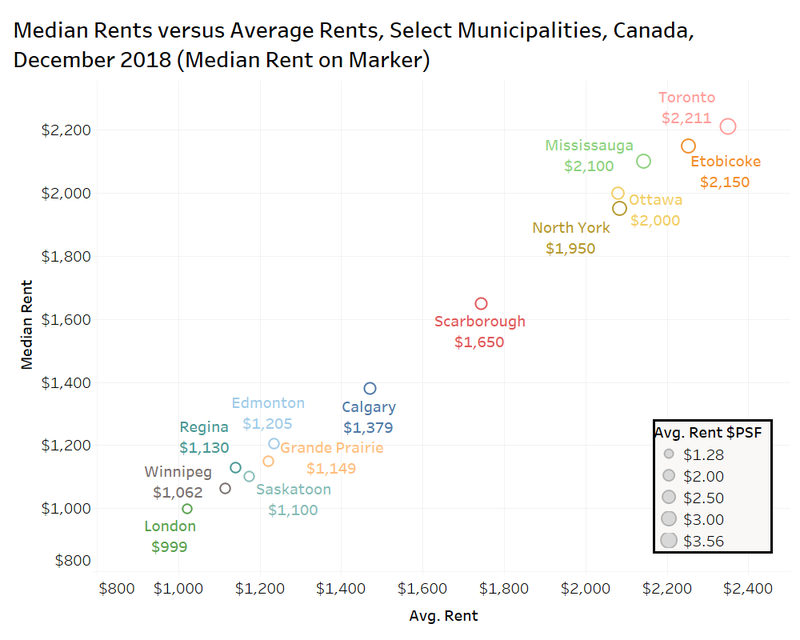 The chart below compares the average unit size for Rentals.ca listings by built form for various municipalities across Canada (for some product types, the sample size is small). Toronto had the smallest single-family and condominium apartments, but surprisingly, Calgary and Edmonton had the smallest rental apartments.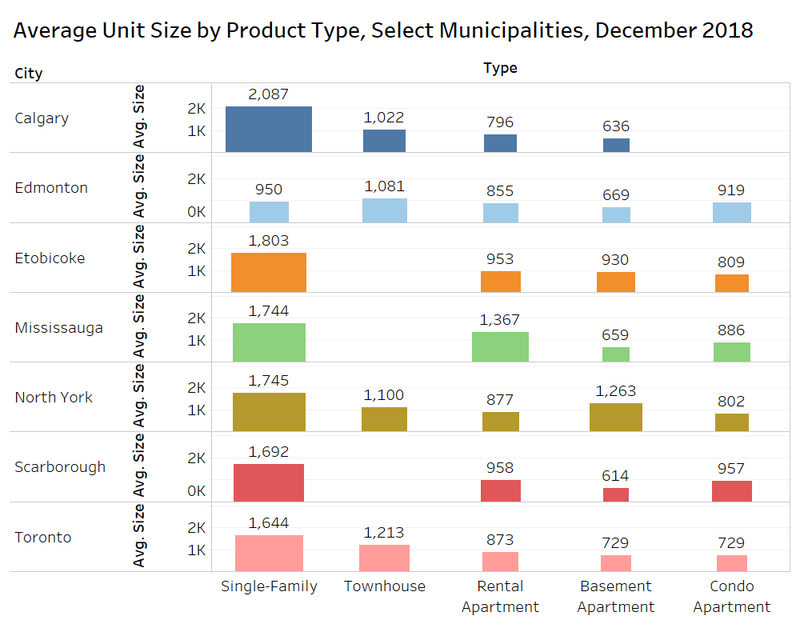 Rental rates for condominium and rental apartments for select cities in Alberta and Ontario are presented in the chart below. In Calgary, Edmonton and Red Deer, average rents increased month-over-month, while all of the GTA municipalities experienced declines. Ottawa was the only major market in Ontario to see a jump in their apartment rental rate in December.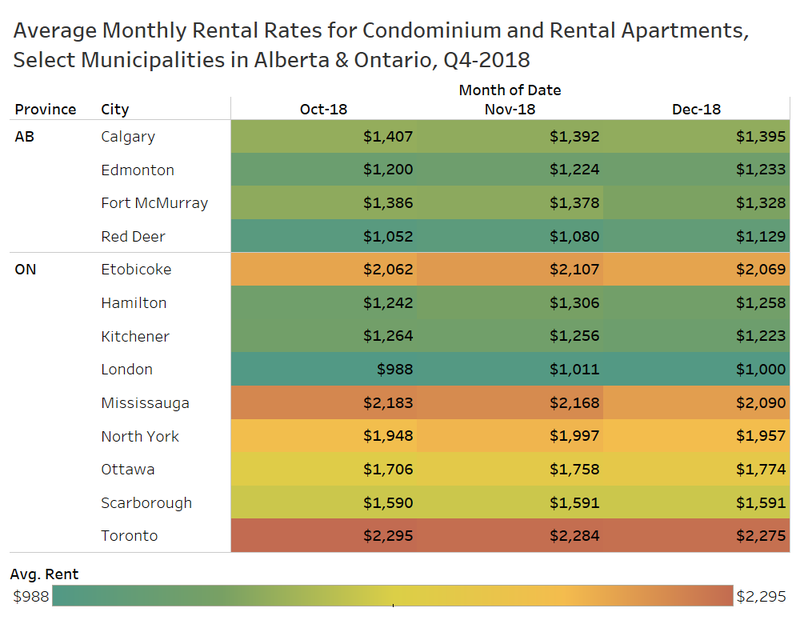 Calgary & Edmonton
According to data from CMHC, the vacancy rate in Calgary declined from 6.3% in 2017 to 3.9% in 2018, the lowest level since 2014. Analysis has shown that vacancy rates above 5% typically lead to rent declines, and vacancy rates below 3% lead to rent increases. In the Rentals.ca forecast published last month, the expectation is for rents to grow by 4% annually in Calgary in 2019. A pick-up in international immigration, and stronger household formation is expected to boost demand for rental accommodation, as a flat ownership housing market has not created a sense of urgency to buy among younger residents. The mortgage stress test has also reduced mortgage credit availability for would-be, first-time buyers.
The average rent for one-bedroom units in Calgary increased 4% month-over-month, while two-bedroom units declined 2%. When looking at only Calgary apartments for rent and including all bedroom types, rates increased from $1,364 per month in November to $1,369 per month in December.
In Edmonton, the vacancy rate declined in 2018, but not the same extent as Calgary, falling from 6.9% to 5.3%. There were just over 1,000 rental apartment completions in the Edmonton CMA in 2018, the first sign that new construction for rental product is slowing after five years in which rental apartment completions fell between 1,900 and 3,400 units (a similar level as the Toronto CMA).
The average rent for one bedroom units in Edmonton increased 1% month-over-month, while two bedroom units grew by 2%. When looking at rental apartments only (and including all bedroom types), rates increased from $1,223 per month in November, to $1,233 per month in December.
The chart below presents rental apartment data on the average monthly rental rate and average rental rate per-square-foot for Edmonton and Calgary from October to December. Asking rents per-square-foot were trending upward in the fourth quarter.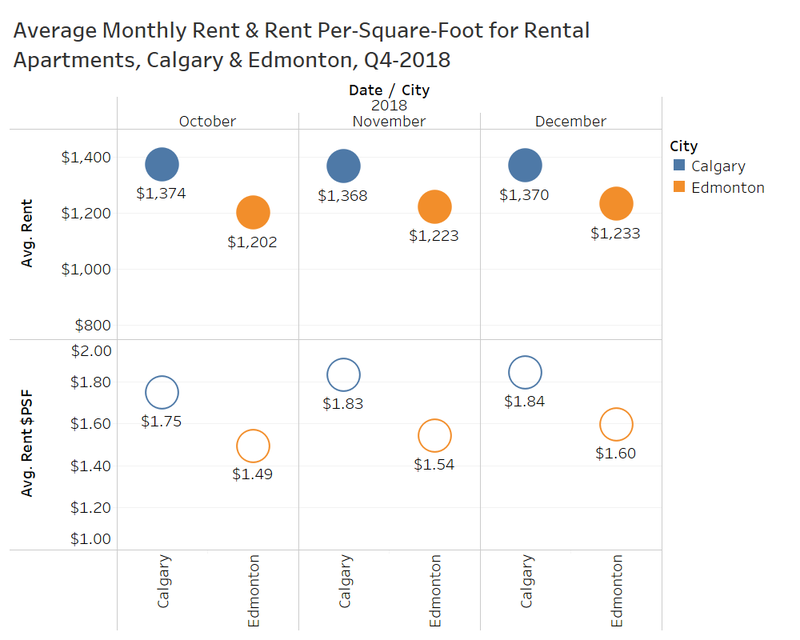 Toronto & GTA
The heat map below shows the average rent for all housing types by postal code in the GTA between October and December 2018 based on listings on Rentals.ca. Average rents range from a low of $600 per month (small sample size that includes basement apartments) to $3,600 a month on the waterfront.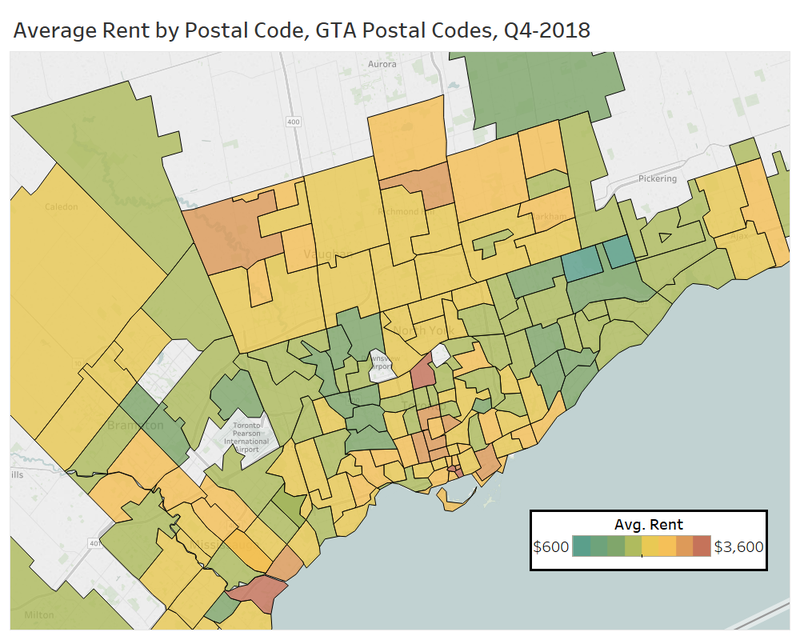 Zooming in on downtown Toronto and looking at listings where the unit size was available, listings range from a low of $1.03 psf to a high of $7 psf. These are asking rents, so landlords asking $6 to $7 psf per month is high, but in some instances the unit may be furnished and the landlord did not indicate this in the listing.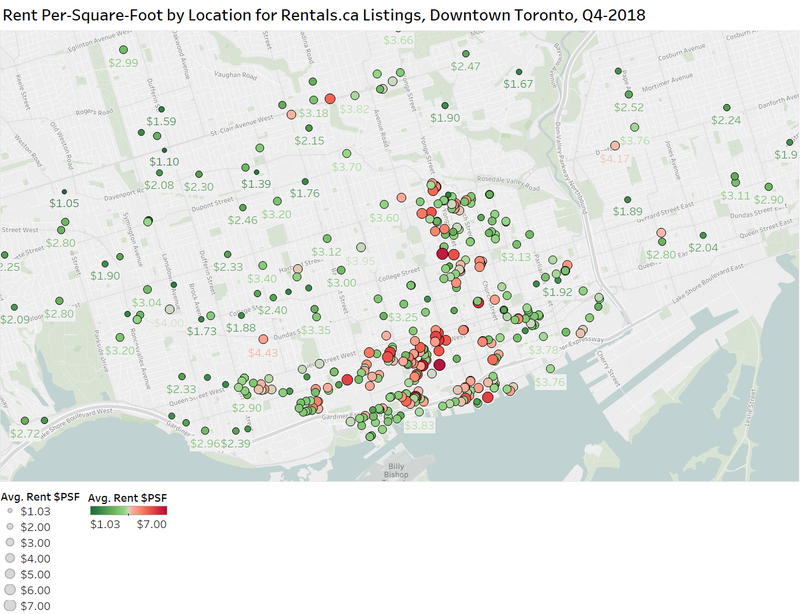 In early 2018, there were few non-studio condominium apartment units listed for rent at over $4.50 psf. Fast forward to the fourth quarter and there were a significant number of condos listed on Rentals.ca for rent between $4.50 psf and $7 psf; see the map below.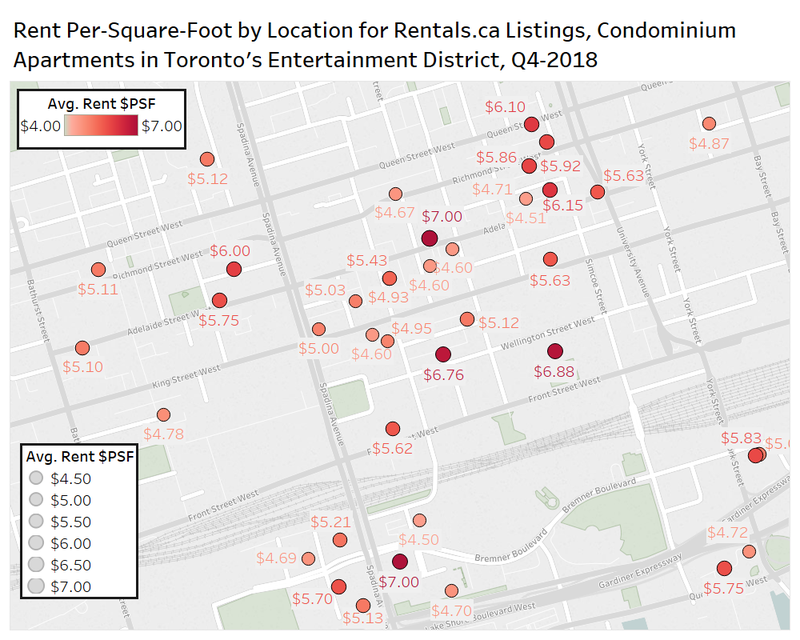 It was recently reported that a significant number of units, specifically this high-tourist area, are being listed on AirBnB, reducing the potential stock of rental units and putting further upward pressure on rental rates. The City of Toronto is looking to restrict usage of AirBnB to only units that are the permanent residence of the owner.
2019 Rental Forecast
Weaker domestic economic data in recent months suggests a further interest rate hike may not occur until the fall of 2019, if at all this year. This rate signal may entice potential first-time buyers to make the jump from rental to ownership, reducing some of the excess rental demand. However, the mortgage stress test and high immigration are expected to continue to put upward pressure on demand in rental markets across Canada, but more apartment completions are expected in Toronto and Vancouver in 2019 than in years past, which should help add much needed supply.
Overall, further rental rate inflation is expected in most major markets in Canada in 2019. Economic fundamentals are expected to stay strong in Ontario and British Columbia next year, while the other western provinces will likely tread water. Based on the forecast prepared by Rentals.ca and Bullpen Research & Consulting in December, we expect the average monthly rental rate in Canada to increase by 6% in 2019. On a municipal basis, we have forecast rental growth of 11% in Toronto, 10% in Mississauga, 9% in Ottawa, 7% in Vancouver and 4% in Calgary. Our forecast for Montreal and Edmonton calls for modest rent increases of 1.3% and 0.3% in 2019.