The average property listed on Rentals.ca was offered for $1,879 per month in January, an increase of 1.3% month-over-month and year-over-year. The median asking rent of $1,800 per month is up over December ($1,779), and up 2.9% from January of last year ($1,749).
For a portion of the listings on Rental.ca, the landlords or owners list the units' size in square feet, this allows for the calculation of monthly asking rent per square foot (psf). The average rent per square foot was virtually unchanged year over year in January at $2.36 psf, while the median rent was up 3.5% annually to $2.07 psf.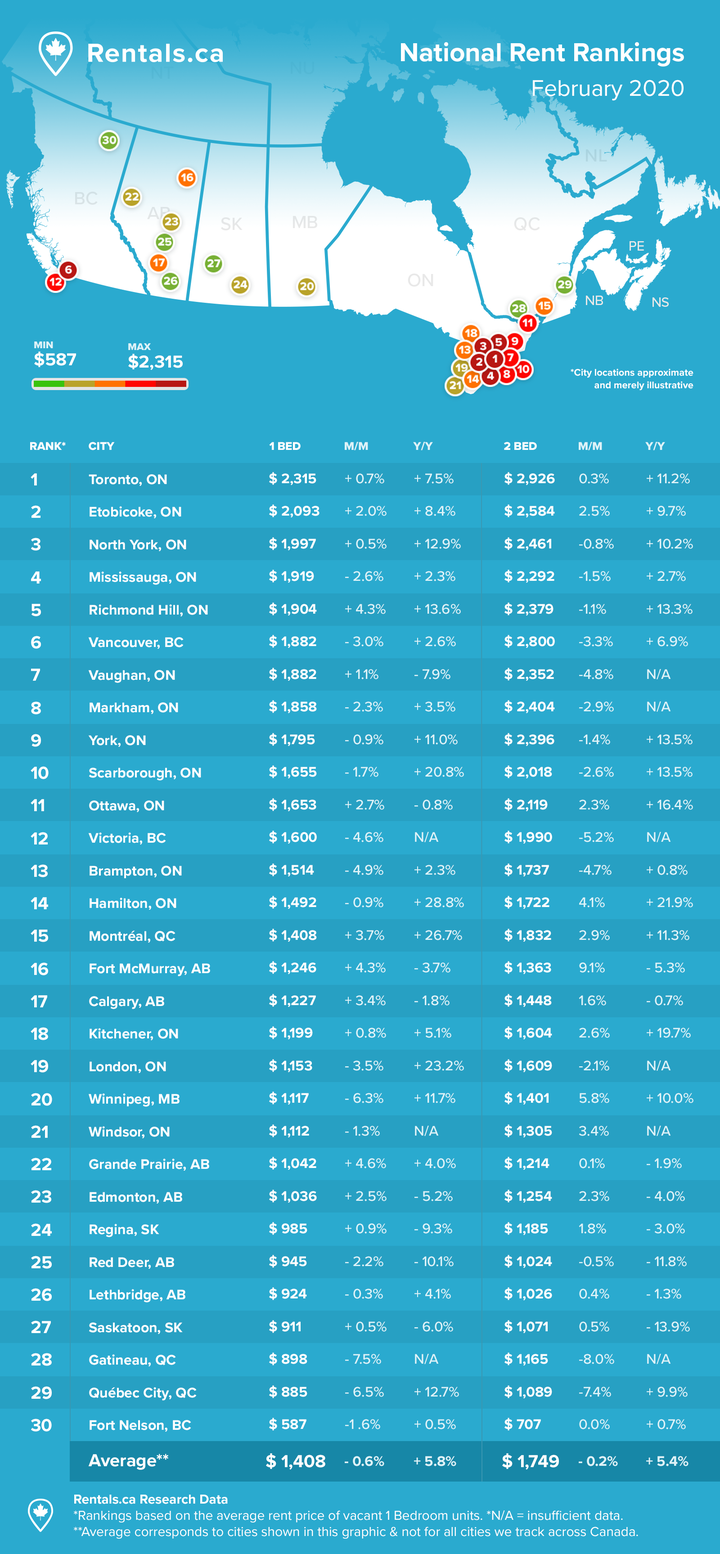 National Overview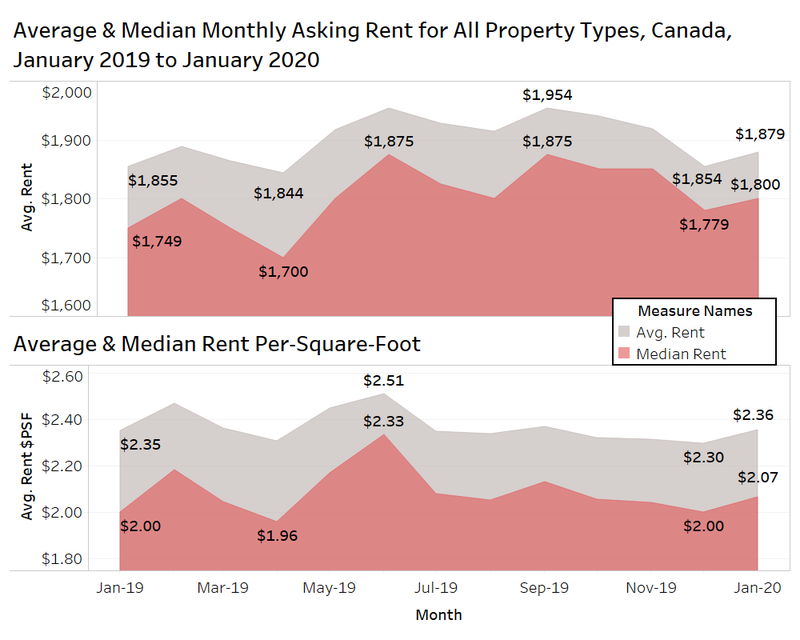 By Property Type
Breaking down the Rentals.ca national data by property type shows the average rent for single-family units (single-detached and semi-detached) was nearly identical year over year, rising from $2,612 per month in January 2019 to $2,614 per month in January 2020.
Condo apartment rents were pretty flat as well on a nationwide basis, rising from $2,441 per month last January to $2,452 per month in January 2020.
Rental apartments experienced annual rent growth of 5% in Canada, rising from $1,463 per month to $1,536 per month.
Because of the small sample size of basement apartments, there is more monthly volatility in the average rental rate, and the data is not ideal for comparisons on a monthly basis.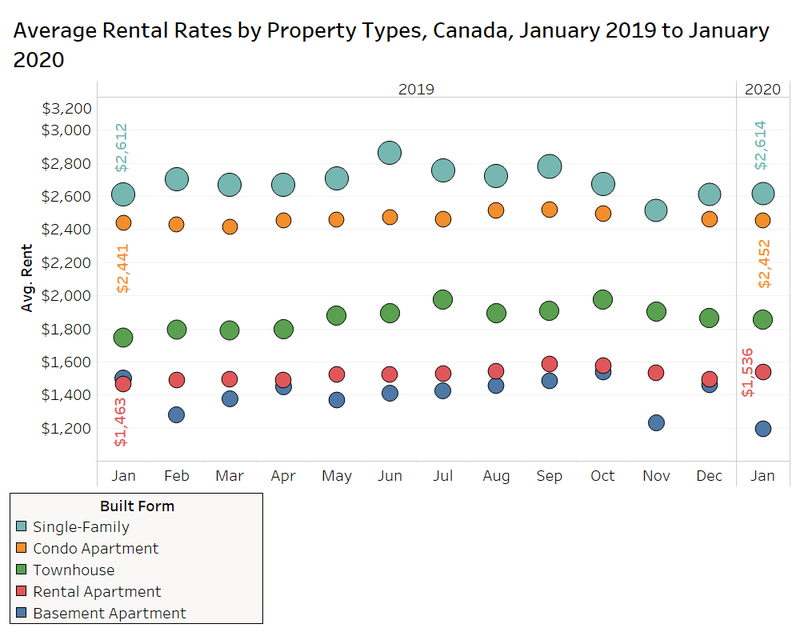 Unit Sizes for Rental Apartments and Condo Apartments in Canada
The chart below shows rental apartment and condominium apartment offerings on Rentals.ca in Canada in January 2019 and January 2020 by bedroom type, with the bars indicating the average unit size. The monthly asking rent and rent per square foot are also shown above the bar.
Overall rental apartments in Canada have seen rents per square foot increase by 6.8% annually from $1.89 psf in January 2019 to $2.02 psf in January 2020. It is worth noting the average unit size has declined by 20 sf year over year to 810 sf, and smaller units typically have higher per-foot rental rates.
Condominium apartments in Canada have actually seen per-square-foot rents decline annually from $3.43 psf in January of last year to $3.34 psf in January 2020 (-2.5%).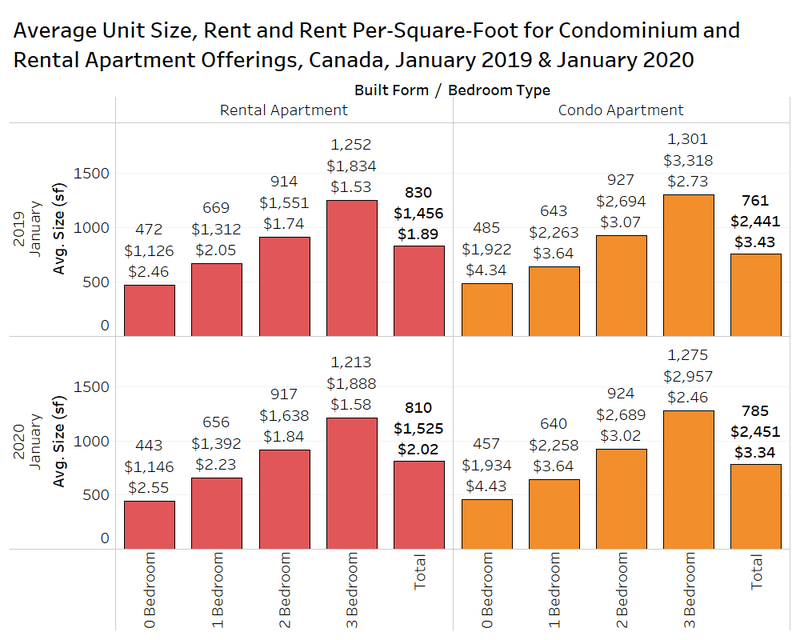 In terms of rent changes by bedroom type, one-bedroom rental apartments experienced annual rent growth per square foot of nearly 9%, followed by two-bedroom units at 5%.
For condo apartments, rent per square foot declined slightly for one-bedroom units, while rents for two-bedroom units declined by 2% annually.
Provincial Rental Rates
The chart below shows the average rent for all property types by province over the past year. Rents have increased significantly in Quebec (+22%) and British Columbia (+17%), but declined in Alberta (-3%) and Saskatchewan (-11%).
Average rental rates in Ontario continue to outpace the other major provinces in Canada, with an average rent of $2,290 per month in January 2020, a 6% increase year over year.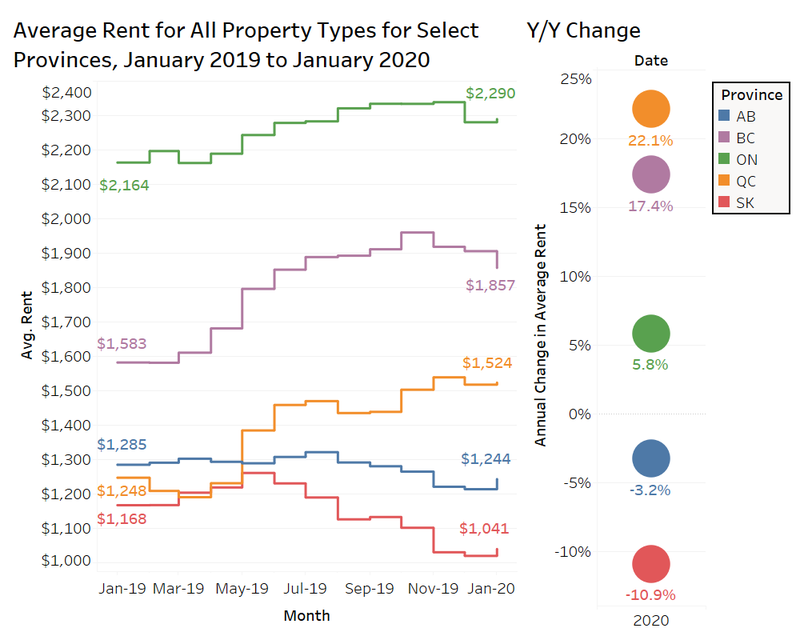 It is important to note that the Rentals.ca listings mix is not consistent from month to month and year to year. Because of the change in the composition of rental listings by property type, this can impact the pace of rental rate growth or decline.
Part of the explanation for the price spike in British Columbia is an increase in listings for the typically more expensive condominium apartments from just 3% to 14% of the provincial total in January 2019 versus January 2020.
The same phenomenon is occurring in Ontario, with condominium apartment rental listings increasing from 32% of total listings in January 2019 to 42% in January 2020. In Quebec, condo listings increased from 3% last year to 11% this year. The increase in condo listings can be partially attributed to an increase in investor activity recently, but probably has more to do with the increased awareness of Rentals.ca among landlords because of media coverage of the monthly data and findings, and improvements to the quality and usability of this website in 2019. Unfortunately, it is difficult to quantify these changes and isolate the impact of the change in the listings sample.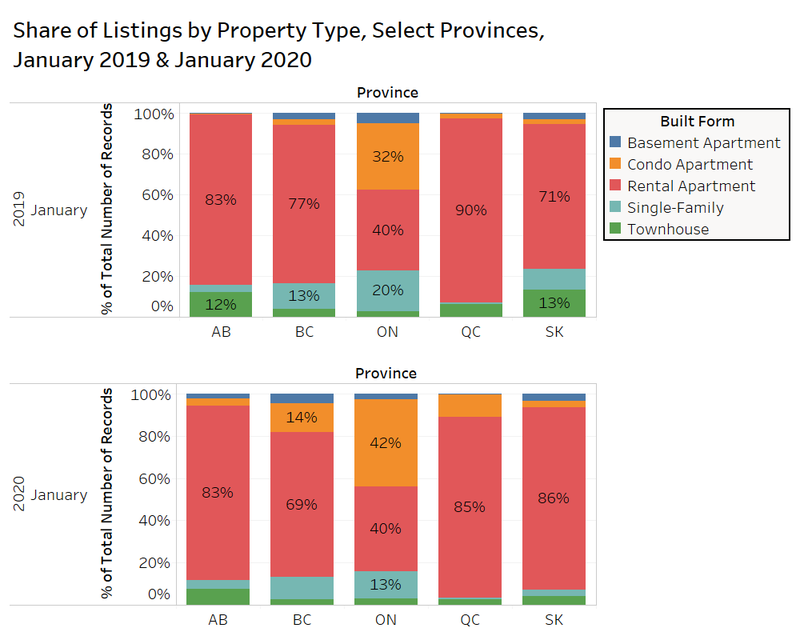 Provincial Rents Per Square Foot
As shown above on a national basis, the chart below looks at average and median rent per square foot by province (rental apartments only) in select provinces over the last three months vs the November 2018 to January 2019 period.
Per-square-foot rents for rental apartments in Saskatchewan, Alberta, and Manitoba have been fairly flat when comparing the two periods, however, British Columbia and Quebec's average rent per square foot are up 16% annually, while Ontario is up 9%.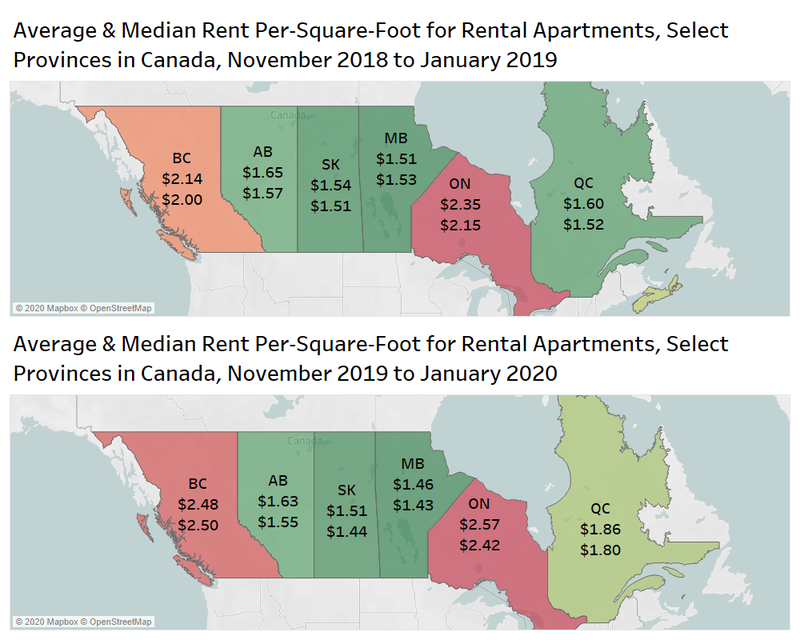 Municipal Rental Rates
Popularity and Rental Rates by Municipality
Where is the most in-demand or popular destination for renters in Canada? For this, we turn to some of Rentals.ca's "Big Data" by looking at pageviews per listing (refer to the chart below which plots the most popular municipalities versus their average rent since January 2019).
Among municipalities with 1,000 or more listings on Rentals.ca since the start of 2019, Ottawa has been the most popular in terms of pageviews per listing at 95. However, despite the interest, rental rates for all property types in Ottawa only increase by 1% annually.
The second most popular municipality in terms of pageviews per listing is Vancouver, which is not surprising given the lack of supply in that marketplace. This was reflected in the rental rate, as the average figure increased by 8% annually.
Not surprisingly, the three municipalities receiving the least attention on Rentals.ca are Edmonton, Regina and Saskatoon, as these cities have experienced rent declines of 5%, 9% and 15% year over year, respectively, from January 2019 to January 2020.
But pageviews is not an exact science, because a listing may receive more pageviews because it spent more time on Rentals.ca due to not being leased. Some listings in Toronto are only up on the site for a couple of days before they lease.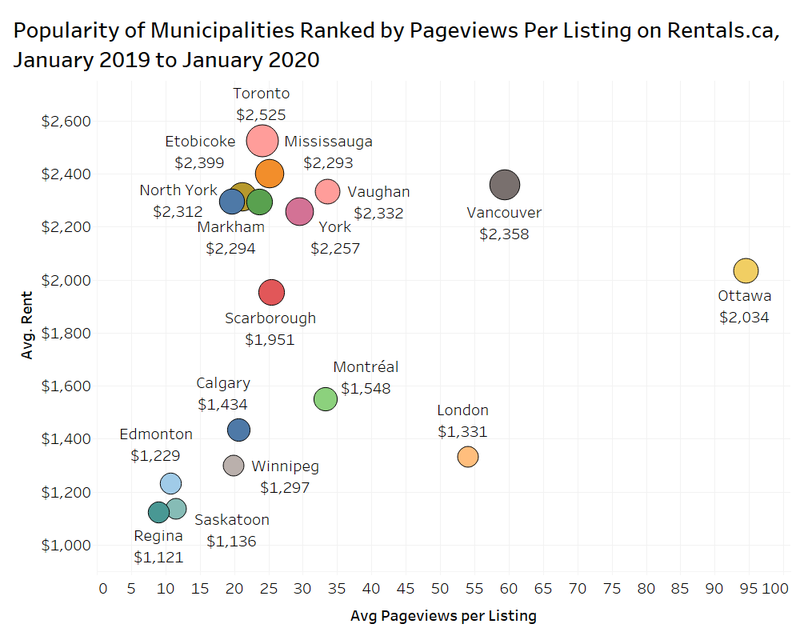 Montreal is also one of the stronger markets on Rentals.ca in terms of pageviews per unit, and that has certainly been felt as it relates to apartment rent growth. The median rent in Montreal for rental apartments was $1,455 per month in January 2020, a 38% increase year over year. In London, which was third in Canada in terms of pageviews per listing on Rentals.ca, has experienced 36% annual rent growth for purpose-built rental apartments.
In third place was Winnipeg with a 23% annual jump, which was boosted by listings for a new high-end downtown rental product.
The median rental apartment had an asking rent of $2,200 per month in Toronto (former City, prior to amalgamation), a 22% increase annually.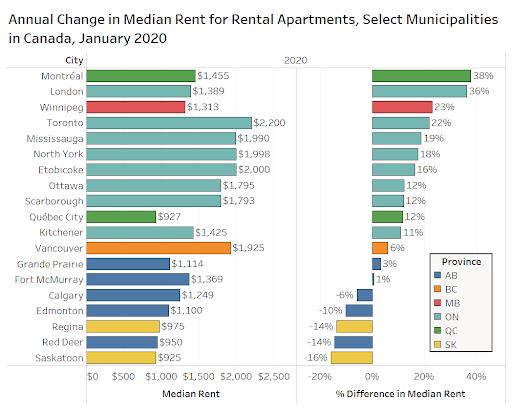 Montreal Insights
Growth in rental rates was relatively tame in 2018, but spiked in 2019. The average rental rate in January of 2020 indicates that the market is still hot. The top half of the chart is a density map that shows the location of all the Rentals.ca listings over the past 13 months in Montreal and the concentration downtown.
The bottom half shows the average rent and average rent per square foot for all property types by quarter (Q1-2020 is January only). The average rent is up nearly $400 per month since the first quarter of 2019 (+29%), with per-square-foot rent up 38%.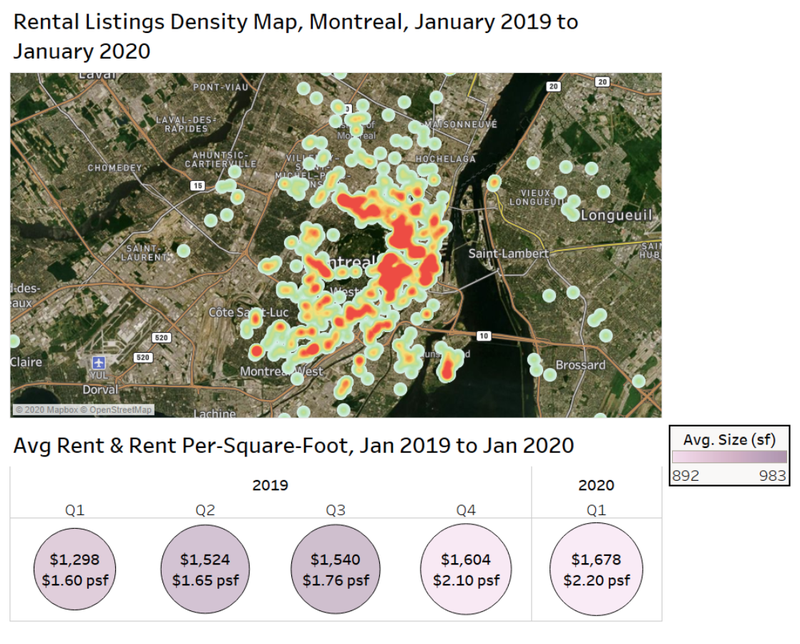 Some of the spike can be attributed to an increase in the number of high-end downtown listings on Rentals.ca in the second half of the year, but to get a better sense of whether the market is appreciating at such a high rate, it is worthwhile looking at average rental rates by neighourhood and individual project, to control for location and age/quality.
Getting more granular and looking at the change in average rental rates for select postal codes in Montreal can provide some additional context on rent growth in the municipality. Keep in mind that the sample sizes shrink, which can lead to volatility.
Rentals.ca partner Local Logic provided the density map below with pricing and listing view insights.
"We see that renters in Montreal keep on searching for lower cost of living, and they're willing to search outside of central areas to find affordable housing" says Vincent-Charles Hodder, CEO of Local Logic.
While rental prices on the island keep on climbing, renters' search for lower pricing is stronger than ever; listings with a lower price tag get viewed by many more users. On the graph below Red shows higher prices and green shows lower prices, while the average number of users seeing a listing is reflected in the height of the bars. We can quite clearly observe that listings in areas outside of the more expensive downtown core of the city are viewed by more searchers, who are still interested in affordable housing. Another possible driver for this difference may be the short time listings stay online in highly competitive areas (around Plateau Mont-Royal, downtown and Mile-End), leading to less people viewing them on average.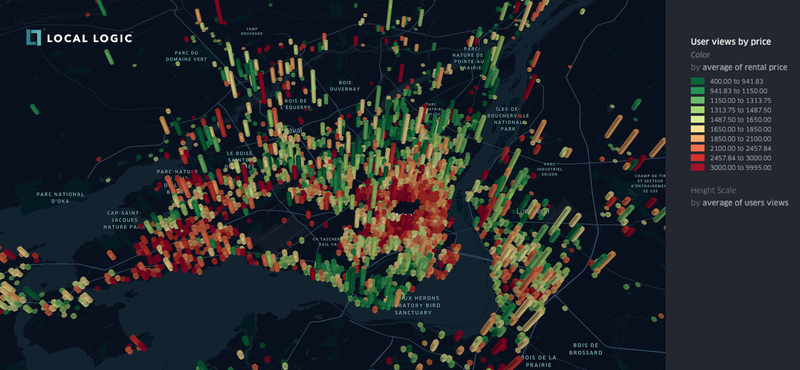 The map below shows there are a couple of postal codes including H4B and H3H that have experienced rent growth of over 30%, and five other postal codes with increases ranging from 15% to 25%. However, there are two notable postal codes that experienced annual rent decreases, including H2Z and H3G. Unfortunately, the chart does not shed any additional light on the true conditions in the market, even when controlling for the area within Montreal.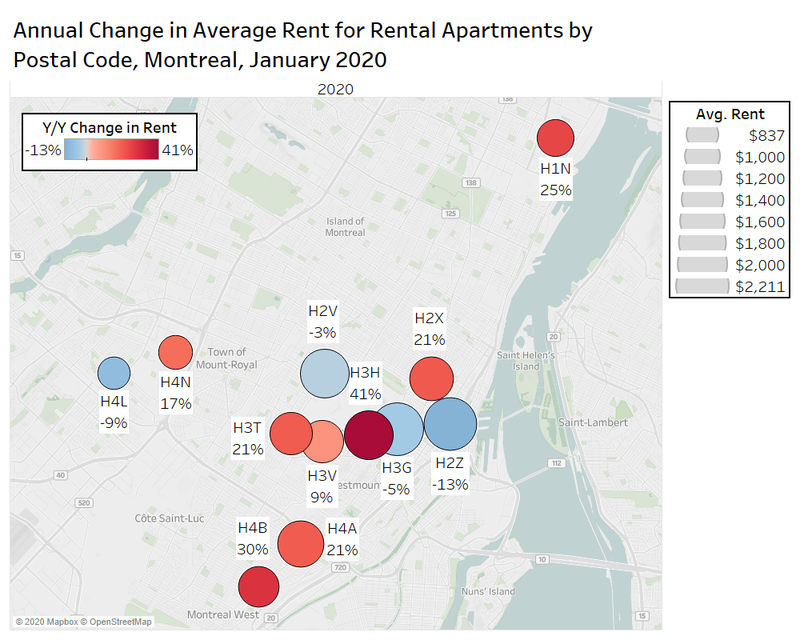 We can try to get even more location and property-type specific by looking at the same buildings in both time periods to try to get a better idea of how fast rents are going up. The chart below looks at rental apartments with at least two listings in January 2019 and January 2020 in Montreal. On average, rents were up 13% annually in these 14 buildings, considerably less than the 30% plus that is shown for the market overall. That said, this is very strong growth for a market that typically hasn't experienced double-digit rent inflation in the recent past.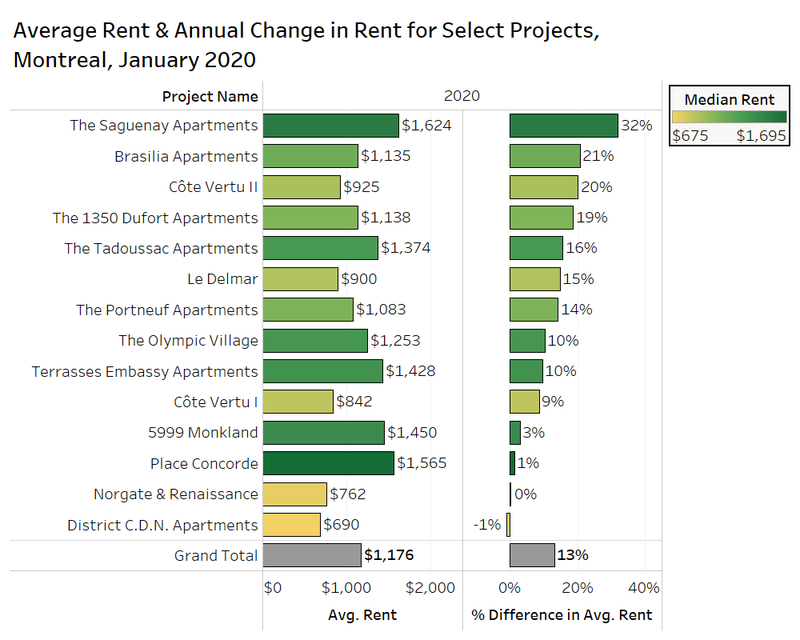 Toronto Insights
There has been much discussion recently about the condo investor market, with another 26,000 new condominium apartment sales in the GTA in 2019. However, the focus has again fallen on the downtown Toronto market, and whether investors should pay high prices for units given the slowdown in rent growth.
According to listings data from Rentals.ca, the average condominium apartment for rent in the former City of Toronto was available for $3.85 psf in January 2020, an increase of just 1% over January 2019 ($3.81 psf). The average rent was $2,636 per month, an increase of just 0.5% year over year.
However, as discussed in the section on Montreal, the listings data is not consistent every month and every year on Rentals.ca, so attempts must be made to try to compare data on a more apples-to-apples basis. The chart below looks at the most active projects on Rentals.ca in the City of Toronto (includes a couple projects in Etobicoke) that had listings in both January 2020 and January 2019.
Of the 15 projects shown, seven experienced a decline in average rents per square foot year over year. This data does not control for the number of bedrooms, balcony size, view, or the floor the unit is on. Overall, these 15 projects experienced rent growth of 2.2%.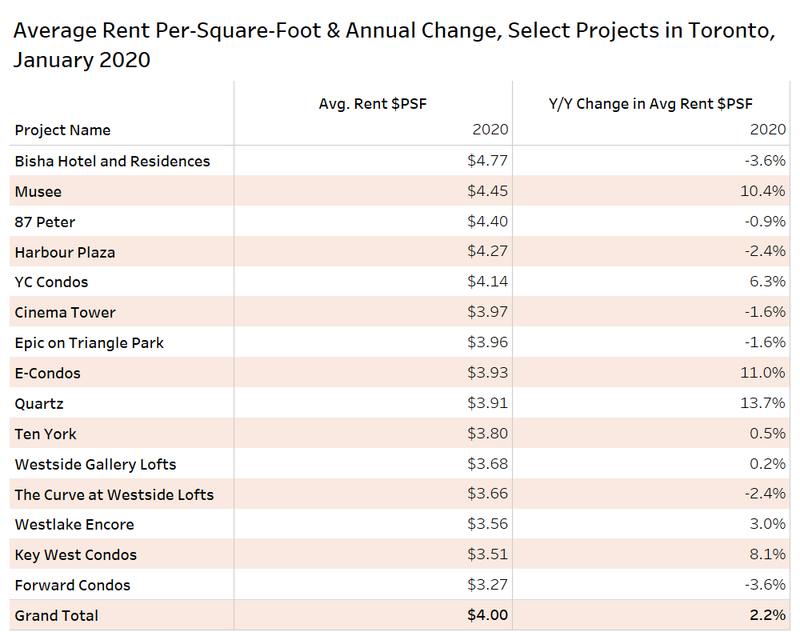 Conclusion
Following three consecutive months of decline, the average rental rate in Canada increased month over month in January by 1.3% to $1,879 per month as measured by listings data on Rentals.ca (all property types), but remains well below the fall 2019 high average rate of $1,954 per month in September 2019. On an annual basis, average rents nationally are up just 1.3%, in line with Rentals.ca and Bullpen Consulting's call for more muted rent growth in 2020.
Rental apartments experienced annual rent growth of 5% in Canada, rising from $1,463 per month to $1,536 per month.
Several municipalities are experiencing almost unexplainable annual rental growth rates. Several of these markets are very hot and units are available for a very short time, and the sample of listings is completely different from one year to the next. The opening of one or two luxury rental buildings with a lot of listings can skew the entire municipality until those buildings are leased and stabilized.
There has been a pick-up in resale housing activity in several major Canadian cities, and this increase in transaction activity likely includes a number of tenants buying their first homes, which should free up more rental supply, and keep rental rate inflation more muted in 2020.