The average rent for all Canadian properties listed on Rentals.ca in July 2022 was $1,934 per month, up 10.4% annually, and up 2.6% monthly. The average rental rate is now just $20 per month cheaper than the market peak in September of 2019.
Rentals.ca August 2022 Rent Report
1. National Overview
The median rental rate was $1,799 per month in July 2022, up from $1,750 in June of this year, and up 9% from the $1,649 per month in July of last year.
The chart below shows the average (red) and median (black) monthly rent for all property types: single-family housing (singles and semis), townhouses, rental apartments, condominium apartments, and basement apartments by month over the last three years.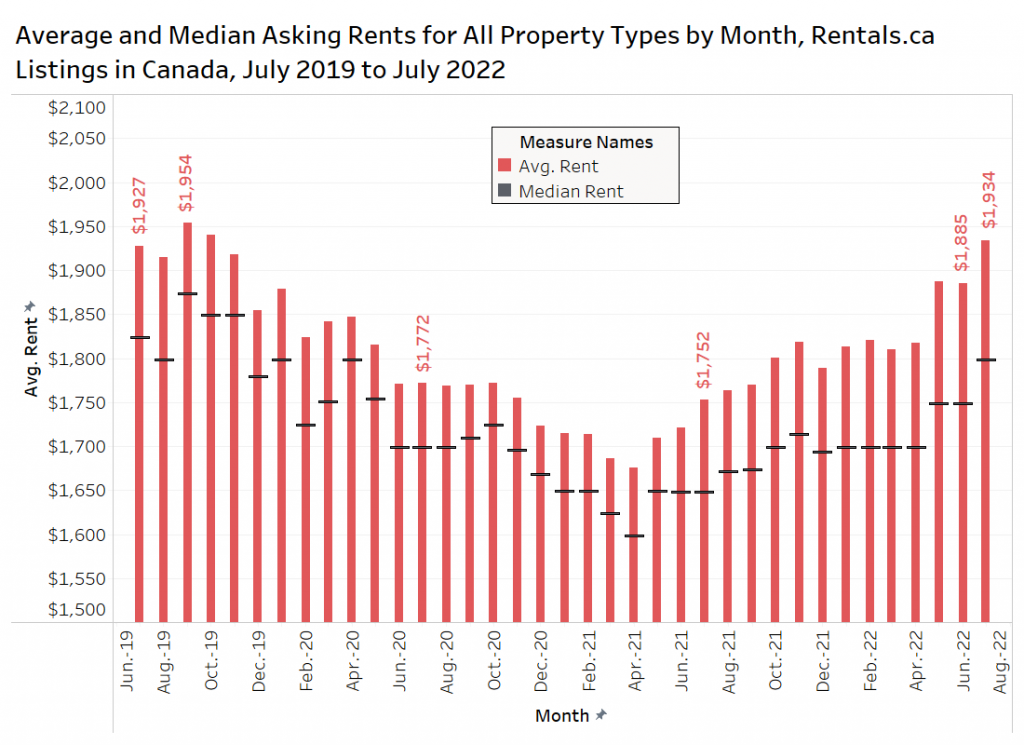 The market peaked in September 2019 at $1,954, falling 14.3% to a low of $1,675 in April of 2021. The average rental rate has since increased by 15.5%.
Average Rent by Property Type and Month
The chart below shows the average rent and year-over-year change in average rent by month in 2022 organized by property type.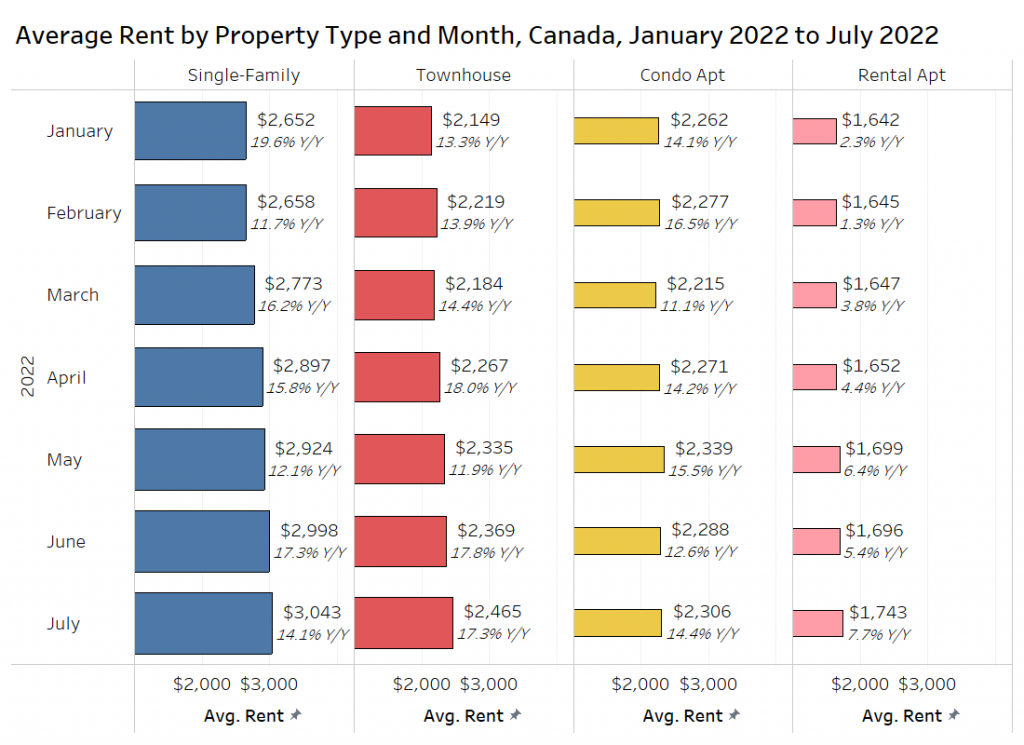 The most expensive units are single-family homes, with landlords asking $3,043 per month on average in July of 2022, an increase of 14.1% year over year. Since January 2022, the average rent for single-family homes has trended up, increasing by $391 since January.
Townhouses have seen average rental rates increase by 17.3% annually to $2,465 per month, the highest rate of year-over-year growth of all property types analyzed. Condo apartments had the second highest year-over-year increase in average rents of 14.4 per cent
Rental apartments, which make up the majority of the listings on Rentals.ca, experienced a year-over-year increase of 7.7% to $1,743 per month in July 2022. Since the start of the year, the average rent steadily increased each month to current levels, with a number of new projects starting their leasing program recently boosting the average rent level in July.
2. Provincial Overview
On a provincial level, British Columbia had the highest rental rates in July 2022, with landlords seeking $2,590 per month on average (all property types); a small increase of 0.6% monthly and 19% annually.
Ontario had the second highest rental rates in July 2022, averaging $2,332 per month. This is an increase of 3.1% monthly, and 15.2% annually.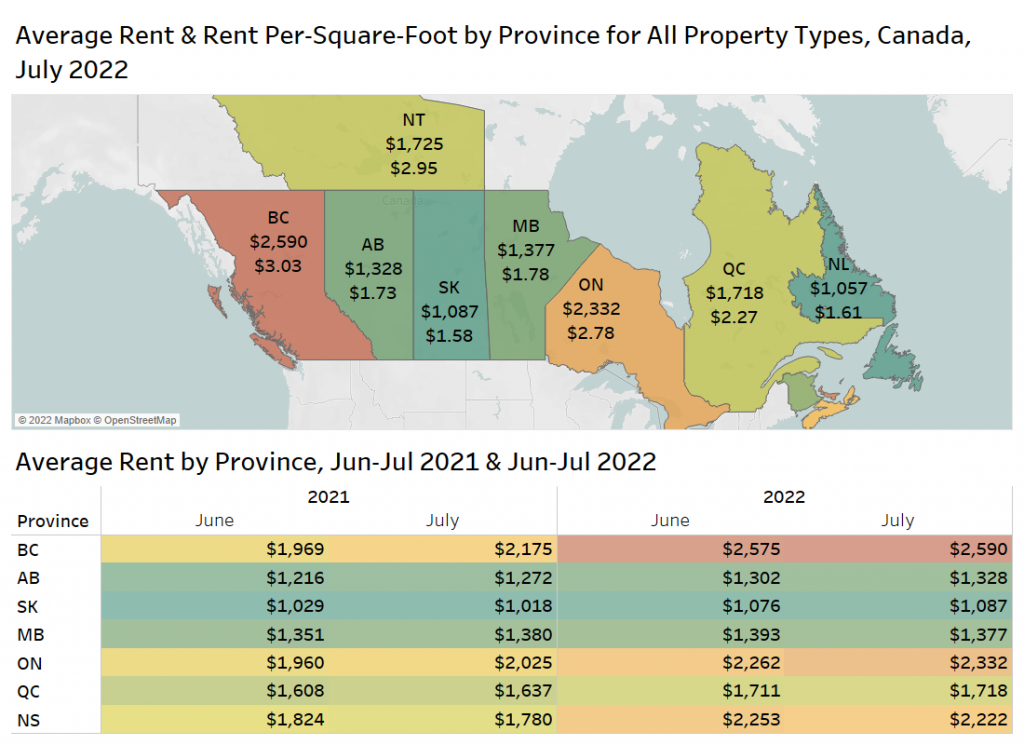 Average rents are up on a year-over-year basis for six of the seven provinces surveyed, with Manitoba being the exception, where rent was essentially unchanged ($1,380 to $1,377). However, Manitoba rents on a per-square-foot basis increased by 3.4% annually from $1.72 to $1.78. Nova Scotia's rent is up 25% annually, topping BC at 16% and Ontario at 15%.
On a monthly basis, 2022 and 2021 are similar in that the majority of the provinces experienced month-over-month increases in average monthly rental rates from June to July. In 2021, Saskatchewan and Nova Scotia experienced monthly decreases, while in 2022 Manitoba and Nova Scotia experienced a month-over-month decrease.
Average Rent by Property Type and Bedroom Count
The chart below shows average rent levels by bedroom type in select provinces for apartments by tenure: condominium apartments (top) and rental apartments (bottom). The data includes one- and two-bedroom suites only. The annual change in average rent is marked below the average rent.
British Columbia experienced significant increases in average monthly rent for both one- and two-bedroom condo units, at 23% and 32% respectively. Ontario also had strong condo rent growth at 20% for one-bedroom suites and 15% for two-bedroom suites.
In Ontario, the average annual rent inflation for one and two bedroom rental apartments eclipsed growth in all the other provinces, with year-over-year increases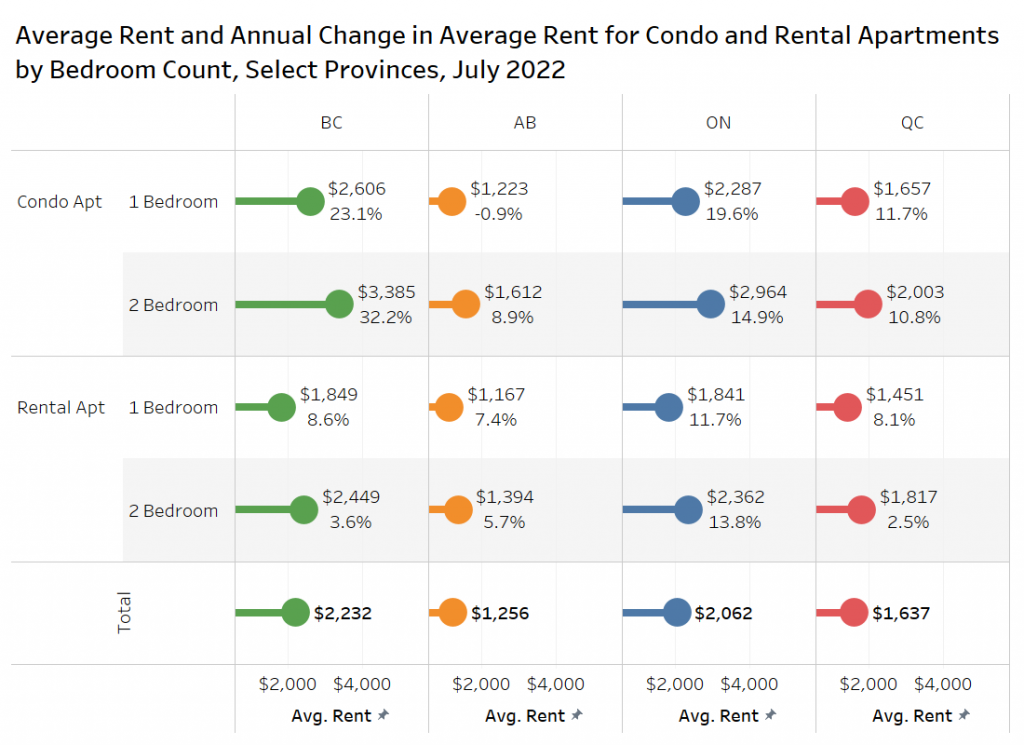 Condos for rent have a significant premium over rental apartments, with British Columbia condo apartment landlords asking 41% more for a one-bedroom suite on average than rental apartment landlords. Two-bedroom units with condo tenure in British Columbia are 35% more expensive than two-bedroom apartments with rental tenure.
In Ontario, the condo premium is 23% for one-bedroom units and 25% for two-bedroom units, compared to 14% and 11% for ones and twos in Quebec, respectively.
3. Municipal Rental Rates
The chart below presents data on the average rental rates by municipality and area in Canada for July 2021 and July 2022 for all property types, with the annual percent change in average rent shown on the right (Toronto is the former City of Toronto, pre-amalgamation).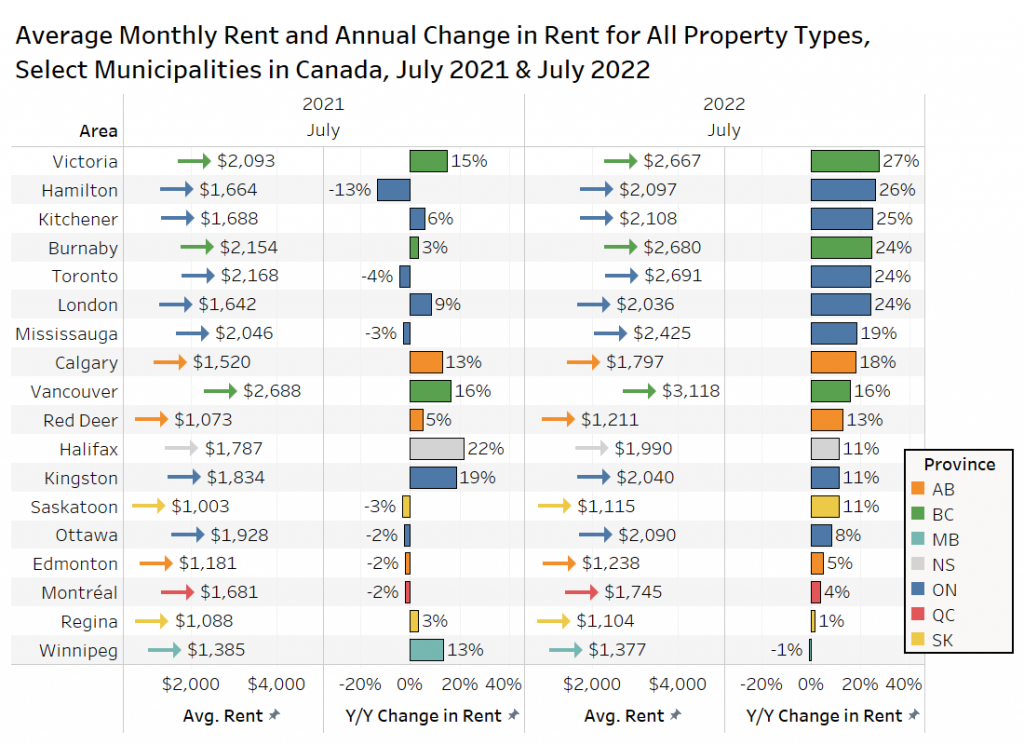 Of the 18 municipalities shown in the chart above, only Winnipeg has experienced a decline in average rent annually, declining 1% from $1,385 per month in July 2021 to $1,377 per month in July 2022.
Victoria topped the list with annual rent growth of 27%, followed by Hamilton at 26%, and Kitchener at 25%. Toronto and Burnaby both experienced rent growth of 24% year over year.
Two of the least expensive rental markets in the country, Red Deer and Saskatoon, saw average rents for all property types jump by double-digits from July of last year to July of this year at 13% and 11%, respectively.
Rent Per-Square-Foot for Condo and Rental Apartments by Municipality
The chart below looks at the average rent per-square-foot in select municipalities and former municipalities for condo and rental apartments from July 2020 to July of this year.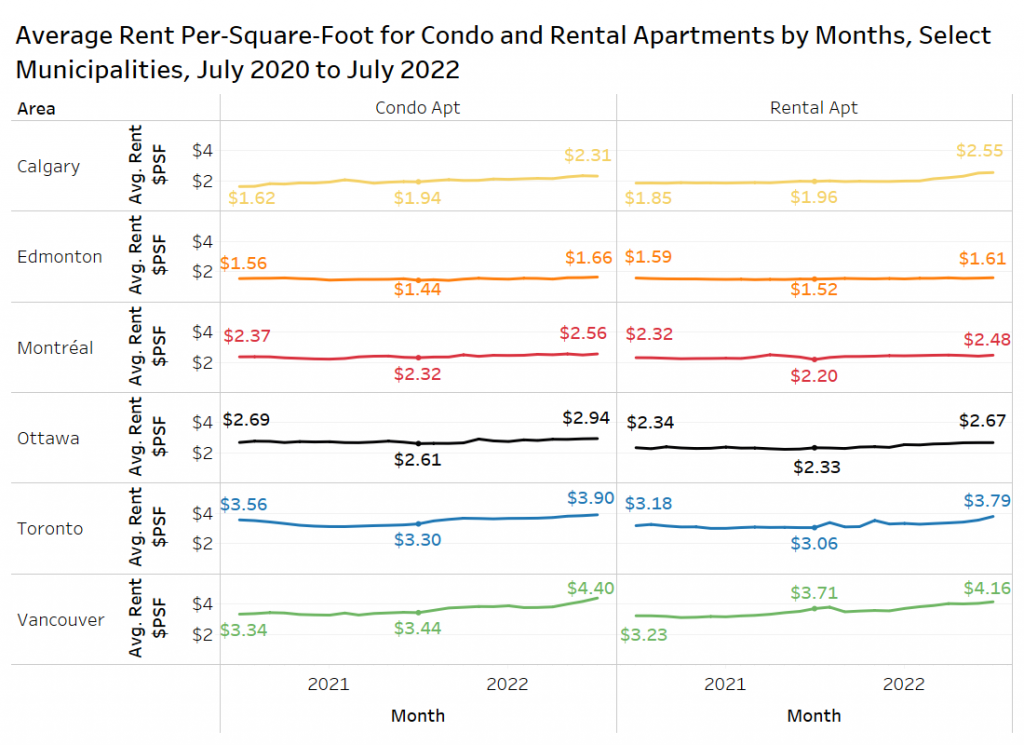 It should be noted that not all properties on Rentals.ca have their square footage included in the listing by the owner or landlord, so this data is based on a smaller sample size. It also tends to skew high based on the fact that newer properties are more likely to have their unit sizes known.
Condo apartment rents per-square-foot increased by 20% annually in Calgary, and are now up 43% since July 2020. These increases are only topped by Vancouver at 28% annual growth and 32% rent inflation over the past two years. In Toronto condo rents per-square-foot increased by 18% annually from July 2021 to July 2022 (to $3.90), but that represents an increase of just 9% over the past two years.
For rental apartments, Calgary has the highest per-square-foot rent growth, with the average rising 30% annually to $2.55, and 38% over the past two years. Vancouver rental apartments have annual rent growth of 12% to $4.16 per square foot, which is 24% higher than July 2020 ($3.34 per square foot). In Toronto, apartment rents have picked up significantly over the past year, moving up 24% to $3.79 per square foot, and are now 19% higher than July 2020 ($3.56 per square foot).
Share of Rentals.ca Listings by Property Type
There has been much discussion over the past 18 months regarding investors, investment trusts, hedge funds and other asset managers backed by institutional capital buying single-family housing for rent. The Rentals.ca listings data currently shows that single-family housing is a small part of the total rental market, with 5.8% of total listings in Canada in 2020, and 4.7% in 2021. Through the first seven months of 2022, single-family housing makes up 5.9% of listings nationwide. According to the last Census, single-family homes make up about 57% of all residential dwellings in Canada.
The next chart looks at those market shares in Canada's major municipalities.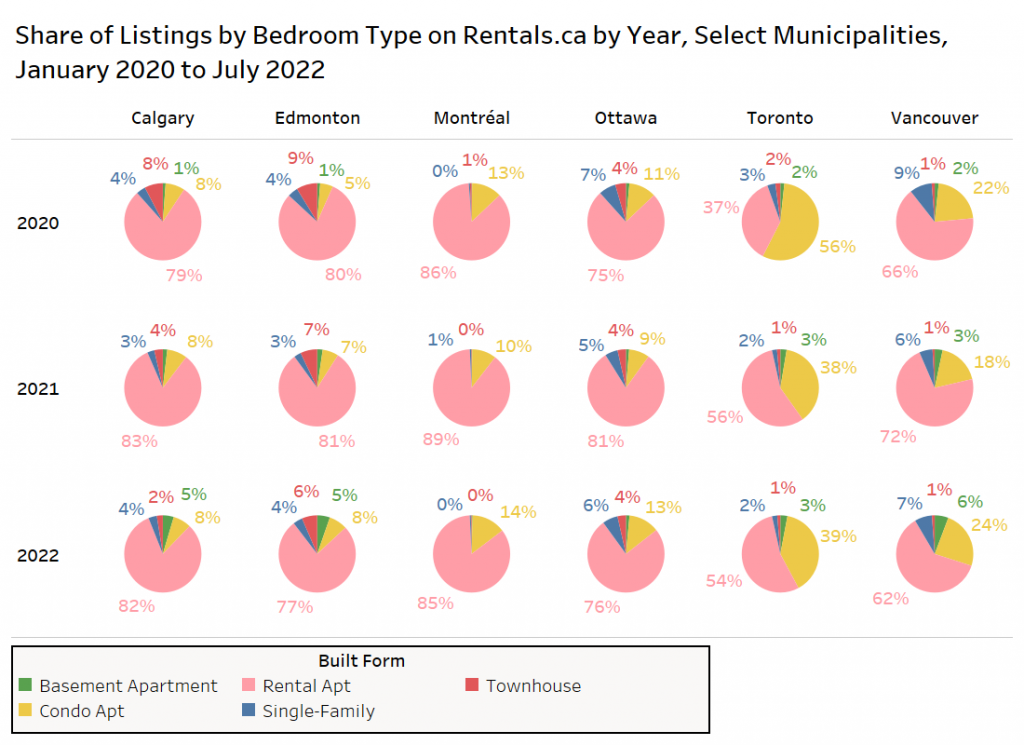 Approximately 7% of rental listings in the City of Vancouver year-to-date in 2022 are single-family homes, the highest of any of the municipalities, with Toronto at just 2%. Ottawa is the second highest at 6%, topping both Calgary and Edmonton at 4%.
None of the markets has experienced a significant increase in the share of single-family homes in 2022 compared to last year.
Average Rent for Single-Family Housing by Year and Municipality
As affordability has eroded due to higher home prices, and higher interest rates have increased the projected monthly obligations for potential buyers, investors see a bigger opportunity to rent out single-family properties because of rising rents and increased demand.
The chart below shows the average rent and average rent per-square-foot for single-family properties in five municipalities: Vancouver, Calgary, Edmonton, Toronto and Ottawa.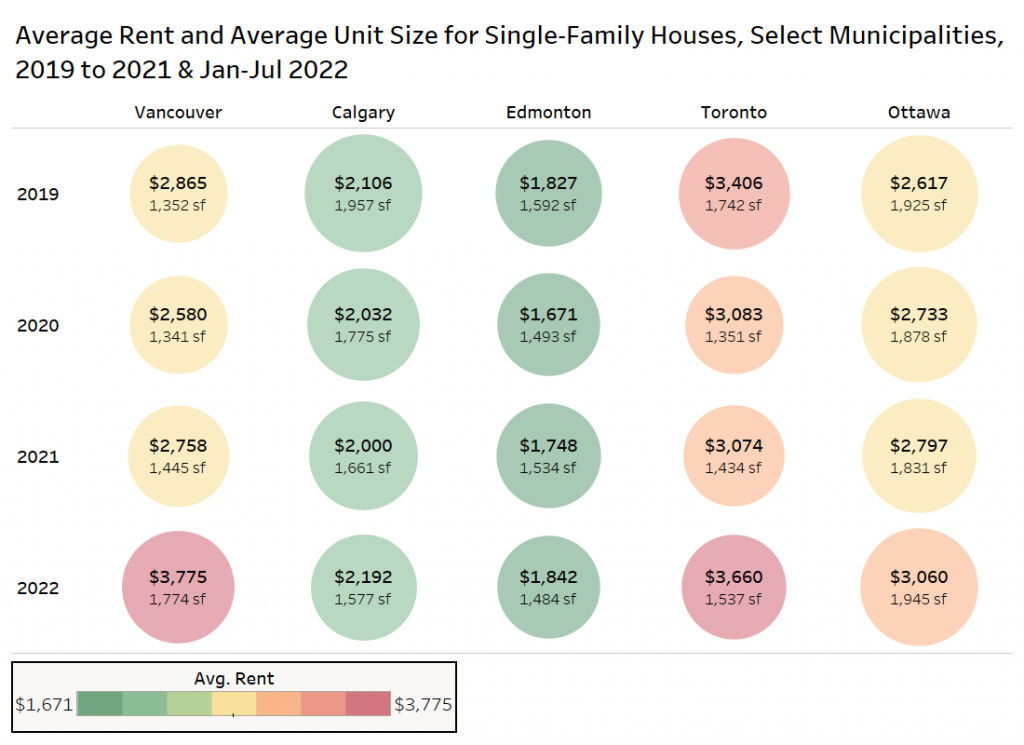 The average rent for single-family homes fell year-over-year in four of the five municipalities in the pandemic-impacted 2020, with the exception of Ottawa, where rents increased by 4.4% annually.
Through the first seven months of this year, all five municipalities have higher rents in 2022 than 2019, 2020 or 2021. Vancouver single-family rents are up 37% in 2022 over 2021, and 32% over the 2019 average. Toronto is up 19% annually, with the year-to-date 2022 average up 7% over the 2019 figure.
In Ottawa this year, single-family homes have seen rents increase 7% annually and 17% since 2019.
Toronto Condo Apartment Rent Per-Square-Foot versus Unit Size by Year of Completion
The chart below shows the average rent per-square-foot plotted against the average unit size for condominium apartment listings in the former City of Toronto by the year the buildings were completed. Buildings completed over the past 20 years are included, with the rental data covering the January 2022 to July 2022 period.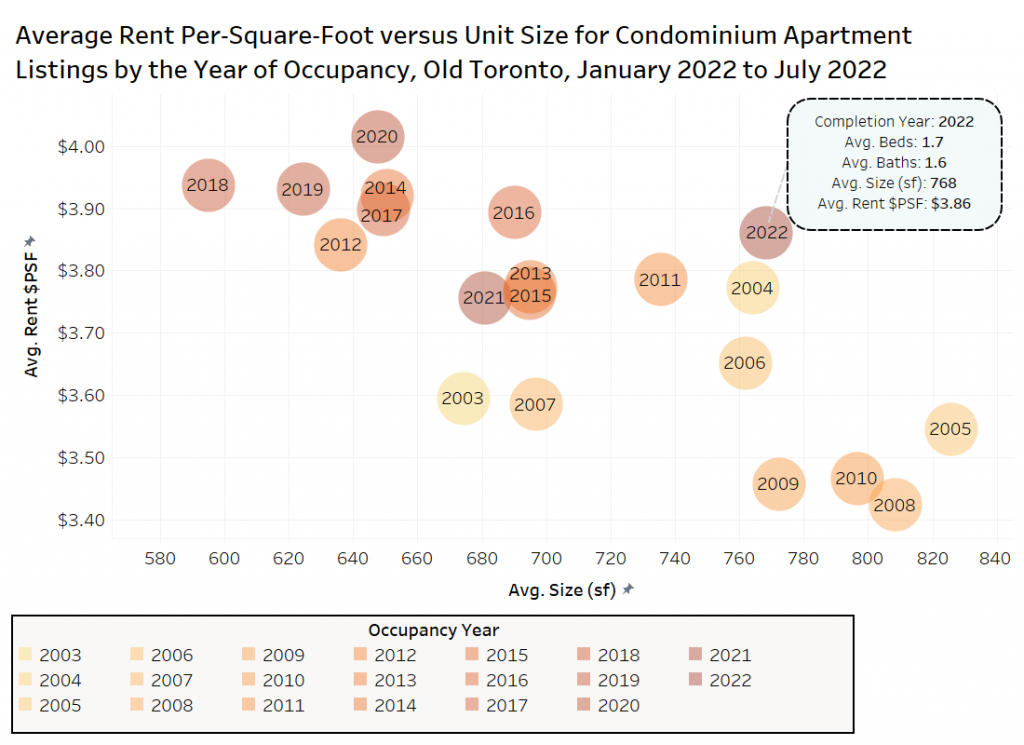 In terms of rent this year, the most expensive units on a rent per-square-foot basis are buildings completed in 2020 at $4.02 based on an average unit size of 648 square feet.
The smallest listings on average are in the 2018-completed buildings at 595 square feet, with average rent of $3.94 per square foot.
The condo unit sizes in 2022 are slightly larger at 768 square feet. The average unit has 1.7 bedrooms and 1.6 bathrooms, and is offered for rent at $3.86 per square foot. The one potential explanation for the larger unit sizes this year is the fact that the resale housing market has softened, so some of the larger units that an investor may have sold at completion are offered for rent as the owner waits out the recent slump. The second explanation is that one of the building completions this year that is in the Annex area has a lot of larger units, and the 2022 figure is skewed by that one project.
4. Conclusion
The average rent for all property types based on Rentals.ca listings is now up by double-digits annually after rising 2.6% month over month in July 2022. However, average rents are still slightly below the previous market peak in late 2019 before the pandemic.
The two major factors impacting rental rates is the continued return to the office which has boosted rents in the most expensive central markets in Canada, and the recent increase in interest rates which reduces the affordability of ownership housing, and causes uncertainty for would-be buyers worried about future price declines.
Immigration remains elevated, and the unemployment rate nationwide remains near historic lows, so despite some recession fears, the rental market demand remains strong. When breaking out the data by property types domestically, condo apartments, townhouses and single-family homes have seen average rents climb by 14% to 17% annually, which is fueled by increased demand for higher-end properties by more affluent tenants who are holding off buying, but also by more expensive supply added to the rental market by homeowners who are putting off selling as the ownership housing market continues to see price corrections and stagnant pricing.
British Columbia and Ontario rents are up 15%-16% annually, which is below Nova Scotia at 22%, which continues to see tenant demand from previous residents returning to the province and working from home. Ontario continues to see significant annual rent growth in municipalities outside the GTA, with 24% to 26% monthly rent inflation in London, Hamilton and Kitchener.
Despite fears of large corporations buying single-family housing to rent out, less than 6% of all rental properties listed on Rentals.ca are single-family dwellings, up from 2021, but virtually unchanged from 2020. But record-high rents for single-family properties in 2022 will attract investors if house prices continue to decline.
The pace of growth in the rental market will continue to be impacted by interest rate increases, and how many units of ownership housing units are listed for rent as would-be sellers become discouraged with the state of the resale housing market and put off listing their property for sale.
Rentals.ca Data
The data used in this analysis is based on monthly listings from Rentals.ca. The data is much different than the more familiar numbers collected and published by Canada Mortgage Housing Corporation (CMHC).
Rentals.ca data includes basement apartments, rental apartments, condominium apartments, townhouses, semi-detached houses and single-detached houses, where CMHC's primary rental data only includes rental apartments and rental townhouses. CMHC collects some data on the secondary market, but it is reported separately.
The CMHC rental rates are based on the entire universe of purpose-built rental units in Canada (the stock), while Rentals.ca data is primarily based on the asking rents of vacated units only (the flow) — this is a smaller sample size, but more representative of the actual market rent a prospective tenant encounters. The Rentals.ca data set typically produces much higher rental rates in comparison to CMHC, as vacated units are not subject to rent control.
The average and median rental rates via Rentals.ca can also skew higher than CMHC's data for several reasons: The inclusion of larger and more expensive unit types like singles, row units and condos; the survivorship bias (overpriced units remain in the sample longer); and the multiple listings of the same property at different rent levels every month.
It should also be noted that properties listed for above $5,000 a month and below $500 a month are eliminated from the sample of units analyzed. Also, short-term leases, single-room rentals, and furnished rental units are eliminated from the sample where identifiable.