National Rental Rates
The average property listed on Rentals.ca in July was offered for rent for $1,928 per month, a decrease of 1.3% month over month. The median asking rent in July of $1,825 per month is also down from June ($1,875). 

Rent Percentiles
In July, the Canadian Centre For Policy Alternatives (CCPA) published a report entitled "Unaccommodating – Rental Housing Wage in Canada" in which they looked at the hourly wage full-time workers must earn to be able to rent an average two-bedroom apartment using no more than 30% of their income. The report also looked at how many hours a week someone making a minimum-wage would have to work to afford the average-priced one-bedroom apartment and two-bedroom apartment (again using no more than 30% of their gross income). 
Not surprisingly, this report showed how unaffordable the rental market is in Canada. The CCPA used rental data from the Canada Mortgage & Housing Corporation (CMHC), which in many markets is artificially low because of rent control, so the situation is actually much worse for a tenant looking for a rental unit, as opposed to a tenant already living in a rent-controlled unit. 
Secondly, the minimum wage analysis by CCPA was interesting, but it is not likely that someone making a minimum wage salary would be living in a suite at the average rent level, and should that really be the expectation? A much more insightful analysis would look at the 10th percentile of available rental suites in the market, to see if an individual making a minimum wage could afford the "less expensive" suites. 
The chart below shows the 10th, 25th, 75th and 90th percentiles for asking rents in Canada using Rentals.ca listing data since October 2018. The 10th percentile of rent in October was $900 per month, which has risen to $975 per month as of July 2019, this 8.3% growth rate is higher than the other three percentiles shown (the 75th percentile is up 6.3% since October). 
Affordability for low-income renters is getting worse, as 10th percentile rent inflation is very high.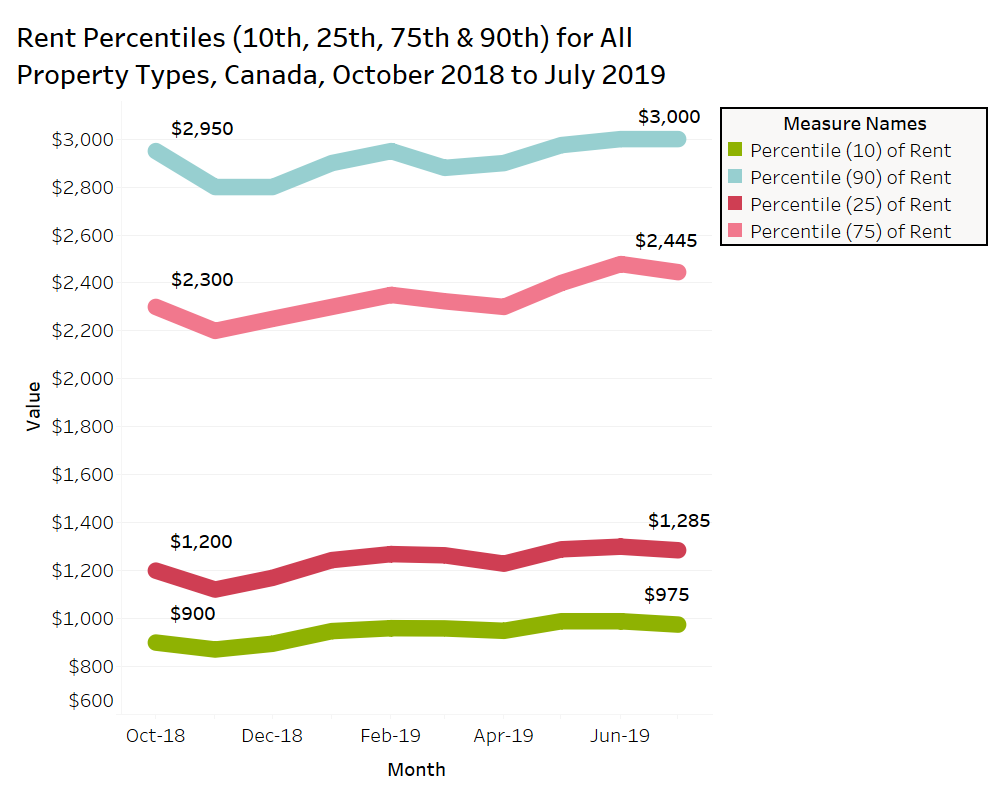 If $975 per month is 30% of someone's monthly income ($3,250) and the employee works 40 hours a week for four weeks (160 hours), that worker would need to make $20.31 per hour to afford the 10th percentile unit in July 2019. This is an increase from $18.75 in October 2018, which aligns with the CMHC rental data used in CCPA's Unaccommodating report.
If a Canadian made only $13 per hour, he or she would have to work 62 hours a week to afford the 10th percentile unit. 
The CCPA data only looked at apartment rental rates (both condominium and rental tenures) for one-bedroom and two-bedroom units, and determined a tenant in Toronto would need to make $27.74 to afford the average one-bedroom unit and $33.70 to afford the average two-bedroom unit. In reality, it is much worse than that because the CCPA uses rents artificially low due to government policy. The analysis should focus on what someone would need to earn to rent vacant units only, the actual market rent levels.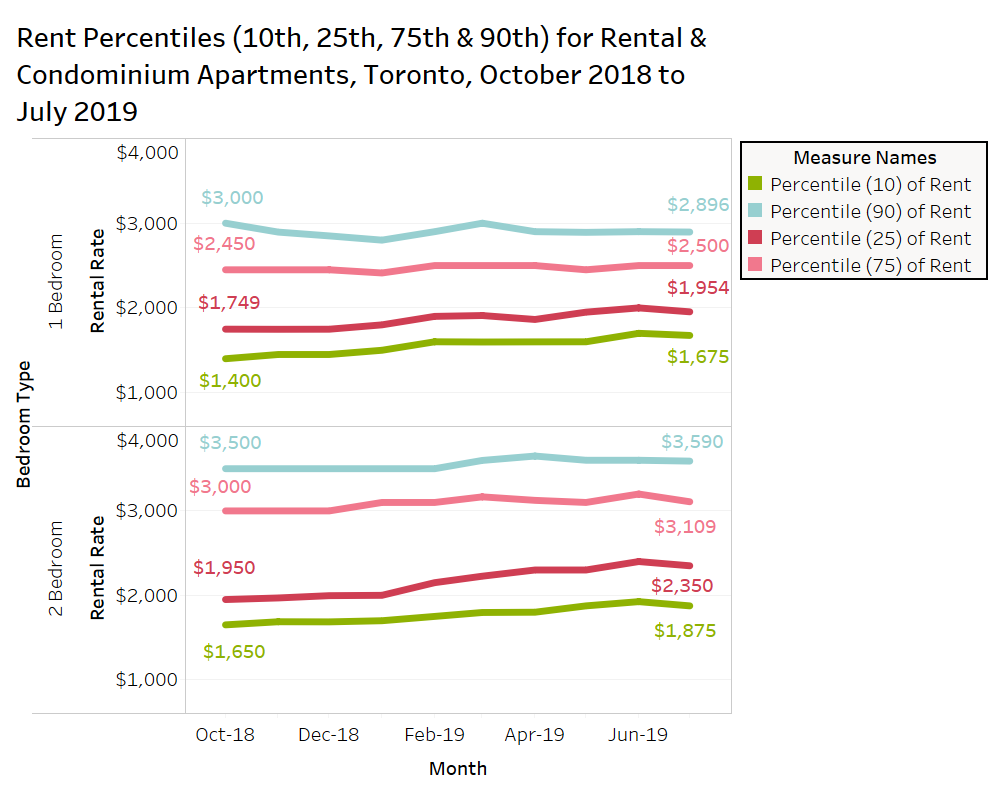 The 10th percentile rent for one-bedroom apartment units in Toronto (condo and rental tenure) is up 20% since October 2018, while the 10th percentile two-bedroom apartment is up 14%. Luxury apartment rent levels have been relatively flat over the same time period.
For the 10th percentile one-bedroom unit, a tenant would need to make $34.90 per hour to afford this unit based on monthly rent accounting for 30% of the tenant's gross income, up from $29.17 in October. For the 10th percentile of two-bedroom units, a tenant would need to earn $39.06 an hour in July 2019, up from $34.38 in October 2018. 
For the 25th percentile one-bedroom, the wage rises to $40.70 per hour, and the 25th percentile two-bedroom unit requires a wage of $48.96. Someone making a minimum wage of $14 would need to work 20 hours per day, seven days a week to afford the 25th percentile two-bedroom unit.
Rental Rates by Built Form
Rental rates for single-family properties (single-detached and semi-detached) declined month over month by $100 from June to July (-3.5%) in Canada overall using listings data from Rentals.ca, while condominium apartment rents also declined monthly by a more modest $15 (-0.6%). Townhouses, rental apartments and basement apartments all experienced monthly gains.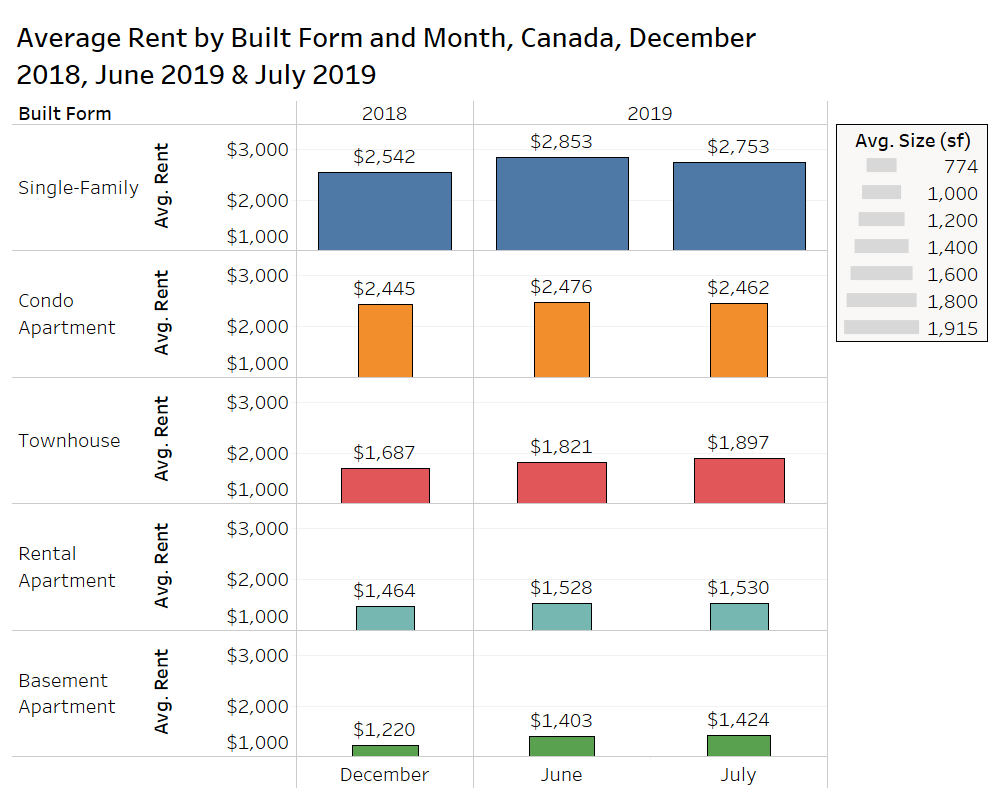 The Rentals.ca official forecast for the 2019 rental market in Canada called for annual growth of 6%. The expectation was the average property for lease nationally would be $1,861 in December 2019, but at the end of July, the market is already up 8.5% since December. 
On a property-type basis, basement apartments are up 17%, townhouses are up 13%, single-family properties are up 8%, rental apartments are up 5% and condo apartments are up 1%. 
Another factor to consider when looking at the rent levels above is how many bedrooms these properties have and how large the units are on average. The chart below presents data on those two metrics for July 2019. 
The average single-family unit for rent is likely much smaller than the overall stock of single-family product nationally, as investors tend to focus on smaller, more affordable singles and semis to lease out at about 1,900 square feet (sf) on average. These singles have 3.3 bedrooms on average. 
The townhouses are quite small as well at under 1,300 sf on average (2.8 bedrooms). 
Rental apartment listings on Rentals.ca in July are slightly larger than condominium apartment listings at 839 sf versus 818 sf, and both tenures are nearly the same in terms of their average number of bedrooms at 1.6 and 1.5 for rental apartments and condo apartments, respectively.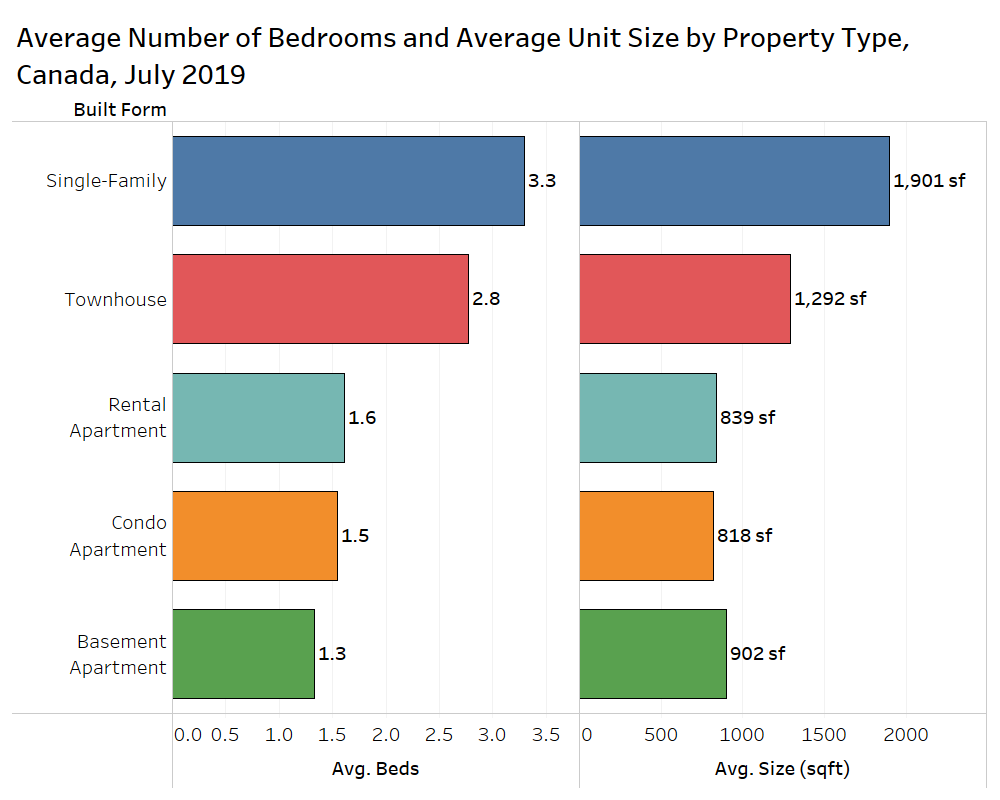 Floor Premiums
Landlords list the unit number for rent in many of the listings on Rentals.ca, those unit numbers can be used to estimate which floor the rental property is on in condominium apartment buildings. 
This data can be used to analyze how much more tenants are willing to pay to live on a higher floor in Canadian condos. The chart below looks at a scatter plot of those July listings with the asking rent on the vertical axis and the floor number on the horizontal axis. The colour of the marker indicates the rent level, the size of the marker indicates the number of bedrooms and the grey dotted line is the linear trend line.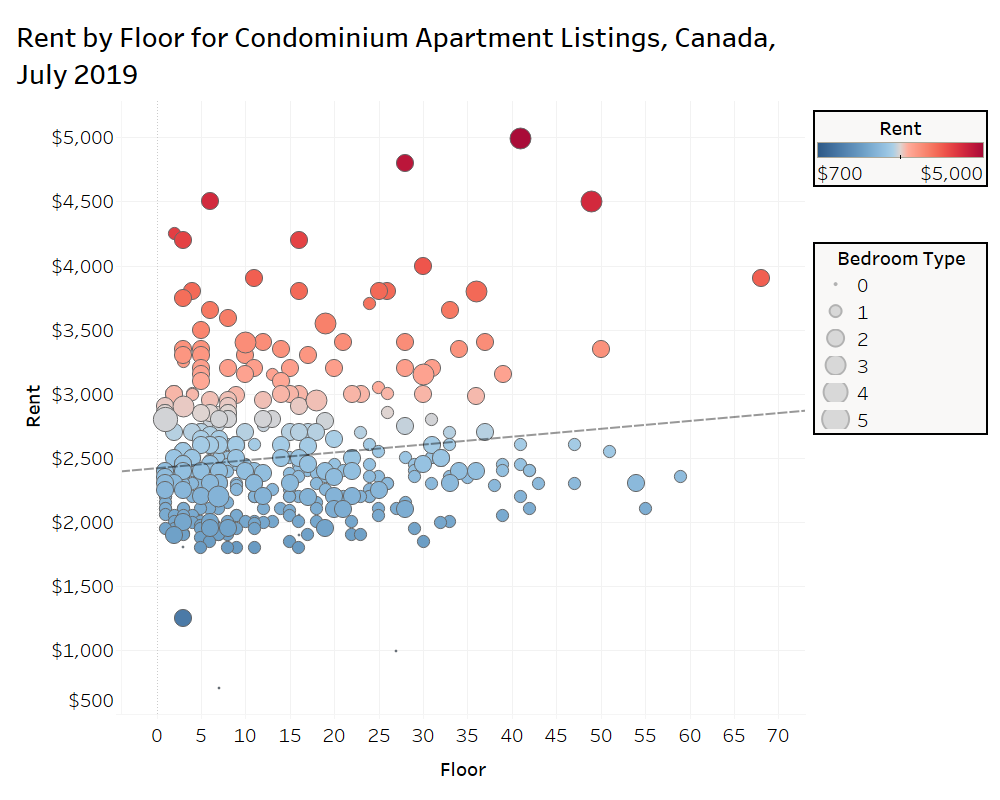 The data does not control for unit size, location, interior finish or unit size, but the linear trend line shows that Canadian condo rents go up by $6 per floor on average. 
The Most Expensive Condominium and Rental Projects for Rent in Canada
Looking at rental and condominium apartment buildings with five or more listings on Rentals.ca in July, the chart below shows the projects with the highest rent. 
The most expensive project is The Heathview, a recently built two-tower rental project by Morguard near Spadina Road and St. Clair Avenue West in Forest Hill, an upscale neighourhood in Toronto's former municipality of York. Units are available for just over $3,000 per month on average. 
The second highest project is the L Tower condominium, the knife-shaped project with 600 suites in downtown Toronto at Front Street and Yonge Street beside the Sony Centre. Investors are offering their condos for lease at just under $3,000 per month on average.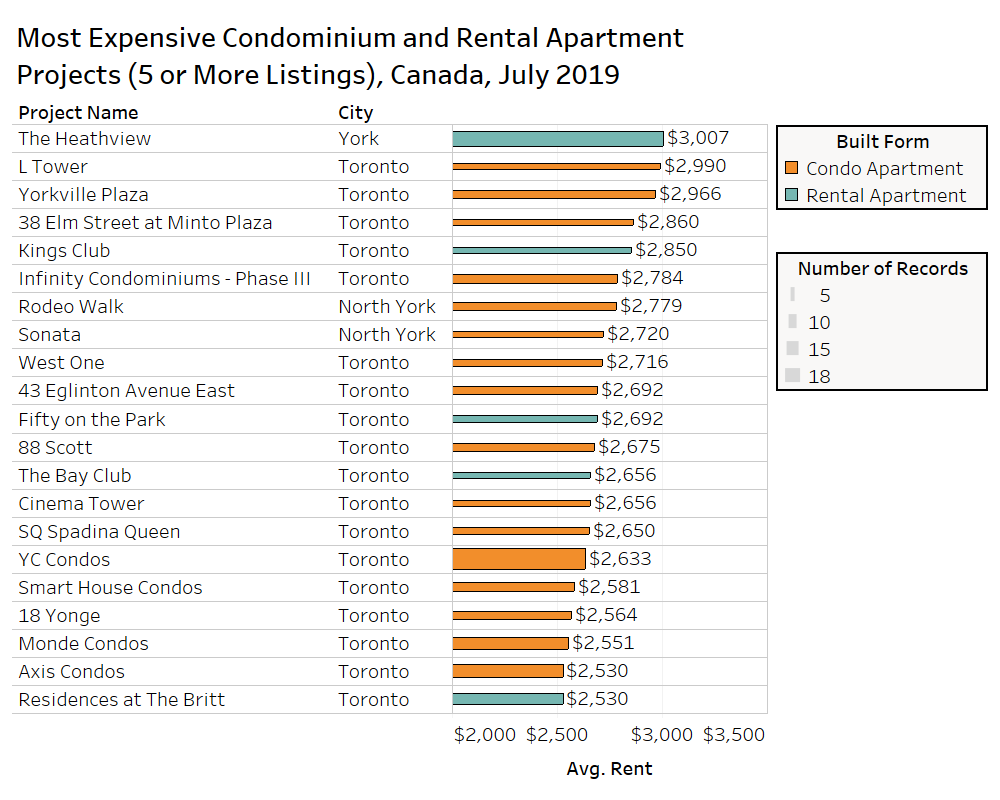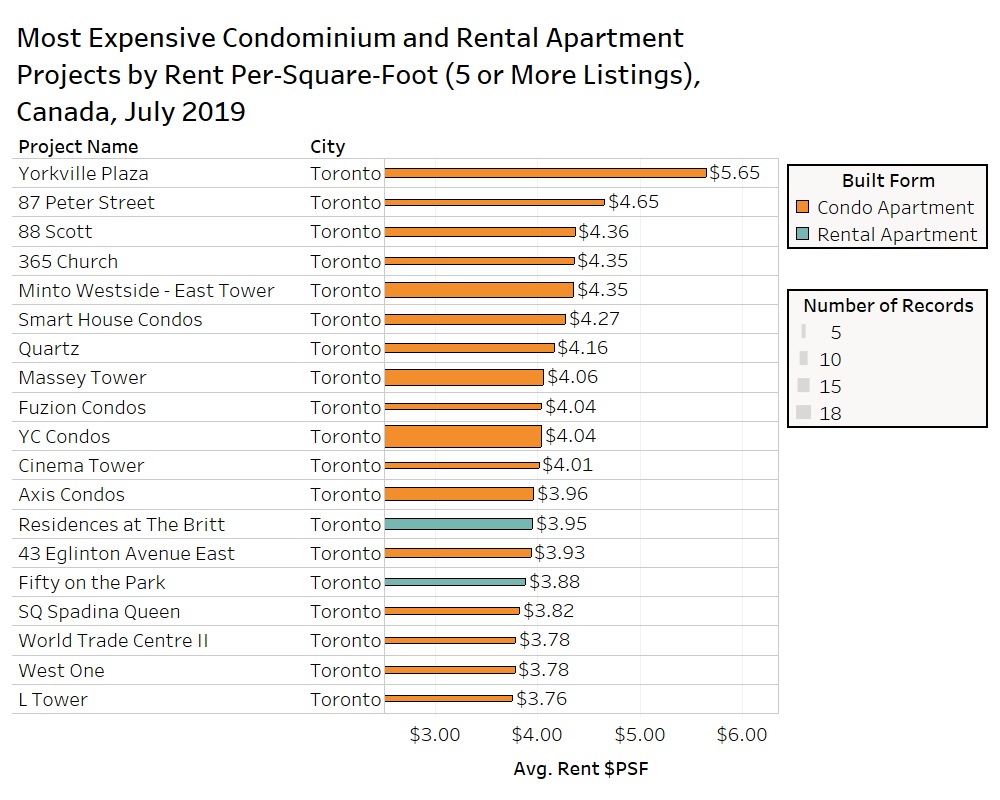 When looking at suites on a per-square-foot basis for projects with five or more listings in July, the most expensive project by a wide margin in Yorkville Plaza at 155 Yorkville Avenue at Avenue Road. This condo project is a residential conversion of the former Four Seasons Hotel, and units for lease in July ranged from a low of 370 sf to a high of 750 sf for $5.65 psf on average. 
The second most expensive project is the recently completed 87 Peter condo project by Menkes Developments in Toronto Entertainment District. This project features a number of small suites for rent in July from 440 sf to 550 sf, offered at $4.65 psf on average. 
No Vancouver projects made the list because of  limited listings on Rentals.ca in the city in July. One of the projects with the highest rents on Rentals.ca in Vancouver is Oscar at 1295 Richards Street in the downtown area of Vancouver west at $4.69 psf.
Provincial Rental Rates
On a provincial level, Ontario had the highest rental rates in July, with landlords seeking $2,283 per month on average (all property types), a slight increase from June ($2,279). In British Columbia, the average asking rent was $1,889 per month, an increase of 2% month over month, following June's 3% monthly increase. Asking rents in Alberta increased in July for the second straight month, following two months of decline.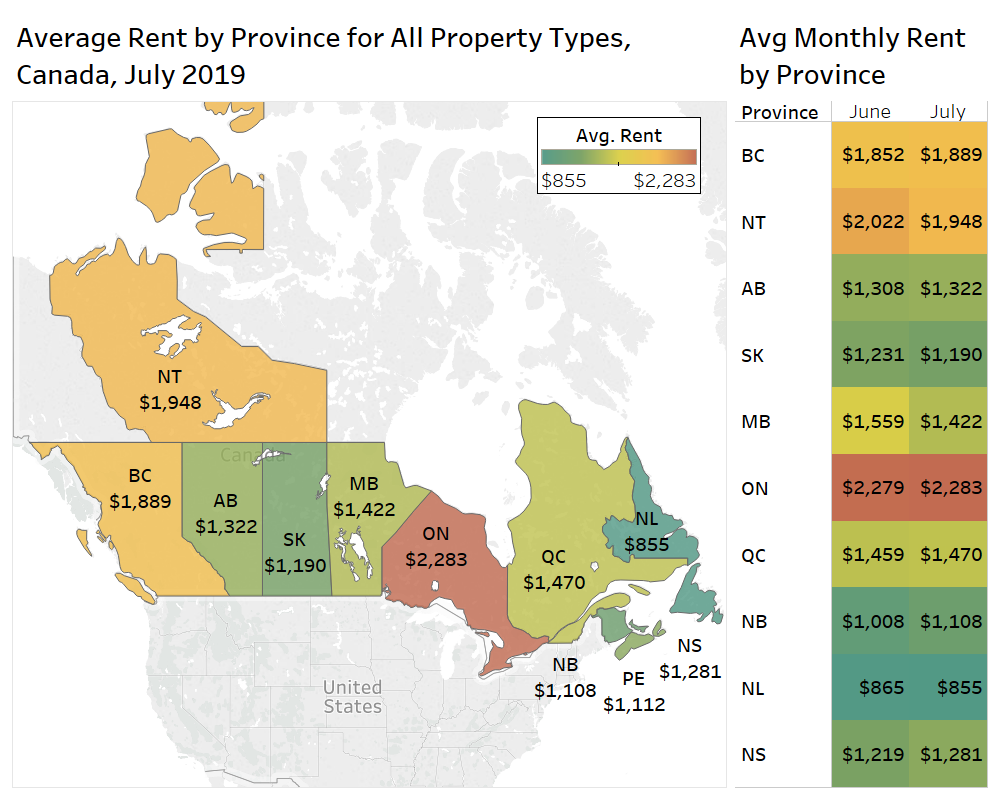 Provincial Condo Rents
The chart below presents data on the average unit size and average rent psf for condominium apartments for lease in Alberta, Quebec, British Columbia and Ontario. 
The data shows that units are the largest in Quebec and the smallest in Ontario, which is not unexpected, as the less expensive the market, the more square footage tenants will want to consume. 
One-bedroom condominiums are offered for rent at $3.65 psf in Ontario, compared to just $2.30 psf in Quebec. Two-bedroom condos are offered at $3.08 psf on average in Ontario, while two-bedroom units in Alberta are significantly less, at just $1.73 psf on average.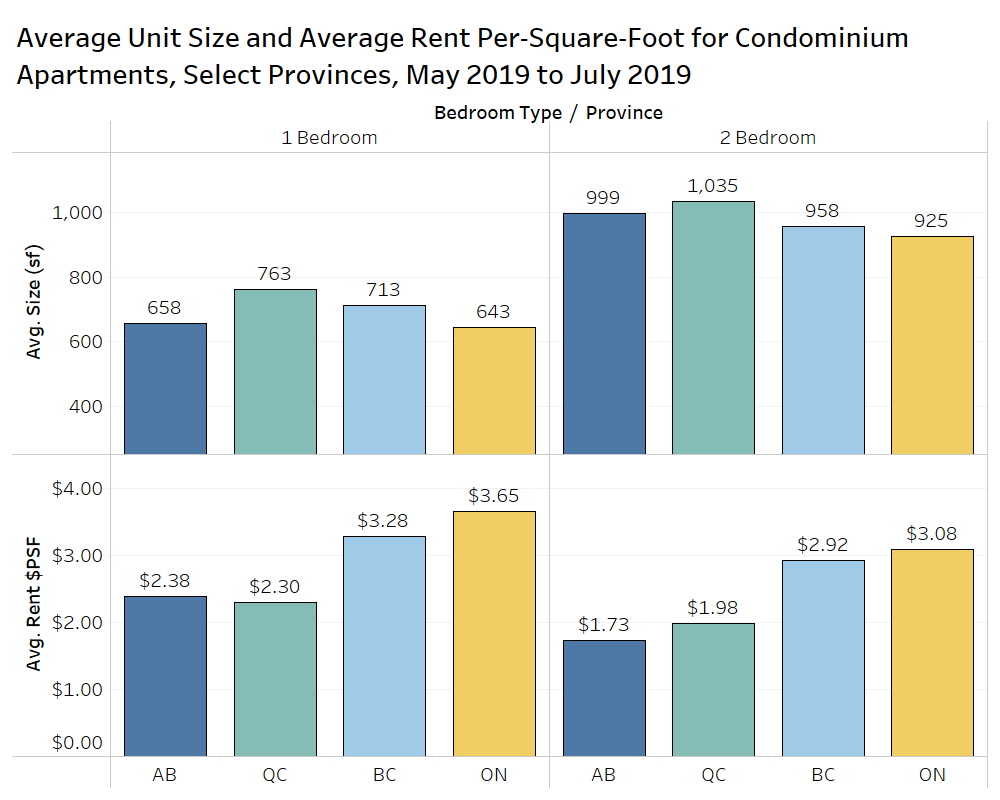 Rental Apartment Listings by Bedroom Type
In most provinces, one-bedroom and one-bedroom-plus-den units account for 75% to 85% of the rental listings on a monthly basis. That share is highest in British Columbia and Manitoba at 87%, and the lowest at 72% in Quebec. 
In Quebec, the share of renters as a percentage of total households is very high and the supply of new housing is much less constrained. Those two factors contribute to the higher share of three-bedroom units at 18% of listings on Rentals.ca in July, which was topped only by Nova Scotia's 19%.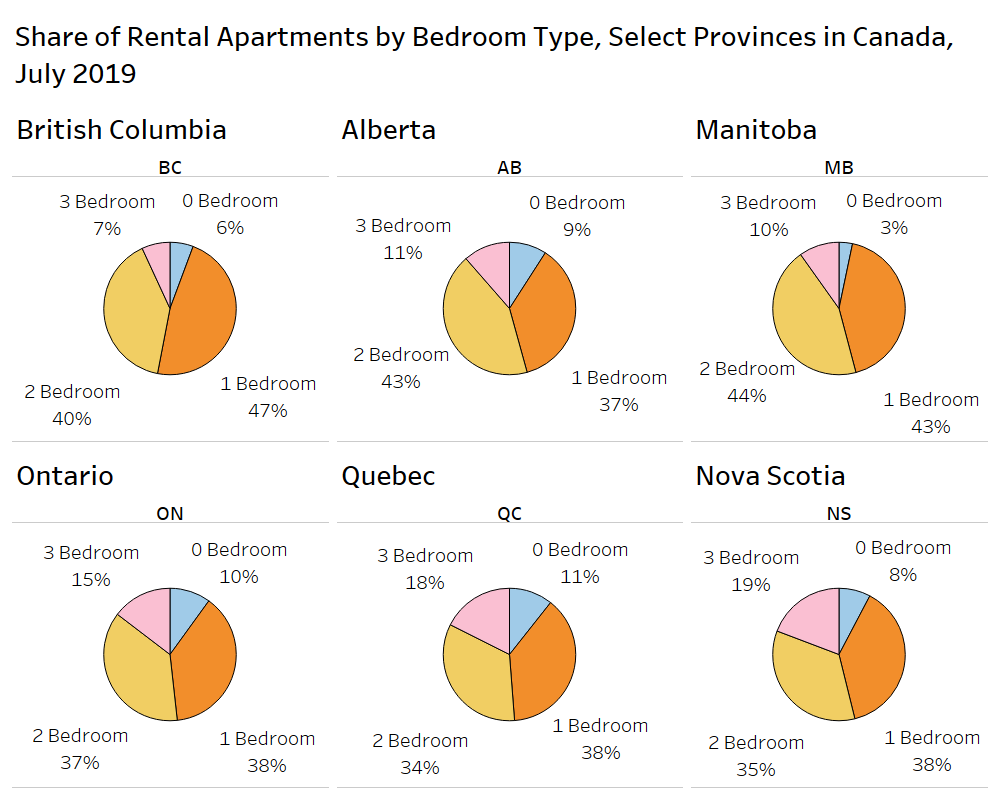 Municipal Rental Rates
Rental rates across various municipalities in Canada are changing at a much different pace in 2019. Saskatoon and Edmonton average rent levels for all property types have been relatively flat in 2019, while Ottawa had been somewhat flat over the first couple of months of the year before experiencing a rent spike over the last couple of months. 
Vancouver rent levels are rising quickly, but the data is lumpy because of fewer listings on Rentals.ca. Toronto has experienced steady monthly growth this year, while Montreal rents have increased significantly from a low of $1,286 per month in March to $1,585 per month in July. The sample size for Montreal is large, and effort has been made to eliminate furnished and short-term suites from the sample.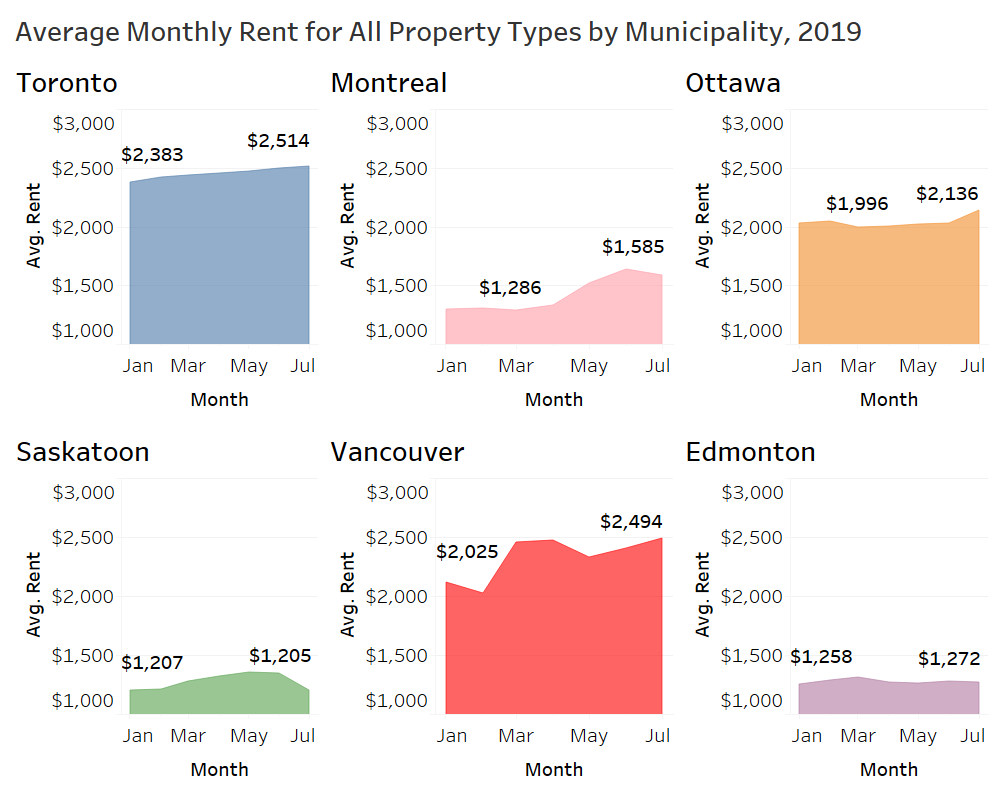 Condo and Rental Apartments by Municipality
The chart below presents a selection of municipalities in Canada, plotted by the average rent psf versus their average unit size in July for condominium and rental apartments. 
Toronto has the highest rents at $3.60 psf in July, with an average unit size of 750 sf. Vancouver is second at $3.40 psf, with a slightly lower unit size of 746 sf. 
On the low end, Quebec City has average rents of just $1.45 psf at an average apartment unit size of 998 sf. In Gatineau, rents at $1.16 psf on average, with an average unit size of 963 sf.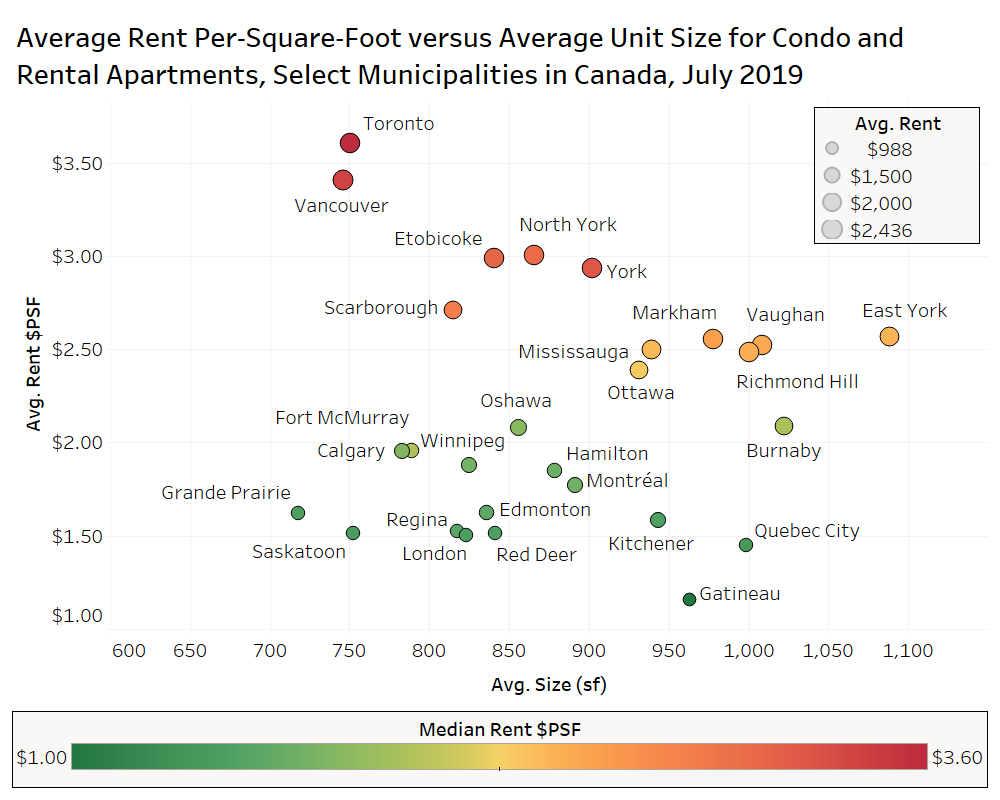 Ottawa Insights
Average rental rates have increased over the past couple of months in Ottawa, from $2,003 per month in April to $2,136 per month in July (all property types). It is important to understand if the increase is attributable to an increase in demand or a change in the composition of the units for rent. 
The chart below looks at the percentage share of listings by bedroom type and unit size in Ottawa over the past four months. 
Part of the increase can likely be explained by a decline in the share of one-bedroom units from 25% to 29% in previous months to 21% in July 2019. There has also been an increase in two-bedroom units, but that is partially offset by a decline in the size of those two-bedroom units.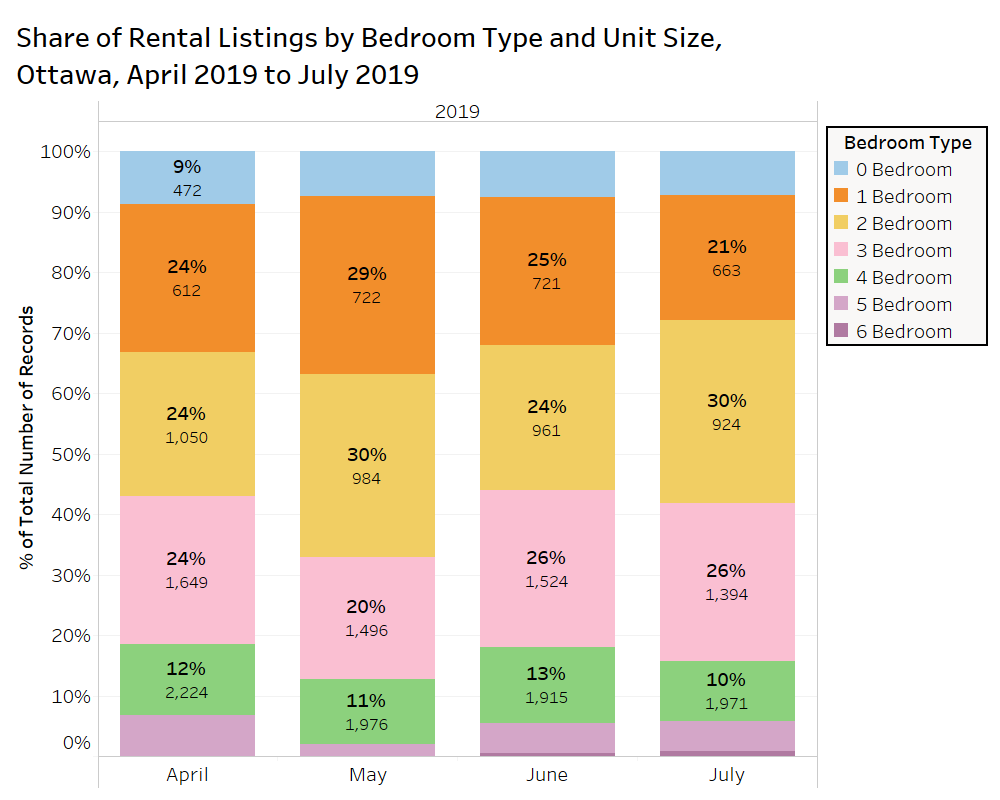 Zooming in on rental apartments only in Ottawa, the chart below shows the breakdown by bedroom type on the left, and the range and average size of rental apartment offerings in the municipality by bedroom type in July.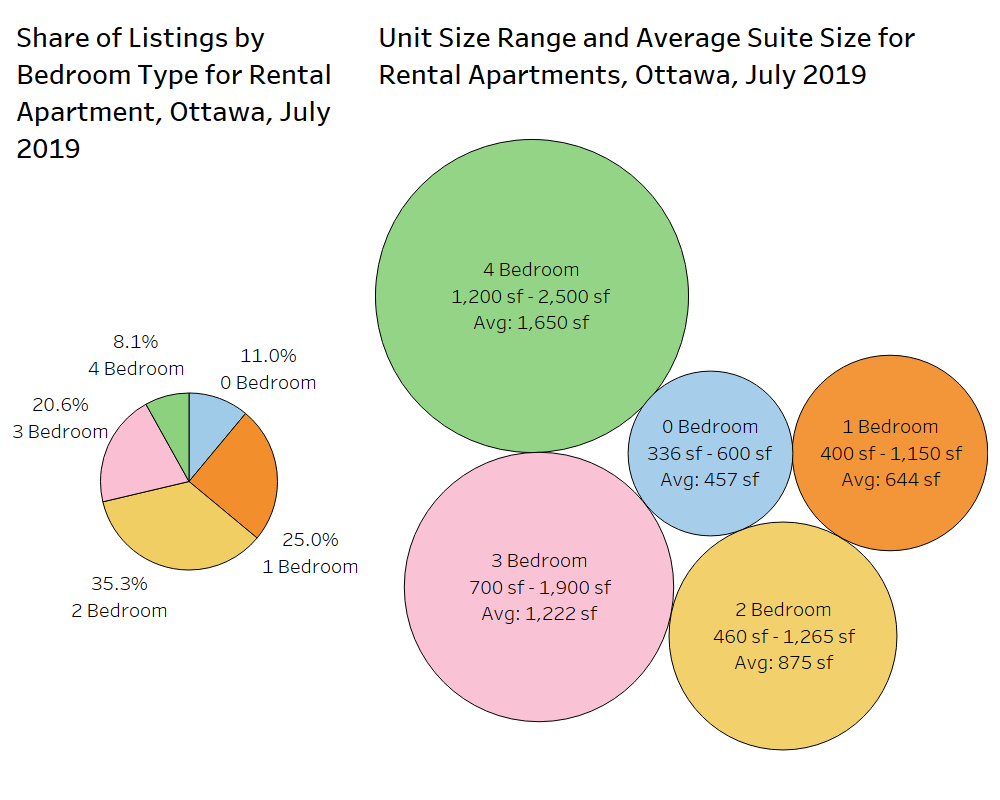 Studios account for 11% of the rental apartment listings in Ottawa, ranging from 336 sf to 600 sf, averaging 457 sf. One-bedroom units account for one-quarter of the rental listings, averaging 644 sf. Two-bedroom units are the most prevalent unit type at 35% of the total in Ottawa, and are sized at 875 sf on average. There is a significant number of three-bedroom rental apartments in Ottawa, accounting for 20% of the listings in July at 1,222 sf. 
Calgary Insights
Where is rental market activity occurring in Calgary? The chart below shows the location of all Calgary rentals on Rentals.ca from October 2018 to July 2019. The left side of the chart maps the single-family and townhouse listings, while the right side shows the condominium and rental apartment listings.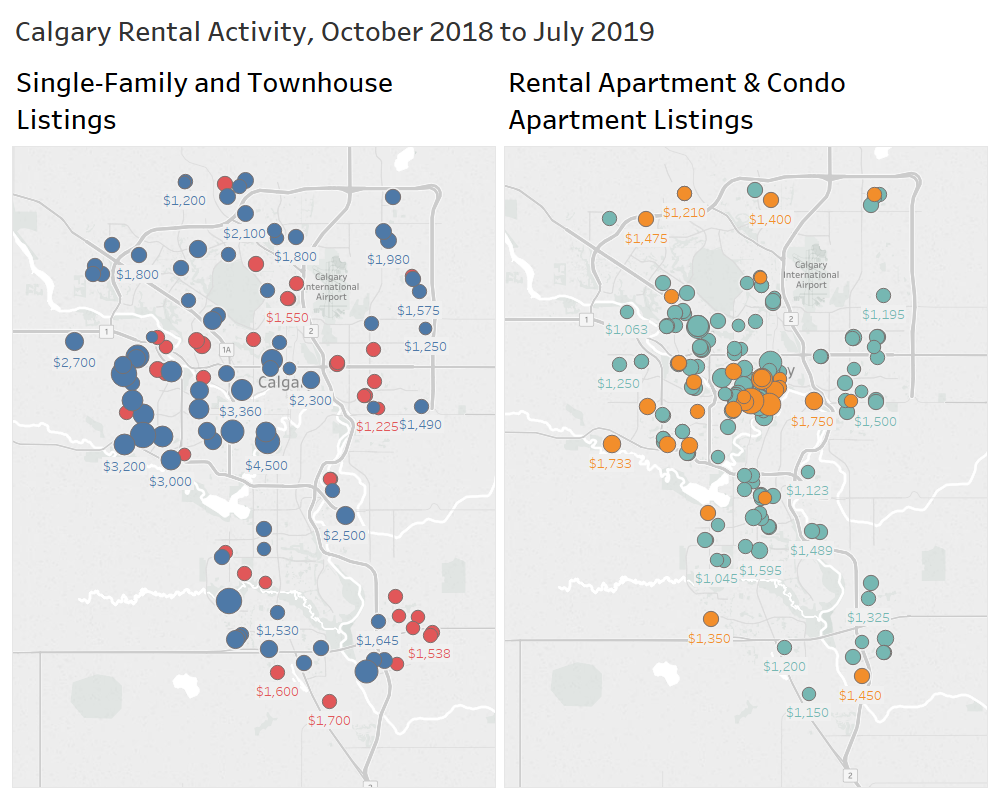 The bulk of the condo and rental apartment listings are downtown, while a major cluster of single-detached, semi-detached and row listings are on the western portion of Calgary along the suburban fringe near 85 Street SW. 
Conclusion
The national rental rates declined slightly in July, following two months of increases. Toronto, Montreal, Winnipeg and Saskatoon all experienced declines monthly, while Ottawa, Vancouver and Hamilton experienced increases. There was no discernible trend to explain some of the rises and falls in several major Canadian cities, but is simply the result of changing unit types, locations and unit quality between months. 
The longer-term trend shows lease rates trending up, and rent inflation has exceeded our annual forecasts from December 2018. One of the noticeable longer-term trends is the rapid increase in the rent at the 10th percentile. The rapid rise in rental rates over the last 18 months, brought on by increased immigration, solid job growth, and the new mortgage stress test (which has prevented many prospective buyers from entering the ownership housing market), has hurt low-income workers the most. 
There are over 250,000 new housing units under construction in Canada, near the highest level in over 25 years, and when this new supply is slowly added to the market, it should help temper the rent growth experienced since early 2018.  
Rentals.ca Data
The data used in this analysis is based on monthly listings from Rentals.ca. The data is much different than the more familiar numbers collected and published by Canada Mortgage Housing Corporation (CMHC).
Rentals.ca data includes basement apartments, rental apartments, condominium apartments, townhouses, semi-detached houses and single-detached houses, where CMHC's primary rental data only includes rental apartments and rental townhouses. CMHC does collect some data on the secondary market, but it is reported separately.
The CMHC rental rates are based on the entire universe of purpose-built rental units in Canada (the stock), while Rentals.ca data is primarily based on the asking rents of vacated units only (the flow) — this is more representative of the actual market rent a prospective tenant encounters. The Rentals.ca data set typically produces much higher rental rates in comparison to CMHC, as vacated units are not subject to rent control.
The average and median rental rates via Rentals.ca can also skew higher than CMHC's data for several reasons: The inclusion of larger and more expensive unit types like singles, row units and condos; the survivorship bias (overpriced units remain in the sample longer); and the multiple listings of the same property at different rent levels every month.
It should also be noted that properties listed for above $5,000 a month and below $500 a month are eliminated from the sample of units analyzed. Also, short term leases, single-room rentals, and furnished rental units are eliminated from the sample where identifiable.