With most of the country on lockdown during the second half of March, the housing market is not operating normally, as most prospective tenants can't view units, existing tenants don't want to leave their homes in the midst of a health crisis, and the number of people moving will fall significantly.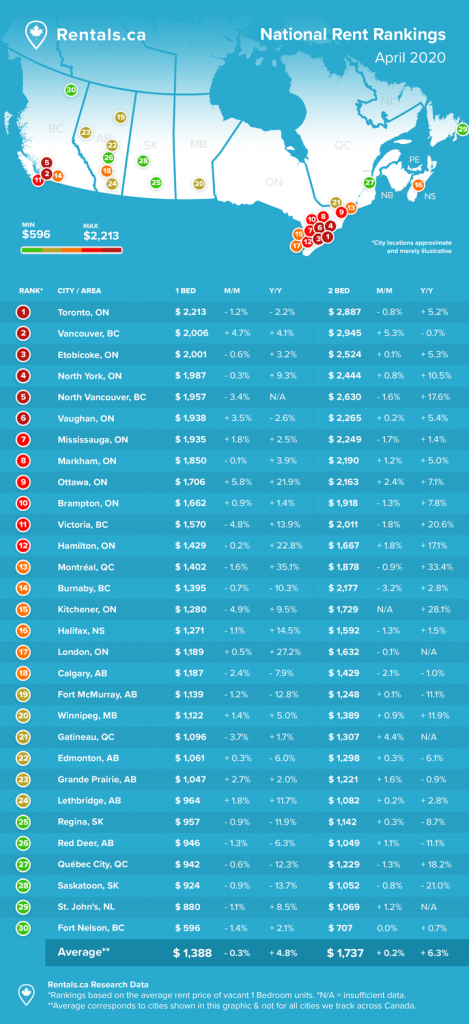 National Overview
Most provinces have prohibited evictions, as many tenants can't make rent due to either a temporary closing of their place of employment, or being laid off due to COVID-19. Considering all these factors, there is concern that average rental rates across Canada could plummet as much as 20%. March data might be too early to assess the impact of the pandemic on the Canadian rental market, but if the results are any indication of what is to come, a 20% decline isn't likely.
The average rent for Canadian properties in March was $1,842 per month, an increase of 1.0% from February 2020, and a 1.2% year-over-year decrease according to Rentals.ca listings data. The median rental rate was $1,750 per month in March, unchanged from a year earlier and up $25 from last month (+1.4%).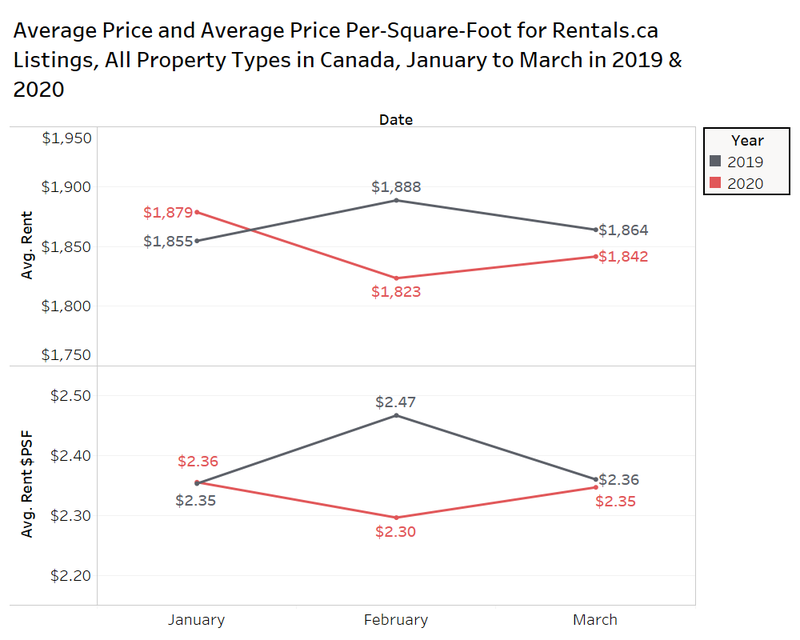 Average rent per square foot was $2.35 in March, up 2.2% from February and down by 0.4% from a year ago. It should be noted that unit sizes are not listed by landlords and/or owners for all of the listings on Rentals.ca, and it is more likely that landlords of newer units would have the square footage readily available. Therefore, the rent per-square-foot data is based on a smaller sample size, and is likely to skew slightly high.
Median Rental Rates by Quarter
In Q1-2020, median rent in Canada for all property types was $1,750, the lowest level over the past five quarters, and 0.8% lower than Q1-2019. Median rent in Canada peaked in Q3-2019 at $1,839 per month.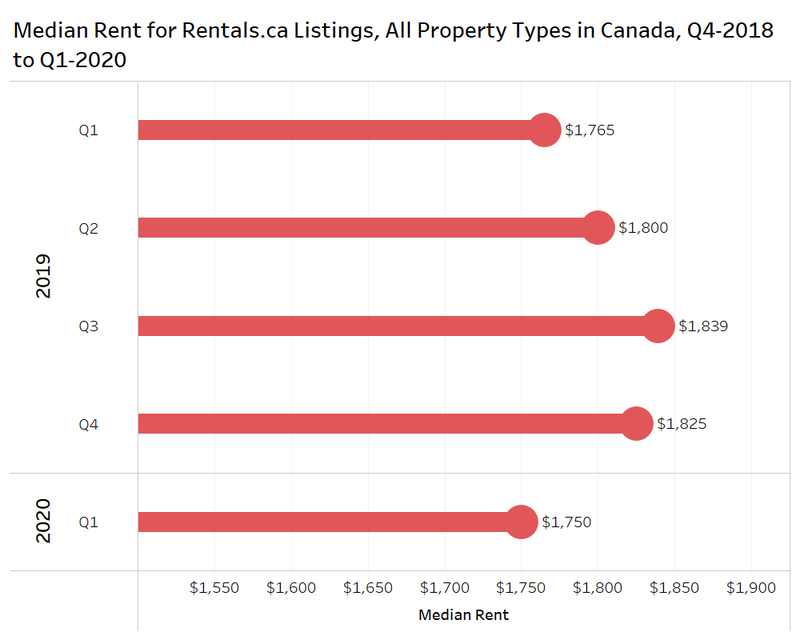 The rental market is seasonal, with strong activity in the early spring and fall periods, but weak in the winter and summer. This seasonality typically leads to weaker first and fourth quarters.
With the market not operating "normally" since the start of March because of COVID-19, this typical seasonality will be disrupted, especially in municipalities with a high concentration of students, who could spend the entire semester at home taking classes online, as opposed to living in housing close to the campus.
Average Rent by Built Form and Month
The chart below shows the annual change in average rent levels in Canada by property type. The most expensive units are single-family homes, with landlords asking $2,496 per month on average in March 2020, compared to $2,377 for condominium apartments, $1,847 for townhouses, and $1,548 for rental apartments.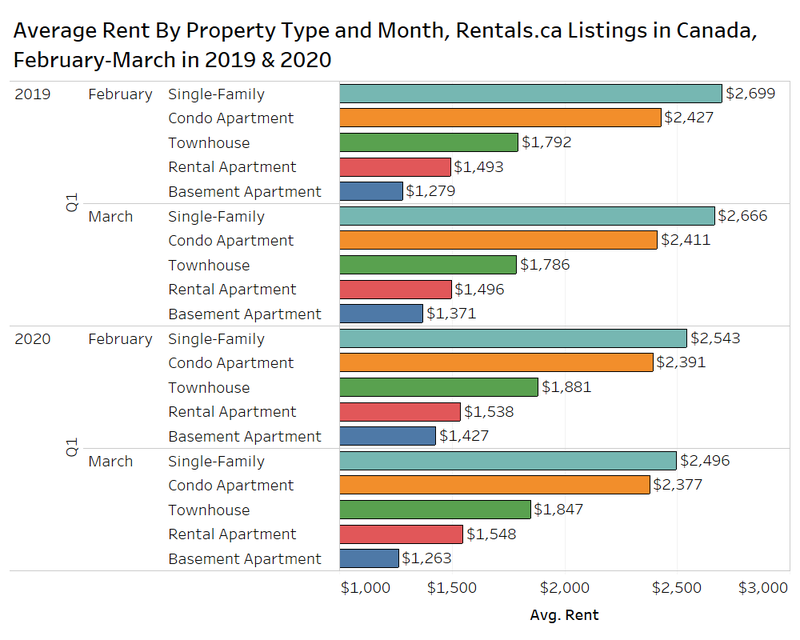 Single-family homes experienced the greatest annual decrease in average rent between March 2019 and March 2020, dropping by 6% annually (from $2,666). Single-family properties also declined month over month, dropping 1.8% from $2,543 to $2,496.
Condo apartments experienced a 1.4% year-over-year decrease between March 2019 and March 2020, and a monthly decline of 0.6% between February and March.
Townhomes showed annual rent growth of 3.4%, from $1,786 in March 2019 up to $1,847 in March 2020. Average rents decreased by 1.8% from February to March.
Rental apartments, which make up the majority of the listings on Rentals.ca, experienced both a year-over-year increase (3.5%), and a month-over-month increase (0.6%). Given the large size of rental apartment listings, it is the most reliable property type to review and is the most reflective of rental market conditions nationally.
Average Unit Size by Property Type
The average rental rate in Canada increased month over month, despite the average unit sizes trending down for single-family, townhouse, condominium apartments and rental apartments.
The chart below shows that the average single-family home for rent in 2019 was trending around 1,900 square feet (sf) but has fallen to 1,700 sf in 2020.
Since the start of 2019, the average townhouse for rent on Rentals.ca has trended upward from about 1,250 sf to 1,300 sf.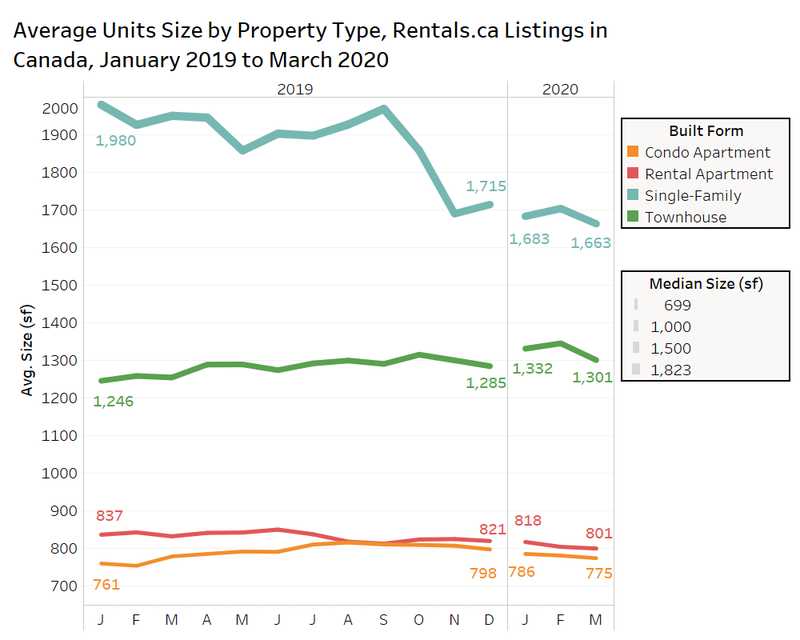 The average apartment for rent has moved in the opposite direction, trending downward from nearly 840 sf in early 2019 to 801 sf in March of 2020.
There are many complaints in the Toronto area about how small new condominiums are. But those new units are not pulling down the national average. In fact, the average condo apartment available to rent has actually increased from early 2019 from about 760 sf to 780 sf, with a March average of 775 sf.
Change in Rentals.ca Pageviews
It might be expected that search activity on Rentals.ca would decline if fewer people are likely to move, however, the number of pageviews increased in six of the seven major provinces in Canada month over month.
Part of that rise is likely attributable to the fact that the seriousness of COVID-19 and its eventual full shutdown of non-essential workers was not enforced/announced until the second half of March, and spring is the strongest rental market of the year. Secondly, potential tenants no longer have the ability to enter the units and tour the suites, so they are more likely to spend more time researching the properties online and taking virtual tours.
Despite the soft rental market conditions in Saskatchewan, the province experienced the biggest month-over-month increase in pageviews on Rentals.ca in March, rising by 18%. There is a lot of rental turnover in Saskatchewan, as rents decline, and tenants either seek out cheaper apartments or higher-quality apartments for the same rent.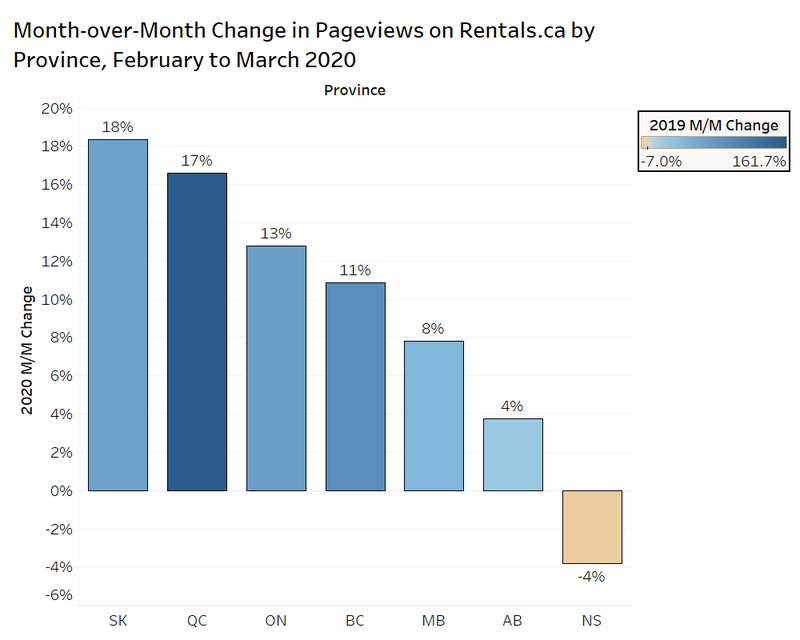 Quebec was a close second with a 17% increase in March, which is a bit surprising given the province is one of the hardest hit by COVID-19. A recent report by Local Logic indicated the online traffic on Canadian real estate portals for ownership housing in Quebec fell off considerably in the second half of March.
The colour of the bars in the chart above represents the change in monthly pageviews in March of 2019, and Quebec led the way with a 162% increase last year, so interest in March was up, but nowhere near the increase experienced a year ago.
Provincial Rental Rates
On a provincial level, Ontario had the highest rental rates in March 2020, with landlords seeking $2,244 per month on average (all property types). British Columbia had the second highest rental rate at $1,959 per month, while Newfoundland and Labrador had the lowest at $934.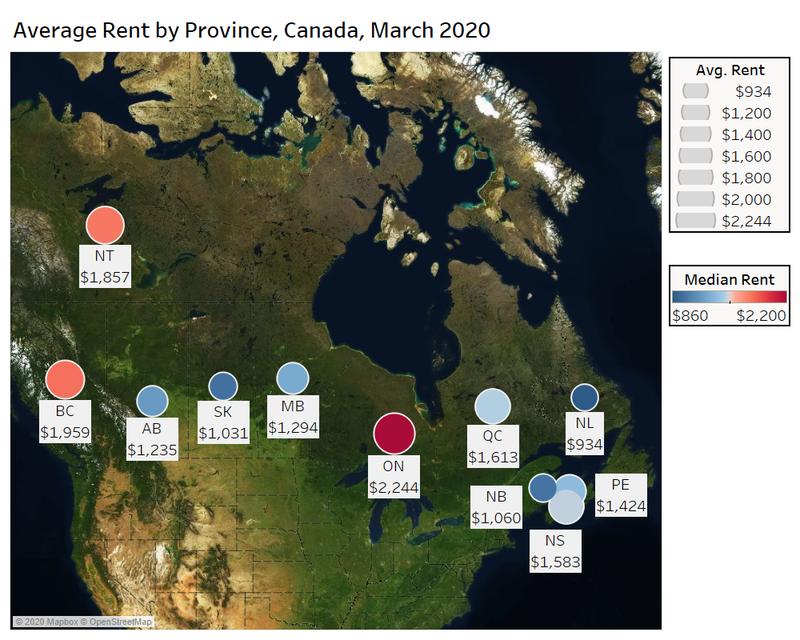 Rent in British Columbia overall for all property types was up 3.9% monthly, rising from $1,885 in February to $1,959 in March. Ontario was second with an increase of 1.5% month-over-month, rising from $2,212 to $2,244 per month. Alberta was the only major province to experience a decline, dropping by 0.6% in March.
On an annual basis, Ontario is up by 3.8%, while Alberta is down by 5.2% and Saskatchewan is down by 14.4% from March 2019.
Provincial Rental Rates for Rental Apartments
The chart below shows average rent levels in select provinces for rental apartments in March 2019 versus March 2020. Ontario has the highest average rental apartment asking rents at $1,987 per month, which is an increase of 12.6% year-over-year, with the median rent up 13.1% annually.
The average rent for apartments in Quebec is in the middle of the pack at just over $1,500 per month in March, but is up over 30% annually. As discussed in previous reports, a portion of the rise can be attributed to a change in the composition of units listed on Rentals.ca. The addition of a number of listings at higher-end buildings in downtown Montreal has contributed to this misalignment.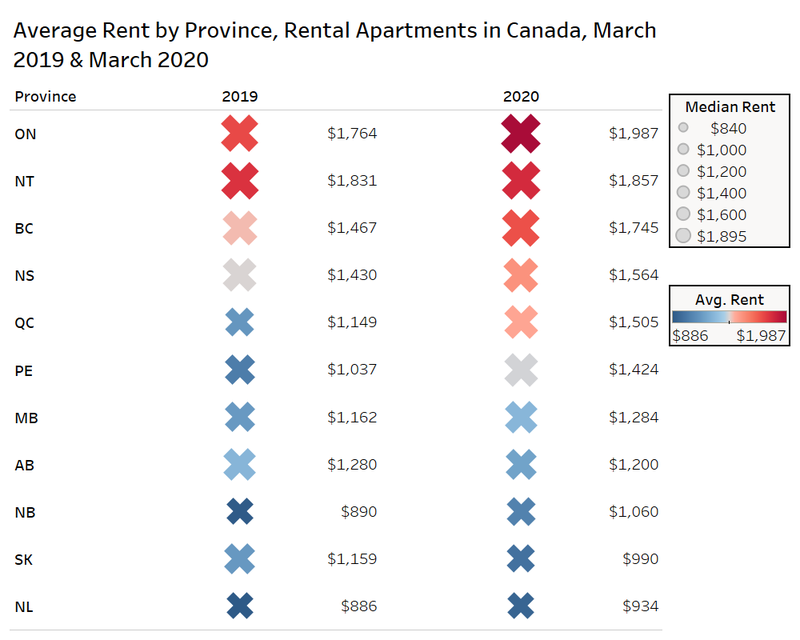 Rental apartment asking rents are down 6.3% annually in Alberta and 14.6% annually in Saskatchewan, as the energy and commodities market slowdown had negatively affected the economies of those two provinces long before COVID-19 made them worse. Manitoba, which is often lumped into the same discussions as Alberta and Saskatchewan, was experiencing strong rental apartment market conditions before the pandemic, with the average unit available for $1,284 per month on average in March, 10.5% more than a year earlier.
Provincial Rental Apartment Rates by Bedroom Type
The chart below shows the average rent by bedroom type for rental apartments in select provinces in March. Average rents in Ontario were the highest in the country for each category, with Saskatchewan the lowest.
One-bedroom units ranged from a high of $1,758 in Ontario to a low of $929 in Saskatchewan. It costs a tenant about half as much to live in Saskatchewan than Ontario. One-bedroom units account for 41% of all rental apartments for rent on Rentals.ca nationally in 2020.
Average rent for a two-bedroom unit was $2,171 in Ontario, followed by $1,946 in British Columbia, while the other major provinces were all under the $1,700 threshold. Two-bedroom units account for 40% of all rental apartments for rent on Rentals.ca in Canada in 2020.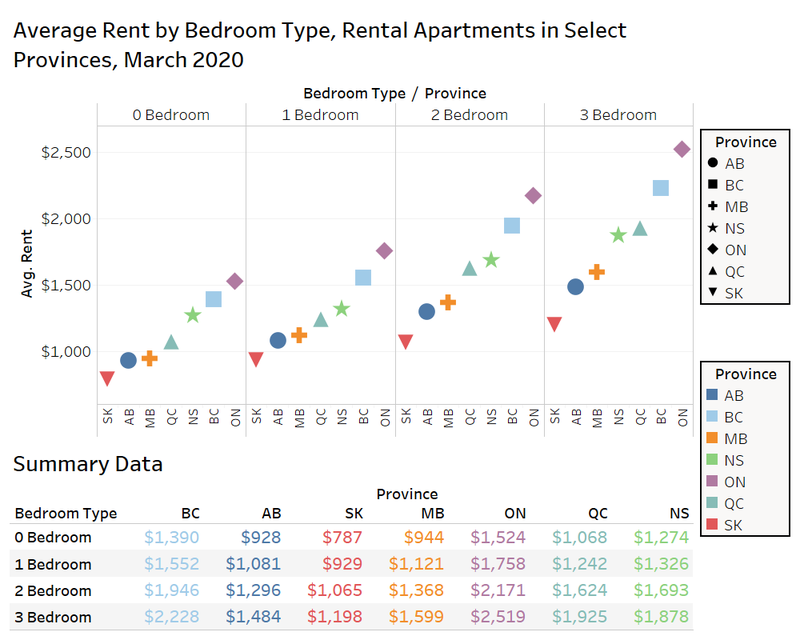 Municipal Rental Rates
The chart below presents data on the average rental apartment and condominium apartment rental rates by municipality and area in Canada, showing February-March in 2019 and 2020.
Toronto had the highest average asking rents in Canada in March for apartments (both tenures) at $2,450 per month, followed by Vancouver at $2,381. Vancouver rents are actually down 0.5% annually, while Toronto is up by just 1.9% from March of 2019.
Several Ontario municipalities and former municipalities have experienced significant rent growth year over year with Kitchener up 23%, Hamilton up 22%, Scarborough up 18%, and North York up 12%. Saskatoon rents declined by 24% annually.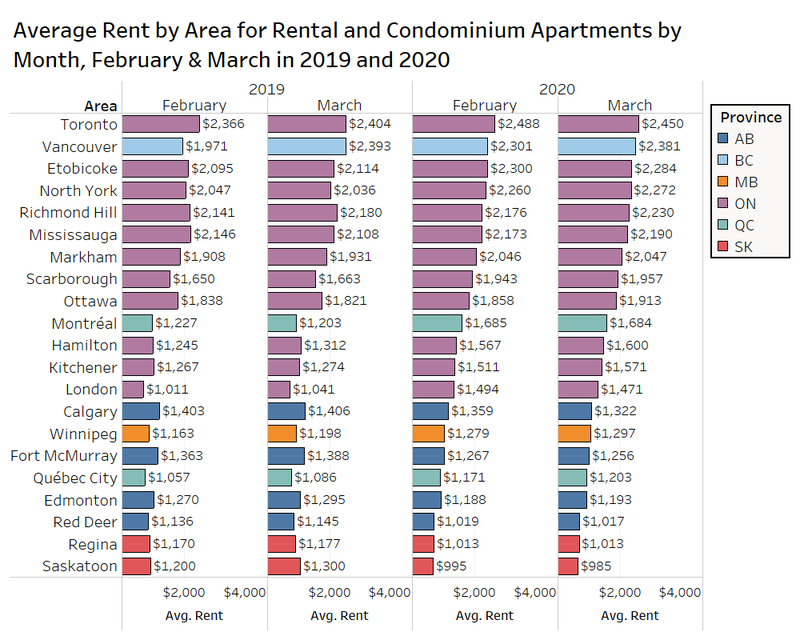 With the COVID-19 pandemic about to have a major impact on rental rates in Canada, the annual changes are not as relevant in the short term as monthly changes. The chart below shows the month-over-month change in average rents for rental and condominium apartments in select municipalities and former municipalities in Canada.
Kitchener rents were up 3.9% monthly. Vancouver was up by 3.5% monthly, despite the annual decline. Vancouver has more rent volatility than expected in such a large municipality, but very expensive units are listed and leased frequently in the city as well as a high share of small studios, which can impact the monthly readings.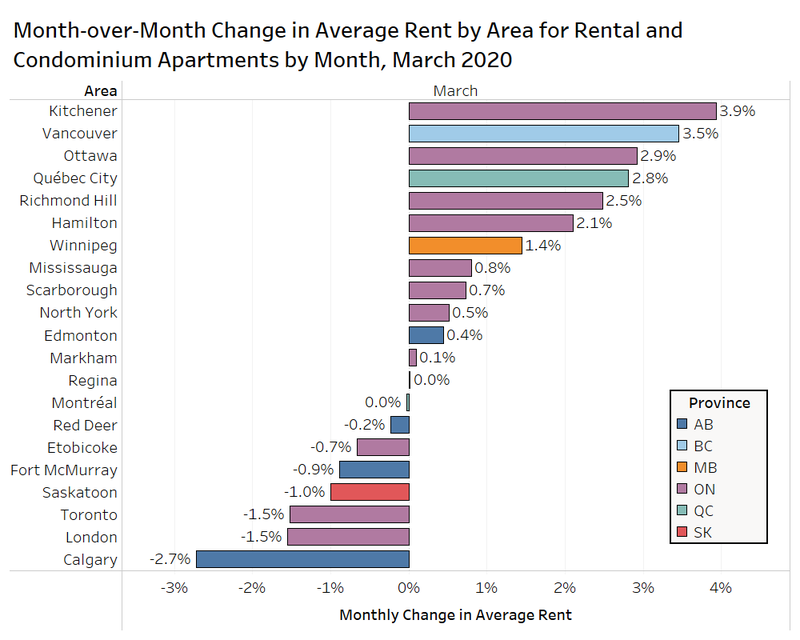 Toronto condo and rental rates declined by 1.5% monthly, topped only by London (-1.55%) and Calgary (-2.7%).
Rentals.ca does not include furnished or short-term rentals when preparing this report, but it is likely that a number of units previously used as full-time AirBnB units are now being listed for rent as the tourist and business travel markets grind to a halt. It is likely that some of these owners will remove the furniture and list the property on Rentals.ca, as listings for apartments grew by 12% month-over-month. By comparison, the number of rental and condominium apartment listings in the Former City of Toronto on Rentals.ca in March of 2019 declined by a whopping 34% monthly.
Toronto Insights
Most of the listings in the Former City of Toronto (pre-amalgamation) are condominium apartment and rental apartments. The average rent for condo apartments has declined by 4.1% annually from $2,648 per month in March 2019 to $2,539 per month in March 2020. Condos rents have dropped 2% monthly, as listings on Rentals.ca rose by 15%. Last year, rental apartment listings on Rentals.ca declined by 38% from February to March.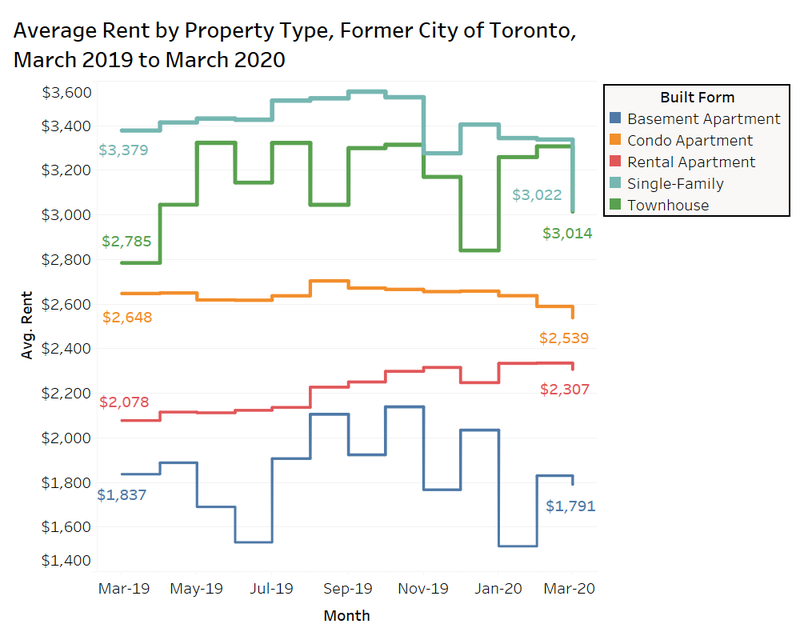 The average rental rate for rental apartments in old Toronto was up 11% annually from $2,078 per month to $2,307 per month, but declined 1.2% month over month. Rental apartment listings on Rentals.ca were up 8% monthly in March 2020, compared to a 28% decline in March of 2019.
Average Condominium Apartment Rent Per-Square-Foot for Select GTA Areas
With rent declining by 4.1% annually for condo apartments in Toronto as shown above, it is worthwhile looking at the rent per square foot to see if changing unit sizes are having an impact on rent. The chart below looks at the average rent per square foot for condominium apartments for the major markets in the Greater Toronto Area (GTA).
Rents in the Former City of Toronto decreased by 1.3% annually, but are actually up month over month. Rent per square foot for condos has increased around 6% annually from March 2019 in North York, Etobicoke and Mississauga, while condo rents are up 10% annually in Markham.
Etobicoke is the only area that has average asking rents declining month-over-month ($3.26 psf to $3.24 psf).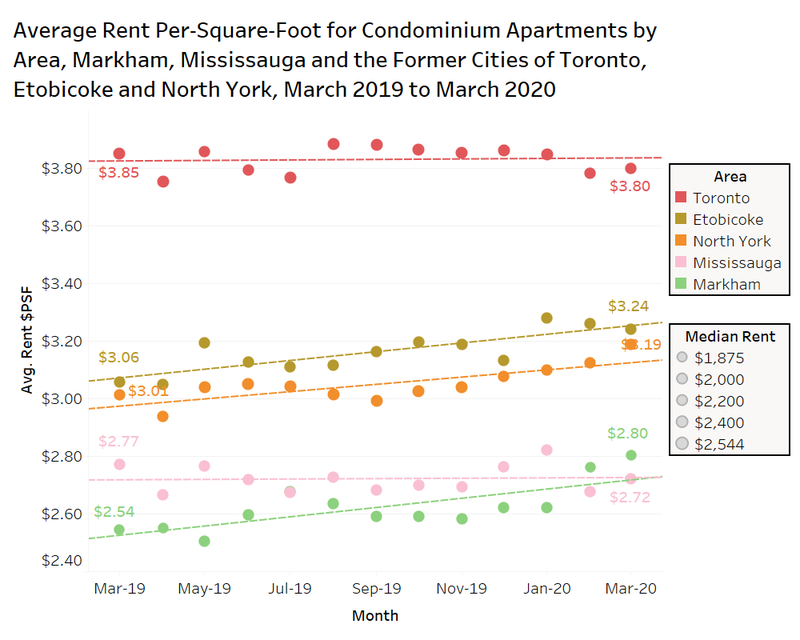 Average Rent by Project
The chart below illustrates average rent by project for select rental and condominium apartments in Ontario, Alberta and Quebec for 2019 and the first quarter of 2020 — the list includes only projects with 10 or more listings per quarter.
Aura posted the highest average rent of $3,078 in Q1-2020, the only project to exceed $3,000. Average rents were down 8.4% from Q4-2019, and down 13.4% from Q1-2019. Rents can vary widely at this project, as the building is 78-storeys, and small units with limited views on lower floors have very different rents from larger units on upper floors.
Two of the recently completed downtown Toronto condo projects YC Condos at 7 Grenville Street near Yonge and College, and 87 Peter near Peter and Richmond experienced rent growth of around 7% annually, but almost all of the Ontario projects on this list experienced a decline in rent from Q4-2019 to Q1-2020.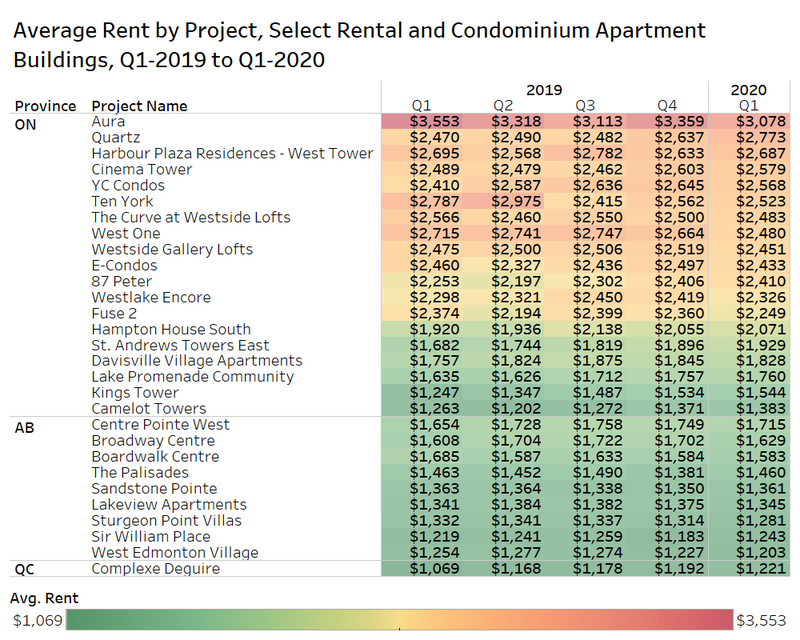 Conclusion
The average rental rate for all property types in Canada in March increased by 1% monthly over February. However, the entire country began to shut down in the second half of the month because of the COVID-19 outbreak, meaning a lot fewer people will be moving by choice (some will move by necessity), there will be fewer evictions per government decree, less immigration, fewer students starting new jobs, and more young adults moving back in with their parents to save money. The latest jobs report indicates 39% of the 1 million jobs lost in March were for people between the ages of 15 and 24.
According to findings from Local Logic, there has been an increase of 200% to 500% among Canadian online real estate portals for virtual tours for properties, as showings have been discouraged or banned in certain parts of the country. Many renters that have already given notice are refusing to allow prospective tenants to enter their suites for fear of the spread of COVID-19.
Many landlords are facing significant income loss, as a percentage of tenants don't have income to pay their rent, while others who are low on funds are choosing not to pay rent to ensure they have money for food. Unfortunately, there is another small portion of tenants that are taking advantage of the fact they can't be evicted to skip out on rent.
Considering the above factors, expect listings on Rentals.ca to surge, as landlords are careful about who they rent to in order to avoid mispayment. Secondly, some owners and landlords in rent-controlled buildings might hold out longer for a higher-paying tenant than offer a big rent discount that a tenant might lock in place for several years. Look for other incentives like a free month's rent, or other in-suite improvements such as upgrading appliances, ceiling fans, window coverings, or other improvements that will stay well beyond that tenant.
The market will not function normally over the next few months as the economy is on pause. It is important not to read too much into the data in April, May and June as it relates to the long-term prospects for the rental market, because a decline in rental rates is anticipated. The one counter to that forecast is that people who need a place to live are going to be reluctant to buy in uncertain market conditions, especially with some lenders likely choosing to be very selective and risk averse. So they will choose to rent instead.