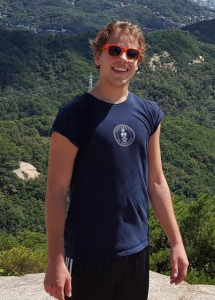 Robert Rasciauskas is the winner of Rentals.ca #NoRentNovember contest!
The 23-year-old is a Toronto resident living near Baldwin Village east of Chinatown in a basement apartment with two roommates. He grew up in Mississauga with his parents, but attended school in downtown Toronto. He graduated from Brebeuf College School in North York.
He is a now a full-time student working on a masters degree in education from the University of Toronto. He holds a bachelor's degree from the university of Toronto with a dual major of philosophy and criminology.  He hopes to become a teacher at the end of his two-year masters program.
Rasciauskas has traveled extensively in Europe where he spent many of his summers in Lithuania, where his parents are from.
He returned to Toronto last summer after teaching English, history and debate for a year in Seoul, South Korea.  
He has lived in his rental since September.
Rentals.ca asked Rasciauskas a few questions about his renting experience in Toronto.
Q.: What's the first thing you look for in a place to rent?
A.: My first priority is location and then affordability. I have a 20-minute walk or a 10-minute bike ride to my classes, and can easily walk to get groceries in Chinatown.
Q.: What one piece of advice do you have for someone looking for a place to rent?  
A.: Make sure you don't rush into it. Do the proper screening before moving in to guarantee it's a good fit for you and doesn't turn out to be a nightmare.    
Q.: What amenities do you look for when renting a new place?
A.:  I like a large functional kitchen, a common area/living room, and enough space in my bedroom for comfort and privacy. An added benefit here at my place is a backyard.
Q.: What's something you would change about where you live
(He said he would add a washer and dryer.) There's no laundry on site, so it's a 15-minute walk to do laundry. (He also said ants and spiders can be a problem living in a basement in the summer.)
Q.: What do you like about your neighbourhood?
A: It's surprisingly quiet for being in the heart of downtown. I really like having Grange Park nearby. It's great to go relax there and throw a Frisbee. It's also easy to bike down to the Harbourfront and in the summer take a ferry to the islands.
Q.: What's a question you forgot to ask your landlord?
A.: I should have asked about the noise from the house above. The ceiling above me is creaky, so I hear the people above moving about. But it's not bothered me too much.
Q.: What would you change to make renting easier, cheaper, or more efficient?
A.: We need more affordable units built. There is a lack of cheap housing.
Q.: Have you ever won anything before?
I don't remember ever winning anything this big.
Q.: With a month of free rent, what do you plan to do with the extra cash now freed up in your budget?
A.: Well, I'll have a little more for Christmas gifts. I'm currently living off savings from my job in South Korea, so getting my rent paid is nice. Now I can stretch my savings a little longer. This will also help with my New Year's trip to Montreal.
Stay tuned to see who wins our December holiday contest and if you have not entered already it only takes a few minutes.