As a renter, it can be intimidating to walk into a rental unit only to have the landlord put a bunch of paperwork in front of you. A rental application, credit check, waiver, and so on. These are common practices in the rental industry, but you do have questions about tenant credit checks and how to manage your credit as a renter.
We've heard all the questions: How can I check my credit score? Can I get it for free? And, what qualifies as a good credit score? Whether you are renting in Ottawa, Toronto, Montreal, Vancouver, or somewhere in between, we are going to demystify tenant credit checks and tell you exactly what you need to know to land your next dream property.
Let's get started.
An introduction to tenant credit checks
First of all, let's introduce what a credit score is for those who are unclear. Your credit score is a numerical representation of your credit risk at any given point in time.
The credit reporting agencies – Equifax and TransUnion – employ a sliding scale between 300 and 900. Anything above a 700 is considered a good credit score, whereas anything between 600 and 750 is the consumer average. If you fall below 600, then you have some heavy lifting to do.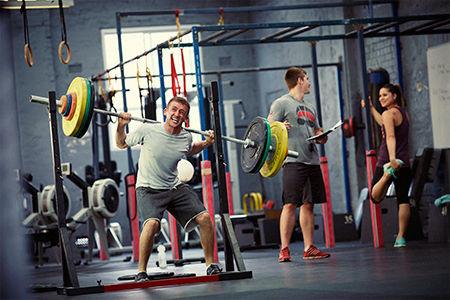 Don't worry, we're here to spot you!
Lending institutions, and landlords, use your credit score to determine your creditworthiness  The idea is that the higher your credit score, the more likely you are to pay your bills. In the lending world, this means it's easier for you to get a loan, with a lower interest rate. In the world of renting, the higher your score the more favorably you'll be viewed by landlords.
How is your credit score determined? It's based on your payment history of credit cards, utility and phone bills, loans, car payments, and more. Whoever you are paying these bills to, reports the information to both Equifax and TransUnion. If you're late on a payment, it is promptly reported and directly affects your credit score.
First and foremost on any landlords mind is whether or not you can afford rent and whether or not you will pay on time. Your credit score is the best way for a landlord to know this information. This is why you need to not only know your tenant credit profile but to nurture it to help ensure you always have the best possible chance to land that new kickass apartment.
Here are a few common questions we hear on a regular basis from renters about tenant credit checks.
How long does a credit check take for renting an apartment, condo or house?
Once a landlord has received your approval, they can apply immediately to receive your credit score. They will require either your date of birth or SIN, but it's always helpful to provide them with both.
A tenant credit check takes a few minutes online and a report is immediately created for the landlord to view.
If you are serious about a particular property, it's useful to show up with an updated credit score in hand, so the landlord doesn't have to do the work. This shows not only that you're diligent, but that you're serious about renting their property.
Where to get a credit check in Canada?
You have a lot of options! You can go directly to TransUnion or Equifax to obtain an official copy of your credit score. Typically these reports cost around $20, but they will try and upsell you on monthly credit monitoring products, which aren't usually necessary. All you need is a one-time credit report.
What if you find an error in your credit score? Such as a credit card you never applied for, or a loan you thought you'd closed. You wouldn't be the first, according to CBC, 10-33% of Canadians have errors in their credit scores. Simply contact the lending institution to ensure the issue is cleared up.
Can I check my credit report online for free?
Yes! Thankfully for all consumers there are powerful platforms out there that will give you a free personalized credit score. Our favorite is Credit Karma.
Credit Karma is a portal where Canadians can check their credit report online for free.
Once you sign up, you have the option to get an update every single week. Plus, they provide financial education to help you improve your credit profile. Unfortunately for the moment, Credit Karma is not available in Quebec, Nunavut, the Yukon, or the Northwest Territories.
Following the sign-up, you will immediately get a credit score dashboard similar to this:
As this is not an 'official' tenant credit check from Equifax or TransUnion, landlords may not accept it, and conduct their own due diligence  That said, many may accept this, and at the very least you are aware of your credit score and it shows the landlord you are proactive.
So what do apartment credit checks look for?
As a landlord, they want to know if you're conscientious with your finances and if you'll pay on time. A tenant credit check will tell them if you have any delinquent payments, bankruptcies, or any other financial missteps on your record.
Apartment credit checks look for the following information
Your payment habits

You have any bankruptcies

Your current debt load (which is a reflection on your ability to pay rent)

You pay debt accounts on time
Now, it's worth noting that everyone makes mistakes; forgets to make a payment on time, or maybe even went through a rough patch. That's OK! Make sure to discuss it up front with the landlord. There's no shame in saying, "Hey, about the tenant credit check, I went through a divorce a few years ago which did a number on my financial situation, I wanted to tell you this upfront when it comes time for the credit check."
Or, "I tried starting a business and it didn't go as planned so I had to declare bankruptcy."
This type of honesty goes a long way with potential landlords.
How to rent an apartment with bad credit?
Well, it depends on why you have bad credit. The best advice is to be open and honest with the landlord about why you have bad credit.
Did you have a divorce? Bankruptcy? Failed business? Credit card problems? Spent 6 months in jail for fraud? Other than that last one, it's unlikely that a landlord won't have a reasonable discussion with you about your unique situation. Be sure to emphasize what you are doing to rectify the situation.
If you do have bad credit, you should do everything you can to change your financial situation. All it takes is a little education. More on this later.
If you have a serious problem with spending and debt, it should be your priority to find a local debt or credit counsellor who can guide you. A simple Google search can help with this.
How to check your credit score at TD, BMO, CIBC, RBC, and Scotiabank
Most major banks will be able to conduct a credit check on your behalf. You can go into your local branch to ask if they will conduct a credit check on your behalf. This you can then bring with you during your apartment search. Here are some resources that are bank-specific that can help.
How strict are apartment credit checks?
Typically, landlords want to know that you're diligent with your finances, and a tenant credit score gives them a window into that. If you have a terrible score, it could affect your ability to rent an apartment. That said, if you have a unique situation, then discuss it with your landlord up-front; honesty is always the best way to deal with this type of issue.
If you tell them up-front, then the landlord won't be caught off guard when the credit check stage comes about.
For the most part, if your credit score is 600 or above, you won't have a problem renting unless you have a large debt load that will affect your ability to pay to advertised rent. If you have a decent income, then most people think they won't have a problem renting an apartment.
If however, a landlord see's on your tenant credit check that you have well over $100,000 in credit card debt, they may think twice. Even though you pay on time, meaning your credit score is good, the sheer amount of consumer debt can scare off some landlords.
How old do you have to be to get a credit check?
Typically, unless you are a parent or guardian, you cannot request a credit check for someone under the age of 18. In most cases, this is the when you can start applying for credit products, so below this age, you are unlikely to even have a credit score.
But, it never hurts to start building a good credit score as soon as you can. Get yourself a low-limit credit card and pay it off diligently every month. This will help build your positive credit profile for down the road when you need to show a lender or landlord that you have a good credit profile.
What are some of the top credit score myths?
Credit scores can be difficult to understand if you don't know what goes on behind the scenes. Here are a few myths to debunk in your mind about credit scores:
You can't control your credit score.

If you check your score, it will negatively impact it.

If you pay only in cash then it's better for your credit score.

I can boost my credit score by not using credit cards.

Any time someone checks my credit score, it negatively impacts it.

My income affects my credit score.

There's only one type of credit score out there.

Only check your credit score if you've run into financial problems.

If I've co-signed for a loan, it won't affect my credit score.
What are the best ways to improve my credit score?
In order to improve your credit score don't take on too much debt, particularly high-interest credit card debt, and make your payments on time. Here are a few other steps to improving your credit score.
Tip #1: Always pay off high-interest credit cards on time.

Tip #2: If possible, eliminate your credit card debt.

Tip #3: …But don't tear up those cards! Keep at least one or two.

Tip #4: If you see an error on your credit report, get on the phone and solve it.

Tip #5: Have credit cards, but don't use them for

everything

. Use a healthy mix of debit, cash, and credit.

Tip #6: Don't avoid higher credit card limits, just

never

use them.

Tip #7: Set calendar reminders to pay

all

your bills on time.

Tip #8: Pay off bills and/or credit cards twice, instead of once, a month. If you get a paycheck twice monthly, this is a good time to pay bills.
Final thoughts on tenant credit checks
As a renter, you want to put your best foot forward when dealing with landlords and looking for your ideal place to live. It's important to not only know your credit score, but to improve it at every possible chance. Be proactive by regularly checking your credit score with a free service like Credit Karma, and think ahead when viewing properties by bringing with you a copy of your credit score.
If you follow the tips contained in this article, you will be well on your way to securing the apartment of your dreams, on favorable terms.