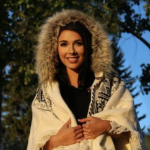 Bree Barber, 24, is the winner of Rentals.ca's Facebook contest: "Wrap your Rent December."
Barber, a lifetime Calgary resident, lives with her boyfriend splitting the rent for a two-bedroom condo in Coach Hill in the southwest part of the city.
Barber is a purchasing analyst for FGL Sports, LTD buying sports shoes for SportChek stores. She is a recent graduate of Mount Royal University with a bachelor's degree in communications specializing in graphic and web design.
Rentals.ca asked Barber a few questions about her renting experience in Calgary:
Q.: What's the first thing you look for in searching for Calgary rentals?
A.: "Location is most important. I prefer to live near downtown close to malls, grocery stores and transit." (The neighbourhood is served by the 69th Street CTrain station and the 93 bus route.) Barber also likes being fairly close to venues for concerts and sporting events. She is a big fan of the Calgary Flames and the Calgary Roughnecks lacrosse team.
Her condo is about a 15-minute drive to Calgary's downtown.
Q.: What's one piece of advice you have for someone looking for a place to rent in Calgary?  
A.:  "When looking for a place to rent, watch out for scams." She said someone tried to scam her once while looking for a place to rent. (If you suspect fraud, you can report it to the Canadian Anti-Fraud Centre.)
And, she advises, "don't be afraid to ask a lot of questions, such as 'do all the outlets work.'" (She wishes that's a question she would have asked before signing the lease.)
Rentals.ca sister brand published a helpful video to identify red flags during your apartment search.
She says another important question is asking about the neighbours. She said the condo courtyard can get loud in the summer with all the children playing, but sometimes she adds she has to be aware of keeping her music down because of older neighbours nearby.
Q.: What amenities do you look for when renting a new place in Calgary?
A.:  "Having a washer and dryer and dishwasher are a must." Beyond the basics, she would like having a garage — especially during the winter.
She likes her condo complex courtyard, and she enjoys the nearby parks.
Barber says part of the reason she landed in Coach Hill is that she doesn't have to pay extra for her dog and cat. "It's hard to find a place allowing a dog inside."  
She has a 5-year-old Catahoula Leopard – Hound, mixed with a Blue Heeler name Suki and a 12-year-old cat Zonnie.  
She said she sometimes takes her dog to Edworthy Park along the Bow River in southwest Calgary, which includes the Douglas Fir Trail and Lawrey Gardens.
According to the Calgary website, the city has 150 public off-leash areas in its  multi-use parks for Calgarians and their dogs to enjoy. The city boasts that it might have the largest number of off-leash areas and combined amount of off-leash space in North America.
Q.: What's something you would change about where you live?
A: She doesn't have too many complaints except that Coach Hill is an older area, and she would "prefer a more modern neighbourhood.  "But," she says, "Everything is close by."
Q.: What would you change to make renting easier, cheaper, or more efficient?
A.: It's hard to find a place where utilities are included in the rent. Barber would rather make one payment. She also has to pay for another parking spot. She gets one free, but
pays for the other spot.  
Q.: Have you ever won anything before?
A: She says she has won a few radio contests for things like movie passes, "but nothing this big."   
Q.: What  things have you done to your place to make it more cozy or comfortable?
A: I buy tapestries — "boho, hippie-like tapestries" — and hang them from the walls. I like hanging artwork. She also has plenty of lamps and lights for a warm atmosphere.
Q.: With a month of free rent, what do you plan to do with the extra cash now freed up in your budget?
A.: I want to put most of the money away; save it for a trip to maybe Disney World in Orlando, Fla. or Las Vegas.