Residents enjoy this breathtaking panoramic view of the Toronto skyline from The Parker's rooftop resort-style infinity pool and lounge area. 
How The Parker redefines home, community, and rental living in the GTA.
Yonge & Eglinton is one of Toronto's most vibrant and desirable locations. But just steps from this bustling intersection, nestled on a comparatively quiet corner of Redpath Avenue, is The Parker by Fitzrovia: a 39-storey 349-unit purpose-built luxury rental community. 
Walking down Redpath Avenue, large lettering on the exterior proudly identifies the building as The Parker, while an inviting street-level terrace space flows seamlessly into the stunning lobby-lounge. 
Whether you glance at it from the corner of your eye or stare fixated at the entranceway, The Parker introduces itself to you as something special and totally unique.
More than Just a Home
Fitzrovia is an award-winning real estate company based in Toronto. They have earned a reputation for unparalleled customer service, drawing inspiration from the world's most celebrated hotels. Fitzrovia is involved in every aspect of creating their rental communities, from selecting top-tier locations to crafting a rental experience that fosters a strong sense of community through their exceptional programming and complimentary resident events. 
"We don't just build buildings – we create experiences that inspire," says Adrian Rocca, CEO and founder of Fitzrovia. "At Fitzrovia, we examine every aspect of real estate development, building design, and hospitality to foster innovation and deliver an unparalleled rental experience that rivals the world's most admired hotels." 
Communities like The Parker deliver the value that renters seeking purpose-built rental homes are increasingly demanding. While these communities have been expanding the list of amenities offered for years, The Parker has elevated even the most lavish expectations when it comes to their amenity list and, more importantly, their customer service.  
"We are passionate about creating communities that let our residents have it all," says Rocca. "The Parker is not just a great place to live; it is a vibrant and dynamic community that inspires and uplifts those who call it home." 
Treating rental communities more like resorts or hotels is not a new trend in the purpose-built market, but Fitzrovia's commitment to treating residents more like guests rather than tenants is evident at The Parker. This commitment to exceptional customer care has earned Fitzrovia the 2022 BILD Award for Best Customer Care and the 2022 FRPO Customer Service Award of Excellence. Fitzrovia has once again been nominated for BILD's Best Customer Care Award in 2023.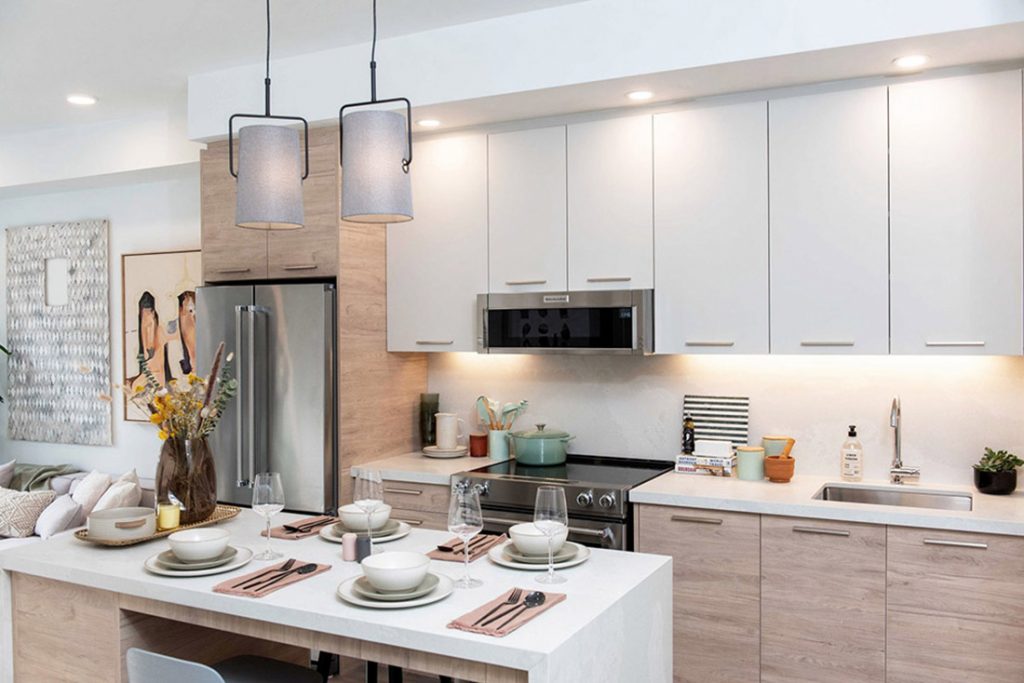 The well-appointed, Nordic-inspired suites at The Parker emulate the community's award-winning aesthetic while also leaving ample space for residents to employ their own creative flair. 
Entering any of The Parker's studio, 1, 2 or 3-bedroom suites, you step onto a luxurious vinyl tile floor that opens to a sophisticated suite stocked with modern conveniences. Quartz countertops, slab backsplashes, stainless-steel appliances, paneled dishwashers, and wine refrigerators outfit the modern Nordic-inspired kitchens. Built-in organizers complete the spacious bedroom closets, while large soaker tubs, rainfall shower heads, shower niches, and designer vanities complete the striking bathrooms. 
The Parker also makes it easy for residents to outfit their suites through their partnerships with retailers like STRUCTUBE and Ninth Editions. The furniture and decor options paired against their designer suites helped The Parker win the 2022 BILD Award for Best Model Suite.  
Residents also enjoy value-adds in-suite, like complimentary Rogers Ignite™ Gigabit Internet, which includes unlimited usage and rapid download speeds of up to 1 Gigabit per second. Conveniences that round out the suite amenity package include Nest thermostats and access to The Parker app, which provides keyless entry to suites and allows residents to book amenity spaces, sell and trade items with other residents in the building, and keep up with the latest events.
While residents will appreciate these details in-suite, it is when you step outside your door that The Parker's elevated value truly shines. 
Indulge Every Whim
As soon as you step inside The Parker, you are welcomed by an airy and spacious area adorned with designer pendant lighting, herringbone floor, lush plant varieties, and sophisticated furniture. A custom-built corian feature wall serves as a backdrop to the natural stone concierge desk, creating an ambiance that exudes both a calming familiarity and aesthetic beauty. While The Parker's website shows various photos and virtual tours of the space, it is best appreciated through an in-person tour.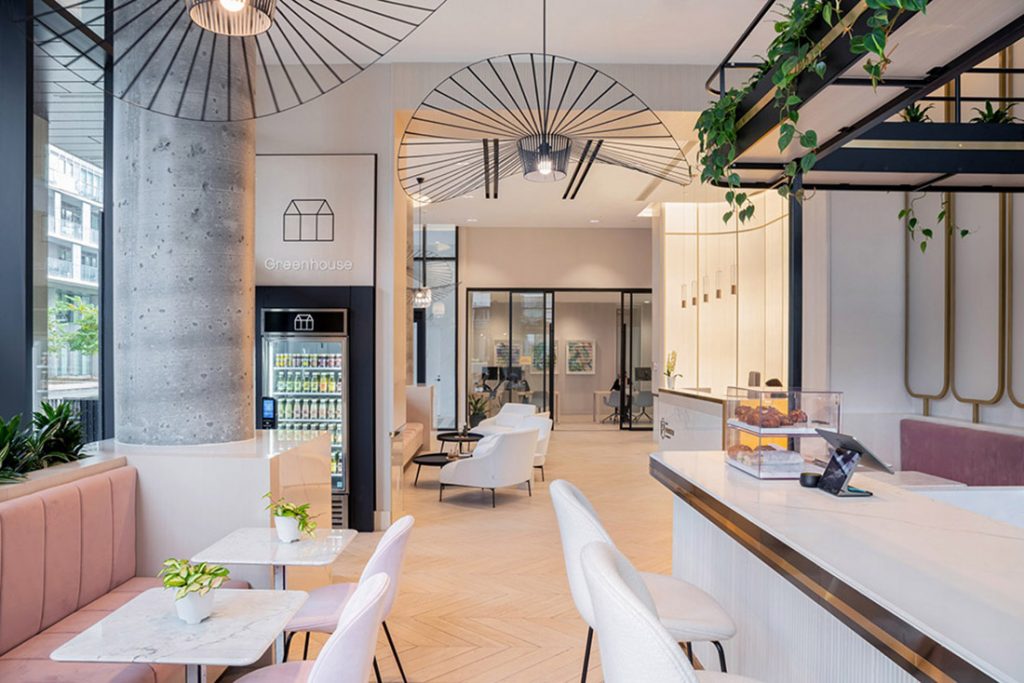 The Parker's Lobby Lounge, featuring 10 DEAN café & bar by Fitzrovia, shows off the community's distinctive elegance from the moment you enter the building.  
As you walk through The Parker, you will instantly sense a remarkable grandeur that invites you to enjoy every amenity offered. With meticulous design and seamless interconnectivity, residents relish in a five-star hotel experience where their every need is taken care of.
The Parker's Lobby Lounge is home to Fitzrovia's very own third-wave café and bar, 10 DEAN, which is accessible to both residents and the public. Upon arrival, you will be greeted by a talented barista who will prepare an espresso-based beverage customized to your preferences, leaving you feeling as if you have had your own personal barista for years. As the sun sets, a hand-crafted cocktail is carefully tailored to your liking upon request. The 24-hour concierge, located to your left, welcomes you and is available to provide answers to any questions you may have. As you stroll through the hallways adorned with natural stone and bronze detailing or unwind on one of the numerous plush seating options available, you will experience a welcoming ambiance that is unique to The Parker.
The Parker's amenity package is unique in that it is comprised of Fitzrovia's signature branded amenities which includes LIDO, a rooftop resort-style infinity pool and lounge area; Beauty for the Beast, a fully-equipped pet spa; and The Temple, a two-storey penthouse-level commercial-grade fitness centre designed by NHL strength and conditioning coach Matt Nichol. Fitzrovia has also partnered with Cleveland Clinic Canada to bring complimentary world-class healthcare to residents at home, offering private meeting spaces for residents to connect virtually with healthcare professionals to receive world-class treatment and care.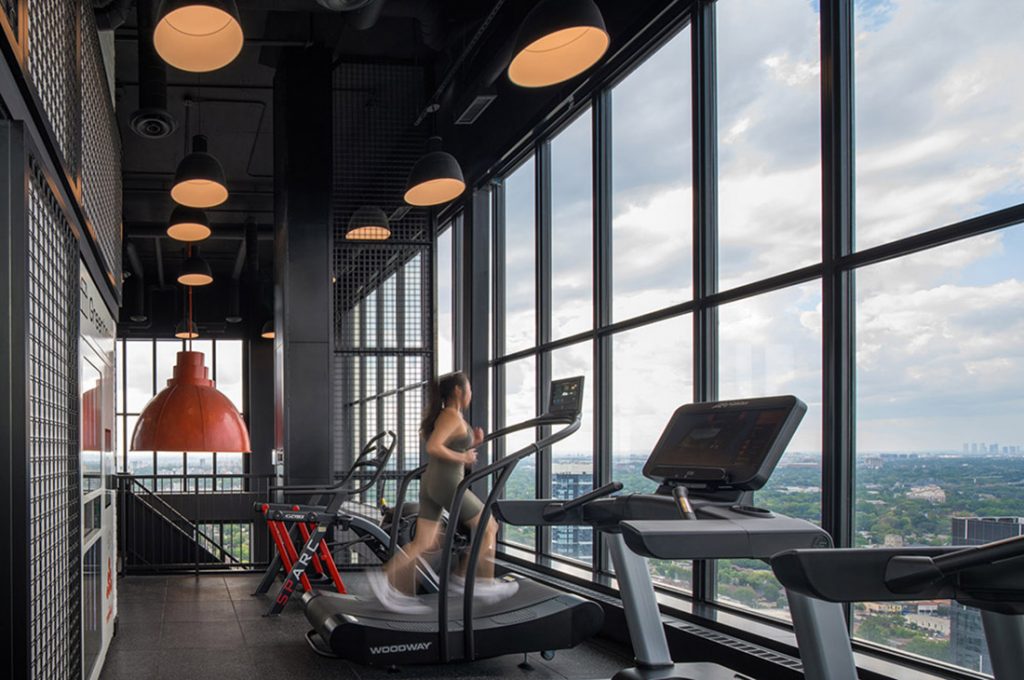 The Parker's penthouse level fitness centre is an Official Hammer Strength® training facility that rivals many of North America's best gyms.  
This proprietary amenity package stands apart from other offerings in the city as it establishes a consistent level of service that is found at all Fitzrovia Collection communities. Having set a new standard for the role of customer care in rental housing, Fitzrovia's unique approach ensures that this standard is met and exceeded in every community in its portfolio.
"The Parker has established a new standard for rental living in Canada. An atmosphere that caters to the senses has been achieved in every space," says Ryan Funt, Senior Director of Marketing at Fitzrovia.
"The Parker goes above and beyond to provide convenience for its residents, offering amenities such as two resident dedicated BMW X1s that are stationed at The Parker, complimentary professionally led yoga and meditation classes, and two Greenhouse locations where residents can enjoy organic cold-pressed juices. The rental experience provided by The Parker has been praised for its exceptional standards in design, programming, and customer service."
A Place To Call Home
The search for an apartment tends to come with a degree of stress: Will I find a place in a good location? Is there enough amenity space for my family? Can I trust that the cost of rent will bring proportionate value?
For Fitzrovia, the answer to these questions would always lead to the same conclusion: create an atmosphere where renters feel at home within the entire building, prioritize the resident experience, and exceed expectations. 
You don't live at an apartment building; you live at The Parker.